MyFantasyLeague.com Users...
Check out the most popular waiver wire pickups this week across thousands of MFL leagues. Also, quickly see who's available on your waiver wire this week by using the MFL Power feature at FF Today. Just input your league's 5-digit ID number away you go!

Targeting weekly waiver picks is a completely subjective business, but this column hopes to point out some obvious and not-so-obvious selections to help your team from week to week while you strive to collect fantasy wins, reach your league playoffs and win the elusive title that your friends say is out of your grasp. While I'm a big proponent of making trades to bolster your roster, the waiver wire can be an almost limitless resource when it comes to discovering fantasy value in strange places. Each week, I'll target both offensive and defensive players — sometimes breakout stars that eluded your team's draft — as well as players who can help your squad that may still be lurking in deeper leagues. I'll also provide an occasional daily fantasy recommendation, as I'm hopelessly addicted to DFS sites.



Off the Top -

Includes my premier recommendations. These are sometimes players available only in more shallow leagues, and occasionally guys who are more ready but are thrust into the fantasy spotlight because of opportunity or exceptional production. Usually, they are available in at least 25 percent of public leagues.



Digging Deeper -

Covers the next tier of quality waiver wire specimens, usually players available in a majority of online leagues. There are a lot of gems in this range who can be plucked rather easily. Usually, these players are available in at least 50 percent of public leagues.



Scouring the Barrel -

Chronicles the deepest of fantasy adds — and sometimes highlights players being tacked onto fantasy squads who I don't have much confidence in. Make sure you read the fine print because I don't always love them. For the most part, you'll find these players available in about 75-100 percent of fantasy leagues

Each week, I'll also provide a brief update on the players I covered the previous week. It's the most accurate, comprehensive one-stop waiver-wire column available on the Internet, and it's only available here at fftoday.com. Let's get to some of the players who could be still out there on the waiver wire and in the free agent pool as you prepare for Week 1!


Feedback is always welcome, appreciated and encouraged. I'll get to as many e-mails as I can.


---
Note:
Each player's final three matchups are listed in parentheses ( ). Since IDP league composition is so varied, I'll just list defensive players per position and use their Yahoo ownership rates – which due to site ranking anomalies and the high rate of variance in availability, are often much lower than actual ownerships rates.
Quarterbacks
Off The Top
Andy Dalton, CIN (@CLE, DEN, @PIT) – Dalton has a knack for stepping up big late in the season and he certainly did that with his performance Sunday (302-2-0, rushing TD). There are better options, but not too many are available in over 40 percent of Yahoo leagues this late in the game.

Digging Deeper
Josh McCown, TB (@CAR, GB, NO) – McCown is still available in over 75 percent of Yahoo leagues despite a bevy of talented WRs and solid upside. The Lions pressured him quite a bit and forced some turnovers, but next week he has a good matchup against the Panthers.

UPDATE: Lovie Smith will not rule out turning to Mike Glennon for the tilt with Carolina, since they're out of the playoff hunt and Glennon is the better long-term option. Stay tuned.
Teddy Bridgewater, MIN (@DET, @MIA, CHI) – Bridgewater is providing a boost to a struggling Vikings team and should definitely be targeted in 2015, but he's also someone to watch for the final weeks of the regular season and in daily fantasy as a cheap QB option. His 309-2-1 game against the Jets wasn't totally unexpected, but it's a good indicator of things to come. Even against the Lions, he's not a terrible option in two-QB leagues.

Scouring The Barrel
Derek Carr, OAK (@KC, BUF, @DEN) – Carr tossed three TD passes in a tough matchup with the 49ers, leading the Raiders to their second win of the season. He's owned in just 7 percent of Yahoo leagues and has some tough matchups, but this is an Oakland team with nothing to lose – as we witnessed on Sunday.

Updates
Eli Manning, NYG (WAS, @STL, PHI) – Manning wasn't all that impressive (260-1-1) against the Titans, but he didn't have to be in a matchup that favored the Giants running game. Next week, however, he could tear apart the Redskins.

Johnny Manziel, CLE (CIN, @CAR, @BAL) – Surprisingly, Mike Pettine went with Brian Hoyer again over Manziel, but if the rookie stays out of the clubs and doesn't hit up any NBA games this week, he should draw the start according to sources inside the organization. The matchup isn't great, but that goes out the window with a hard-to-assess mobile QB like Johnny Football.

UPDATE Manziel was officially named the starter for Sunday against the Bengals. This is going to be interesting, but at the very least, Josh Gordon should improve on his paltry Week 14 numbers.
Ryan Fitzpatrick, HOU (@IND, BAL, JAC) – Fitzpatrick couldn't follow up his six-TD outing with another big game (135-0-0), but he did have a nice rushing TD. He'll be forced to throw more next week.

Zach Mettenberger/Jake Locker, TEN (NYJ, @JAC, IND) – The Titans quarterback situation is a mess, and Mettenberger (shoulder) is done for the season. Look at Locker, but temper your expectations even against the pitiful Jets.

UPDATE It's unclear which Titans receivers will be healthy enough this Sunday to face the Jets, but Locker is a risky play in standard leagues regardless. He's a decent lottery ticket in daily fantasy tournament play given his low cost, but there's just no continuity to his game and he remains a high-risk-moderate reward fantasy option without a ton of success despite many favorable opportunities.
Colt McCoy, WAS (@NYG, PHI, DAL) – McCoy had weak game (199-0-2) before straining his neck and being removed for RGIII and Week 15 could once again feature the enigmatic QB. It's a situation to avoid.

Running Backs
Off The Top
Jonathan Stewart, CAR (TB, CLE, @ATL) – Stewart (40 percent owned) had the best game of his career on Sunday, scampering for a 59-yard TD and totaling 155 rushing yards on the day. He's a must-add in all formats and a solid RB2 going forward.

UPDATE The Cam Newton car accident – coupled with Ron Rivera's refusal to anoint him the clear starter – does cloud the outlook a bit, but Stewart is capable of carrying the offensive workload on Sunday against a relatively poor Tampa defense.
Digging Deeper
Joseph Randle, DAL (@PHI, IND, @WAS) – If you're a DeMarco Murray owner and you don't own Randle (who had a 17-yard TD run on his only carry Thursday), you're doing it wrong. Anything can happen and rostering Randle is an absolute necessity for those who've benefited from Spray Tan's services this season. Go get Randle and stash him on your bench.

James Starks, GB (@BUF, @TB, DET) – UPDATE: Starks looked great on Monday night and Eddie Lacy (hip bruise) sat out the final series against the Falcons. If Lacy can't go on Sunday, Starks makes a nice RB2 with RB1 upside. Even if Lacy does go, he's a relevant flex play.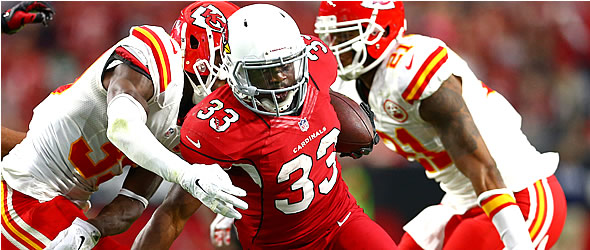 Despite telling us otherwise, HC Bruce Arians knew Kerwynn Williams was going to be the lead RB.
Scouring The Barrel
Kerwynn Williams, ARI (@STL, SEA, @SF) – Williams (3 percent owned on Yahoo) rushed for 100 yards on 19 carries and should be the back with the most value with Andre Ellington on IR. He's got a tough matchup next week but should be added in all formats.
Updates
Tre Mason, STL (ARI, NYG, @SEA) – Mason had 20 carries Sunday but finished with just 66 rushing yards and no catches. It was a precipitous drop from last week's monster game and his matchup in Week 15 is a difficult one.

Doug Martin, TB (@CAR, GB, NO) – Five carries, 22 yards. The Bucs backs are useless right now. There's a shot at a decent game against the Panthers, but I'm not holding my breath.

Roy Helu, Jr., WAS (@NYG, PHI, DAL) – Has Helu ever had two good games in row? I'm asking seriously, because he didn't get a touch on Sunday and is now apparently nursing a toe injury. He's safe to drop/avoid across the board.

Knile Davis, KC (OAK, @PIT, SD) – Davis had three catches for 3 yards as the Chiefs failed to get much going other than the involvement of Travis Kelce and Jamaal Charles. Another swing, and another miss.

Stepfan Taylor/Marion Grice/Michael Bush, ARI (@STL, SEA, @SF) – Stepfan Taylor actually drew the start but carried only six times for 19 yards and caught one pass for 7 yards, while Williams got the bulk of work. Michael Bush has been released. See above.

Marcel Reece, OAK (@KC, BUF, @DEN) – Despite Latavius Murray being active, Reece was Oakland's most productive back on Sunday, catching 7-64-1 in the upset of San Francisco. I told you he'd be involved!

Wide Receivers/Tight Ends
Off The Top
Pierre Garcon, WAS (@NYG, PHI, DAL) – RGIII loves this guy, and anything's possible in a division matchup. I'm bullish on Garcon (who hauled in 9-95-0 on Sunday) the rest of the way, especially if DeSean Jackson remains sidelined.

Doug Baldwin, SEA (SF, @ARI, STL) – The Seahawks finish up with three division games against tough defenses, but Baldwin (5-97-1 on seven targets Sunday) is the safest among Seattle's WRs – and they will definitely be throwing against those teams. He's still out there in over two-thirds of Yahoo leagues and makes a fine WR3 going forward.

Digging Deeper
Charles Johnson/Jarius Wright, MIN (@DET, @MIA, CHI) – The Bridgewater-Johnson connection is a thing of beauty but it could have been even better for those smart enough to start the second-year receiver from Grand Valley State on Sunday. Johnson (20 percent owned) had 4-103-1 but fumbled on the one-yard line on another would-be TD and a teammate covered up the fumble in the end zone. Good for the Vikings bad for fantasy. He's the top target for Minnesota and both he and Jarius Wright (1 percent owned; 4-123-1, 23 yards rushing on Sunday) should continue to produce, even in tougher matchups.


Scouring The Barrel
Marquess Wilson, CHI (NO, DET, @MIN) – With Brandon Marshall (ribs, lung) done for the year, Wilson will step in as the second wide receiver slot for the Bears. The former Washington St. standout has an excellent matchup as an every-down player facing the scuffling Saints in Week 15.

Cole Beasley, DAL (@PHI, IND, @WAS) – I actually used Beasley in a few Thanksgiving Day daily lineups and wasn't shocked when he caught two TD passes on Thursday against the Bears. Not every matchup will be this nice, but Tony Romo uses him as a third-down chain mover and looks to him once in a while in the red zone. He's a decent 12-team add this week.


Updates
Kendall Wright, TEN (NYJ, @JAC, IND) – Inactive Sunday, Wright was replaced in the starting lineup by Derek Hagan. Stay tuned for his status in Week 15.

UPDATE: Coach Ken Whisenhunt has expressed hope that Wright could play with a splint on his hand "if the swelling and pain subside." That doesn't sound too promising. Washington and Hagan are probably the best bet for fantasy production among the WRs, with TE Delanie Walker being the best bet for consistent targets from Locker.

Kenny Stills, NO (@CHI, ATL, @TB) – Stills and the Saints disappointed on Sunday, getting blown out by the Panthers and struggling to move the ball all day. His 3-23-0 was actually one of the better receiving lines for New Orleans. Expect a Week 15 bounce-back against the terrible Chicago pass defense.

TE Jordan Reed, WAS (@NYG, PHI, DAL) – Reed had just 3-25-0 against the Rams and isn't trusted option unless RGIII makes him a focus versus the Giants.

Greg Jennings, MIN (@DET, @MIA, CHI) – Jennings had 5-52-0 on seven targets, but it was the Johnson/Wright tandem that stole the show.

Donte Moncrief, IND (HOU, @DAL, @TEN) – The Colts didn't look his way very often, but Moncrief finished with 3-33-0 on four targets Sunday in the last minute win over Cleveland. He's a decent option as a Week 15 sleeper in DFS.

Nate Washington, TEN (NYJ, @JAC, IND) – Washington had 3-56-0 in Sunday's debacle and should get plenty of deep looks against the Jets, regardless of who's at QB for Tennessee.

Marqise Lee, JAC (@BAL, TEN, @HOU) – Lee had 5-67-0 and was third on the Jags with eight targets Sunday to Allen Hurns (10) and Cecil Shorts (9).

IDP
Linebackers
LB Nigel Bradham, BUF (GB, @OAK, @NE) – Bradham has 28 total tackles over the past three weeks and should have plenty of opportunities for more in the final three. He's a sneaky play in IDP formats and has plenty of upside.

LB Navorro Bowman, SF (@SEA, SD, ARI) – UPDATE: Bowman has been activated by the 49ers and if he's available to play, he's a must-add in all IDP formats. Unfortunately, many folks believe he's done for the year, so you'll have to monitor the inactives before each game.

Defensive Backs
DB Johnathan Joseph, HOU (@IND, BAL, JAC) – Joseph is the best DB the Texans have, but he'll be a busy man next week as he'll try to cover T.Y. Hilton in a tough matchup. He's worth a look.

Defensive Lineman
DL Desmond Bryant, CLE (CIN, @CAR, @BAL) – Bryant has quietly put together a solid season for the Browns, and has 43 total tackles and 4.0 sacks this season. He's a good lineman with plenty of upside.

Updates
LB Anthony Hitchens, DAL (@PHI, IND, @WAS) – Hitchens had four solo tackles but no extra stuff on Thursday night and remains a solid dynasty pick with some redraft upside.

LB Telvin Smith, JAC (@BAL, TEN, @HOU) – The rookie had five tackles and a PD against the Texans – not his best game, but still okay for deeper leagues.

DB Reggie Nelson, CIN (@CLE, DEN, @PIT) – Just four total tackles in what should have been a prime matchup versus the Steelers. He may be a better play against Manziel's Browns in Week 15.

DB Richard Sherman, SEA (SF, @ARI, STL) – The Eagles didn't look to Sherman's side very often, the exception being a TD catch by Jeremy Maclin early in the game. Next week will be interesting.

DL Jurrell Casey, TEN (NYJ, @JAC, IND) – Casey had just four tackles Sunday as the Giants generally avoided the Titans pass rush. He should fare better against the Jets.

DL Everson Griffen, MIN (@DET, @MIA, CHI) – Griffen didn't go crazy Sunday, but he did finish with two solos, an assist a sack and a PD – a semi-complete IDP stat sheet for the Vikings.