MyFantasyLeague.com Users...
Check out the most popular waiver wire pickups this week across thousands of MFL leagues. Also, quickly see who's available on your waiver wire this week by using the MFL Power feature at FF Today. Just input your league's 5-digit ID number away you go!

Targeting weekly waiver picks is a completely subjective business, but this column hopes to point out some obvious and not-so-obvious selections to help your team from week to week while you strive to collect fantasy wins, reach your league playoffs and win the elusive title that your friends say is out of your grasp. While I'm a big proponent of making trades to bolster your roster, the waiver wire can be an almost limitless resource when it comes to discovering fantasy value in strange places. Each week, I'll target both offensive and defensive players — sometimes breakout stars that eluded your team's draft — as well as players who can help your squad that may still be lurking in deeper leagues. I'll also provide an occasional daily fantasy recommendation, as I'm hopelessly addicted to DFS sites.



Off the Top -

Includes my premier recommendations. These are sometimes players available only in more shallow leagues, and occasionally guys who are more ready but are thrust into the fantasy spotlight because of opportunity or exceptional production. Usually, they are available in at least 25 percent of public leagues.



Digging Deeper -

Covers the next tier of quality waiver wire specimens, usually players available in a majority of online leagues. There are a lot of gems in this range who can be plucked rather easily. Usually, these players are available in at least 50 percent of public leagues.



Scouring the Barrel -

Chronicles the deepest of fantasy adds — and sometimes highlights players being tacked onto fantasy squads who I don't have much confidence in. Make sure you read the fine print because I don't always love them. For the most part, you'll find these players available in about 75-100 percent of fantasy leagues

Each week, I'll also provide a brief update on the players I covered the previous week. It's the most accurate, comprehensive one-stop waiver-wire column available on the Internet, and it's only available here at fftoday.com. Let's get to some of the players who could be still out there on the waiver wire and in the free agent pool as you prepare for Week 1!


Feedback is always welcome, appreciated and encouraged. I'll get to as many e-mails as I can.


---
Note:
Each player's final two matchups are listed in parentheses ( ). Since IDP league composition is so varied, I'll just list defensive players per position and use their Yahoo ownership rates – which due to site ranking anomalies and the high rate of variance in availability, are often much lower than actual ownerships rates.
Quarterbacks
Off The Top
Ryan Tannehill, MIA (MIN, NYJ) – Tannehill is still available in about 25-30 percent of fantasy leagues and has decent matchups to close out the season. He's coming off a productive-if-sloppy week (346-1-2, 21 rushing yards) and is a dynamic QB who's improved this season.

Digging Deeper
Robert Griffin III, WAS (PHI, DAL) – He looked sharp at times on Sunday and should remain the starter in Washington for the last two games. He's not a terrible Week 16 options considering some of the hideous numbers QBs put up in general last week.

UPDATE: Despite the palpable dysfunction in Washington (and don't even get me started on Congress) the team still plans to start RGIII on Sunday versus Philly and bring back Jay Gruden in 2015. Seriously, though – the Eagles defense is banged up and Griffin just had arguably his best game since Week 13 of last season and could be solid again this time around.
Scouring The Barrel
Derek Anderson, CAR (CLE, @ATL) – He's got a tough Week 16 matchup and Cam Newton may be back, but Anderson played well enough in the win over Tampa Bay (277-1-0, 14 rushing yards) to prove he could have a job in 2015 and be thrust into relevance once again as a fantasy backup.

UPDATE: Panthers head coach Ron Rivera said Newton will only start on Sunday if he can "protect himself," adding that scrambling and keeping the play alive are important factors to consider as he rehabs from his back injury. Stay tuned.
Updates
Andy Dalton, CIN (DEN, @PIT) – Dalton did very little against the Browns (117-0-1), as Jeremy Hill and the defense did most of the heavy lifting. It was a tough week for QBs, but the least he could have done was tossed a TD pass.
Josh McCown, TB (GB, NO) – Turnovers bit McCown but he tossed for 154-1-1 with two lost fumbles and a rushing TD. Still, those numbers were good enough to finish among the Top 15 QBs Sunday.
Teddy Bridgewater, MIN (@MIA, CHI) – Bridgewater was solid from a fantasy perspective in the loss to Detroit, throwing for 315-1-2 with 30 rushing yards – about 7th best this week in standard formats.
Derek Carr, OAK (BUF, @DEN) – Carr had 222-1-0 with a lost fumble against the Chiefs and has a tough matchup against the surging Bills in Week 16.
Running Backs
Off The Top
Jeremy Hill, CIN (DEN, @PIT) – This is easy. He's still available in about 10-15 percent of leagues, so he's a must-add in all formats and should be worth a dynasty tag in keeper leagues.

Toby Gerhart, JAC (TEN, @HOU) – UPDATE: Gerhart (about 20-25 percent owned) makes an interesting pickup-and-play in Week 16 facing the Titans on Thursday night. He toted the rock 13 times for 54 yards at Baltimore with two catches for 9 yards and could hover around 100 total yards against one of the league's worst run defenses.

Doug Martin, TB (GB, NO) – Martin had 14 carries for 96 yards in the loss to Carolina and looked the best he's been all season. Why it's taken this long for him to produce is anybody's guess, but the performance makes him an intriguing flex option for Week 16.

Digging Deeper
Knile Davis, KC (@PIT, SD) – After Jamaal Charles was knocked out of the game in the third quarter, Davis got more work, rushing for 11 yards and a TD and hauling in a 70-yard TD pass.

UPDATE: Charles was unhappy with coaches who removed him after a big collision at the goaline, but he did admit his knee and ankle bothered him during the game on Sunday. It's worth watching this week, as Davis is a viable option if Charles is out or limited.

Carlos Hyde, SF (SD, ARI) – Hyde rushed for 55 yards on just six carries in relief Frank Gore (concussion) before injuring his ankle and back on an awkward play in the fourth quarter. You'll have to monitor this situation (he's getting an MRI), but if he can play in Week 16, he's worth a look. Fullback Bruce Miller and former Cardinal Alfonso Smith are next up on the San Fran depth chart.

UPDATE: Results of Hyde's MRI were not available as of Tuesday morning, but Smith would be the best option for the Niners if the talented rookie can't go this week.
Scouring The Barrel
Chris Polk, PHI (@WAS, @NYG) – Chip Kelly appears committed to Polk in goal line situations, and the near universal fantasy free agent vultured two rushing TDs on Sunday night. He's definitely TD dependent but would see more work if LeSean McCoy went down.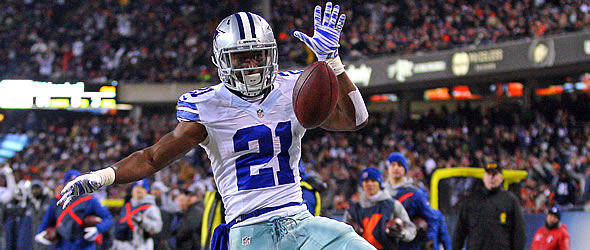 With DeMarco Murray's status up in the air, Joseph Randle will be a hot pickup in Week 16.
Updates
Jonathan Stewart, CAR (CLE, @ATL) – Stewart totaled 73 yards on 22 rushes and caught a six-yard pass in the win over TB. He's a good start against the Browns even if DeAngelo Williams is ready to return.

Joseph Randle, DAL (IND, @WAS) – I told you to pick up Randle! Murray is undergoing surgery to repair a broken fourth metacarpal in his left hand and Randle would be the primary back to own if the stud RB misses any time. It's not a devastating type of injury for Murray or the Cowboys but Randle needs to be owned in all formats.

UPDATE: Murray could still play on Sunday but there's no way of knowing what the Cowboys' plans will be until they make an announcement or we see who's active before game time. In any event, Randle will likely see increased touches and possibly play a bit more on passing downs.

James Starks, GB (@TB, DET) – Starks had just 29 total yards as Eddie Lacy (hip) was good to go Sunday. He could see some work if the Packers blow out Tampa Bay next week.

Kerwynn Williams, ARI (SEA, @SF) – Williams had 75 rushing yards on 15 carries and 2-11-0 receiving in the win over St. Louis on Thursday night. He's got tough matchups the next couple weeks but the Niners are really banged up and he could find some room to run in Week 17.
Wide Receivers/Tight Ends
Off The Top
Eric Decker, NYJ (NE, @MIA) – The Jets don't stand much of a chance at beating the Pats next week, but Decker is becoming more involved in the offense and had a big game Sunday (7-100-0) in the win over Tennessee. He's about 70 percent owned and worth a look as a WR3/flex.

Jarvis Landry, MIA (MIN, NYJ) – Landry continued to be Tannehill's top target, hauling in 8-99-0 in the loss to New England. He's a WR2 with upside.

UPDATE: TE Owen Daniels, BAL (@HOU, CLE) – Daniels is still a productive TE and gets an opportunity for a revenge game this week against his old team. He hauled in 4-62-1 against the Jaguars in Week 15 and his back seems healthy now. Plug him in as a high-upside TE2.

Digging Deeper
James Jones, OAK (BUF, @DEN) – It's hard to say what the Oakland game plan will be facing the Bills next week, but Jones (8-57-1 against the Chiefs) is a solid red zone option with some upside.

Nate Washington, TEN (@JAC, IND) – The Titans are hurting at WR and QB and will probably be rolling with Charlie Whitehurst the next couple weeks. Washington is coming off a 6-102-0 game and looks like the only healthy pass-catching option other than Delanie Walker.

UPDATE: The Titans hope Kendall Wright (hand) can go on Thursday against the Jags, which could reduce the number of targets Washington will see.
Scouring The Barrel
Devin Hester, ATL (@NO, CAR) – The Falcons looked to Hester to fill Julio Jones' ample shoes and he responded with 5-85-1 in the loss to Pittsburgh. He's not a great play in standard leagues, but his famous return capabilities add intrigue in some formats.
Updates
Pierre Garcon, WAS (PHI, DAL) – Garcon had 4-36-0 on seven targets Sunday and could be a bigger factor in Week 16.

Doug Baldwin, SEA (@ARI, STL) – The Seahawks grinded out a victory and Baldwin contributed with 3-53-0 on six targets. He seems underutilized but could explode for a big game if needed.

Charles Johnson/Jarius Wright, MIN (@MIA, CHI) – Johnson (5-72-0) and Wright (4-49-0) couldn't find paydirt like Greg Jennings (3-43-1) but are both involved in the Vikings with Bridgewater at QB.

Marquess Wilson, CHI (DET, @MIN) – Update coming Tuesday.

UPDATE: Wilson caught three balls for 16 yards, including one of two TD passes thrown by Jay Cutler in the embarrassing home loss to the Saints.

Cole Beasley, DAL (IND, @WAS) – Beasley caught all of his targets for 4-42-0 and could be a bigger factor next week with Vontae Davis likely shadowing Dez Bryant, who exploded for three TD reception on Sunday night.

IDP
Linebackers
Devon Kennard, NYG (@STL, PHI) – Kennard had seven solos against Washington and has a great matchup in Week 16 against the Rams, who run the ball more than just about any other team in the league. He's a sneaky sleeper play going forward and should be on the IDP radar for 2015.
Defensive Backs
Patrick Chung, NE (@NYJ, BUF) – Chung found new life this season and has over 10 tackles in two of the past three weeks. He's got enormous upside facing the Jets in Week 16.
Defensive Lineman
Chandler Jones, NE (@NYJ, BUF) – Jones returned after missing six weeks due to injury and had a solid Week 14 with seven total tackles and 1.5 sacks. He's likely available in many IDP leagues.

Updates
LB Nigel Bradham, BUF (@OAK, @NE) – Bradham was busy Sunday (8 total tackles, two PD) as the Bills defeated the Packers in a defensive struggle.

LB Navorro Bowman, SF (SD, ARI) – Bowman was deactivated back to IR shortly after his activation last week. The 49ers linebacking corps is in serious trouble.

UPDATE: Now Chris Borland (ankle) is getting an MRI and could miss Week 16. The 49ers defense and 2014 season has been an unmitigated disaster, with no relief in sight. LBs Dan Skuta, Ahmad Brooks and Michael Wilhoite will likely get the start and collect most of the tackles on Sunday.

DB Johnathan Joseph, HOU (BAL, JAC) – Joseph had just there solo tackles in the loss to Indy. Not what I was expecting in what should have been more of a shootout.

DL Desmond Bryant, CLE (@CAR, @BAL) – The Browns were terrible but Bryant played well, posting four total tackles and a sack in the 30-0 loss.