MyFantasyLeague.com Users...
Check out the most popular waiver wire pickups this week across thousands of MFL leagues. Also, quickly see who's available on your waiver wire this week by using the MFL Power feature at FF Today. Just input your league's 5-digit ID number away you go!

Targeting weekly waiver picks is a completely subjective business, but this column hopes to point out some obvious and not-so-obvious selections to help your team from week to week while you strive to collect fantasy wins, reach your league playoffs and win the elusive title that your friends say is out of your grasp. While I'm a big proponent of making trades to bolster your roster, the waiver wire can be an almost limitless resource when it comes to discovering fantasy value in strange places. Each week, I'll target both offensive and defensive players — sometimes breakout stars that eluded your team's draft — as well as players who can help your squad that may still be lurking in deeper leagues. I'll also provide an occasional daily fantasy recommendation, as I'm hopelessly addicted to DFS sites.



Off the Top -

Includes my premier recommendations. These are sometimes players available only in more shallow leagues, and occasionally guys who are more ready but are thrust into the fantasy spotlight because of opportunity or exceptional production. Usually, they are available in at least 25 percent of public leagues.



Digging Deeper -

Covers the next tier of quality waiver wire specimens, usually players available in a majority of online leagues. There are a lot of gems in this range who can be plucked rather easily. Usually, these players are available in at least 50 percent of public leagues.



Scouring the Barrel -

Chronicles the deepest of fantasy adds — and sometimes highlights players being tacked onto fantasy squads who I don't have much confidence in. Make sure you read the fine print because I don't always love them. For the most part, you'll find these players available in about 75-100 percent of fantasy leagues

Each week, I'll also provide a brief update on the players I covered the previous week. It's the most accurate, comprehensive one-stop waiver-wire column available on the Internet, and it's only available here at fftoday.com. Let's get to some of the players who could be still out there on the waiver wire and in the free agent pool as you prepare for Week 1!


Feedback is always welcome, appreciated and encouraged. I'll get to as many e-mails as I can.


---
Note:
Each player's next four matchups are listed in parentheses ( ). Since IDP league composition is so varied, I'll just list defensive players per position and use their Yahoo ownership rates – which due to site ranking anomalies and the high rate of variance in availability, are often much lower than actual ownerships rates.
Quarterbacks
Off The Top
Ryan Tannehill, MIA (@OAK, BYE, GB, @CHI) – He doesn't have the best weapons in the league but Tannehill is capable passer who'll make a decent fill-in (@OAK) for quarterbacks on their Week 4 bye. Both he and Eli Manning are available in over half of the fantasy leagues on Yahoo.

UPDATE: Joe Philbin declined to offer an endorsement of Tannehill on Monday, instead hinting the third-year Texas A&M product has regressed in recent weeks. A Monday afternoon coaches meeting could serve as a wake-up call for Tannehill, who's backed up by Matt Moore. Stay tuned.
Eli Manning, NYG (@WAS, ATL, @PHI, @DAL) – As I mentioned above, you may have to look back at Eli this week, since the Giants offense is getting better and Manning appears to be hitting a bit of a groove (234-2-0 in Week 3 against Houston).

Digging Deeper
Ryan Fitzpatrick, HOU (BUF, @DAL, IND, @PIT) – Fitzpatrick tossed three INTs in Week 3 against the Giants but he's a steady fantasy contributor and the only real option the Texans have. He faces his old team (the 2-1 Bills) next week at home.
Brian Hoyer, CLE (BYE, @TEN, PIT, @JAC) – He's on a Week 4 bye, but he returns to face a slew of questionable defenses, and there's some guy named Josh Gordon who's supposed to be back in November. I'm not worried about Johnny Manziel taking over the reins. Hoyer should be owned in 14-team leagues as a backup.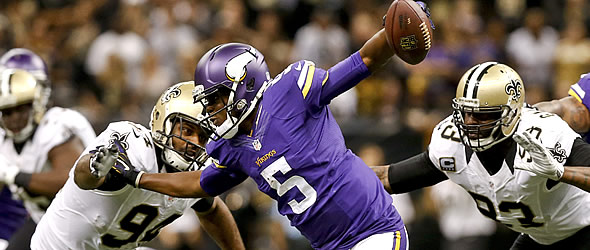 With Cassel (broken foot) out indefinitely, the Teddy Bridgewater era begins this week in Minnesota.

Scouring The Barrel

Teddy Bridgewater, MIN (ATL, @GB, DET, @BUF) – Bridgewater takes over as the Vikings starter with Matt Cassel out with a broken foot. This is a team in disarray, but the mobile Bridgewater may provide an offensive spark they desperately need.

Austin Davis, STL (BYE, @PHI, SF, SEA) – Shaun Hill is waiting in the wings, but Davis appears to have done enough to keep the starting job for now. I picked him up for a spot start after losing RGIII in a 16-team keeper league last week, and he came through (327-3-2) versus the Cowboys.

UPDATE: There's been nothing to indicate Davis won't be the starter after the Rams' Week 4 bye.

Updates

Joe Flacco, BAL (CAR, @IND, @TB, ATL) – Flacco was again a solid game manager in the victory over Cleveland, but failed to make a huge fantasy impact, completing 19-of-31 passes for 217-1-1. Until he starts hitting Torrey Smith on some bombs, he's just a fantasy backup.

Kirk Cousins, WAS (NYG, SEA, @ARI, TEN) – Depending on your scoring system Cousins (still just 47 percent owned in Yahoo leagues) was a top three (if not Sunday's top fantasy QB) with 427-3-1 in the loss to Philly. He's the pocket passer that Jay Gruden has wanted since arriving in Washington this offseason. Is everybody happy now?

Blake Bortles, JAC (@SD, PIT, @TEN, CLE) – Finally, Gus Bradley has come to his senses and named Bortles the starter for the remainder of the season. The rookie threw for 223-2-2 and clearly gives the Jaguars offense the best shot at moving the football

Drew Stanton, ARI (BYE, @DEN, WAS, @OAK) – Stanton filled in for Carson Palmer again and threw for 244-2-0 in the Week 3 win over San Francisco. He's not a great fantasy option but Palmer's status is still up in the air heading into the Week 4 bye.

UPDATE: It will be difficult to know whether or not Palmer will be ready in Week 5, so it's a good idea to hold on to Stanton – unless you have serious pressing issues elsewhere on your roster. Stanton throws a lot of deep balls and eventually the Cards receivers are going to starting hauling them in.

Running Backs

Off The Top

DeAngelo Williams, CAR (@BAL, CHI, @CIN, @GB) - Williams is owned in about 35-70 percent of fantasy leagues, but there's a decent chance someone dropped him before Week 4 expecting Jonathan Stewart to shoulder the load for the foreseeable future. With both Stewart (knee sprain) and Mike Tolbert (hairline leg fracture) out at least a month a piece, it'll necessitate that DeAngelo return in Week 4 - which HC Ron Rivera is confident will happen. The only other rushing options in Carolina are Fozzy Whittaker (who is week-to-week with a quad injury) and UDFA Darrin Reaves.

Shonn Greene, TEN (@IND, CLE, JAC, @WAS) – The Titans haven't stopped giving Greene (10 carries for 33 yards and a TD in Week 3) carries so he remains relevant, but he's definitely nothing more than a touchdown dependent RB3/flex at this point. Still, he warrants ownership in all 12-team leagues.

UPDATE: HC Ken Whisenhunt said Bishop Sankey's reps won't increase until he improves his footwork – an obsession of Whisenhunt's at this point. This means that for now, Greene's starting job is safe and his workload likely won't decrease too much.

LeGarrette Blount, PIT (TB, @JAC, @CLE, HOU) – Both Le'Veon Bell and Blount (10 carries, 118 yards, TD versus the Panthers) have been getting consistent touches and exploded for a monster game against a tough Carolina defense Sunday night. From the looks of the upcoming docket, I'd give Blount a look the next few weeks.



Digging Deeper

James Starks, GB (@CHI, MIN, @MIA, CAR) – It's possible that Eddie Lacy is just not the dynamic back we saw in 2013, and that the veteran Starks will get more touches if he continues to struggle. The backup running back had eight carries for 38 yards against the Lions and should get more touches and targets in Week 4.

UPDATE: HC Mike McCarthy called out Lacy at Monday's press conference, which could be a motivating factor for Week 4. Still, another poor Lacy performance could mean increased volume for Starks.

Lorenzo Taliaferro, BAL (CAR, @IND, @TB, ATL) – Taliaferro had his coming-out party in Week 3 (18 carries, 91 rushing yards, TD) and will get more use if Bernard Pierce remains unavailable or struggles to make an impact when he returns. It's becoming clear that the rookie is probably best suited for the bulk of the interior running workload in Baltimore.



Scouring The Barrel

Darren Reaves, CAR (@BAL, CHI, @CIN, @GB) - Reaves is a 21-year-old UAB product who left school early to pursue his NFL dreams and with the slew of injuries to the Panthers running backs, it appears he may be prescient. Reaves was signed off the practice squad before Sunday night's tilt with Pittsburgh and makes an interesting add in deeper leagues. He's a relative fantasy unknown (like Bobby Rainey was last season), but scouting reports indicate he's tough, balanced and can handle every-down duties without falling flat on his face.

Roy Helu, WAS (NYG, SEA, @ARI, TEN) – Helu had a one-yard TD plunge and a 55-yard reception in his only two touches Sunday. I've been advocating for him to get the ball more for the past couple years, but the Washington brass continues to defy me (and general logic). He's worth adding in deep PPR leagues.

UPDATE: Alfred Morris (knee) practiced in full Monday, so Helu is still stuck on the bench and remains a deep-league lottery ticket stash.

Joe McKnight, KC (NE, @SF, BYE, @SD) – He likely won't have many more two-TD games during his tenure in Kansas City, but McKnight is a dynamic passing down back with value if Jamaal Charles should reinjure his ankle. He's only worth a look in super-deep redraft leagues.



Updates

Ahmad Bradshaw, IND (TEN, BAL, @HOU, CIN) – Bradshaw continued his effective play on Sunday, rushing for 65 yards on just eight carries and reeling in two catches for 18 yards and a TD. He's been the lead dog in the redzone and a boon to fantasy owners.

Matt Asiata, MIN (ATL, @GB, DET, @BUF) – If Adrian Peterson has played his last down for the Vikings, Asiata remains a touchdown-dependent RB3 with some upside in PPR formats. He totaled 71 yards from scrimmage on Sunday but failed to reach pay dirt.

Darren McFadden, OAK (MIA, BYE, SD, ARI) – As expected, D-Mac was the workhorse with Maurice Jones-Drew sidelined for the second straight week, rushing for 59 yards on 18 carries and adding 4-6-0 receiving.

Knile Davis, KC (NE, @SF, BYE, @SD) – Jamaal Charles (ankle) threatened to play, but was scratched and backup Davis did about what we figured he'd do, rushing 32 times for 132 yards and a TD. The versatile Joe McKnight vultured a couple scores in the passing game, and Cyrus Gray snagged himself a rushing score in garbage time, but Davis filled in admirably as a (likely) one-week replacement for Charles.

Devonta Freeman, ATL (@MIN, @NYG, CHI, @BAL) – Freeman looked pretty terrible on Thursday night, rushing for just 12 yards on 11 carries and losing a fumble. At this point, he's just an afterthought in redrafts and isn't worth wasting the roster spot.

Jonathan Dwyer, ARI (BYE, @DEN, WAS, @OAK) – The afternoon following our Tuesday update, news of Dwyer's July arrest for domestic violence hit the wire and he was deactivated. It's highly unlikely that he will play again this season.

Donald Brown, SD (JAC, NYJ, @OAK, KC) – Brown gained 89 total yards in Week 3 against Buffalo, rushing a whopping 31 times for 62 yards and adding 5-27-0. With Danny Woodhead (ankle) exiting the game and Ryan Mathews (knee) not expected back in action for a few more weeks, Brown will be the bellcow against the Jags next week and is worth plugging in as an RB2/3 and using as a low-cost option in daily fantasy games.

UPDATE: Woodhead needs surgery on what has now been diagnosed a fractured fibula and is out for the rest of the season – solidifying Brown (50-75 percent owned) in the workhorse role for the time being. He should be universally owned after this week's waiver wire process.

Alfred Blue, HOU (BUF, @DAL, IND, @PIT) – Arian Foster (hamstring) was a late scratch and Blue had a good shot to break out. He had a couple good runs early and added a 46-yard scamper in the second half, but finished with just 78 yards on 13 carries (1-10-0 receiving) and failed to reach the end zone against a weak but improving Giants defense.

UPDATE: It's been revealed that Foster's latest hamstring injury is the same one that kept him out during the preseason. Recurring soft-tissue injuries should be considered a red flag for fantasy owners, which means that Blue should get an even longer look as we approach Week 4.

Wide Receivers/Tight Ends

Off The Top

Travis Kelce, KC (NE, @SF, BYE, @SD) – Kelce still isn't getting as many targets as he should (15 in three games), but his 3-36-1 performance Sunday shows he's at least a formidable redzone option in the Chiefs' offense. This is a talented tight end who could easily be among the Top 10 by season's end.

Brian Quick, STL (BYE, @PHI, SF, SEA) – Quick has been targeted 22 times in three games, and the third-year man out of Appalachian State reeled in 2-62-1 on Sunday in the loss to Dallas. He's a big, physical receiver who's underrated by fantasy owners.

Jordan Matthews, PHI (@SF, STL, NYG, BYE) – Matthews, a rookie with size (6-3, 212) and decent speed (4.46), erupted for 8-59-2 in the comeback win over Washington, and is a viable redzone threat on the highly weaponized Eagles. He should be owned in all formats despite a 15-40 percent ownership across the fantasy landscape.



Digging Deeper

John Brown, ARI (BYE, @DEN, WAS, @OAK) – Think of Brown (4-52-2 in the win over San Fran) as a tiny version of Matthews, without the high-powered offense. He's a shifty slot man with boom-or-bust potential every week, and he's owned in just a fraction of fantasy leagues.

Steve Johnson, SF (PHI, KC, @STL, @DEN) – He's gelling with Colin Kaepernick (9-for-9 on targets for 103 yards Sunday) and the 49ers will look to open up the offense in the coming weeks. Johnson is a talented receiver and I'm sufficiently intrigued.

UPDATE: Johnson may not get the consistent targets he received in Week 3 once Vernon Davis, Michael Crabtree and Anquan Boldin are all healthy, but he's shown enough to warrant consideration as WR5. I'm still interested.

Scouring The Barrel

Jeremy Kerley, NYJ (DET, @SD, DEN, @NE) - I picked up Kerley on a whim in a 10-team IDP league that features three WR slots as well as a flex spaces for W/T and W/R. Owned in just 3 percent of Yahoo fantasy leagues, Kerley posted 7-81-1 on 11 targets on Monday night, the lone bright spot for a struggling Jets offense. If Eric Decker's hamstring continues to be a problem, I wouldn't be surprised to see Kerley get 10 targets a game as their primary deep threat.

Eddie Royal, SD (JAC, NYJ, @OAK, KC) – We've been here before, haven't we? I'd be tempted to trust the two-TD games of Mathews and Brown (above) before I'll take another crack at Royal (4-42-2 on Sunday) this season. He's burned me too many times in the past.

Allen Robinson, JAC (@SD, PIT, @TEN, CLE) – The Penn State rookie caught 7-79-0 on 10 targets Sunday and appears to have excellent chemistry with Bortles. He's worth adding in deeper leagues, but on a team with so many issues he'll be far from a consistent fantasy producer.

MarQueis Gray, (ATL, @GB, DET, @BUF) – Bad news for the Vikings as starting tight end Kyle Rudolph is out multiple weeks with a groin issue that will require surgery. Gray and perhaps Rhett Ellison will fill the void however neither are high value waiver wire targets at this time.

UPDATE: Gray was a quarterback in college at Minnesota and has as much athleticism as anyone at the tight end position, but very little experience. He's going to be a liability as a blocker but should fill in as an H-back and could see an increased workload in the coming weeks.

Updates

TE Delanie Walker, TEN (@IND, CLE, JAC, @WAS) – The Titans offense never got going and Walker finished with just 4-54-0. He's the primary target for Jake Locker at this point.

Andrew Hawkins, CLE (BYE, @tight endN, PIT, @JAC) – For the third straight game, Hawkins received double-digit targets (32 on the season) and finished with 7-87-0. When he starts getting in the end zone, he'll be dangerous.

James Jones, OAK (MIA, BYE, SD, ARI) – His TD streak came to end at the hands of the Patriots, reeling in 3-43-0 in the low-scoring affair.

TE Owen Daniels, BAL (CAR, @IND, @TB, ATL) – Daniels had a quiet Week 3 (one catch, 8 yards) but stands to benefit from the injury to Dennis Pitta (hip dislocation), who's likely out for the season.

UPDATE: Pitta is out for the year and the Ravens are expected to rotate in and out of three-WR sets, using WR Marlon Brown and working in fullback Kyle Juszcyk to mitigate some of Daniels workload. Still, Daniels makes plenty of sense as a TE2 with his effectiveness in Gary Kubiak's red zone offense.

Mohamed Sanu, CIN (BYE, @NE, CAR, @IND) – Sanu threw an 18-yard TD pass to Andy Dalton on a trick play and hauled in 5-44-0 for a solid fantasy day. Even with A.J. Green healthy, he's worth owning in 12-team leagues.

Miles Austin, CLE (BYE, @tight endN, PIT, @JAC) – Austin caught his second TD pass in as many games en route to a 6-51-1 performance. Perhaps a few of us were too quick to leave him for dead.

Davante Adams, GB (@CHI, MIN, @MIA, CAR) – Adams disappointed with just 2-11-0 on Sunday, but the entire Packers offense sputtered in Detroit.

Andre Roberts, WAS (NYG, SEA, @ARI, TEN) – DeSean Jackson was healthy and producing in a big way, so Roberts (4-38-0) had a mediocre fantasy day.

TE Niles Paul, WAS (NYG, SEA, @ARI, TEN) – Cousins looks to Paul a lot. On Sunday, they connected for 6-68-0, and it appears the capable Paul should be able to fill in for Jordan Reed while the dynamic tight end is out.



IDP

Linebackers

Jelani Jenkins, MIA (@OAK, BYE, GB, @CHI) – Jenkins remains a three-down LB with tremendous upside in Miami's 4-3. With Koa Misi and Philip Wheeler hurting, he's got plenty of value.

Bruce Carter/Anthony Hitchens, DAL (NO, HOU, @SEA, NYG) – The Cowboys LB corps is probably the hardest to figure out in all of football right now, but it's obvious they will have plenty of time on the field and should make some big plays. Both Carter and the rookie Hitchens are candidates for a lot of IDP activity.



Defensive Backs

Byron Maxwell, SEA (BYE, @WAS, DAL, @STL) – He's on a Week 4 bye, but from what I've seen, he's going to be a busy guy in 2014 with quarterbacks avoiding Richard Sherman.

Aaron Williams, BUF (@HOU, @DET, NE, MIN) – The Bills need Williams (leg contusion) at 100 percent, but even if he's a bit hobbled, I expect him to make plays and provide plenty of value in IDP formats.



Defensive Lineman

Corey Liuget, SD (JAC, NYJ, @OAK, KC) – Liuget is an emerging superstar waiting for the press to catch up with his talent. He and Kendell Reyes did an excellent job at the point of attack Sunday in Buffalo, and I'm expecting another good game against the Jags in Week 4.

Vince Wilfork, NE (@KC, CIN, @BUF, NYJ) – Wilfork is the straw that stirs the drink in the Patriots front seven, and he's proving to be a big-play guy in the twilight of his Hall of Fame career. In leagues that require a DT or two, he'd be on my radar.



Updates

LB Brandon Marshall, DEN (BYE, ARI, @NYJ, SF) – Marshall is putting up consistent numbers (12 total tackles on Sunday) and now has 30 total tackles, a sack and two PD on the season.

LB Rolando McClain, DAL (NO, HOU, @SEA, NYG) – McClain missed Week 3 with a groin injury and was replaced by rookie Anthony Hitchens. He's week-to-week.

DB Antoine Cason, CAR (@BAL, CHI, @CIN, @GB) – Cason didn't make any big plays but had seven total tackles Sunday night. He's a defensive leader in the Panthers secondary.

DB D.J. Swearinger, HOU (BUF, @DAL, IND, @PIT) – Questionable for Week 3 with an elbow injury, Swearinger played at less than 100 percent and made six total tackles.

DL Chandler Jones, NE (@KC, CIN, @BUF, NYJ) – With just two total tackles and two PD, Jones didn't make a big impact this week. He's still a DL1 and weekly play in most IDP formats.

DL Calais Campbell, ARI (BYE, @DEN, WAS, @OAK) – Just four solo tackles against the 49ers, but no big plays. Still, the Cards came away with a big victory and Campbell remains a must-own in 12-team formats that require a DL.