MyFantasyLeague.com Users...
Check out the most popular waiver wire pickups this week across thousands of MFL leagues. Also, quickly see who's available on your waiver wire this week by using the MFL Power feature at FF Today. Just input your league's 5-digit ID number away you go!

Targeting weekly waiver picks is a completely subjective business, but this column hopes to point out some obvious and not-so-obvious selections to help your team from week to week while you strive to collect fantasy wins, reach your league playoffs and win the elusive title that your friends say is out of your grasp. While I'm a big proponent of making trades to bolster your roster, the waiver wire can be an almost limitless resource when it comes to discovering fantasy value in strange places. Each week, I'll highlight some of the popular (and not-so-popular) players who can help your squad and may still be available in your league.

Feedback is always welcome, appreciated and encouraged. I'll get to as many e-mails as I can.


---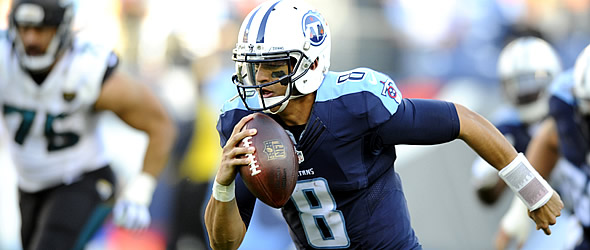 Marcus Mariota had his best fantasy day as pro, highlighted by an 87-yd TD run in the fourth quarter.
Quarterbacks
Marcus Mariota, TEN – Albeit in a favorable matchup, Mariota had his best fantasy game as a pro, throwing for 268-3-1 and adding 112 rushing yards and a TD on the ground – a facet of his game we haven't seen much this season. Mariota is owned in about 50-70 percent of fantasy leagues and I know of more than one format where he was acquired as a free agent on Sunday morning and deployed for this huge game. The Jets have been tough on opposing QBs but if you're looking for upside, you might as well look to the talented rookie.

UPDATE: The Jets secondary has been struggling relative to their work early in the season, and this unit may still be without Darrelle Revis, which definitely increases Mariota's upside. He's worth adding and considering in all formats unless you have a bona fide Top 5 QB.
Blaine Gabbert, SF – Gabbert is owned in just 5-10 percent of fantasy leagues and had a marvelous game in Week 13, earning the 49ers a win over Chicago and throwing for 196-1-0 with 75 rushing yards and a TD, the score a 44-yard TD run that ended the game in OT. The Browns are listless on offense and defense right now and Gabbert could be a sneaky QB2 in a good matchup in Week 14.

UPDATE: Tyrod Taylor, BUF – I neglected to include Taylor because he's so highly owned in one of the regular formats I use to project ownership levels, but a quick glance at some other sites has shown ownership rates as low as 35 percent and as high as 75 percent. In any event, he's worth a look given how poorly the Eagles defense has played. I'm throwing out their high-water mark from last week because, let's face it, that was not the New England Patriots – it was a hobbled group of street performers disguised as NFL players.
UPDATE: Jameis Winston, TB – Same goes for Winston, who I didn't expect to be available in so many formats. He's got an excellent matchup and tons of upside. This could be another high-scoring game.

QB Updates
Ryan Fitzpatrick, NYJ – Fitzpatrick had his second-best fantasy game of the season with 390-2-0 and 22 rushing yards against the Giants. He's a solid low-end QB1 play at home versus the Titans in Week 14.

UPDATE: This could turn into another shootout, which makes Fitzpatrick-Marshall a very appealing stack in DFS as well. I'm rolling him out in at least one fantasy playoff game as well.
Brock Osweiler, DEN – Osweiler wasn't asked to do much in Week 13 versus the Chargers, finishing with just 166-1-1 in a boring but decisive win. The defense did all the work here, but he could be forced into throwing more against the Raiders in Week 14. Stay tuned.
Matt Cassel, DAL – Update coming Tuesday.

UPDATE: Cassel was terrible on what appeared to be some simple throws and only showed some heart in the final two minutes. He's not a guy to consider in the fantasy playoffs.
Johnny Manziel/Austin Davis, CLE – Davis had a rough Sunday, throwing for 230-0-1 and losing a fumble in the loss to Cincy. We could see Manziel next week with the Browns taking on the 49ers and looking to their future.

UPDATE: Johnny appears to be getting the start against San Fran, but that doesn't make me feel very warm and fuzzy when considering some of the other young QBs available in most leagues. Avoid him unless you are very desperate.
Running Backs
Matt Jones, WAS -
He handled most of the workload after Alfred Morris got benched in the final three quarters Monday night, and appears to be set for a solid matchup against the Bears in Week 14. He's only available in shallower formats and about 20-25 percent of most leagues, but he's a guy who could have a huge impact during the fantasy playoffs and he's capable of monster games.
James White, NE – White caught a career-high 10-115-1 and makes an excellent addition heading into a difficult Week 14 matchup with the Texans. While he's owned in about 60-65 percent of leagues, there are plenty of formats where he just didn't make rosters because of the uncertainty that surrounds the Pats' running game. Now, he appears to be the best option to rack up dump offs (so he's got big-time PPR value) and has a good shot at scoring.
Darren Sproles, PHI – Sproles (50-60 percent owned) had his best game of 2015, racking up 66 rushing yards on 15 carries and adding a punt return TD against the Pats. He supplanted DeMarco Murray as the primary back in Chip Kelly's Week 13 game plan and could be used heavily again in Week 14 against the Bills. The Eagles offense is finally getting interesting!

UPDATE: Ryan Mathews could get cleared to play this week and would seriously hinder Sproles' chances at repeating the volume he got in Week 13. Keep an eye on the injury report and inactives list regarding this situation. If Mathews (40-80 percent owned) is active, I expect him to get a lot of work.
Ameer Abdullah, DET – Abdullah (70-75 percent owned) rushed for 67 yards in 13 carries on Thursday and appears to be the Lions' primary (and most talented) ball carrier going forward. The Rams defense is tough but it's likely the Lions will use a lot of Abdullah in this Week 14 matchup – especially on early downs.
Juwan Thompson, DEN – If you're desperate at RB, perhaps Thompson (universally available) could get some value as an RB3 next week against the Raiders, especially if C.J. Anderson misses any time. Hillman hasn't set the world on fire and Thompson appeared to be the short-yardage/change-of-pace back once Anderson left the game.

UPDATE: Thompson is about the only low-owned (0-10 percent) RB I'd consider adding and using for this week, especially with news that C.J. Anderson's ankle is "pretty sore." You'll have to stay tuned on how this develops throughout the week.

RB Updates
C.J. Anderson, DEN – Anderson rolled his ankle after gaining 42 rushing yards on seven carries. He added 1-12-0 on his lone target and didn't play following the injury. We'll update you on his progress tomorrow.

UPDATE: As I said, the ankle is very sore, and his previous issues makes me think they'll avoid pushing him as they try to get healthy for the playoffs.
David Johnson, ARI – The Cards said Johnson would get about 25 touches, and they were right – the talented rookie rushed for 99 yards on 22 carries and added 2-21-1 on three targets. He's a quality RB2 play next week against the Vikings.
Theo Riddick, DET – Riddick had just one carry for 4 yards but added 5-27-0 on six targets. He's a PPR specialist with marginal 15-18 point upside as a flex play in those formats, with a floor around 4-5 points.
Dan Herron, IND – "Boom" carried just twice for 8 rushing yards but added 3-16-0 in garbage time against the Colts. The promise that he'd fill the Ahmad Bradshaw role was greatly exaggerated, because he didn't see many snaps. Unless the Old War Dog (my buddy's terrible nickname for Frank Gore) is injured, he doesn't have much value.
Brandon Bolden, NE – Bolden carried the rock three times for 22 rushing yards and added 1-2-0 in the loss to Philly. The Pats struggled to get much from their running game and James White (10-115-1 on 13 targets) stole the show out of the backfield despite only two carries for 4 yards.
Joique Bell, DET – Bell had 2-25-0 receiving but a paltry 5 rushing yards on eight carries. Abdullah is clearly the back to own in Detroit and starting to make some headway.
Wide Receivers / Tight Ends
Ted Ginn Jr., CAR – I added Ginn (60 percent owned) last week in a couple of leagues but failed to start him – a dumb decision considering the matchup and the faded prospects of the guy who I started in his place (the injured Jarvis Landry). Still, it's nice to have him on my roster and he could be an excellent play facing the Falcons in Week 14.
Dorial Green-Beckham, TEN – The tall, imposing rookie WR finally had his breakout game with 5-119-1 on six targets from Mariota. He's 20 percent owned and could be looking at even more targets against the Jets next week, though he's definitely a risky play.

UPDATE: I'm wary of going all-in on him, but a smattering of DGB as a WR3 across the fantasy landscape may be in order for Week 14. He's an exciting player with plenty of upside and he seems to finally have the confidence of Mariota and the staff.
Brandon Coleman, NO – With Willie Snead out with a calf injury, Coleman (5 percent owned) stepped up with 4-73-1 on seven targets in a tough matchup, hauling in his first TD since Week 1. If Snead misses more time, Coleman makes a nice WR4 pickup.
J.J. Nelson, ARI – Nelson is fast becoming a popular red zone target for Carson Palmer. He had just 2-34-1 in Week 13 but has two scores in his last three weeks. He's a good dynasty add and could see more snaps if any of the regular WRs miss time with their nagging injuries. Stay tuned.

UPDATE: Nelson played fewer than 15 snaps on Sunday? Seemed like more. Anyway, maybe he's not a great option this week, especially with the other receivers getting healthier.
Brian Hartline, CLE – The Browns opponents are stacking the line and rolling most of their coverage to Travis Benjamin and Gary Barnidge, leaving Hartline (5-10 percent owned) to collect receptions. He had 8-83-0 on 11 targets in Week 13 but maintains a similar low ceiling/high-floor projection for Week 14.

UPDATE: Benjamin is questionable for Week 14 and Hartline had a solid 6-77-0 line with Manziel under center in Week 10. He's worth a look in PPR and deeper leagues as a WR3/flex.
TE Richard Rodgers, GB – He reeled in the game-winner on Aaron Rodgers Hail Mary and ended up with 8-146-1 on the day, despite being owned in about half of fantasy leagues. He's the top TE add this week.

UPDATE: TE Jacob Tamme, ATL – Leonard Hankerson is done for the year and Tamme has a couple good matchups. He could draw a bunch of targets this week as the Falcons try to solve the juggernaut Panthers and stay in playoff contention.
UPDATE: TE Austin Seferian-Jenkins, TB – If he's starting against the Saints, I might give him a whirl, but he's disappointed fantasy owners since his Week 1 breakout and lingering shoulder issue. The matchup is an excellent one, but this is a situation that requires heavy monitoring.
TE Charles Clay, BUF – Clay has disappeared at times this season but had 4-66-1 in Week 13, scoring his first TD since Week 3. Like Rodgers, Clay's ownership is at about 50 percent.
TE Ryan Griffin, HOU – If all the top TEs are gone and you need a good red zone guy as your TE2, Griffin is universally available and has two scores in as many weeks. He caught 3-29-1 in Week 13 and has developed good rapport with Brian Hoyer, supplanting Garrett Graham as the main TE in Houston. The Pats represent a difficult matchup, but with most of the coverage probably going to DeAndre Hopkins and the other WRs, Griffin could sneak in a score again like Zach Ertz did against the Pats in Week 13.
WR/TE Updates
Doug Baldwin, SEA – Only Allen Robinson (10-153-3) and Antonio Brown (8-118-2, PRTD) had better stats at WR in Week 13. Baldwin (5-94-2) is a good bet for more looks against a Ravens team that struggles to contain wideouts, though he's now 80-90 percent owned. He's the best of my Week 13 recommendations at WR, which had a bunch of good ones!
Markus Wheaton, PIT – Wheaton's 3-50-1 was overshadowed by bigger games from Brown and Martavis Bryant, but the guy is still getting targets (six in Week 13) and is still available in about 60-75 percent of leagues.
DeVante Parker, MIA – Parker had 3-63-1 on five targets and makes me 3-for-3 from last week. Damn, I'm good!! He should continue to get looks with the Miami WRs corps dinged up and the coaching staff gauging their talent.

UPDATE: Rishard Matthews is likely to be out once again, which could mean upwards of 10 targets for the rookie Parker (30-60 percent owned) on Monday night against the Giants.
Anquan Boldin, SF – My first miss (at least non-TD this week) – though he should have done better than 5-37-0 on his 13 targets from Gabbert.
Mohamed Sanu, CIN – I'll admit that Sanu was a longshot to begin with, but I expected more than one target (zero catches) and one carry (7 yards).
TE Julius Thomas, JAC – Both Thomas (2-15-1) and Chandler below scored, but I expected more than five targets and modest output for big Julius. He'll do better next week, so if you added him, don't be discouraged.
TE Scott Chandler, NE – Chandler was the fifth-highest scoring TE of Week 13 with 4-61-1 on seven targets. He's likely to get looks if Gronk is still out for the tilt at Houston.