With free agency getting cranked up this week, let's take a look each skill position and highlight some of the biggest names available. I'll match each player with a team that I think would be a best-case scenario for his fantasy value in 2018. I previously discussed the Tight Ends, Wide Receivers and Running Backs. Last but not least, the QBs...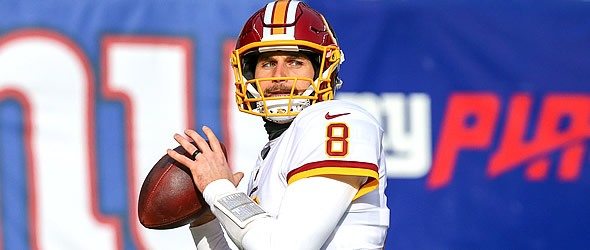 Kirk Cousins has many suitors and will likely be overpaid once free agency begins on March 14th.
1. Kirk Cousins

When Cousins has it going, he feasts on opposing secondaries and carries a confidence and skill set comparable to quarterbacks like Tony Romo, Drew Brees and peak Matt Hasselbeck (2003-07). Heís hitting his stride as he approaches his age-30 season and is a highly sought-after free agent piece that could make or break the next couple of seasons for a franchise. He didnít appear to be a franchise QB a few years ago, but heís made giant strides in the interim. Stats and ranks from his age 27, 28 and 29 seasons, respectively:

4,166 passing yards (10th), 29 TD (13th), 11 INT, 7.7 Y/A (11th), and 69.8 Cmp% (1st)

4,917 passing yards (3rd), 25 TD (13th), 12 INT, 8.0 Y/A (5th) and 67.0 Cmp% (8th)

4,093 pasing yards (7th), 27 TD (8th), 13 INT, 7.6 Y/A (10th) and a 64.3 Cmp% (9th)
At the end of 2017, it looked like his team was prepared to pay him off to stay in Washington, but acquired Alex Smith in anticipation of a possible exodus.
Best Fit: Vikings
Even after the playoffs wrapped up, most pundits assumed the Vikings would be looking at one of their three current quarterbacks (Case Keenum, Sam Bradford or Teddy Bridgewater) to lead them into the future, but the Vikings could very well offer Cousins a few seasons on a guaranteed deal, and he may very well scoop it up. Heís said he wants to win, and the Vikings offer him the best opportunity to do that and secure his legacy. The Broncos come in a close second from that perspective, with a bevy of talented receivers and a solid defense already in place.
Other possibilities: Broncos, Bills, Cardinals, Jets

2. Drew Brees

Letís just go through this formality, especially since other possible outcomes have been bandied about. The Saints are such a prohibitive favorite to land a career-closing deal with Brees (whose contract voids in the coming days), that Iím listing him second. Statistically, heís a future Hal-of-Famer with very little to prove, and heís said he wants to stay in New Orleans.

Best Fit: Saints

Sean Payton said in January that Brees is coming back, but they still must sign him. They have about $32 million of cap space, so itís possible they could re-sign Jimmy Graham and then make an even better pitch to Brees, who despite his allegiance to the Crescent City, does have other potential suitors willing to throw him gobs of money to make them a contender. But letís not overanalyze this. The best fit is clearly with his current team, and its potent offense with a bevy of versatile weapons.

Other possibilities: Jets, Broncos, Cardinals, Vikings

3. Case Keenum

What a year for Keenum. He took over a good Vikings team after Sam Bradford went down, amassed 3547-22-7 in 15 games and led his team to the NFC Championship, and now looks to be headed toward free agency because Mike Zimmer isnít convinced heís any good. The truth is that Keenum may just be comparable to Cousins Ė finally figuring things out at 30 years old and entering his prime after years of playing second fiddle.

Best Fit: Bills

The best thing for Keenum might be to sign a deal as Eli Manningís backup, following Pat Shurmur to the Giants and proving heís the best man for the job after the 37-year-old Manning eventually struggles behind a pitiful offensive line. Keenum is more mobile and has a similar floor to Manning Ė with more upside at this stage of his career. But for Keenum, whoís been with four teams over the past four seasons, the best fit would be in Buffalo Ė a team that just excised Tyrod Taylor and are in the market for a difference-making QB. Keenumís price tag wonít be nearly as high as that of Cousins, who could get a massive deal from the Vikings, and heís still a smart and efficient passer who could provide a steady presence even if the Bills draft a rookie QB to usher along.

Other possibilities: Cardinals, Broncos, Vikings

4. Sam Bradford

This guy will not go away. Heís a much riskier signing than the aforementioned quarterbacks because of his injury history and possibility of a degenerative knee condition (emerging troll Mike Zimmer recently called it just that), but there are plenty of teams that will give him a deal. Since the start of 2014, Bradford has better than a 2-1 QB/INT ratio (56 TDS, 23 INTs in 38 starts) and he makes plenty of sense as a short-term starter until his legs eventually give out.

Best Fit: Cardinals

This makes sense, doesnít it? The Cards are unlikely to land a top QB, but could easily draft a guy to assume the reins down the road, and they have already proven willing to go with an aging player at the position with a checkered injury history. Carson Palmer is retiring, and Bradford is 30 years old with the experience and ability necessary to vastly improve the Cardinalsí 2018 outlook. Assuming he can pass a physical and sign a contract, Bradford could be destined for the desert.
Other possibilities: Bills, Jets, Broncos
5. Jay Cutler

This is crazy, right? Welcome to the NFL, where retreads are still all the rage and beleaguered 34-year-old QBs can retire at 32 in 2016, hit the broadcast booth and then inject himself back in the free agent pool after a mediocre 2017 season! Cutler showed NFL teams enough ability and emotion last season to easily land a backup deal in 2018 Ė but heís said he wants a starting gig and isnít being welcomed back to Miami.

Best Fit: Retirement

Yeah, this is probably the most likely scenario, because the biggest contract Cutler is likely to be offered for steady work is coming from Fox Sports. Cutlerís had an interesting if not heroic run as an NFL QB, and he proved in 2017 that his heart was still in it. But unless a team emerges at the last minute with interest in his talents (he beat Tom Brady one week last season) and a promise of starting under center, heís moving back to domestic bliss and Sundays in the booth.

Other possibilities: Cardinals, Broncos, Bills