With free agency still a few weeks away let's take a look each skill position and highlight some of the biggest names available. I'll match each player with a team that I think would be a best-case scenario for his fantasy value in 2018. Up first are the tight ends.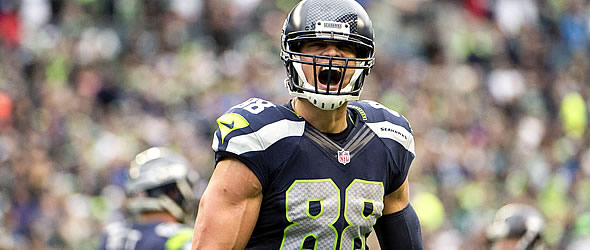 Jimmy Graham became a valuable redzone target for the Seahawks. Exactly what the Ravens need.
1. Jimmy Graham
Graham is no longer the top-tier fantasy TE he was during his heyday as a young, dynamic playmaker in New Orleans. In fact, heíll turn 32 next season, in what will be his ninth year as a pro. His targets dropped precipitously (at about a 25-30 percent rate over his three years in Seattle from his time in New Orleans) after he was acquired via trade by the Seahawks in 2015, and he hasnít been the same explosive player since tearing his patella tendon later that season. Heís still capable of big games but is much less of a consistent option at the position, and heís a significant enough injury risk to warrant considerable caution on draft day. Last season he played about 68% of the Seahawks snaps, and caught just 57 passes for 520 yards Ė though 10 of those were converted for TDs. While itís likely weíre done seeing the days where he logs over 75 percent snap rate, he can be a major contributor in the right system.
Best fit: Ravens
Thereís not a team in the league that desperately needs a red zone playmaker more than Baltimore, who made do at the TE position last season with 37-year-old Ben Watson because Nick Boyle and Maxx Williams were mainly blockers and inexperienced pass catchers who had just 46 receptions between them. While itís not a rich free agent market for the position, itís likely Graham will command the most attention among the five listed here. If he doesnít cost too much to sign, Joe Flacco could benefit from having the big-bodied Graham Ė whoís expressed a desire to be more involved in the passing game Ė as his main red zone target.
Other possibilities: Texans, Packers, Jaguars, Falcons
The enigmatic Seferian-Jenkins (ASJ) has had a tumultuous career in the NFL, and continues to fluctuate between breakout and bust. The Jets showed some faith in him in 2016, when he was waived by the Buccaneers following a DUI arrest. He quit drinking, lost 30 pounds and turned in a few solid performances in 2017 after serving a two-game suspension for a substance abuse violation from his time with Tampa Bay. Though he finished with just 50-357-3 on 74 targets (13 games) last season, he could easily be a second-tier fantasy TE if he could see 100 or more targets over 16 games.
Best fit: Jets
Itís not exciting, but thatís not what ASJ really needs, is it? The 25-year-old says he wants to stay with the Jets in 2018, and itís likely they could use his talents again since he flourished under Josh McCown, whoís also entering free agency and will likely end up as a backup somewhere if he doesnít retire or resign in New York. There are downsides to the Jets retaining ASJ, and thatís because of the air of uncertainty around the QB position, which may have played a role in the talented TE seeing just nine targets over a three-week stretch toward the end of 2017. Increasing frustrations with the organization and his role could further damage ASJ as an NFL commodity, and I hope that doesnít happen if he resigns with New York. But if McCown signs, it makes sense to bring back ASJ right along with him.
Other possibilities: Bears, Broncos, Patriots, Packers
3. Trey Burton
The Eagles didnít lose much in terms of athletic ability when Zach Ertz was forced to miss a couple games due to a concussion and other injuries last season, and thatís because Burton stepped in and produced. He finished the season with 23-248-5 as a backup and at 6-3, 235 pounds, he projects as the pass-receiving TE on any team he goes to. His Super Bowl TD pass to Nick Foles launched him into the national consciousness a bit, and heís likely to earn a few more dollars this season with that positive exposure. In college at Florida, Burton played QB, FB, TE and WR, and his versatility could make him a useful red zone weapon wherever he lands. Heís also a standout special teamsí contributor. Unfortunately, heís not an every-down type player and his size limits his ability to handle the rigors of blocking NFL defensive ends and OLBs.
Best fit: Patriots
I know it sounds ridiculous, but Burton would fit perfectly into this offense with his skill set and the presence of Rob Gronkowski as the starting TE. The Patriots arenít afraid to use smaller receivers around the goal line, but a TE with WR abilities (and some QB skills) had to have caught the attention of Bill Belichick. Itíd be just like the Pats to snap up one of the guys that beat them, and thereís a definite need for a capable second TE in Beantown.
Other possibilities: Bears, Falcons, Bengals, Cowboys
4. Tyler Eifert
Eifert is a talented pass catcher and game-breaker type TE who has really struggled with injuries during his five-year NFL career. Heís suffered:
A torn ligament in his elbow that ended his 2014 season after 1 game

A back injury that sidelined him after 8 games in 2016

A nasty back injury that required surgery in late December 2017
In the 39 games he has played, Eifert has racked up 127-1537-20 Ė impressive totals. His 13 touchdowns during his Pro-Bowl 2015 season were especially remarkable considering he caught just 52 passes that season. But none of that matters if heís not on the field, and his 2018 status, including his return to practice or training camp, is still in doubt.
Best fit: Bengals
I know, I know Ė Iím boring. But you know who else is? The Bengals, a team that inexplicably kept Marvin Lewis on for another season despite a massive amount of evidence that pointed to them moving on. They have a hard time saying goodbye, and as embattled a time Eifert has had in Cincinnati with his injuries, I doubt theyíll cast him aside. Just look at the statement Lewis made in support of re-signing Eifert in January:
ďObviously, Tylerís career is not what he wanted, or what we expected. He has had some injuries he has continually had to overcome, and he is fighting back from some this year.Ē
Yes, Marvin. Eifert did not expect this to be his career, or for you to be his coach in 2018, so he may just decide to move along. But nobody needs Eifert perhaps as much as A.J. Green, who gets hammered with smothering defense in the absence of the playmaking TE. If the injury picture thatís haunted Eifert remains cloudy heading into the spring and summer, it might just make the most sense for Eifert to stay with the Bengals.
Other possibilities: Falcons, Texans, Packers, Jaguars
Brate is a fine receiving TE with plenty of fantasy upside and the ability to dominate targets against defenses that canít handle double-TE sets. At the start of the season, when Jameis Winston and O.J. Howard were both healthy, Brate was consistently productive as defenses were forced to guess which TE would run a pass route and which would block. Once the defense tipped its hand, Winston would just call the play that favored the mismatch. As a move-around, short-to-intermediate option, Brate is perfect for pairing with an even taller, more physical and rangy TE with explosive downfield ability. No team does that quite as well as the Patriots did with Rob Gronkowski and Aaron Hernandez, but a few teams may be looking at developing more of those plays with a guy like Brate playing the Hernandez role.
Best fit: Steelers
If the Patriots donít go for Burton, Iím almost certain theyíll make a play for Brate. But the Steelers are also being bandied about as a possible landing spot for the Harvard alum, and with good reason. Heíd pair quite well with Jesse James and provide a dual receiving threat option at the position alongside Vance McDonald. The Steelers will be needing some of those intermediate options if RB LeíVeon Bell signs with another team in 2018. Pittsburgh has been not-so-quietly looking for a vaunted TE since Heath Miller retired, and Brate makes sense considering all the cap space that would be freed up with Bell out the door. Thereís also the possibility that the Bucs decide Brate is indispensable to the offense, and pay him what he would command in the free market.
Other possibilities: 49ers, Patriots, Bucs, Broncos