Last week's question: Did your fantasy league go on hiatus for COVID?
Although many leagues were postponed until 2021 in fear of a COVID-compromised 2020 season, some leagues kept things simple by following the money. As MysticYooper wrote, "My 2 money leagues postponed [fee collection] until we knew we had a season. That way if the NFL crashed and burned, no one was out anything." That's an excellent policy for keeping things simple, & since it happened in 2 of his leagues, one suspects it was probably commonplace.
But whether your league plays for money or not, your time and energy are valuable to you. Sane people don't go around expending their time & energy for no reason, and a lot of FFers felt that having a draft in August would be a waste of time simply because of the possibility of a shortened/canceled/wildly unpredictable season.
For such readers, I have a message of hope from Kim, who has stumbled onto a method that enables us to have our fantasy cake and eat it too by dividing the regular season into a series of mini-seasons. If the 2020 NFL season runs its entire course, Kim's league is covered because they'll get to keep adding mini-seasons all the way to the end. But if the NFL has to shutter operations unexpectedly in Mid-November, Kim's league is prepared for that as well--with multiple mini-seasons already having been brought to a close by that point. Kim explained how in a detailed email that I've edited as minimally as possible for a general audience:
Like so many, I felt that fantasy football this year was going to be fraught with issues related to COVID: postponed games, players being out at the last minute from testing positive, the season being shortened or interrupted (stay tuned for that, I guess). Many of the folks in the two leagues I run felt similarly and several decided they just wanted to opt out to avoid the entire headache (after all, fantasy football is supposed to enhance your enjoyment of the game, not detract).

As a result, I wanted to come up with a format that would eliminate some of these potential stressors. I thought about trying to organize a DFS or best ball league, but these still didn't really fit the bill for me or lots of other people when I floated the idea. I landed on adapting a playoff fantasy football pool I've run for roughly 15 years. In that pool, it's run for the first 3 weekends of the playoffs (does not include the Super Bowl). Until this year, there were 8, 8 and 4 teams playing on those weekends, respectively. So for the first 2 weekends, you have to submit a lineup (QB, 2 RB. 2 WR, TE, K, D/ST) using one player from each of the 8 teams to make your lineup, and on Conference Championship Sunday you fill your roster using 2 players from each of the 4 remaining teams. We award prizes for weekly winners, top 3 total scores, and the top scoring player that was only in a single lineup on a given week.

Obviously, multiple people will have the same players in their lineups and possibly even submit identical lineups. Several of the people in both of my leagues have competed in this pool over the years, so they were familiar with how it worked. Twelve of the 22 owners from my two leagues decided they wanted to give it a try for the 2020 NFL regular season. So we use 4 games each week. We choose one Sunday noon game, one late afternoon Sunday game, the Sunday Night Football game, and the Monday Night Football game (as you can see, we NEVER use the Thursday Night game).

We've put the schedule out in 4-week chunks to make sure we're not getting too far ahead of ourselves with schedule changes and also keeping up with trends so we're choosing the best matchups (I've put games out for a league vote). On one occasion we had to sub out a game on Saturday (NE/KC) because of wanting to avoid uncertainty and it potentially being moved out of that week, but it was an easy enough thing to do. We subbed in the game the NFL moved to that late afternoon window (IND/CHI) to replace the delayed game, a text was sent out to all league members and we were good to go. We've set up rules to deal with last minute subbing of both games as well as players so hopefully we won't encounter something we haven't considered. I've gotten a lot of feedback about how much people are enjoying it, and I'm considering doing something like this beyond this year.

At any rate, I wanted to share a very different format that I've never really seen mentioned over the years (even during the playoffs) and report that it's working well for a dozen of us. Hope others have found ways to eliminate headaches and increase enjoyment during this crazy year.
This sounds like a very workable (and tweakable) approach for lots of leagues that may now be wishing they had put something together after all. I know plenty of leagues have special fantasy tournaments that they run during the NFL postseason, and I bet that most of those leagues (like Kim's) could adapt those rules into contests that could take as many as 3 weeks or be settled in just 1 if the league suddenly announced an unexpected closure.
What I love most about Kim's message is that it contains actionable advice for people who might want to do something now even though they gave up on fantasy in 2020 back in August.
I therefore want to give additional readers a chance to chime in with their approaches for breaking what's left of 2020 into "mini-fantasy seasons," which brings us to: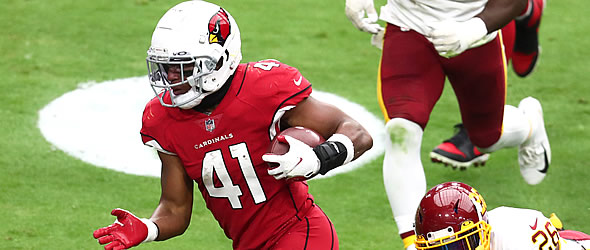 This Week's Question: What can FF lovers do with the rest of the 2020 season to get the most fun out of it?
As I indicated above, I'm eager to hear what sort of mini-season approaches people could use to get their fantasy jollies out of the remainder of the NFL season in 2020 (whether it's shortened or not)--especially if they decided not to have a draft in August and are now regretting that decision. I'm sure there are lots of options out there; let's make sure all the people who need to know about them can find them in one place (next week's column!).
I'm raising this question in part because of the spirit of fun that I can sense in Kim's note. Even though Kim's leagues didn't know what to expect and decided it would be too much trouble to have a traditional draft in 2020, it took them no time at all to find their way to some untraditional fantasy enjoyment--even in the gloomy uncertainty of COVID. Props to all those owners for having a great fantasy attitude.
As Kim says, "fantasy football is supposed to enhance your enjoyment." Amen! If having a traditional draft in spite of COVID enhanced your enjoyment, good for you. If canceling your draft and substituting a mini-season approach such as the one outlined by Kim enhanced your enjoyment, good for you. There's enough wrong with 2020 that we don't need any extra stuff to get upset about, so I support whatever approach you can take to enjoy the fantasy aspect of the NFL without stressing yourself out.
I'm thinking along these lines not just because of Kim's positive attitude, but because of some specifics in the Week 6 games that reminded me how much fun fantasy football is, especially the thrilling Houston-Tennessee match-up. Even though I'm no fan of Bill O'Brien, I gave up on the Texans after his firing because I figured their season was close to unsalvageable. I didn't care if the players were going to have more "fun" playing under Romeo Crennel because I expected them to lose.
However, since my opponent in the FFToday Staff League in Week 6 (Joseph Hutchins) had Brandin Cooks in his lineup, I decided to see how things looked for Houston. One series later, I was riveted. It looked to me as if the Texans could realistically hand the Tennessee Titans their first defeat of the season. I was surprised and impressed and found myself rooting for the Texans to flourish under Crennel. Sadly, Houston came up short by losing in overtime--but the game was a pleasure to watch.
That's not the first time I ever checked on a game simply because of its fantasy implications for me only to stick around because the game captivated me. That experience is part of the fun of fantasy. I fear that too many of us may have lost touch with it in 2020--which may be precisely when we need that sort of release most.
The weirdest reason this urgency to recover the fun in fantasy football was triggered in me is the way the Cowboys ended their Monday night game against Arizona by giving up a 69-yard rushing TD to Kenyan Drake.
Way back in October of 2003, my bitterest fantasy defeat occurred near the end of a Monday night game between the Buccaneers and the Colts. I went into the game with no active players remaining and a very comfortable lead (at least 40 points) over my opponent, who only had one player left in his lineup: Keenan McCardell.
McCardell caught two TD passes from Brad Johnson, which was fine because I had such a huge lead. When Johnson threw an interception to Indy's Mike Doss, my first thought was, "Well, as long as he isn't completing passes to McCardell, I'm safe." But then the impossible happened: Mike Doss fumbled his interception, and McCardell recovered the fumble for a 57-yard TD, which was just enough for me to lose that matchup.
I had no idea how deeply scarred I was by that event until the Monday night game between Dallas and Arizona. As in 2003, I went into the game with no active players remaining and a huge lead over my opponent, whose only player left was a receiver (in this case, Christian Kirk). I had flashbacks of McCardell as Kirk scored 2 TDs.
My anxiety about a McCardell reprise was so high that when Drake broke for that 69-yard TD in the final 2 minutes, I was certain it had to be Kirk on an end-around. I kept looking at the letters on his jersey as he ran and trying to assure myself that it read "Drake" even though, more often than not, all my eyes could make out for certain was, "His name is short, and there's a K in it."
Fortunately, Drake turned out to be Drake after all--and not some special MNF disguise for Kirk designed to snatch another fantasy victory from me at the last moment. My point is that if a fantasy loss from 17 years ago left that much of a mark on me, it's a pretty good indicator of how much of an impact this hobby can have on us if we let ourselves get caught up in it.
So for those of you who wrote to complain about a poorly informed NFL policy or a misguided decision from Goodell that has you turning your back on fantasy football just because you're mad at the league, I urge you to reconsider. I think it's really dumb that the NFL requires adults to wear masks in outdoor stadiums with practically nobody in the stands in the first place, but I don't let that keep me from enjoying the games.
The takeaway is that I had a heck of a lot of fun following the NFL this weekend, and I hope that everyone who wants to enjoy some of that regular old fun that was a staple of the "old normal" will permit themselves to do so. If I can get some specific recommendations about how to achieve that (in addition to Kim's--for which I'm grateful), then I look forward to sharing them next week. Please share your ideas with me in the comments below or via email.
Survivor Pool Pick (Courtesy of Matthew Schiff)
Trap Game – LA Rams over Chicago

The Monsters of the Midway have been playing some tough defense, but their offense has been less than stellar with the benching of Mitchell Trubiski for Nick Foles. Jared Goff and company haven't found their stride, and the 5-1 Bears are primed to steal this in LA. In a prelude to Halloween, beware...
#3: Cowboys over Washington: 3-3 (BAL, KC, az, sf, LAR, min)

If you're desperate for a game that should go the way of the "better" team, then the Cowboys are your option. We could go into all sorts of analysis, player skills, etc., but the bottom line is that Zeke could fumble twice and still beat the Washington Football Team by himself.

#2: LA Chargers over Jacksonville: 4-2 (ind, AZ, TB, BAL, sf, MIA)

After a 34-16 drubbing at the hands of Detroit in Week 6, the Jaguars must face a Charger team coming off its bye. Look for rookie QB Justin Herbert to demonstrate that he put that extra week to good use by helping to guide the Chargers to their second win of the season against one of the few defenses in the league that is even worse against the pass (Jacksonville is 29th) than the Chargers themselves (27th). This game will be a scoring fest, but should fall the Chargers' way.

#1: Buffalo at NY Jets: 5-1 (KC, GB, IND, LAR, BAL, ne)

Josh Allen was an early candidate for the NFL MVP, but has now had two lackluster games in a row. The good news is the lowly Jets are on the schedule and the last time they played, Allen passed for 312 yards and two touchdowns with a rushing TD thrown in for good measure. With the departure of Le'Veon Bell to KC, we may see rookie La'Mical Perine featured going forward. Either way, the Bills' defense should feast on the Jets in this easy win.

---
Mike Davis has been writing about fantasy football since 1999--and playing video games even longer than that. His latest novel (concerning a gamer who gets trapped inside Nethack after eating too many shrooms) can be found here.