QB Russell Wilson
(2021 QB Rank - No.13, 20.4 FPts/G)
While most of the offseason speculation about the Broncos acquiring a quarterback revolved around Aaron Rodgers, Denver finally found a partner in the Seattle Seahawks, dealing three players and five draft picks for nine-time Pro Bowl selection Russell Wilson. Although Wilson is coming off a down year, which included missing games due to injury for the first time in his career, heís light years ahead of what has been seen in Mile High since the retirement of Peyton Manning following the 2015 season.
How new head coach Nathaniel Hackett chooses to feature Wilson will be interesting, as for all his talent the veteran quarterback was often utilized as a glorified game manager during his Seattle run where Pete Carroll has long prioritized defense and controlling the clock with the run. The lone exception to this was the short-lived ďLet Russ cookĒ phase, which came to an end when Wilson threw seven INTs over a four-game stretch in 2020 where the Seahawks went 1-3.
Hackett, who spent the last three years working with Rodgers as Green Bayís offensive coordinator, is likely to be more aggressive than Carroll was, but the Packers have quietly developed a solid running game so expect a fairly balanced approach. Plus, for as much potential as the Broncos have at their skill positions, thereís no singular talent on par with DK Metcalf or anyone as proven as Tyler Lockett.

Entering his age-34 season, Wilson is a fringe top-10 fantasy quarterback with the potential to slide up into the top five and possibly down into QB2 range, depending on how much heís asked to do both as a runner and passer in an offense thatís high on upside but light on proven commodities.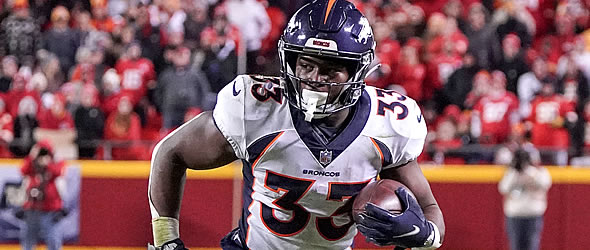 RB Javonte Williams
(2021 RB Rank - No.26, 12.2 FPts/G)
A year ago, the backfield tandem of Williams and Gordon logged a perfect 50/50 split on the ground with each player running the ball 203 times. The veteran was nominally more effective, outgaining the then-rookie 918 to 903, though Williams posted a superior receiving line (43-316-3) to finish ahead of Gordon in total yards. Expect things to start skewing in favor of Williams in 2022 as the second-year pro has far less mileage and proved very difficult to bring down last year.
Once again, we return to Hackettís experience in Green Bay where head coach Matt LaFleur used a two-pronged attack with Aaron Jones in the lead role and Jamaal Williams/AJ Dillon as the complementary back. To that end, over the last three seasons Jones tallied 756 touches versus 517 for the combo of Williams (2019-20) and Dillon (2021) -- that gives Jones a roughly 60/40 split, though bear in mind that Jones missed four games during that stretch, so 65/35 is probably more accurate.
Look for Williams to get the Jones share of the touches in 2022 with Gordon, who was re-signed to just a one-year, $2.5 million deal in the offseason, filling that secondary slot. Itís probably a little aggressive to project Williams as an RB1, but that could be his ceiling. For now, heís a solid RB2.
RB Melvin Gordon
(2021 RB Rank - No.24, 12.6 FPts/G)
Given where he was drafted (15th overall in 2015), Gordonís NFL career must at least be considered a mild disappointment. Granted, heís heading into his eighth year in the league, and heís accounted for more than 8,000 total yards in that time, but he managed just one 1,000-yard rushing campaign and has shown a penchant for fumbling issues cropping up at the most inopportune times. As noted, the veteran returned on a one-year deal for what will likely be a reduced role, so it doesnít appear that he had a lot of suitors on the open market.
Even at age 29, however, Gordon still has breakaway speed, and as such heís a threat to take it to the house any time he gets the ball in space. He has good hands as well, making him a three-down option for Hackett to utilize. After serving in a 1a/1b capacity with Williams in 2021, Gordon is likely to function as more of a true No. 2 back in 2022. As such, heís a low-end RB3 or flex target.
WR Jerry Jeudy
(2021 WR Rank - No.76, 8.5 FPts/G)
Jeudy hasnít exactly been a bust since the Broncos made him the 15th overall pick in 2020, but the fact that he was selected ahead of players such as Justin Jefferson, CeeDee Lamb, and Tee Higgins (among others) doesnít cast his first two seasons in the NFL in a favorable light. In fairness, his sophomore campaign got off to a tough start when he suffered a high ankle sprain in Week 1 that would keep him out until Halloween. He was decent upon returning but wound up averaging a modest 3.8 receptions for 46.7 yards last year while failing to score a touchdown.
Of course, the elephant in the room is the quarterback play. How big of a part did catching balls from the likes of Drew Lock, Teddy Bridgewater, and Brett Rypien have in the underwhelming start to Jeudyís career? Well, weíre about to find out, because Wilson is a legit NFL quarterback who produced across multiple incarnations of wide receiver rooms in Seattle. Heís long been considered one of the best deep ball throwers in the league, and the move to the thin air in Denver should only accentuate that.
Jeudy entered the NFL regarded as a polished route runner, and he has the speed to get deep, which is a facet of his game that has rarely been seen since leaving Alabama. Expect a far more productive Jeudy in 2022, making him a solid WR3 with top-15 upside -- of note, this projection anticipates Jeudy wonít face NFL discipline for a May arrest after the charges were summarily dismissed.
WR Courtland Sutton
(2021 WR Rank - No.71, 8.7 FPts/G)
How good is Courtland Sutton? Thatís a tough question to answer. Following the 2019 season when he posted a 72-1,112-6 line, it seemed like he was poised to emerge as a legit No. 1 receiver. Then he tore his ACL and MCL in the season opener in 2020. While he returned to lead the team in receiving yards last year (776), he didnít look the same. Plus, perhaps of more concern, he didnít function well alongside Jeudy when both were healthy.
Consider this: in the seven games that Jeudy missed, Sutton logged 40 receptions, 585 yards, and 2 TDs, and in the 10 games they played together, Sutton had 18 catches, 191 yards, and 0 TDs. Thatís miserable production. Again, you can circle back to shaky quarterback play and hope Wilsonís arrival is a panacea for whatever ailed Sutton last season. Thereís no question the veteran QB can spread the ball around to two talented wideouts, having done so with Metcalf and Lockett in recent years. Thatís enough to project Sutton, now two years removed from his knee injury, as a low-end WR3.
WR Tim Patrick
(2021 WR Rank - No.59, 9.8 FPts/G)
On a team with a first-round pick and two second-round picks on the WR depth chart, the undrafted Patrick is a nice story of perseverance. After opening his career with two unremarkable campaigns, the Utah alum has caught 104 passes for 1,476 yards and 11 TDs over the last two years combined. The Broncos handed him a three-year, $30-plus million extension with almost $20 million in guarantees last November, so heís clearly viewed internally as a part of their future.
Despite that, as well as his consistency relative to the two receivers listed above, Patrick feels like a bit of a third wheel. The fallback option if Jeudy doesnít improve and/or Sutton canít recapture his pre-injury form. You could make a case for targeting Patrick late in drafts as roster depth with some juice, but thatís about it.
TE Albert Okwuegbunam
(2021 TE Rank - No.34, 6.0 FPts/G)
With Noah Fant included in the trade package for Wilson, Okwuegbunam is expected to function as the No. 1 tight end in 2022, though the selection of Greg Dulich in the third round at least serves to muddy the waters a bit. Physically, there's a lot to like about Okwuegbunam, who has an ideal combination of size and speed for the position. The numbers haven't been there, going back to his time at Mizzou, but he made strides last year, finishing with a 33-330-2 line. When you consider that Fant had 68 catches to replace, it's easy to see why Okwuegbunam could have some sleeper potential. If you play in a league large enough to carry two tight ends, Okwuegbunam makes a lot of sense as a backup.