QB Trey Lance
(2021 QB Rank - No 45, 12.2 FPts/G)
Although offseason shoulder surgery on Jimmy Garoppolo (shoulder) means the incumbent remains on the roster as of mid-July, the expectation remains that he'll be traded once he's able to pass a physical, which could happen in the next few weeks. Jimmy G's imminent departure clears the way for Lance, last year's No. 3 overall pick, to take over as the starting quarterback -- and given how badly other Class of 2021 QBs fared as rookies (Trevor Lawrence, Zach Wilson, and Justin Fields in particular), it's hard to argue that the 49ers made the wrong call keeping Garoppolo as QB1.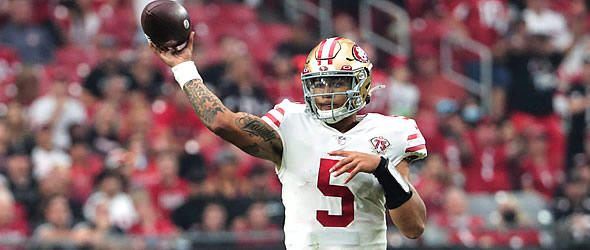 Lance did see extended action in three games last year, including two starts, and he very much looked the part of a raw yet talented project making the jump from Division I North Dakota State to the NFL, flashing plus athleticism and arm strength alongside inconsistent mechanics, reads, and accuracy. Even with another offseason under his belt expect to see some of those same shortcomings in 2022 as he gains more experience and adjusts to week-to-week life at the highest level.
Kyle Shanahan has a proven track record of squeezing the most out of his quarterbacks, though odds are he'll look to protect Lance in similar fashion to what he's done with Garoppolo, who was rarely asked to do too much. That being said, the team didn't make the switch to Lance for him to mirror Jimmy G's game manager routine, and the athletic chasm between the two immediately places the second-year QB prominently on fantasy radars in a way the veteran never was.
Make no mistake, there will be growing pains, and there will be weeks where Lance looks very much like a work in progress. That's OK. His dual-threat ability could afford him similar value to what Eagles QB Jalen Hurts provided last season. Lance would be an ideal QB2 with top-10 upside.
RB Elijah Mitchell
(2021 RB Rank – No.16, 15.0 FPts/G)
Mitchell wasn't the 49ers' rookie back fantasy owners focused on coming out of last year's draft, but the sixth-round pick ended up being the team's leading rusher with 963 yards on 207 carries (4.7 YPC), which was almost 700 yards ahead of Jeff Wilson amongst 49ers' backs. That he did it while appearing in just 11 games qualifies as both good news and bad. The good is that those 87.5 rushing yards per game trailed just four other backs. The bad is that he basically missed a third of the season due to injury.
There were several maladies for Mitchell, who suffered a concussion to go along with rib, shoulder, and knee injuries. The latter resulted in a "cleanup procedure" during the offseason, which is the most recent euphemism for "minor" surgery. He's expected to be full go in camp, but it's still a bit of a red flag that his debut campaign took such a physical toll on him. Mitchell reportedly plans to bulk up to around 215 pounds after playing closer to 200 as a rookie, so we'll see if that keeps him on the field.
Also working against Mitchell is Shanahan's history since joining the 49ers in 2017. During his five years on the job the 49ers have had a different leading rusher every single season: Carlos Hyde ('17), Matt Breida ('18), Raheem Mostert ('19), Wilson ('20), and Mitchell ('21). They also invested a third-round pick on Tyrion Davis-Price, who should give them a physical option they lacked last year. Between his durability concerns and San Francisco's tendency to chew up and spit out RBs, Mitchell carries enough risk to be viewed as no more than a high-end RB3.
Although Mitchell projects as the lead back in San Francisco this year, one need only scroll up slightly to see just how volatile the running back room has been under Shanahan. Price-Davis has the blend of size and speed that the 49ers covet, displaying the power to play through contact and the burst to run away from defenders in the open field. He has plenty of things to work on as well, though, and looks like a bit of a reach based on where a lot of draft sites projected him (fifth or sixth round).
Among those shortcomings are inconsistent ball security and a lack of patience, both of which are good ways for a young back to land in the doghouse. Price-Davis doesn't project as a featured back, either, with scouting reports labeling him as a rotation piece. In a perfect world, he'd be a late-game bulldozer to run over defenders that'd been worn down in the early going by Mitchell, but how much fantasy value would such a role generate? He's a late-round flier given his place in a dynamic running offense, but don't reach based on Price-Davis being a third-round selection -- we all saw how little that mattered in 2021 when Mitchell went three rounds after Trey Sermon.
RB Trey Sermon
(2021 RB Rank – No.82, 5.7 FPts/G)
Speaking of Sermon, don't forget that last year's third-round pick is still around. The Ohio State alum did next to nothing as a rookie, appearing in just nine games (just one after Oct. 10) and finishing the season on IR due to an ankle injury. To be clear, however, Sermon barely played when he was healthy, and the team will be hoping an offseason to acclimate to life in the NFL will put him in position to compete with Price-Davis for the No. 2 role with the veteran Wilson looming if the younger players can't deliver.
At this point, Sermon is purely watch list fodder, though you'll want to keep an eye on training camp and the preseason to see how the battle between San Francisco's recent third-rounders takes shape. If it looks like Sermon will claim that spot, he could ascend into late-round flier territory.
WR Deebo Samuel
(2021 Rank – No.3, 21.1 FPts/G)
Samuel was a breakout star for the 49ers last season, amassing 1,405 yards on 77 receptions -- his 18.2 yards per catch were the most in the NFL among players with more than 25 catches -- while adding another 365 yards on 59 carries. He also scored 14 touchdowns. He's a true difference maker and was recognized with a spot on the All-Pro First Team alongside Cooper Kupp and Davante Adams. Samuel has already proven he can make things happen anywhere on the field, so there's no reason to think that Lance won't be able to feed him the ball the same way Jimmy G did.
Of course, there is one slight problem: he asked to be traded on April 20, and while he did report for the team's mandatory minicamp, he hasn't backed off his request. The 49ers believe they can find common ground and have balked at the idea of trading a 26-year-old superstar, but the rubber won't meet the road until July 26, which is the official reporting date for San Francisco's training camp. The current CBA has made holdouts less frequent with mandatory fines that cannot be rescinded, but Samuel is entering the final year of his rookie deal and is in line for big-time money, so we'll see how it shakes out.
For now, it seems the safest course is to assume that Samuel plays for the 49ers in 2022, though his long-term prognosis is murkier. If Samuel is in uniform, he should be the centerpiece of San Francisco's offense and a top-10 fantasy receiver.
WR Brandon Aiyuk
(2021 WR Rank – No.49, 10.6 FPts/G)
A popular breakout candidate heading into last season, Aiyuk frustrated fantasy owners by failing to reach the 50-yard plateau in any game over the first two months. He came to life on Nov. 7, catching six passes for 89 yards and a touchdown in a loss to Arizona. From then on, the Arizona State product was hit or miss, but he was at least playable. He closed the regular season on a high note, posting a season-high 107 yards in an overtime win over the Rams that landed San Francisco in the playoffs.
Aiyuk has primarily been a chain mover in his two years, averaging 13.6 yards on his 116 career grabs, but it'll be interesting to see if Lance's insertion in the lineup unlocks more big plays for the passing game in general and Aiyuk specifically. There's bound to be some blowback from fantasy owners that got burned a year ago, which could push the third-year pro down the draft board. If he falls far enough, Aiyuk would make an enticing target as a No. 4 fantasy wideout.
TE George Kittle
(2021 TE Rank – No.3, 14.3 FPts/G)
Coming off a down year where injuries limited him to eight games, Kittle injured his calf in Week 3 against the Packers and was placed on Injured Reserve soon thereafter. It was a tough start for the veteran, but he had some big games upon returning in November, topping 100 yards three times in a six-game span and scoring six TDs during that run. He did little down the stretch, however, finishing with less than 30 yards in each of his final three games and settling for a 71-910-6 line on the year that suggested more consistency than what was actually present.
It wasn't that long ago that you could make a case for Kittle as the top overall fantasy tight end, but as he enters his age-29 season he's no longer in the discussion with the likes of Travis Kelce or Mark Andrews for that honor. While Kittle is still a viable TE1 with a top-five ceiling, it feels like he might already be on the downswing of his career; then again, he's been one of the strongest proponents of Lance, so perhaps the young QBs ascension will signal a return to elite status from Kittle.