One of the most difficult tasks during your fantasy football draft is trying to decide between two players you essentially see as having identical value. The purpose of this article is to not only identify pairs of players that are considered of equal value in 2018, but also take a look at the process of solving those dilemmas. With that in mind, here are two running backs whose values look to be nearly, if not totally identical.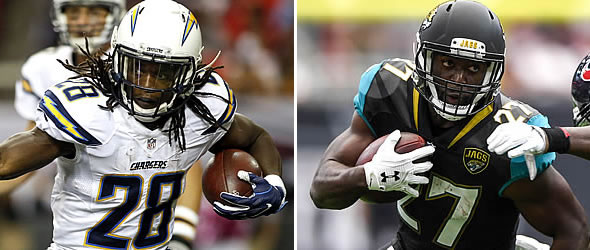 You're in the middle of Round 1 and looking for an anchor running back. Which RB do you choose?


Melvin Gordon vs. Leonard Fournette

Whereas some highly touted college running backs enter into the NFL and disappoint from a fantasy perspective, these two have largely excelled with Gordon three years in the league to Fournette's one. Both are being drafted within a whisker of each other so the question looms - which is the better pick on draft day?

Both play on teams that are likely to win more games than they lose - always a good stat for a running back. Both are the unquestioned No.1 running back on their respective teams. So, the analysis that decides this dilemma has to start with something else.

How about yards per carry? Identical 3.9 yards per tote. Touchdowns? That would be advantage Gordon (12-10 last year), but Fournette did miss three games. Touches per game played were almost identical also. In the end, no two RBs look more alike than these two but we need a
ruling...

First 4 games for Gordon: KC, @BUF, @LAR, SF
First 4 games for Fournette: @NYG, NE, TEN, NYJ



The Verdict:

Judges, we have a split decision. Gordon had 22 more receptions than Fournette last season and is more to see action on third downs. That gives him the nod in PPR leagues as his role in the offense expanded last season and should remain stable this year.

That being said, in non-PPR leagues, that slim advantage for Gordon is negated and you have to factor in Jacksonville's likelihood of playing from ahead most of this season. That plays into Fournette's hands and the fact that he's shed some pounds should help him break off a few more explosive runs. Again, it's close with these two, but PPR vs. Non-PPR is the key to making the call.