It's fair to ask after 11 years of writing this series how many Top 10 Risers I've correctly predicted along the way. To be honest, I didn't actually know until the thought occurred to me YOU all might want to, leading to some quick figuring. The answer is…more than I would have thought: 42.6%. It's a lot easier identifying 3 of 10 QBs, RBs, or WRs likely to fall from the Top 10 ranks every year, especially when a lot more than that usually do. It's significantly trickier trying to identify three replacements from a much larger group of candidates, to include a crop of brand new gridders. I should say trickier and more challenging, but also a heckuva lot more fun. Shall we?

A quick reminder of the Top 10 fantasy WRs from last season…

Note: All rankings are based on FFToday's Non-PPR league scoring.


Wide Receivers Most Likely to Rise in 2022:
Michael Pittman Jr., IND: Carson Wentz wasn't nearly as bad as we thought last year, racking up 3,500+ yards, 27 TDs, and tossing only seven picks, propelling him to a solid QB14 finish. That's precisely as many TDs and INTs as the big redhead threw in 2019, BTW, when he finished in the Top 10 (QB8). Oh, and he did all that on 91 fewer passing attempts. I say all that not to sell you on Wentz as a sleeper QB, but rather to suggest helming a Frank Reich offense behind the league's best line and in front of the league's best back might just buoy one's prospects considerably.

Enter Matt Ryan, the latest and likely greatest beneficiary of that solid Colts foundation. The long-time Falcon has been mostly stellar since the Super Bowl LI debacle in 2017, averaging a career-high 26.0 FPts/G the ensuing season and a full point better (22.1) than his total career average those past five years. That includes, however, a very disappointing 2021 (17.2 FPts/G) and an unconscionable number of sacks. Only Russell Wilson has been sacked more often since Atlanta squandered that 28-3 lead. Ironically enough, the Colts gave up the most team sacks that same year (2017) but have given up the fewest from 2018 on (tied with KC).

An upright Ryan can still be a very productive force in this league as he almost always completes about two-thirds of his passes when he gets 'em off. And the guy he'll be most often connecting with in Indy is Pittman. The former Trojan is coming off a 1,000+ yard, six-TD campaign and looks primed to be this year's third-year breakout. While defenses try to eliminate Jonathan Taylor, Pittman sneaks into the Top 10.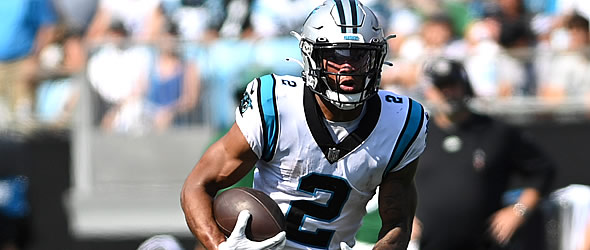 D.J. Moore, CAR: I'm a very reluctant and very late passenger on the D.J. Moore bandwagon, but it's impossible to ignore the former Terp's reliability at this point. I mean, there's consistency and then there's consistency… and then there's what Moore's accomplished the past three seasons down in Charlotte. Here are his fantasy point totals in 2019, 2020, and 2021, respectively: 145.5, 145.5, and 144.5. They couldn't toss him one more 10-yard slant last season to complete the trifecta?

Provided the price were right—the price always has to be right—I'd probably forsake the higher ceiling of a DK Metcalf or A.J. Brown, say, for the steady production of Carolina's WR1. There's just something to be said about a bird in the hand versus one in the bush. He's not necessarily a WR1 in fantasy, but Moore's been easily the safest, most predictable WR2 since the 2019 season. And if he ever manages to crank up his end zone production (four TDs all three years), who knows?

Maybe the best thing about Moore is that he's managed to maintain that stable production despite a crazy amount of churn at the quarterback position. Here's whom the Panthers have started since he entered the league in 2018: Cam Newton (not bad), Taylor Heinicke (not good), Kyle Allen (quite bad), Will Grier (really bad), Teddy Bridgewater (not bad again), P.J. Walker (not good), Sam Darnold (really quite bad), and Newton again (blech). That's not to say Carolina's presumed starter in 2022, Baker Mayfield, is any great shakes. I'll say this for the Bake Show, though: He's tough, has an unwaveringly high level of confidence, and has achieved postseason success, something most Browns and former Browns can't say. Carolina won't be great, but Moore has a solid chance to be.

Brandin Cooks, HOU: Only the most loyal readers would remember this (hi, honey!), but I actually projected Cooks as a Top 10 Riser last summer. I obviously wasn't correct, which I probably knew at the time, but wasn't as far off as you'd imagine. Even with Carolina-esque churn at the QB spot (Tyrod Taylor, then Davis Mills, then Taylor, then Mills again), Cooks did what he seemingly always does: catch a bunch of passes, amass 1,000-plus yards, score some touchdowns, and end up a solid WR2, albeit on the lower end for a change (WR21).

The former Biletnikoff Award winner from Oregon State has played with some greats (Brady and Brees, namely) but he seems to succeed wherever he goes and whomever he plays catch. It's a testament to his talent, in fact, that with arguably his worst battery mates, he actually set a career high in receptions (90). It's also a testament to his staying power that, despite a very slight build (5'9" on a good day and 189 pounds), Cooks rarely misses game action. In eight professional seasons, he's only missed 10 games, more than half of them way back in 2014, his rookie year.

Mills was predictably shaking when pressed into service early last season, but managed to average 20.3 FPts/G down the stretch (Week 14 on), which isn't too shabby and gives Houstonians hope moving forward. As a comparison, Russ Wilson averaged 20.4 and Derek Carr 20.2 FPts/G last season. Houston wisely (for a change!) realized they needed to give Cooks some help and drafted John Metchie in April's draft. Sadly, the Bama product will miss this season after being diagnosed with a curable form of leukemia. We'll wish him the best while watching Cooks continue to do his thing.