QB Marcus Mariota
(2021 QB Rank – No. 63, 2.1 FPts/G)
Mariota hasn't started an NFL game since 2019, and while everyone touts the fact that he played for Falcons HC Arthur Smith in Tennessee when Smith was the OC, it was actually Smith who benched Mariota for Ryan Tannehill.
Yes, he knows the system, which gives him an advantage over rookie third-round pick Desmond Ridder, at least initially. He also has the mobility and athleticism to not only make plays with his legs, but extend plays in the passing game with his ability to move the pocket and throw on the run. He has some exciting, young, dynamic receivers in second-year TE Kyle Pitts and rookie first-round WR Drake London, and RB Cordarrelle Patterson is a versatile playmaker. But beyond those three, this is a skill group lacking depth.
Mariota's running ability gives him some potential low-end QB2 value in deeper formats.
In the Spring, when everybody was running around in t-shirts and shorts, word out of mini-camp was that Ridder was making plays and taking a run at Marcus Mariota's starting job. But there is no way Ridder is even close to being ready to run this group out on the field. Once the Falcons are officially eliminated from playoff contention (which might not take long), I fully expect Ridder to get some valuable experience behind center, but it won't be in Week 1.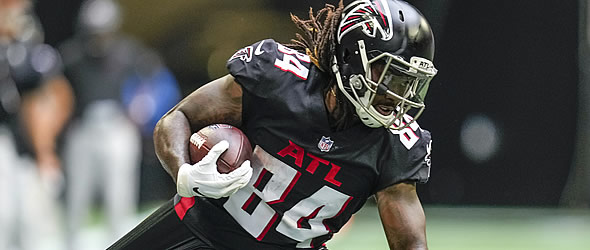 A WR/KR early in his career, Patterson took on the running back role in 2021 for an anemic Falcons offense in desperate need of a back. A true hybrid player, he led the team in rushing and was one of the top receiving backs in the NFL. He finished 5th among NFL backs in targets, 7th in receptions, 2nd in receiving yards and 4th in receiving TD's.
This year, with Calvin Ridley suspended for the season and Russell Gage lost to free agency, Atlanta really needs a receiver to pair with rookie first-round pick Drake London. Expect Patterson to be that guy. At 31 years of age, he is not built to take the pounding of a lead back, and in fact, looked like he felt the effects of that late last season. Look for rookie Tyler Allgeier to be the 1st and 2nd down back with Patterson filling the 3rd down change of pace role as a hybrid runner-receiver.
How to play him depends on your league. The Falcons depth chart still lists him at RB. If that's the case, he could be a very smart play in PPR formats. If he's listed at WR, where it sounds like most of his snaps will come from, then he's a back end WR2 who could see a lot of volume targets due to his versatility and ability to align all over the field. There's little competition for targets on this team beyond TE Kyle Pitts.
A former college walk-on who was moved to LB at one point in his career made the most of his move back with over 2,700 rushing yards and 36 TD's on just 425 carries in his last two seasons at BYU. He dropped to the 5th round of this year's draft largely because of a disappointing 4.6 40-time at the Combine. But he is a load (5-11, 220) and was tough to bring down in the open field, averaging almost 50 yards per game after contact. Physically, he's much more suited to the 1st/2nd down back role than Cordarrelle Patterson, and he still has a lot of tread on his tires as a result of the way he was used by the Cougars. As long he picks things up quickly, he could see consistently high carry numbers as the season goes on and Patterson takes on more of a WR-3rd down back role.
Of course, this is a bad Falcons team that still has its' issues along the o-line, and will be playing from behind most weeks, which will cut into his production. But Allgeier is a player who could be available late in drafts who could end up over-producing on value. Don't be afraid to take him late and stash him.
RB Damien Williams
(2021 WR Rank – No. 81, 4.5 FPts/G)
Built for the physical running game HC Arthur Smith wants (5-11, 224), Williams has not found a big role in his last three seasons in Kansas City and Chicago (he was a Covid hold out in 2020), but he did average over 4.5 yards per carry with 11 rushing TD's in that span. He could end of working in committee with rookie Tyler Allgeier on 1st and 2nd down, and he has enough receiving skills to stay on the field on 3rd down if the team decides to keep Cordarrelle Patterson at WR.
Either way, he won't be fantasy relevant until Allgeier falters, gets hurt, or hits the rookie wall.
WR Bryan Edwards
(2021 WR Rank – No 92, 4.7 FPts/G)
Edwards was looking like the 4th or 5th WR on the Raiders roster before getting shipped to Atlanta this Spring. While he hasn't popped in his first two NFL seasons, Atlanta could potentially be a good landing spot. In dire need of receiving help, he could be in line for the most significant target share of his career. The question is if this offense can sustain a third receiver behind Kyle Pitts and Drake London, who should ramp up to WR1 status pretty quickly, depending on how Cordarrelle Patterson's role evolves. He's not a fantasy consideration until he proves otherwise on the field.
London is big (6-4, 219) and long (33" arms) and can align on the perimeter or the slot. He was extremely productive at USC when healthy, and that will be his biggest test early on. It's hard not to envision him literally being handed a starting spot in this offense, but he will have to stay on the field. He's fully healed from his ankle surgery in October, and though Kyle Pitts and Cordarrelle Patterson will be early targets, he could put up WR3 production. Just watch out for that rookie wall in November
WR Olamide Zaccheaus
(2021 WR Rank – No. 108, 3.9 FPts/G)
Zaccheaus caught 33 passes for 406 yards and three touchdowns in 2021, and that's only because injuries and departures completely depleted the receiving corps. He figures to be in the same boat this year. With Cordarrelle Patterson, Kyle Pitts, Drake London and even Bryan Edwards potentially ahead of him on the depth chart, he doesn't figure in anyone's fantasy plans.
TE Kyle Pitts
(2021 TE Rank – No. 12, 6.4 FPts/G)
Pitts is being drafted as the 3rd TE in early drafts behind Travis Kelce and Mark Andrews, ahead of the likes of Darren Waller and George Kittle, and we're okay with that. As a rookie in 2021, Pitts ranked 3rd among NFL TE's in receiving yards, 5th in targets and 8th in receptions. His 6.4 fantasy points per game were 12th best a year ago, and in year two, on an offense that lacks many receiving options, he should see a bounce in production. If the Falcons can find their way into the red zone and give Pitts some legitimate chances at the end zone, he could threaten those top two as well.
TE Anthony Firkser
(2021 TE Rank – No. 55, 2.7 FPts/G)
On his own, Firkser isn't raising any fantasy eyebrows. But HC Arthur Smith is going to have to be creative with this offense, and though he'll want to run his share of two-TE sets, which will at least put Firkser on the field, he could do some things that involve splitting guys like Cordarrelle Patterson and Kyle Pitts out into formation, which could create further opportunities for Firkser. Despite all that, he's barely averaged 3.0 targets per game the last two seasons and his 9.0 yard average per catch is not going to create much buzz, real or fantasy.