QB Trevor Lawrence
(2021 QB Rank Ė No.35, 16.2 FPts/G)
Letís get the bad news out of the way. Lawrence threw 12 TDís and 17 INTís in 2021, both worst in the NFL. But letís not minimize the rest of the story. As a rookie, in what can only be described as a dysfunctional environment, under a head coach that didnít even make it through the season, he ranked in the top half of the league among QBís in attempts, completions, rushing attempts and rushing yards, and was just outside the top half in passing yards. With seemingly everything working against him, he still completed just under 60% of his 602 attempts for over 3,600 yards.
Thereís no doubt he needs to get better, but there is talent there. The Jags added some pieces to the receiving corps, but Iím not sure they are that much better there. They do get RB Travis Etienne back, which will be a welcome safety valve for Lawrence and a weapon with whom heís already developed years of chemistry. Having his old college RB, a QB whisperer in HC Doug Pederson, an offensive system that will highlight his skill set, and a year of experience and development under his belt could be enough to push Lawrence into solid back end QB2 status, or at least a reasonable consideration in flex formats.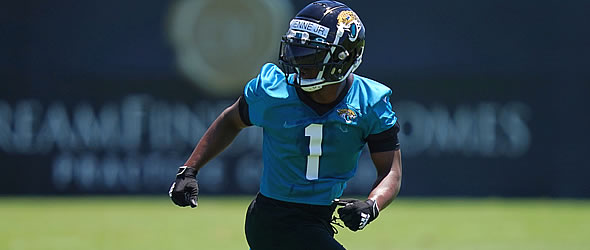 Etienne missed his entire rookie season to a broken foot, but he is now healthy and has been an early standout at Jags training camp. Heís a dual threat back who is outstanding in space no matter how he gets the ball. Some drafters are knocking his value because James Robinson will be back, leading to RB committee talk, but Robinsonís presence doesnít necessarily mean Etienne will be sent to the sideline on 1st and 2nd down. Etienne has been lining up all over the field and owners should expect HC Doug Pederson and company to be very creative in finding ways to put the ball in his hands. Youíll see him split out, in motion, and even in the same backfield with Robinson.
Iím not worried about his target share. Plug Etienne in as a RB2. Heís going to produce in this offense.
RB James Robinson
(2021 RB Rank Ė No.27, 10.5 FPts/G)
Robinson has made a quick turnaround from a torn Achilles suffered last season. The Jaguars are expecting him to be ready for Week 1, and HC Doug Pederson has said he thinks Robinson can be a three-down back when healthy. Thatís worrisome for fantasy owners of both Robinson and Travis Etienne, but I expect Robinson to make his money in the red zone. He got the call over 80% of the time when Jacksonville was operating inside the 10-yard line.
I see Etienne getting increased target share and carries as the season goes on, while Robinson serves as the thunder in short yardage and goal line work in his future. Heís a TD-reliant RB3 as long as Etienne is in the fold.
WR Christian Kirk
(2021 WR Rank Ė No. 41, 7.6 FPts/G)
Kirk is coming off a career year in Arizona where he posted 77 catches on 103 targets, for 982 yards and a 12.8-yard average. Heís had 100+ targets in two of the last three seasons, which is likely a function of the pass-happy offense the Cardinals run under HC Kliff Kingsbury. New Jags HC Doug Pederson likes his QBís to throw off play action, and while heís become known as a bit of a QB whisperer, he hasnít had many 1,000-yard receivers working under his tutelage.
Kirk will work predominantly out of the slot, though he can move around easily enough. His speed can be a factor, and his ability to find space in the middle of the field will be a tremendous help to Trevor Lawrence. Heís the Jagsí WR1, but heís a WR3 with upside if Lawrence and company make the big jump on offense people expect.
WR Jamal Agnew
(2021 WR Rank Ė No. 53, 6.6 Fpts/G)
After excelling for the Lions as one of the NFLís top returners during the first four years of his career, Agnew stepped into a larger receiving role with the Jaguars in 2021. He turned in a career year, hauling in 24 of 39 targets. A slippery guy with speed, heís a prototypical slot receiver who may unfortunately get pushed aside with the signing of Christian Kirk. For leagues that value special teams, heís got game-breaking speed in the return game.
WR Marvin Jones
(2021 WR Rank Ė No.59, 6.3 FPts/G)
Despite being on the field for almost every offensive snap in 2021 and leading the Jags in receiving for the second season in a row, those are not high bars when youíre talking about a team that was as bad as the Jaguars. He put up just one 100-yard game and only four touchdowns. Those are hardly WR1 numbers, no matter how bad the team is. Heís a polished, savvy receiver and route runner, but heís the second receiving option on this team at best, and not a relevant fantasy contributor.

WR Laviska Shenault
(2021 WR Rank Ė No.100, 4.1 FPts/G)
There are rumors that Jacksonville may be open to trading Shenault. Much like San Franciscoís Deebo Samuel, heís a dual threat who can align anywhere on the field, create as a dangerous catch and run player, and win as a runner on jet sweeps or out of the backfield. That versatility mirrors a lot of what RB Travis Etienne and WR Christian Kirk bring to the table, so there may not be any balls for him if he stays. Shenault has been tagged with exciting potential since he entered the league, but it hasnít manifested itself on the stat sheet. Perhaps he can find a team that knows how to maximize his skill set elsewhere. Until he does, he will remain on the fantasy sideline.
WR Laquon Treadwell
(2021 WR Rank Ė No. 101, 4.1 FPts/G)
Treadwell can win out on the edge with size, strength, and deceptive play speed. After a significantly average stay in Minnesota, he arrived in Jacksonville in 2021 and posted a career-high 435 yards, and his 13.5 average per catch was the third highest mark of his career. But despite his uptick in production, it still doesnít measure up to fantasy worthy play. Plus, with WR Zay Jones, who displays a lot of the same physical traits, coming in via free agency it seems the writing may be on the wall for Treadwell. Heís not draftable.
WR Zay Jones
(2021 WR Rank Ė No. 104, 4.1 FPts/G)
Jones is another 6-2, 200-pounder with 4.4 speed and impressive athleticism who will compete for balls. Unfortunately, it hasnít translated to much success on the field in stops in Buffalo or Las Vegas. Despite that, it seems like he will get an opportunity to show his wares in Jacksonville, so heís worth watching to see how his role develops early in the season.
TE Evan Engram
(2021 TE Rank – No. 24, 3.9 FPts/G)
Engram made his name as an athletic, dynamic pass catcher, but has eclipsed 50 catches just twice since 2017 and totaled 500 receiving yards three times. Some have blamed his struggles in recent seasons in New York on scheme and coaching. To me it looked more like a lack of focus and an inability to make the tough (and sometimes even the easy) catch. I'm willing to watch, though. With Christian Kirk in the slot and Travis Etienne attacking from all points of the field, Engram could see some favorable matchups and produce the way we all thought he would year in and year out. He's a borderline TE2 for me.