QB Ryan Tannehill
(2021 QB Rank – No. 15, 20.0 FPts/G)
Coming off his alarming postseason melt down against the Bengals last season, and the Titans' subsequent selection of small school wunderkind QB Malik Willis in April's draft, some might be concerned about Tannehill's job security. But nothing could be further from the truth. Willis is not nearly NFL-ready, and QB3 Logan Woodside has never attempted an NFL pass in the regular season. The job isn't Tannehill's to lose, it's essentially his to have for the foreseeable future.
He has developed quick chemistry with newly acquired veteran WR Robert Woods, who is different than A.J. Brown, who was traded to the Eagles on draft weekend, but is every bit as much a WR1. Tennessee also added TE Austin Hooper, who might be the most athletic receiving TE Tannehill has played with and has quickly emerged as one of the quarterback's favorite targets in mini-camp practices. Tannehill himself had a strong, if not stellar regular season. His 357 completions on 531 attempts were his highest totals since 2015, and his 67.2% completion percentage was the second highest of his career. And while his passing TD's were down and interceptions were up, his 270 rushing yards and 7 rushing TD's were personal bests.
Despite that, this is still Derrick Henry's world, and HC Mike Vrabel is still dead set on running the ball and playing defense. With Henry healthy and back in the fold, it's hard to see Tannehill's production making any sort of marked jump, and it still remains to be seen how he bounces back from his last game of 2021. If I'm being honest, he's spent way too much time talking about it in my opinion, which says to me it's still in his head. He's a middle of the road QB2 on my board right now.
Willis is a strong-armed, athletic QB prospect with the arm talent to make "wow" throws and the ability to beat a defense with his legs. But he is also incredibly raw and inexperienced and has his hands full just learning the NFL game. His job is to watch, listen, and learn. It would take some colossally bad play or a major injury to Tannehill for him to end up behind center this season.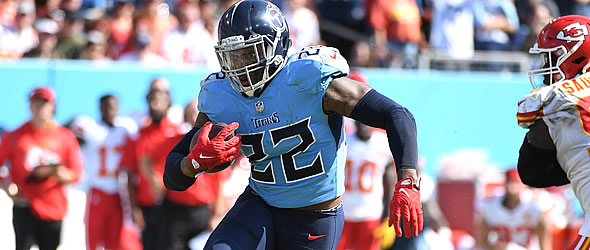 RB Derrick Henry
(2021 RB Rank – No.1, 23.4 FPts/G)
Before a foot injury requiring surgery caused him to miss the last nine regular season games of 2021, Henry was on pace to become the first player since Walter Payton to lead the NFL in rushing for three straight seasons. The only man who may be more "beast mode" than Marshawn Lynch himself, Henry incredibly returned for the playoffs with a steel plate and five screws in his foot and still took the ball 20 times in the Titans' divisional round loss!
Prior to last season's setback, Henry had only missed two games in his previous five NFL seasons. Still, at 28 years old, there will be whispers wondering if he's starting to hit that RB wall (see Christian McCaffrey's litany of injuries the past two seasons), especially given the workload he's taken on over the course of his career. But I'm here to tell you it's nonsense. The man's social media posts of his offseason workouts are the stuff of legend. Foot fractures can be tricky, but he will be ready to go.
Even when Henry was out the Titans stayed committed to the run, averaging over 135 rush yards per game. Expect more of the same in 2022 and expect Henry to be the guy driving the effort. He's in the conversation for No.1 overall selection in most drafts along with Jonathan Taylor.
RB Dontrell Hilliard
(2021 RB Rank – No.38, 10.7 FPts/G)
Hilliard played well in limited action during the second half of last season with Derrick Henry out. With D'Onta Foreman off to Carolina and only rookie Hassan Haskins competing for legitimate playing time, Hilliard could be a solid insurance policy against another potential Henry breakdown. But, he could have some stand-alone value as a receiver as well. He had 19 catches on 26 targets in just eight games in 2021. He could be a flex option if a third-down role develops, but he's on the sidelines now except in very deep PPR formats.
The former Michigan Wolverine capped his college career with 1327 rushing yards and 20 touchdowns in 2021. Built in the mold of Derrick Henry (6-2, 227) he's a power runner with the physicality and balance to run through contact. He doesn't have breakaway speed, but he's a grinder who can eat carries and yards. He will likely spell Henry early on and is probably being viewed by Titans brass as the long-term replacement for Henry down the road, but he's not fantasy-relevant at this early juncture.
WR Robert Woods
(2021 WR Rank – No 19, 15.0 FPts/G)
Woods is coming off a torn ACL suffered in the middle of the 2021 season. He played just nine games for the Rams, accumulating 45 catches for 556 yards and four TD's. But in the three seasons prior, from 2018-2020 he posted at least 130 targets and at least 85 catches each year with two 1,000-yard seasons to his credit. He also scored a total of 14 TD in that span. He is reportedly feeling good and on schedule to be ready for the start of training camp and seems to have connected well with QB Ryan Tannehill out of the box.
Woods is a smart, savvy, reliable receiver who will help Tannehill, and even in a run-first attack, should dominate the Titans' target share, especially early in the season. He's a solid WR3 if he's healthy and ready to go.
Robert Woods looks to be headed towards a healthy start to the season and is likely the WR1 for this team in Week 1. But while Woods continues to work back to full strength after ACL surgery and rookie draft pick Treylon Burks adjusts to life in the NFL, there's a small window here for Westbrook-Ikhine to carve out a role for himself. Burks reportedly missed most of mini-camp work due to asthma and conditioning issues. Westbrook-Ikhine has his own bit of work to do to be more consistent. He's a playmaker, but to reach his full potential, he needs to learn how to win contested balls and create after the catch with his speed in order to gain QB Ryan Tannehill's trust. He's a player to watch if he does win that WR2 role.
I'm not buying the hype. Despite Burks' obvious measurables (6-3, 225), his ability as a receiver and a runner, his big play potential, and his dangerous catch and run skills, he struggled through pre-draft workouts, and has looked out of shape in the very little time he spent on the field this Spring. Now there are reports that he may have asthma issues. Being a rookie receiver in the NFL is hard enough when everything goes right. When you start missing practice time and conditioning comes into question, it just makes the climb to relevancy even harder. He's being selected as the 35th to 40th WR in most early drafts based on his playmaking potential, and there's plenty of it. But potential doesn't win championships. Production does. I'm on the sidelines on this one. Where there's smoke, there's fire.
TE Austin Hooper
(2021 TE Rank – No. 30, 6.5 FPts/G)
Hooper is an athletic pass catcher who was limited by the TE tandem used in Cleveland. It wasn't that long ago that Hooper was catching 70+ balls a season for the Falcons in 2018 and 2019. He also pulled in 16 TD passes in four years in Atlanta.
With A.J. Brown and Julio Jones gone, Robert Woods recovering from ACL surgery, rookie Treylon Burks off to a slow start, and Nick Westbrook-Ikhine yet to prove himself, it's not out of the realm of possibility for Hooper to start the season as the No.2 receiving option in this offense. He's a big target, with reliable hands and can be a high-volume receiver for Ryan Tannehill in the middle of the field in a ball-control attack. He's a borderline TE1.