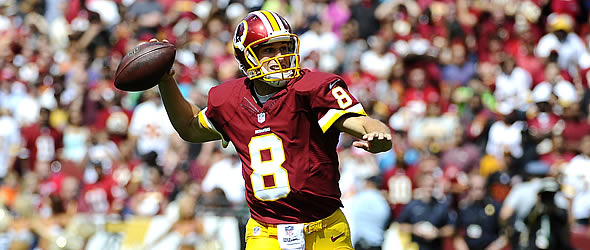 Kirk Cousins has been a QB1 the last three seasons and that trend should continue in Minnesota.


The Vikings had three legitimate starting caliber quarterbacks in 2017 and literally none of them are on the roster anymore. They've been consolidated into a single Kirk Cousins. Fortunately, that's a good thing as Cousins is better than all of them.

It has been a long, arduous road at quarterback for the Vikings. Cousins is their best QB since 2009 Brett Favre, who was their best QB since Daunte Culpepper left after the 2005 season. To make this as simple as possible, Cousins in Minnesota is good for literally everyone.

Case Keenum with a sprinkle of Sam Bradford led both Adam Thielen and Stefon Diggs to backend WR1 seasons. Supporting two fantasy viable wide receivers is not difficult, but it requires the starting quarterback to not only be talented, but to focus on the top two options in the passing game. It is something Cousins has never done, but he's also never had this caliber of pass catchers. The best Cousins has had to work with is Pierre Garcon and DeSean Jackson with a splash of Jamison Crowder.

Cousins has started all 16 games each of the last three seasons while posting a very consistent 25:12 average touchdown to interception ratio. His 4,093 passing yards in 2017 was a three-year low. Although the Vikings do have a run oriented mindset with a returning Dalvin Cook, this team is built to throw and with Cook's ability in the passing game to go along with what I consider the best WR duo in the NFL, it is hard to envision the Vikings being a Jacksonville type ground and pound team. Cousins will be unleashed upon his foes.

It is a bit absurd to predict that Cousins will lead both wide receivers to WR1 seasons again, but the important takeaway is that it is well within the realm of possibilities. Cousins also has experience throwing to one of the best tight ends in the league in Jordan Reed. Kyle Rudolph's fantasy value is in for a slight bump. I say slight because TE9, where he finished last year, is one spot below where I ranked him this year in my Way Too Early TE Rankings (I'd have him a spot lower after free agency as Trey Burton would vault into the top 6). Cousins should help boost Rudolph's numbers, but I would not project a significant increase on last year's 81 targets.

With a plethora of deadly weapons at his disposal, Cousins is ripe for not just another QB1 season, but one where he improves upon the 17.4 FPts/G (ESPN scoring) he averaged last season. It's safe to assume he can be a little more consistent in Minnesota given the receiving talent around him. Cousins' ADP has been on the rise the last two seasons (2016: 10.03, QB14; 2017: 8.05, QB9) so expect another slight bump to the QB6-7 range settling in around Round 7 in standard 12-team leagues. The Vikings possess one of the league's best offenses so look for another step forward this year with a new captain in town.