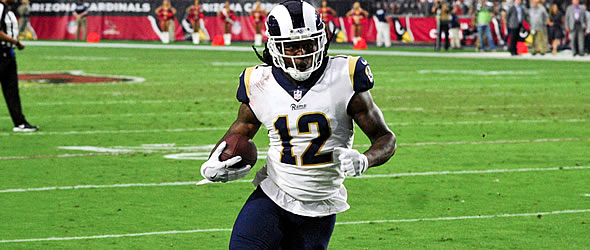 Watkins fantasy stock may be pushed too high, making bargain hunting owners look elsewhere.


As someone who was all in on Sammy Watkins in 2014 and 2015, I would love to tell you how great of a fit he will be as the No.2 WR with Patrick Mahomes. Unfortunately, that's simply not the case. The reality is that Watkins hasn't produced enough on the field. Although he did finish with eight touchdowns last season, he saw just 70 targets and caught only 39 passes. Proponents of Watkins will point out that he was traded late in the off-season and never really had a chance to develop a rapport with his teammates. I respectfully disagree.

Watkins was traded to the Rams on August 11th. He had a full month to integrate himself into the offense. When Watkins arrived, he was the clear cut No.1 wide receiver…or so we thought. His only competition was journeyman Robert Woods and gadget man Tavon Austin. There was nothing standing in the way of Watkins and greatness. Then, Sean McVay and an improved offensive line turned the entire offense around. Jared Goff broke out and turned the Rams into the No.1 scoring offense in the league. Yes, the Chiefs were an excellent passing offense in 2017 as well. But I pose this simple question: If Watkins couldn't even post WR3 numbers playing in the league's top offense, why should we be bullish on his prospects in Kansas City?

I am a believer in Mahomes and think the Chiefs are going to be a force to be reckoned with for the next few years. However, Mahomes is going to be in his first year starting and has had a year of practice with Travis Kelce and Tyreek Hill. Watkins failed as a No.1 option in Buffalo and failed in Los Angeles. Now in Kansas City, he is the clear No.2 behind Hill. This is definitely a better spot for him and while I do think he has the potential to be fantasy relevant, there is going to be an overreaction when it comes to Watkins that inflates his draft stock higher than he can realistically perform.

Watkins struggled to separate last season, posting a 1.38 target separation total, which was 66th in the league. His 55.7% catch rate was coincidentally also 66th in the league. His 64.3% catchable target rate was a deplorable 99th in the league. He did have a 115.9 QB rating when targeted, fifth in the league, and his 8.5 yards per target was 28th, so it wasn't all bad, but Watkins isn't the player we all thought he would be in 2014. This is a lateral move, at best, for Watkins. I would love Watkins as my fourth or fifth receiver but will pass on him as fantasy WR2-3.

As for Tyreek Hill, I don't think this changes much. Arguing that the addition of a second receiver will help or hurt the first receiver seems like an empty argument because it can go either way. On the one hand, you could say Watkins will take targets away from Hill. On the other hand, Watkins will free up Hill to face more single coverage, which is the last thing opposing defenses want to do.

Last season, the Chiefs operated essentially without a No.2 WR - it was Hill and Kelce and then everyone else. This year, the "everyone else" part should be consolidated into Watkins and because of his name, Watkins will likely demand more attention from opposing defenses than DeMarcus Robinson, Chris Conley, or Albert Wilson ever did. I don't anticipate Watkins' presence to affect Hill's target count much. I still think Hill deserves more than the 102 targets he saw in 2017, but even if he doesn't top that number, it's difficult to imagine him not at least matching it. Watkins' downfield ability should at minimum command some respect from opposing defenses to the extent that keying in solely on Hill will be a gamble as Watkins is still capable of making plays.

The biggest variable in Kansas City will be the play of Mahomes. As long as the kid is up to the task, Hill, Kelce, and the rest of the fantasy options in Kansas City will be just fine.