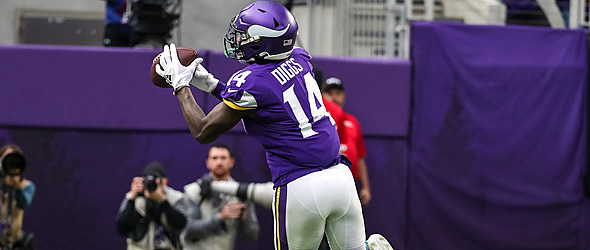 Stefon Diggs will immediately become the WR1, pushing John Brown to the WR2 role.


Stefon Diggs was once referred to as Antonio Brown lite. After months of cryptic tweets, particularly in the offseason, we began wondering if that was true in more ways than one. His most recent cryptic tweet turned out to be accurate as Diggs was given a new beginning in Buffalo.The Diggs trade has an impact on many different fronts. Letís discuss them in turn.

Still just 26 years old, Diggs has multiple years of his prime remaining. There was never any question regarding his talent, but there were certainly concerns about his ability to stay healthy as well as his situation and opportunity.

In Buffalo, Diggs will immediately become the WR1, pushing John Brown to the WR2 role, which he more suited for anyway. Diggs is going to the lead the Bills in targets and wonít have to compete with a player as talented as Adam Thielen, but there arenít exactly that many targets to go around. Josh Allen attempted just 461 passes last season with 115 of those going to Brown. While Diggs is better than Brown, the target distribution between the two will be tricky simply because Diggs has Brown to compete with while Brown was the clear top option in the passing game last season. This makes 115 targets feel like an absolute ceiling for Diggs.

Thereís also an issue with the quality of targets. Kirk Cousins completed 69.7% of his passes during his two seasons with Diggs in Minnesota. Josh Allen has a career completion percentage of 56.3%. There is no chance Diggs will see an 82.8% catchable target rate from Allen.

While this may seem all doom and gloom for Diggs, there is some silver lining. Diggs is a talented receiver and will be the true alpha for what most perceive to be a downgrade in overall passing attack. Maybe, for the first time since he broke out, Diggs will actually be properly priced on draft day. Here are Diggsí draft prices compared to his finishes.
2019: WR12 ADP, WR25 finish

2018: WR11 ADP, WR12 finish

2017: WR26 ADP, WR13 finish

2016: WR43 ADP, WR15 finish
Diggs broke out in 2016 after a strong rookie year finish in 2015. He was a great value in 2017 as well. After 2017, the entire world bought into Diggs as a low-end WR1. Despite his back-to- back borderline WR1 finishes in 2017 and 2018, Diggs mixed in numerous duds and was hurt a lot more than his three total games missed would indicate. Also bear in mind when referencing 2018, that was the season Kirk Cousins went full gunslinger and attempted 606 passes. Diggs saw 149 targets. That is never happening again.
With the move to Buffalo being an obvious downgrade at quarterback and Diggs coming off a disappointing season, his ADP could drop into the fourth round. Looking at it in terms of the 2019 season, if Diggs is going for around the same price as guys like Chris Godwin, Tyler Lockett, Kenny Golladay, and Robert Woods were, that is more in line with where he should be taken. Whether Diggs is a viable target for fantasy owners in 2020 will hinge on his cost.
After seeing 115 targets as the clear WR1 in 2019, John Brown is going to see that number dip. Cole Beasley was second on the team with 106 targets and was a legitimate fantasy WR3, especially later in the season. With Diggs in town, there is no chance both Brown and Beasley can be fantasy viable as there just arenít enough Josh Allen passes to go around. The most likely outcome is the two cannibalize each other. Brown will out-target Beasley, but Beasley will have valuable PPR games against teams that are vulnerable to the slot. Brown will likely revert to more of a boom/bust option. He will splash, but he will be less reliable.
Entering his third season, Josh Allen now has the best supporting cast of his career. Diggs is enough to make that true. However, Allen is who he is. He has never been accurate at any point in his football career going all the way back to high school and that is not going to change now. Allen was the overall QB8 in 2019. That is a number he is capable of beating and while Diggsí arrival certainly helps, he it isnít some massive boost to Allenís fantasy value. He should be treated as a low QB1 with massive weekly upside.
The Vikings
Now that weíve covered how Diggs will impact his new team, letís see what he left behind. There was a time when Diggs and Thielen were the best wide receiver duo in the NFL. However, the Vikings had nothing behind them. I would argue the set of pass catchers behind Diggs and Thielen were amongst the worst in recent memory. With Diggs gone, Thielen is primed for a huge bounce back season.
Even though heís 30 years old, Thielen didnít break out until age 26 and he has plenty of tread left on his tires. The Vikings still want to be a run oriented team, but itís hard to imagine Cousins attempting just 444 passes again. That number should at least reach 500 and with Diggs out of the picture, Thielen is going to lead the team in target share by a substantial margin.
I can say with a high degree of certainty that the Vikings will draft a wide receiver within the first three rounds. I wouldnít be surprised if they took a second receiver on day three. That rookie will be stepping into a substantial role with a good chance at making an immediate impact, assuming he isnít terrible. Itís really the ideal situation because no matter who it is, heís not really a threat to Thielen because itís unlikely any rookie will perform better than Diggs. At the same time, there are 94 targets vacated by Diggs that, combined with a logical increase in Cousinsí pass attempts, could almost entirely go to a rookie wide receiver making the Vikings draft one to keep your eye on.

It is possible that the departure of Diggs provides more opportunities for tight ends Kyle Rudolph and Irv Smith, but I donít see the tight ends heavily impacted by this trade as long as we operate under the very likely assumption that the Vikings draft a wide receiver early.
Final Thoughts
For Diggs, this is probably a lateral move more than a downgrade given the decrease in target competition offset by the drop in target quality and the perception that the Bills are a worse landing spot.
For Thielen, itís a clear positive as there will be no debate who the WR1 and the target hog is in Minnesota. His value increases.
For Brown, itís a significant downgrade as Josh Allenís WR2 is not a desirable fantasy asset, nor a reliable one.
For Cousins, itís a clear downgrade, but Cousins wasnít much more than a fantasy streamer anyway.
For Allen, itís an upgrade, but not a relevant one as Allen is who he is as a passer. Allen derives his fantasy value from his rushing. Diggs certainly doesnít hurt, but he helps the Bills as a whole more than Allen as a fantasy asset.