Complete and Utter Chaos




11/4/10



Aggressiveness is a characteristic that tends to reward fantasy owners more times than not. In the NFL, an offensive line will sometimes hold up long enough to give the quarterback enough time to beat man coverage down the field and make the defense look foolish against a fierce pass rush. More often than not, though, when a defense brings the heat and forces the action, crisis management becomes the name of the game for the opposing team.

In that same vein, I hope to apply that same kind of pressure to the owners in all of my leagues by beating my opponents to the punch in regards to personnel moves. Sometimes, reaching a conclusion about a player too quickly is much like trying to blitz Peyton Manning – dangerous and painful. However, coming to a correct conclusion two weeks or two minutes quicker than your opponents is considered foresight. Fantasy owners can be a uneasy lot, knowing that one two-or-three-game losing streak can wreak irreparable damage to his/her team's chances to make a visit to the fantasy postseason. But just as it is in the NFL and in life, it's hard to land the big prize by playing scared. Thus, I will strive each week to help each of you become a smart blitzer, so to speak.
---
By all accounts, real NFL transactions during the season rarely ever affect fantasy football owners directly. Certainly there are plenty of exceptions, but most of the time a team is playing a game of musical chairs with the final 2-3 spots on the roster. Most of these types of transactions are special-teams focused or made necessary by a rash of injuries to one position.
Football, unlike just about every other professional team sport, has been immune – for the most part – to in-season player movement that typically involves fantasy players of note. It stands to reason simply because unlike the other major team sports, players can not simply be "plugged in" to fill a hole in the lineup – there is too much timing required and strategy involved in football for that.
Over the years, the NFL has seen its share of in-season trades, although that well seemed to dry up in the late 1980s after the Colts' three-team, 10-player trade for Eric Dickerson in 1987 and Cowboys' fleecing of the Vikings in 1989 in the Herschel Walker deal that affected the futures of 18 players (such as Emmitt Smith, Russell Maryland and Darren Woodson). Whether those trades served as cautionary tales for future NFL general managers is a subject of some debate, but as it relates to fantasy football, owners have grown accustomed to selecting a player with the knowledge that he was going to end the season with that same team.
So it goes without saying that this season has been unlike any other in recent memory for fantasy owners, with the likes of Randy Moss, Marshawn Lynch and Deion Branch all swapped for third- or fourth-round draft picks well after the start of the season. So the question must be asked: is this an aberration of a season in which unique players in unique situations are being shipped off to open spots for younger players and/or rid the former team of a headache OR is this a sign of things to come? My opinion is this could easily be a sign of things to come, with the pressure of winning now increasing each year. The downside to this approach – as it relates to NFL general managers – is that management never wants to give players the impression they have the power and that by causing a scene, they can force a trade or release.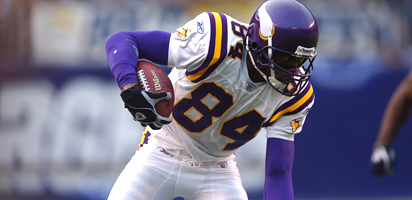 Captain Chaos: Worthy of a start in three-WR leagues?

As the dirty truth as to why Moss was let go less than a month after his celebrated return to Minnesota, I couldn't help but wonder just how jaded his owners have become over the course of this season. Whereas Lynch and Branch were on the waiver wire or back end of many owners' benches before they were dealt, most of Moss' owners were handed a zero-catch game in his last game as a Patriot. Just about the time they had to consider sitting their first- or second-round fantasy draft pick, his owners are handed the news of the trade to Minnesota. Certainly, the downgrade in QB had to damper their enthusiasm, but with Brett Favre's propensity to force the ball to his WRs down the field, the marriage with the Vikes certainly gave his owners reason for optimism. Just four weeks later, owners now must consider how much fantasy value he can provide as a Titan. The lone saving grace is that he will have the bye week to pick up as much of OC Mike Heimerdinger's playbook as he can, although the Titans almost certainly realize he is primarily a three-route player (fly, post, deep out) at this point. Whether or not he can match Kenny Britt's pre-injury production this season is debatable and somewhat doubtful. But unlike Britt, Moss will likely command a safety over the top when he takes the field for the first time as a Titan in Week 10, whether or not he deserves that distinction more than Britt. Moss will still be worthy of a start in three-WR leagues, but I'm not sure owners can or should expect Moss to simply put up the numbers Britt was posting before his injury. However, this move should serve as a slight-to-moderate pick-me-up for the owners of Chris Johnson and Vince Young.

Strangely, none of the three aforementioned trade acquisitions have made particularly big splashes as of yet in fantasy, although Branch has been hampered by a hamstring and Lynch cannot always be expected to find holes in an offensive line that is every bit as bad as Buffalo's, if not worse. Only Seattle's Mike Williams could be characterized as the one player in fantasy who has won because of all this movement so far. As we know, Wes Welker has posted rather pedestrian numbers since Moss left New England and the same thing figures to happen with Percy Harvin so long as Sidney Rice remains on the sidelines. With Lynch gone, Fred Jackson is now being featured as the Bills' main ball carrier, but he really has only increased his fantasy stock from strictly bench material to a desperate flex or bye-week fill-in.

The sad part to the entire Moss saga in fantasy circles is the lack of options his owners now have. For those owners who have late (or no) trade deadlines, they can perhaps make a move to shore up the spot in the lineup that Moss regularly occupied. However, for leagues – like the ones I referenced in the last Blitz – the only options are the waiver wire or the players that already reside on the roster of those owners.

As I have stated a handful of times recently, the fantasy season is a marathon. And to a large degree, every season is a modernized game of "survival of the fittest" – where the ability to adapt to new information, sell high, buy low and take calculated risks is paramount to making it to the end of the season. As always, I will do everything in my power to make sure you are the fittest owner in your fantasy league(s).

Moving on, here are the update breakdowns in each category. As is usually the case, the cutoff was five touches or targets/game.





Quick Hits:

It's no secret that NFL coaches change up their gameplan against a common opponent each time they play, with the general idea that NFL coaches and coordinators are too good to be defeated by the same plan of attack more than once. But you have to question the Texans' gameplan on Monday Night Football last week, especially considering the Colts have given very little indication they can stop the run, allowing 4.95 YPC to running backs this season. Granted, Indy is a much better defensive team at home, but for the Texans to open up the game with four straight passes and finish the first half with a 16:9 pass-run ratio is a highly questionable approach. By now, it is common knowledge that a pass-heavy gameplan in Lucas Oil Stadium plays right into the hands of the Colts' undersized but explosive pass rush. Using a 52:17 run-pass ratio in the convincing Week 1 win over the Colts, the Texans already discovered how to beat Indianapolis, so HC Gary Kubiak is hopefully kicking himself for trying to fix what wasn't already broke. Arian Foster's workload was once again solid (24 touches for the second straight game), but most of his huge PPR total was collected during the Texans' last-ditch attempt in the two-minute drill at the end of the game. Just as in Week 1, Indianapolis left gaping holes at the point of attack for the patient Foster to run through, so the potential for another truly special performance was there for the taking. As attractive as a highly-ranked passing game can be, sometimes a team is what it is. With Andre Johnson continuing to deal with a high ankle sprain and Owen Daniels still struggling to get back to this 2009 form, it might do every member of the passing game some good to ride the backs of Foster and Derrick Ward for a few weeks.

Would you believe that Jamaal Charles is one of 13 RBs receiving an average of 20 touches since the bye weeks started in Week 4? Perhaps not so surprisingly then is the fact that he is the ninth-most productive PPR RB in that time with 16.9 points/game, which is 0.2 more than Chris Johnson and 0.7 more than Ray Rice over that same time. Even though his owners – I'm one of them – were disappointed with his early-season workload, the Chiefs are running the ball so much now they can legitimately claim to have a low-end fantasy RB1 (Charles) and high-end RB2 (Thomas Jones). In one league in which I have both Kansas City backs and a flex spot, I have come to realize I should just play both Chiefs' runners as opposed to starting Charles and hoping Jones doesn't go crazy. If you are fortunate enough to own both backs, I would recommend a similar approach.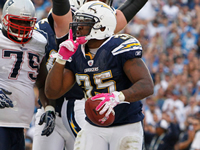 Mike Tolbert: TD machine.

At the beginning of the season, it was a foregone conclusion that one Chargers' RB was going to be a top 25 player at his position at midseason. Little did any of us suspect that player would be Mike Tolbert, who enjoyed a return to fantasy relevancy last week after two weeks in which it looked like he was gradually moving aside for rookie Ryan Mathews. Instead, it is getting harder and harder to overlook Tolbert as a solid weekly flex play with RB2 scoring upside. He has found the end zone in five straight contests and six of his last seven with no reason to suspect he will slow down anytime soon, given the career season Philip Rivers and his passing game is enjoying. In PPR leagues, San Diego is one of four teams that is averaging 30 fantasy points/game from the RB position, with a large percentage of those points the result of 66 catches and 514 receiving yards. So while it is becoming clear that while HC Norv Turner is shedding his reputation as a play caller who turns one RB into a fantasy star, he still favors the running game when San Diego gets near the end zone. To wit, all seven of Tolbert's TDs are from five yards and in, while Rivers has four such TDs to his credit.

After dealing him for Michael Crabtree earlier in a league of mine during the season, I must admit that I monitored Brandon Jackson but didn't really notice how consistently he was producing until I had the chance to acquire him in another league this past week. I must hand it to Packers' HC Mike McCarthy, who has been very consistent with his usage of Jackson over the last month. Over the last four games, the ex-Cornhusker has finished with 15, 15, 16 and 17 touches while maintaining the same numbers we would have expected from him in the passing game with a healthy Ryan Grant. Give the Packers credit for realizing early on that it was not in their best interests to hand Jackson a Grant-kind of workload – lesser coaches and/or teams would have attempted to plug Jackson into the feature-back role and wonder why he wasn't able to withstand the punishment. Jackson is an average NFL talent at best, but his 14.5 touch/game workload is just perfect for his owners who want/need a consistent double-digit PPR performer at that position or in the flex spot.

Temper, temper…one has to wonder just how long fantasy owners can count on LeGarrette Blount to stay out of trouble and remain the new focal point of the Bucs' running game. College football fans will easily recall the post-game punch that he threw at an opponent following a loss to Boise State last season. NFL fans may remember another punch he threw in Titans' training camp this summer, although it should be noted that punches thrown in training camp are more of a regular occurrence than most casual fans realize. While no punches were thrown in Blount's 120-yard, two-score performance in a win over the Cardinals last week, the undrafted free agent once again showed his knack for stirring things up, exchanging heated words in the face of an Arizona defender a time or two during the game. Much like other topics I mention on the Blitz, it is something to think about going forward if you are thinking about using Blount as a key member of your fantasy playoff run this year or into the future.





Quick Hits:

The most optimistic preseason projections in regards to Terrell Owens had him as a high-upside WR2 in 12-team leagues. As we stand here at the midpoint of the regular season for the majority of NFL teams, Owens is currently fifth overall among WRs in PPR leagues. If we dig a little deeper, no player has been scored or averaged more fantasy points at any position since Week 4 than T.O. At this point of the season, it's rare to see a receiver whose low-water mark in targets for a single game is nine. With that said, I'd be leery of expecting this four-game run to continue. Over the next few games, the Bengals face three of the seven top pass defenses (Colts, Bills, Saints), the Steelers twice (Weeks 9 and 14) and play at the Colts (Week 10). Owens certainly has shown that he is far from finished, but Carson Palmer is nowhere near the QB he used to be, the offensive attack is unimaginative and the line is a better run-blocking unit than pass-blocking one. The one saving grace is a Week 15 date vs. Cleveland – who he scorched for a 10-222-1 line in Week 4 – but for those owners who are still around in the playoffs, Week 16 is a home game vs. the top-ranked pass defense of the Chargers. In one of my two biggest money leagues, I was able to acquire Reggie Wayne and change for Owens and Knowshon Moreno (which is more than I wanted to pay but a price I could afford as I would need to lose the entire Chiefs and Texans' backfield before I would use him again) and I don't think I'll regret it.

Owners of Larry Fitzgerald have been able to point to the less-than-desirable options at QB over the past few weeks as to the reason as to why he is struggling. In non-PPR leagues, there's no question he has disappointed his owners even more than most of his biggest preseason skeptics could have imagined. While the combination of Derek Anderson and Max Hall has clearly not come close to filling the shoes of Kurt Warner, let's not overlook the impact that Steve Breaston's absence has had on Fitzgerald. In the four games Breaston has played this season, Fitzgerald has posted 18 catches, 224 yards and four scores. In the three games without his running mate, Fitzgerald has 17 receptions, 179 yards and no TDs. Say what you will, but what this suggests to me is that even a WR as great as Fitzgerald cannot be asked to be his team's possession and big-play receiver, the No. 1 option in the red zone AND be asked to overcome below-average QB play and bracket coverage.

Speaking of Breaston, his four-week absence due to knee surgery probably forced more than a few of his owners to let him go. However, one look at his four-game totals will reveal he has been a pretty good fantasy receiver in three of the four contests he has been able to finish. Based solely on his per-game average, the former return ace is the 13th-best WR in PPR leagues, seven spots ahead of Fitzgerald. It's probably unrealistic to expect that to continue, but much as I suggested Fitzgerald from Breaston's return above, it is clear that Breaston benefits from all the attention his heralded teammate receives. While Fitzgerald has struggled to come down with half of the passes thrown his way (he currently sits at 46%), Breaston is sporting a near-elite 71% catch rate – the same rate Wes Welker currently owns.

It's been a long road back, but the Panthers' Steve Smith may be on the verge of a second-half explosion – QB play permitting. In the four games with Matt Moore as his QB, Smith has averaged 10 targets/game and has at least eight targets in each of those contests. Conversely, in the two games Jimmy Clausen started when Smith was healthy, the diminutive one saw a total of eight targets. With Moore back under center and Brandon LaFell and David Gettis stepping up ever so slightly over the past couple of weeks, Smith saw a season-high 15 targets in Week 8. Much as is the case in Arizona, there will be plenty of "empty" targets, but a target total in the mid-teens is always a good sign for a receiver.

Just as Kenny Britt was "balling out" (as Kerry Collins stated in Week 7), he may have dealt a severe blow to his owners' chances of making the fantasy postseason with his severe hamstring injury in Week 8. While trades or start/sit decisions in fantasy football are rarely based on the strength of one monster game, the truth of the matter is that sometimes they are. For those poor souls that dealt for him after his huge game vs. Philly in Week 7 in hopes of grabbing an upside WR who was a good bet for a score each week, the wait for his next TD may sideline him well past the Titans' Week 9 bye. Fortunately for Tennessee, a guy named Moss was made available the same week Britt was lost. Still, assuming Britt can make it back at some point this season, he figures to go from potential low-end WR1 upon his return to bench material in fantasy leagues unless the Titans undergo a drastic offensive philosophical change. Similarly, Nate Washington quickly goes from a hot waiver-wire candidate earlier this week back to a rather ordinary bench option at best.





Quick Hits:

Week 8 was a tough one for TE enthusiasts. Kellen Winslow was virtually ignored (two targets), Zach Miller (two targets) might have aggravated a foot injury, Vernon Davis (one target) left the game early with an ankle injury and Aaron Hernandez (three targets) was seemingly not involved in the gameplan until the midway through the second half. Throw in the fact that four of the 19 TEs on this list were on a bye last week and there was a pretty good chance that many fantasy owners were not able to enjoy a decent fantasy performance of any kind from their tight end.

And the news might be getting worse. Late Wednesday night, the San Diego Union-Tribune reported that Antonio Gates tore the plantar fascia in his right foot during the second half of the Chargers' Week 8 win, meaning he now has significant injuries on both feet (he has played through ankle and toe injuries on his left foot for a few weeks already). Randy McMichael would be next up on the depth chart if Gates cannot play, but the falloff is dramatic as McMichael hasn't been much of a threat in the passing game for quite some time. If Gates cannot go for any length of time, it would likely mean the end of Philip Rivers as a top-flight QB option for however long his All-Pro TE sits out – nine of Rivers' 15 TD passes have been to Gates.

As predicted, the insertion of Jon Kitna into the starting lineup hasn't affected the fantasy prospects of Jason Witten. In fact, Witten has seen double-digit targets in each of the last two weeks Kitna started or played the majority of the game. Say what you will about Kitna and his four interceptions in Week 8, but three of those picks were passes that bounced off the hands of his receivers. With the Cowboys running the ball and playing defense so poorly nowadays, there really isn't much reason to believe that Dallas will stop calling 40 pass plays per game.

On the other hand, Matthew Stafford's return to the lineup did not produce the expected results for his TEs. Certainly it is just one week, but neither Brandon Pettigrew nor Tony Scheffler came away as better fantasy players because of the change. Scheffler, who figured to benefit from Stafford's strong arm, saw a season-low one target while Pettigrew saw five – tied for the second-fewest he's had in a single all season. Week 9 doesn't provide hope either as the Jets bring the second-stingiest defense vs. TEs to Detroit, although it could be questioned how great their recent competition has been in that regard (Visanthe Shiancoe is the best TE by far the Jets have faced since Week 2). However, Lions' TEs have posted the second-most fantasy points at the position in PPR leagues this season and need to be kept on the radar as the better TE of the two each week is shaping up to be matchup-based (Scheffler has excelled against the Cover 2 schemes of Chicago and Minnesota while Pettigrew has served as the short-area release for Detroit QBs in matchups against the blitzing defenses of the Eagles, Packers, Rams, Giants and Redskins). If this theory holds true for the remainder of the season, Scheffler should be the play in Weeks 10, 12, 13 and 15 while Pettigrew stands out in Weeks 9, 11, 14 and 16.

This may be hard for his current and former owners to believe, but Brent Celek may be worth starting in fantasy sooner than later. The Philly TE told philadelphiaeagles.com that he "feels like a different person" after resting over the bye week. A lingering wrist injury likely played a big role in Celek dropping passes early on, which probably led to the Eagles moving away from him as a regular option in the offense. In no way am I suggesting that Celek is going to match his 2009 numbers – LeSean McCoy has become too big of a factor in the passing game for that – but owners needing to secure a buy-low TE to withstand the rash of injuries the position has suffered across the league may find a solid fallback option in Celek.

Even though Jacob Tamme will not meet the minimum qualifications for the list above for several more weeks, his second career start was no fluke (he started in a meaningless Week 17 game last season). The credit for his six-catch, 64-yard, one-score performance against the Texans should be spread in three directions: 1) obviously, Tamme deserves his share for being prepared to fill such a vital role in the offense, 2) Colts GM Bill Polian, who routinely finds good "fits" for his team, usually in the undrafted free agent market or – in Tamme's case – the fourth round of the 2008 draft and 3) Peyton Manning, who routinely proves that he can adjust to changing personnel almost on the fly and still post all-Pro numbers. Even as the league seems to be collecting more QBs who can do that very thing (Drew Brees, Philip Rivers and Aaron Rodgers have all started to enter that conversation along with Tom Brady and Manning), no single QB in the league strikes as much fear – no matter how depleted his supporting cast is – into his opponent as Manning.


Suggestions, comments, musings about the article or fantasy football in general? e-mail me.