To get something done a committee should consist of no more than three people, two of whom are absent.
- Robert Copeland
One obscure example of how life used to be for fantasy owners that my mind goes back to each year can be embodied by the case of Richard Huntley back in 2001. For those that don't remember (and I'm sure that's about 98 percent of people reading this right now), Huntley was a starting running back for a 1-15 Carolina Panthers team. The 1996 fourth-round pick finished that season with 165 carries for 665 yards and two touchdowns to go along with 21 receptions, 101 yards receiving and another score in 14 games. I distinctly remember looking at his name on the waiver wire in multiple leagues that season and thinking to myself how odd it was he was the only starting running back not on a fantasy roster.
Admittedly, Huntley's 186 offensive touches for 766 total yards and three touchdowns were nothing to write home about, nor were his 111.6 PPR fantasy points or RB36 finish that year. His eight fantasy points per game were equally uninspiring. But allow me to put that last nugget into some context: Isaiah Crowell averaged 8.8 PPR fantasy points last year, Tarik Cohen 8.7, Derrick Henry 8.4 and Aaron Jones 8.0. All of those backs were nearly universally owned in fantasy last year and some were even considered starters at various points depending on the dynamics at the time of the fantasy team in which they resided. Yet, there Huntley was on waiver wires for most of the season, averaging over 15 carries during the final 10 games of the season.
Needless to say, that kind of usage in today's game would not only have Huntley at the top of most waiver-wire articles, but he might actually be considered a serviceable flex - even considering his middling talent and the lackluster team on which he played. While I'm not going to engage in a "how things used to be in my day" or "I walked uphill in knee-deep snow both ways to school" conversation here, fantasy football used to be a simpler game.
Earlier in that same 2001 season, I must have spent 10-15 hours leading up to Week 3, staring at the waiver wire in one of my money leagues. Again, only one true starting running back was on the wire to be had. This back had touched the ball 19 times in the first two games and amassed 69 total yards with no touchdowns. Still, I convinced myself at that time any starting running back in the league needed to be on a roster (and as luck would have it, I needed someone to replace my usual starter that week), so I took the plunge. Twenty-three carries, five catches, 225 total yards and three touchdowns later, a star was born … Priest Holmes.
While I'd like to say my "discovery" of Holmes 17 years ago was due to a sharp eye for talent (it's not as if I didn't know of him from his days at the University of Texas), it was much more need-based. However, the difference between now and then is that Holmes would have never been available to me in Week 3 now because his 9.5 touches through two weeks would have made him somebody's end-of-roster stash.
While I'm not sure there is any way to prove this theory for sure, I believe the rise of backfield committees was borne in part from the idea that individual running backs were starting to make too much money relative to the salary cap back in the 2000s and their short shelf life. While Bill Belichick didn't create backfield committees as some have either suggested or might believe, he and his offensive coaches were among the first to push the notion of having backs fill particular roles within the offense. It has been said by more than one league source that Belichick views running backs and receivers as "luxuries," which makes some sense when one considers how infrequently New England spends a Day 1 or Day 2 pick at either position. (Sony Michel being a notable exception this spring.)
The Patriots and Saints have probably done the best job over the years of finding specialized roles for their running backs and making it work for their offenses. Kudos to them. They are the exceptions. There are many more teams that utilize backfield committees or timeshares and probably can't explain why they do it and/or prove why it is the best approach for their offense. How do I know this (or why do I think this way)? One dead giveaway is the number of coaches who say they hope a "hot hand" emerges during a game. To me, that is a fan-friendly way for a coach to say, "I don't know which back is better, so I hope the results will tell me." If the coach/coordinator for my favorite team is a "hot-hand coach," I'm genuinely concerned for that team. Vision, power, speed, quickness and quick decision-making are among the most important traits for running backs - none of which are qualities that run hot and cold. To me, it is almost unconscionable how a coaching staff can spend all spring and summer evaluating a position group and not come away with a winner, especially one that touches the ball as much as running backs do.
The point to this exceptionally long intro is that the emergence of Holmes (or even Huntley to a much lesser degree) isn't possible if then-OCs Al Saunders and Richard Williamson decided Mike Cloud or Nick Goings, respectively, needed to get a chance to develop a hot hand. At every other position in football, coaches want someone to emerge as a clear starter. Are we supposed to believe a position that touches the ball more than any other position outside of quarterback is different?
As a fantasy football owner, there are few concepts more frustrating or unnecessary - among the factors that can be controlled in the sport - in this hobby than backfield committees. As much as some of them make sense (Atlanta and Washington come immediately to mind), ask current fantasy owners of Royce Freeman, Alex Collins and Kerryon Johnson how they feel at the moment. Remember how recently the consensus believed Christian McCaffrey and Chris Carson were nothing more than committee backs? It's one thing for NFL teams to save their top backs for the stretch run, but it's another thing for a team to stick with it all season because they believe the recognized backup (Javorius Allen, anyone?) is actually vital to their success.
This week, I want to take a look at a few potentially impactful committee backfields that may yield a clear lead runner before in the near future and how I see them playing out, complete with the roles I believe each player should fill and why I believe it.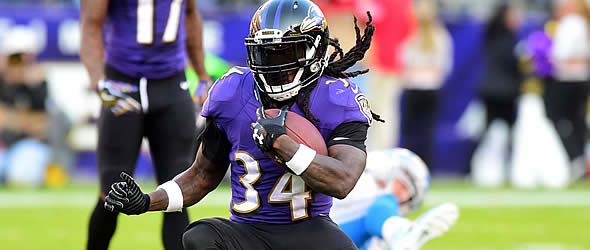 Baltimore
The contestants: Alex Collins, Javorius Allen
Carry shares through three games: Collins - 54 percent (34-of-63); Allen - 25.4 (16-of-63)
Reception shares through three games: Collins - 35 percent (7-of-20); Allen - 65 percent (13-of-20)
Early Assessment: At just about any level of football and in just about any other NFL city, running backs averaging two yards per carry and 5.4 yards per reception would be replaceable. In Baltimore, those marks allow Allen to handle 10 touches per week. More than half of his 47.2 PPR fantasy points are the result of his four overall touchdowns, including three 1-yard scoring runs. For some perspective on the latter number, Allen scored two 1-yard TDs all of last season and the most any player recorded in 2017 was four. Regression is coming. But there's a deeper issue: Allen simply isn't a very good player relative to other backs in the league and his current efficiency marks are either at career-low levels or near them. Yet, he's already two-thirds of the way to reaching his career high in touchdowns. Pro Football Focus has Allen rated as the third-best pass-blocker among running backs so far, so it seems clear he needs to be on the field on obvious passing downs. The problem: PFF has Allen ranked 50th among running backs in pass route grades, 25 spots behind Collins.
Admittedly, Collins hasn't exactly torn it up from a YPC or YPR standpoint either, but his numbers in those areas (3.4 and 9.6, respectively) appear gargantuan compared to Allen. (It also bears noting that among qualified runners, Collins has faced eight men in the box a league-high 58.8 percent of the time.) With that said, YPC and YPR can be poor indicators of actual performance. Per PFF, Collins ranks 27th among backs in elusive rating, while Allen is 71st. Collins has avoided 13 tackles on 41 touches, while Allen has dodged two on 29 touches. I suppose we could go deeper, but the fact the matter is neither player appears significantly different than last year when Collins assumed the feature-back role around midseason and finished as the RB20. Baltimore's backfield has accounted for a league-high seven touchdowns already and ranks fifth among all teams in terms of team PPR production at the running back position despite rushing for only 192 yards. This is a fantasy goldmine waiting to be unearthed if the Ravens simply choose to do what they did last year and hand Collins the reins soon. Perhaps it was telling in the first halfway-normal game script the team has seen this season in Week 3, Collins touched the ball 21 times compared to Allen's nine.
Ideal roles: Collins should work as the primary first- and second-down back and remain on the field for the bulk of third-down plays as well. Allen should eventually transition into the change-of-pace back he's been throughout his career and remain the team's top alternative in two-minute and hurry-up situations.
Where do we go from here? Most owners realize Baltimore played two very bizarre games in terms of game script to begin the season. (The Ravens fell behind early in Week 3 as well, but they never trailed by more than one score. In Week 1, they scored the first 40 points of the game. In Week 2, they fell behind by 21 late in the second quarter.) While it's clear Baltimore wants Allen involved, there is little besides his pass-blocking grade that suggests he deserves a role on par with Collins. If owners are ready to part with him in exchange for a player who has started out fast like Adrian Peterson or a WR3, I would take the deal.
Denver
The contestants: Royce Freeman, Phillip Lindsay, Devontae Booker
Carry shares through three games: Freeman - 45 percent (36-of-80); Lindsay - 41.3 (33-of-80); Booker - 12.5 (10-of-80)
Reception shares through three games: Freeman - 8.3 percent (1-of-12); Lindsay - 25 percent (3-of-12); Booker - 58.3 percent (7-of-12)

Early Assessment: Although he was known more for his ability as a runner and prolific touchdown totals, Freeman caught 79 passes during his four-year college career. Lindsay finished with 117 career receptions in his four years of college. The fact OC Bill Musgrave has sent them out on a combined 44 pass routes in three games (eight combined targets) only confirms the disdain I have for him as a play-caller when a player of similar talent like Lamar Miller has run 86 routes by himself. (Even for all the handwringing going on with David Johnson, he has run 61 routes.)
Pushing aside my annual Musgrave bashing, Freeman has seen a stacked box 58.3 percent of the time - second only to Collins in the league among qualified rushers - while Lindsay has faced one 24.2 percent of the time. In other words, Denver has been way too predictable with its usage of Freeman, so the fact he's averaging 4.2 yards per carry can be seen as a remarkable feat and a very positive development. PFF has charted him with eight avoided tackles on 36 carries, matching Ezekiel Elliott's total even though Zeke has 12 more carries. Lindsay has avoided seven on 33 carries, so he has been no slouch in that department either (although he is doing it in less predictable situations and with fewer defenders in the box than Freeman). Booker has run 45 routes per PFF, one more than his teammates combined. Of course, his 3.1 yard per carry is significantly worse than Lindsay or Freeman despite being asked to run on more passing downs. His yards per catch (6.4) pales in comparison to Lindsay's (11.7).
Unlike Allen above, Denver cannot fall back on the excuse that Booker is a better pass-blocker. PFF ranks him 85th, well below Lindsay (67th) and Freeman (ninth!). It would seem the Broncos are utilizing a committee just for the sake of doing so because there's very little statistical proof to reinforce the notion Booker deserves a seat at the table or 32.2 percent of the offensive snaps to this point.
Ideal roles: Freeman should work as the primary first- and second-down back before long, get occasional work on third down and remain the team's primary short-yardage/goal-line option. Lindsay should fall into more of a change-of-pace back and bump Booker from the rotation in two-minute and hurry-up situations sooner than later. I remain steadfast in my belief if Musgrave knows what is best for the offense, he will use the Chargers' model as a blueprint for his backfield.
Where do we go from here? Lindsay's early ejection in Week 3 skews the numbers above a bit, but the fact remains Booker has been far too involved for a back who has continually been nudged aside by better players throughout his time in Denver. Freeman is still my favorite to lead the group by a fairly wide margin, but Musgrave's ability (or inability) to see the light is the real wild-card in this situation. Ultimately, I foresee a 50-35-15 split (Freeman-Lindsay-Booker) with Freeman emerging as a low-end RB2 - as opposed to the high-end one most owners hoped this summer - as long as Lindsay stays healthy. Lindsay should be Denver's answer to Austin Ekeler and remain a fine flex option so long as the Broncos don't overwork him.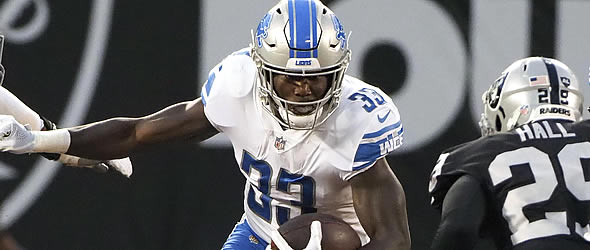 Detroit
The contestants: Kerryon Johnson, LeGarrette Blount, Theo Riddick
Carry shares through three games: Johnson 47.5 percent (29-of-61); Blount 45.9 (28-of-61); Riddick - 6.6 (4-of-61)
Reception shares through three games: Johnson 33.3 percent (10-of-30); Blount 10 (3-of-30); Riddick - 56.7 (17-of-30)
Early Assessment: When a rookie ends a 70-game streak for a team, it's notable. Johnson became the first Detroit running back to rush for 100 yards since Reggie Bush on Thanksgiving Day of 2013, doing so only on 16 carries in Week 3. Without question, that should be enough to move him to the head of the committee at the very least. That's the good news. The bad news is the specialized roles for Blount and Riddick probably aren't going anywhere. Assuming Detroit finds itself the opponent's 5-yard line and chooses not to throw (the Lions have passed all three times they have been at the 5 or closer), Blount will almost certainly be lining up in the backfield. Riddick's usage to this point suggests he's going to play at least half of the snaps on passing downs, so Johnson owners either really need Riddick to see his role decrease or Detroit to have a change of heart when it comes to its red zone approach.
Primarily due to the fact the Lions operate so often out of three-wide formations, Johnson has only seen stacked fronts on 10.3 percent of his rush attempts. (By comparison, Blount is at 32.1.) This leads me to some more potentially bad news when it comes to Johnson. Last week's breakout was due in part to the way the Patriots played their safeties and how much respect they showed to the Lions' passing game. With New England's safeties rarely - if ever - in the box and three corners lined up over Detroit's three receivers, Johnson routinely ran against six-man fronts. While the numbers above suggest that is not an uncommon occurrence against Detroit, New England used mostly an "over" technique up front (essentially three linemen between the tackles and one outside) in the first half and into the third quarter, leaving essentially three interior linemen for the Lions to block on most of their rushing attempts. The Patriots abandoned that approach later in the game, but it was too late by that point. Does it mean Detroit's Week 3 success was a fluke? Not necessarily. But what we need to see going forward is whether or not the Lions' blockers build on this performance and if OC Jim Bob Cooter is willing to commit to the run going forward if the first few in a given game don't work.
Ideal roles: Johnson should be the team's featured back, perhaps only leaving the field during two-minute drills and/or hurry-up situations for Riddick. Johnson and Blount could conceivably share goal-line/short-yardage work.
Where do we go from here? I don't think there is any doubt Johnson is the best running back of the three, but committees are rarely ever formed because there is a "tie" between two or three backs on a roster. Committees are usually the result of a team deciding to define specialized roles (such as New England and New Orleans), carrying over a competition into the regular season (we'll see if Seattle is an example of this; I'm still skeptical) or a belief it is better to divide the labor to keep everyone fresh and/or reduce the risk of injury (this describes the majority of committees). At least it's that way in theory.
Even given all of his issues with ball security and injuries, Ameer Abdullah is probably still Detroit's most dynamic back and has been for a few years. But trust means a lot among NFL coaches and Abdullah never got to the point where he earned enough of it to take his game to the next level. Cooter and his staff insisted on Riddick remaining involved as well, something that seems unlikely to go away just because Johnson is more than capable in the passing game. And if Riddick is being "sponsored" by Cooter, it's probably safe to say Blount has a strong "sponsor" in HC Matt Patricia. Perhaps Johnson makes it painfully obvious - some might argue he is already well on his way - and convinces the coaching staff Blount and Riddick only deserve playing time in a committee when he needs a rest or is hurt, but I think it's a lot for fantasy owners to believe that will happen in the next month or so.
Green Bay
The contestants: Jamaal Williams, Ty Montgomery, Aaron Jones
Carry shares through three games: Williams - 67.9 percent (36-of-53); Montgomery - 20.8 (11-of-53); Jones - 11.3 (6-of-53)
Reception shares through three games: Williams - 33.3 percent (5-of-15); Montgomery - 60 (9-of-15); Jones - 6.7 (1-of-15)
Early Assessment: Let me be clear about something right off the top. Jones is the most talented runner of the bunch. I'm not sure there's ever been much debate about that, at least not recently. It seems as though most people believe it's just a matter of time before HC Mike McCarthy comes to his senses and makes Jones his every-down back. But as I mentioned in regards to the Lions above, trust is a big deal among NFL coaches. For all of the explosiveness and potential Jones brings to the Green Bay running game, what exactly has he done to earn trust? Jones played well in two of his four games last season before getting hurt only to return and get hurt again near the end of the season. At some point last October, he made the multitude of mistakes (allegedly) that led to his two-game suspension to begin this season. Shortly after training camp began this year, he injured his hamstring. Regardless of what fantasy owners/observers think of his obvious running skills, he caught half of his 18 targets last year (not good for a running back) and ranked 116th per PFF as a pass-blocker. I don't care what anyone says about how minor his off-field transgressions were, there are more termites in the wood than most of his fans are willing to acknowledge for a player some are hoping can become one of the best backs in the league. So I'll ask, what exactly has he done to gain trust?
Lost in the haze of Jones' athletic prowess is Williams' steadiness. Williams was the clear first-team runner throughout August. If Jones was the clear No. 1 at any point, McCarthy probably would have given him at least one first-team rep or not played him in the final preseason game. If McCarthy thought Williams and Montgomery weren't playing "good football" (as he stated last week), he probably would not have limited Jones to four touches in the first half in his first game back or played him in only four of the team's 12 series, including the last one when the game was already decided. Williams hasn't exactly had much of an opportunity to show off his wares yet given the competition (Chicago, Minnesota and Washington), but he has run well the last two games - an assessment confirmed by PFF's grades. We've already seen numerous examples of his ability to block, which is an even bigger factor now given the health of Aaron Rodgers. The biggest knock against Williams is that he is a plodder who doesn't make tacklers miss. Fair enough. I would counter by saying his 88 yards after contact (he's rushed for 135 overall) is a fair total for a player who "doesn't make anyone miss" or "doesn't fall forward." Furthermore, Williams is more of an inside runner, while Jones has been used much more on the perimeter throughout his time as a Packer. The thing to remember is while Jones is more explosive, he is also used much more often on runs to showcase his explosiveness. Does he lose a bit of that burst after he's logged 200 carries in a season?
Much like Jones, Montgomery has had plenty of time to establish himself as the primary runner in this offense. He has struggled to stay healthy more than either of his two teammates, even Jones. Given his background and lack of durability, it would make much more sense to contribute more as a receiver and slide into more of a passing-down specialist out of the backfield should Williams get hurt. McCarthy isn't using him enough as a runner now to allow him to get into any kind of rhythm and simply taking touches away from the other backs. And while there are plenty of people who believe McCarthy is crazy for not giving Jones the lead role right away, his biggest sin (along with OC Joe Philbin) through three games might be continuing to rely so heavily on a passing game led by an injured quarterback and a group of receivers that aren't on par with what the Packers had even two years ago and not employing a more balanced offense.
Ideal roles: Given the current situation (i.e. Rodgers' health), Williams should remain the lead back and absorb Montgomery's role in the passing game (outside of obvious passing situations such as the two-minute drill or in the hurry-up where Montgomery is more likely to be used as a receiver than as a blocker), as his presence gives defenses less of a clue whether it will be run or pass. Jones should operate as the explosive change-of-pace back. The Falcons' current backfield setup would be a good model to follow, in my opinion. As stated above, moving Montgomery back to receiver on a more regular basis would remove the logjam that will exist at this position otherwise.
Where do we go from here? In a perfect world, Rodgers would be healthy and Jones would come with no baggage, be an average to above-average blocker as well as a capable receiver and see 15-18 touches per game. It's not that I don't want to see that happen. I do, much to the chagrin of many of my fantasy teams. I'm trying to look at this from a coach's perspective and that is exactly what I did last month when I ranked Williams as high as I did. Green Bay is an offense built around Rodgers, who is now dealing with a bum knee. The last thing he needs McCarthy to do is telegraph play calls based on running back usage (run with Jones or pass with Montgomery) and/or ask his least proficient pass-blockers to protect Rodgers when the quarterback is already somewhat compromised. If Jones continues to show his trademark explosiveness and proves he is able to be trusted as a blocker in slightly increased doses over the next five to six weeks AND can display some degree of durability while doing so, then he should be Green Bay's lead back for the stretch run.
I'm not going to pretend like I know how this is going to play out, but two reasons I loaded up on Williams last month were: 1) McCarthy had plenty of opportunities to reinsert Jones back into the lineup last year once he returned from injury (and when it should have been "obvious" Green Bay needed his explosiveness in the lineup sans Rodgers and he didn't take it and 2) Williams does all the "dirty work" coaches love and has proven to be reliable. (To that end, he has yet to fumble in his NFL career.) For what little it is worth, McCarthy also famously said Williams was "poised to have a big year" just about a month ago. It is unlikely Jones has shown the coach something in the last month that he didn't already know he had. Perhaps this ends up being a soul-crushing committee in which everyone loses, but even the most devout fan of Jones would have to acknowledge Williams has to stop being so good in the areas coaches love running backs to excel in before he deserves to lose his role in the offense.
---
Doug Orth has written for FF Today since 2006 and been featured in USA Today's Fantasy Football Preview magazine since 2010. He hosted USA Today's hour-long, pre-kickoff fantasy football internet chat every Sunday in 2012-13 and appears as a guest analyst on a number of national sports radio shows, including Sirius XM's "Fantasy Drive". Doug is also a member of the Fantasy Sports Writers Association.