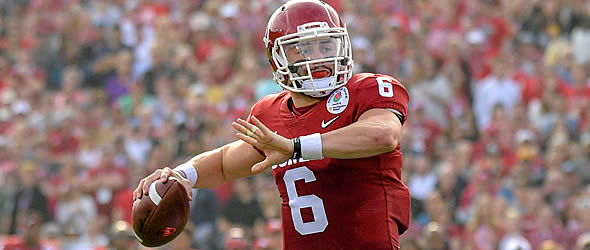 Opinions of NFL GMs vary widely on Baker Mayfield, making him a polarizing figure in the 2018 draft.




Vitals



College: Oklahoma
Height/Weight: 6'1"/215
Hands: 9 1/4"



Important NFL Combine Numbers



40-Yard Dash: 4.84
Vertical Jump: 29"
Broad Jump: 9'3"
20-Yard Shuttle: 4.28
3-Cone: 7.00



Bio/Background

(College Stats)

Walk-on at two schools who capped off his career by winning the Heisman Trophy, Maxwell Award and Davey O'Brien Award in 2017, throwing for 4,627 yards and 43 touchdowns versus six interceptions; led the country in yards per attempt (11.5).


Two-time Big 12 Offensive Player of the Year as well as two-time first-team All-American (2015, 2017).


Set the NCAA record for pass efficiency as a junior in 2016 (196.4) before topping it in 2017 (198.9); ranks second all-time in FBS in career passer rating (175.4), trailing only ex-Sooner Sam Bradford (175.6).


Ended career throwing at least two touchdown passes in a FBS-record 27 straight games.


Owns the school record for career completion percentage (69.8).


Tied for fourth in FBS history with 131 passing TDs.


Arrested for public intoxication, disorderly conduct, and fleeing/resisting arrest in February 2017.
High-end NFL Player Comp(s): Doug Flutie
Low-end NFL Player Comp(s): Case Keenum
Best Scheme Fit: Quick-hitting, up-tempo, shotgun-heavy offense to accentuate his mobility as well as his football intelligence while also minimizing his lack of ideal size.

Note: All times listed in parentheses in strengths/weaknesses section reflect the start time on video - via Draft Breakdown - that displays that skill/trait.
Strengths
Four-year starter; pro/college coaches rave about his football intelligence and competitiveness.


Pinpoint accuracy in the short and intermediate passing game. (0:16, 1:53, 2:10, 2:32, 3:42, 5:20, 10:21)


Displays touch on most of his passes, especially on fade/back-shoulder throws. (1:11, 1:32, 2:54, 6:49, 7:34)


Throws accurately on the run, occasionally flashing the rare ability to run left and throw right. (0:13, 0:35, 1:35, 7:07, 9:29)


Has a knack for buying time and/or manipulating the pocket (0:08, 0:35, 0:58, 1:39); will exhaust throwing options before taking off to run when doing so. (2:06, 4:15)


Good - and sometimes great - arm strength when allowed to step into his throw. (0:07, 1:39, 6:49, 8:30, 9:18)


Concerns
Less-than-ideal size for the position - a deficiency magnified by his drop-down release.


Immaturity issues only? Or a potential character red flag?


Erratic at best decision-making/accuracy against the blitz, occasionally slow to react to delayed blitz. (1:31, 2:00, 2:33, 3:02, 3:32, 4:17, 7:22)


Holds ball too long in an effort to hit the big play; Pro Football Focus attributed a FBS-high 11 of the 26 sacks he suffered in 2017 to him. (2:09, 3:49, 3:56, 5:35, 5:55, 7:06, 10:04)


Waits for receivers to come open more often than he throws with anticipation; delivers the occasional "lollipop"/back-foot throw for no apparent reason (0:30, 1:31, 3:30)


Under center only 4.8 percent of the time (43 snaps) in 2017.
Bottom Line

In order to keep this summary from becoming a bit of a novel, I will focus solely on Mayfield's ability as a football player and not his well-documented "character issues." Being a college spread quarterback isn't nearly as damaging to a prospect as it was only a few years ago. NFL play-callers are realizing one of the best ways to help a young signal-caller develop at the next level is to allow him to build confidence using similar concepts to the ones he thrived with during his college days while spoon-feeding him a NFL playbook. Russell Wilson and Drew Brees have proven prototypical size isn't a prerequisite to being an elite quarterback. With that said, Mayfield has to overcome both "issues." Wilson (athleticism, arm strength, etc.) and Brees (relentless attention to the fundamentals, intelligence, etc.) each have at least one quality that separates them from the pack. What is/are Mayfield's special/elite trait(s)?
In addition to their aforementioned skills, another reason Wilson and Brees are able to thrive is the frequency with which they operate out of shotgun. I believe Mayfield will need to be utilized in a similar manner if he is going to become the third recent "short guy" to succeed in the NFL. Unlike Wilson and Brees, I get the sense Mayfield will not be able to succeed in anything but a shotgun-based offense. Several prominent analytics sites love Mayfield for his success with "NFL throws" and his ability to complete passes under pressure (each one being a separate entity). He will be required to do both at the same time from now on, and he'll need to do so in 2.5-3 seconds. My film study revealed a quarterback who pays the price for trying to make something happen just as often as he is rewarded for doing so. More troubling were the number of instances in which he struggled or panicked against the few defenses willing/able/talented enough to blitz him. Look no further than the second half of the College Football Playoff semifinal game against Georgia to see what I think pro teams will try to do Mayfield going forward. Once the Bulldogs dialed up the pressure, rushed Mayfield in a more disciplined way and played more press-man with his receivers at the line of scrimmage, the passing game stalled.
Accuracy is not a problem for Mayfield in the 20-25 yard range and concerns about arm strength have been overblown. He throws well on the move and has the rare ability to run left and throw right in a way that would make Wilson proud (although Mayfield isn't quite as good at it). On the down side, Mayfield isn't going to be afforded near the time he had in the pocket at Oklahoma, nor will he have the luxury of waiting for receivers to separate. There's a distinct possibility he may be never be as effective under center as he is from shotgun. Moreover, if he lands with a team with a coach on the hot seat, I can easily see him getting lost in the shuffle quickly as he will not be a flavor for everyone. So, in summary, find Mayfield a team with a stable coaching situation and an offensive coordinator willing to cater an offense around him, and I believe the reigning Heisman Trophy winner could be the best quarterback from this draft. Fail to do so, and his team might have a journeyman like Keenum on their hands.

---
Doug Orth has written for FF Today since 2006 and been featured in USA Today's Fantasy Football Preview magazine since 2010. He hosted USA Today's hour-long, pre-kickoff fantasy football internet chat every Sunday in 2012-13 and appears as a guest analyst on a number of national sports radio shows, including Sirius XM's "Fantasy Drive". Doug is also a member of the Fantasy Sports Writers Association.