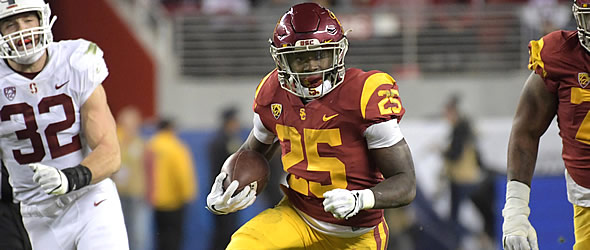 Ronald Jones has a clear path to playing time in Tampa Bay making him worthy of RB2 consideration.
2.03 – RB Nick Chubb, Browns
The Browns get a guy named Chubb one round later than everyone expected. Chubb was the de facto thunder to Sony Michel's lightning throughout their time together at Georgia, but the former is hardly a straight-ahead plodder, just like Michel wasn't a change-of-pace scatback. The Bulldogs' second all-time leading rusher, who checks in at a solid 5-11 and 227 pounds, also displayed pretty good athleticism at the NFL Combine (29 reps on the bench, 4.52 speed, 38.5-inch vertical, 128-inch broad). The good thing with Chubb is that his athleticism shows up on the field and belongs to a player whose feet are typically in synch with his eyes. While he can catch the ball when necessary, 31 receptions over his four-year career - including 13 total over his final three seasons - is a pretty clear indication his new team probably should not expect a great deal from him as a receiver. The landing spot is not a particularly good one either for his fantasy prospects, at least not immediately. Carlos Hyde figures to be the early-down back to begin the season, while Duke Johnson will handle the change-of-pace duties and passing-down responsibilities. For redraft purposes, I could wrap my mind around a pick in the 8-10 round range. In rookie drafts, he's worth considering in the middle part of the first round.
2.06 - RB Ronald Jones, Buccaneers
Fantasy folks finally catch a break in terms of immediate impact. There are worries about his ability to carry a full workload based on his 5-11, 205-pound frame, but he missed only one game in his three-year college career with an ankle injury and did not appear to wear down over the course of his 261-carry junior campaign. Like Kenyan Drake (my comp for Jones) and another back he is often compared to in Jamaal Charles, Jones is a very sudden runner who figures to be more than decent in the passing game despite being underutilized as a receiver during his college years. He may never be the best or most powerful runner in between the tackles, but he made serious strides in that area in 2017 and can push the pile a bit. Better yet, he recorded only two fumbles over 591 career carries. Jones is very twitchy and will make tacklers miss in the hole. At the moment, Jones is a clear 1.02 or 1.03 pick in rookie drafts. Owners in redraft formats can feel good about him as a high-upside RB2 in the fourth-round area (obviously depending on how the rest of the draft plays out).
2.08 – WR Courtland Sutton, Broncos
Sutton has a shot to be the best receiver in this draft. At 6-3 and 218 pounds, he profiles similarly to Alshon Jeffery and could enjoy a similar career. So why was he available? His hand placement is consistently poor. He's not a good enough route-runner or quick enough at this point to create separation at the pro level - he didn't do a great job of it in college - so I have sincere doubts he is going to be the alpha-dog WR1 teams want - certainly not immediately - from their first-round picks at receiver. With that said, Denver appears to be doing what it can to open up the downhill passing game now while preparing for life after Demaryius Thomas and Emmanuel Sanders down the road. Sutton is worth taking in the late round of redraft leagues based simply on his ability to potentially be a red zone threat. Dynasty owners will need to wait a bit for their payoff, so Sutton may last until the end of the first round.
2.10 – TE Mike Gesicki, Dolphins
Once upon a time, Miami HC Adam Gase oversaw a Denver offense that turned Julius Thomas into a fantasy beast. It appears Gase is ready to revisit that part of his playbook. Gesicki is one freaky dude. His NFL Combine numbers back up that athleticism: 4.54 speed at 6-6 and 247 pounds, 22 reps on the bench, 41.5-inch vertical, 129-inch broad and 6.76 on the 3-cone (anything under 7.0 at his size is phenomenal). His 34 1/8-inch arms would make a lot of offensive line coaches drool. His hands (10 1/4 inches) are about as sure as they come. Like Thomas, he is an oversized slot receiver. However, Gesicki wasn't nearly the athlete. So the bottom line is this: if he can add the necessary strength to become even an average blocker without losing his current athleticism, we are probably talking about the next unstoppable force at the tight end position. Gesicki's floor should be as a field-stretching move tight end who dominates in the red zone. His ceiling could be Tony Gonzalez if he lands in the right system, and he found a good home here. Rookie tight ends don't produce very often (although he could be the same exception Evan Engram was last year), so redraft owners need to view him as a high-upside TE2. Dynasty owners should consider him as early as the late part of the first round.
2.11 – RB Kerryon Johnson, Lions
Johnson is perhaps the most patient college back I can recall watching, bringing some loose comparisons to Le'Veon Bell. His 55 career receptions in three seasons don't really do him justice, as he is advanced for a college back in the passing game and as a blocker. Johnson runs with determination in between the tackles and finds a fair amount of success doing so, but his upright running style and high-cut build keeps him from being better in this area. Johnson is not a cut-on-a-dime or make-you-miss kind of guy, but he does flash fancy footwork often enough to believe he will continue to improve in terms of his elusiveness. He also features one of the best stiff-arms in this class. Considering the absence of one or more multiple elite traits, it's hard to imagine he'll be a top-tier back at any point of his career, but the fact he is above-average in a number of important areas should be enough for him to give him a good shot at being a three-down back relatively early in his career. He should get that shot with the Lions, who are making a clear statement they are not tied to Ameer Abdullah or Theo Riddick and want something approaching a lead back. Johnson figures to be worth a pick as early as 1.04 in rookie drafts and should make for a solid flex option at the very least in redraft.
2.14 – WR Dante Pettis, 49ers
The 49ers probably did not draft the top receiver on the board, but they likely have a long-term answer in the slot. This pick has more to do with this ability on special teams, however, as Pettis is the NCAA record-holder with nine career punt return touchdowns. Pettis overcomes less-than-ideal size (6-0, 186) by being one of the sharper route-runners in this class and utilizing impressive short-area quickness. Pettis drew a comp to Jamison Crowder from me for the aforementioned reasons and it wouldn't surprise me if he ends up carving out a similar career. He'll have to wait his turn behind Pierre Garcon and Marquise Goodwin, however, so he will likely go ignored in redraft leagues. He's probably a late second-round pick at best in rookie drafts.
2.15 – WR Christian Kirk, Cardinals
Kirk profiles as a long-term slot receiver because he thrives in space, which means he is going to get a very good education from one of the best in the league in Larry Fitzgerald. While his hand placement needs to get better and he needs to sell his routes better, the fact he was as productive as he was at Texas A&M over his three seasons in College Station despite poor quarterback play speaks to his ability as a playmaker. Kirk is very quick, has strong hands as well as a good feel against zone coverage, is a plus route-runner and shows some Golden Tate tendencies in his game. He is also a premiere return man. Given the fact Brice Butler appears to be his stiffest competition opposite Fitzgerald for a starting job, Kirk should be on the WR4 radar in redraft. As such, he is well worth a look late in the first round of rookie drafts.
2.17 – TE Dallas Goedert, Eagles
Philadelphia likely stuck it to Dallas a bit with this pick, although it does serve a need as the Eagles parted ways with Brent Celek and lost Trey Burton in free agency. He will be expected to fill the latter's role as Zach Ertz's backup as a rookie and, like Burton, he'll find a way to make an impact as Philadelphia tries to play the mismatch game with two tight ends on the field. Goedert doesn't offer much as a blocker, but he can stretch the seam and hit a vertical plane in the red zone that linebackers and safeties simply can't reach. His redraft use will be limited to if/when Ertz gets hurt, and his dynasty value figures to be limited as well since Ertz isn't losing his job anytime soon.
2.19 – WR Anthony Miller, Bears
It's obvious this is a new era for Chicago, which has made huge strides offensively this offseason under new HC Matt Nagy by grabbing Allen Robinson, Trey Burton and now Miller. Miller is 5-11, 201-pound receiver who can bench 225 pounds 22 times with 10 5/8-inch hands. While he frustratingly commits some focus drops on relatively easy throws, has some ball security issues and exhibits a bit much upper-body motion when trying to sell a route, he wins 50-50 balls more often than a player his size probably should. His huge hands allow him to haul in some passes most receivers would have no prayer of catching and, while his speed gets knocked by critics, his ability to separate and get behind defenders consistently is impressive. Last but not least, he is as good of a blocker as any wideout in this class. There is a lot of former Panther and Raven Steve Smith in his game. Considering Kevin White cannot stay healthy and Taylor Gabriel is the next best receiver on the roster, Miller could muster WR4 value in redraft leagues if he nails down a starting job. He should be in the early-second round mix at worst in rookie drafts.
2.27 – RB Derrius Guice, Redskins
Guice was considered one of three backs to be worthy of a first-round pick, so the fact Washington landed him with the 27th pick in the second round makes for solid value and also fills a need. There are reports of him not interviewing well with teams, but chances are he will end up being better than the seventh-best player at his position. His 2016 game tape was definitely first-round worthy, as he took over for an injured Leonard Fournette and ended up leading the SEC in rushing. Guice models his game after Marshawn Lynch, so it goes without saying he is perhaps the most physical runner in this class. Assuming he is the 2016 version of himself as a pro - as opposed to the injured shell of himself he was in 2017 - Guice should bypass Samaje Perine as the Redskins' lead runner and serve as the early-down complement to Chris Thompson. Consider him a high-upside flex option in redraft for now - Perine is hardly a slouch - with RB2 upside if he can wrap up the starting job. Guice should be a top-five-selection in rookie drafts.

2.28 – WR James Washington, Steelers
The Steelers continue their near-annual tradition of taking a Day 2 receiver. Washington essentially replaces Martavis Bryant, who was traded to Oakland for a third-round pick on the first night of the draft. The Oklahoma State product was one of college football's premier deep threats last season and averaged 19.8 YPC on 226 career receptions. Washington is a master of winning contested catches downfield. His ball-tracking skills are exceptional, and he complements that ability by positioning himself as well as any college receiver to win in those situations downfield. As such, he figures to absorb the Bryant role in this offense. As was the case with Bryant, that role is going to make him fantasy-relevant, although the Steelers aren't going to have enough balls to make a consistent option. Think WR5 for redraft purposes, and consider him a second-round value in rookie drafts.
2.28 – WR D.J. Chark, Jaguars
Chark was a relative unknown nationally before showing well in the Senior Bowl (5-160-1) and blowing up the NFL Combine (4.34 speed, 40-inch vertical, 129-inch broad). At 6-3 and 200 pounds and a certifiable burner, one might think he would be a contested-ball savant as well, but LSU's offense (and quarterback situation) didn't exactly give him the opportunity to show that part of his game off. The Jags are loaded with second-receiver types at the moment, and that would seem to be Chark's ceiling consider he is very much a raw prospect. Further working against him is Jacksonville's run-heavy offense and the presence of Marqise Lee, Donte Moncrief and Dede Westbrook - not to mention Keelan Cole. Chark is not worth a redraft pick and should be considered a late-second round value in rookie drafts.

---
Doug Orth has written for FF Today since 2006 and been featured in USA Today's Fantasy Football Preview magazine since 2010. He hosted USA Today's hour-long, pre-kickoff fantasy football internet chat every Sunday in 2012-13 and appears as a guest analyst on a number of national sports radio shows, including Sirius XM's "Fantasy Drive". Doug is also a member of the Fantasy Sports Writers Association.