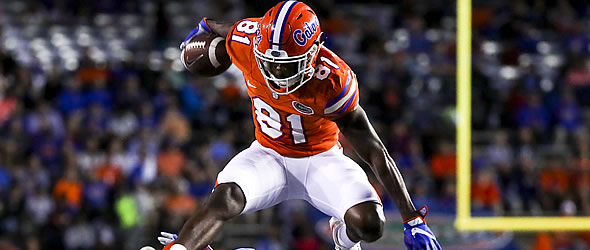 Antonio Callaway: The ultimate boom or bust pick by the Browns in Rd 4 could be the steal of Day 3.
4.04 – RB Nyheem Hines, Colts
The selection of Hines would seem to be a clear indication the new coaching staff is at least comfortable with the idea of Marlon Mack serving as the primary back, as Hines is an undersized (198 pounds) third-down back type who doesn't have the frame to add much more and certainly never figures to be a full-time back. His primary roles right away should be as a returner and as a Darren Sproles-like satellite back. If that is in fact the case, he may be worthy of a late draft pick in redraft leagues and a third- or fourth-round pick in rookie drafts.
4.05 – WR Antonio Callaway, Browns
Callaway figures to be the ultimate boom-or-bust pick, as he is a younger version of Josh Gordon - incredibly talented with no sense of how to conduct himself off the field. At the very least, the Florida product should be in the mix as a returner, although he is certainly talented enough to put some heat on Corey Coleman behind Gordon and Jarvis Landry. The reason he is included here is because Gordon remains a question mark. If he is somehow passed his off-field troubles, he could very well be the steal of the Day 3. He can be ignored in redraft for now, but dynasty leaguers can take a shot at him in the late second-round area.
4.07 – TE Chris Herndon, Jets
Herndon tore his MCL in Miami's regular-season finale, keeping him from helping his draft stock during the draft process. The 6-4, 253-pounder operated a lot out of the slot at "The U" and was a three-year starter. Following the loss of Austin Seferian-Jenkins, the Jets have a bunch of athletic oversized slots vying for the starting job. Herndon is more talented than the rest of them, so it seems reasonable he will rise to the top of the depth chart at some point early in his career. He can be ignored in redraft, but he's worth a shot in the third- or fourth-round area of rookie drafts.
4.12 – RB Mark Walton, Bengals
Walton is a bit of a forgotten man in this deep running back draft class because his final season came to an end due to an ankle injury in early October that eventually required surgery. His change-of-direction is among the best of the backs I have evaluated in this class. Walton is dependable as well, showing soft hands as a receiver while not recording a fumble over his last two years (299 offensive touches). While short-area speed and quickness are his game, the 202-pounder has more power than one might expect and, as such, is willing and able to run inside. Joe Mixon is obviously the long-term answer in Cincinnati, but Walton is good enough to put heat on Giovani Bernard as the change-of-pace and part-time passing-down option.
4.13 – WR DaeSean Hamilton, Broncos
Cut from the same mold as former Bill and Charger Steve Johnson, Hamilton projects as a very serviceable long-term slot and possible low-end complementary receiver. Given the fact Demaryius Thomas and Emmanuel Sanders are on big contracts and 30 or over, the Penn State alum may have a quicker-than-expected path to fantasy relevancy. It would seem as though Denver is eyeing him to be the long-term complement to Courtland Sutton, and both could start seeing huge roles as soon as 2019. Hamilton figures to have minimal redraft value, but he's worth rolling the dice on in the second round of rookie drafts.
4.31 – RB Kalen Ballage, Dolphins
If someone can help Ballage ever realize his fullest potential, Miami may have landed a running back here who could force a committee with Kenyan Drake. While that seems unlikely given how much he underachieved at Arizona State, he couldn't ask for a better role model than Frank Gore if he needs to learn how to work in order to be a professional. At this point, Ballage is a 228-pounder who doesn't run with power often enough and instead is one of the best players at his position in this class as a receiver. He is unlikely to have any redraft value, but he's worth a flyer later in the second round or sometime in the third in rookie drafts.
4.33 – WR J'Mon Moore, Packers

The Packers usually invest one pick every year at receiver and they end up being right more often than they are wrong. Moore has a good shot at being another hit, starting with the fact he is a very good athlete (4.49 speed, 38-inch vertical). The Missouri product was one of the better big-play artists in college football last season, but attitude concerns and overall rawness are among the reasons he wasn't a second-round pick. Since no Green Bay receiver has a starting job of locked up opposite Davante Adams following the release of Jordy Nelson, Moore has a reasonable shot to produce as a rookie - albeit not enough to be on the redraft fantasy radar. Conversely, he's worth a look in the mid-to-late second round of rookie drafts.
4.37 – TE Dalton Schultz, Cowboys

With Jason Witten expected to become the new analyst of Monday Night Football, it is interesting the Cowboys select the one prospect in this draft that most resembles him. Schultz is the rare college tight end who can block, so he figures to see regular playing time on early downs. He's an average athlete, however, so he'll be mostly an option only in the short and intermediate passing game. Schultz could be a starter relatively early in his career if Rico Gathers can't stay healthy, but Dallas is mostly likely hoping Schultz will end up being the Dwayne Allen to Gather's Coby Fleener to use a recent example. If Gathers can't get right, Schultz could be on the low-end TE2 radar and worth a third- or fourth-round pick in rookie drafts.
6.02 – RB John Kelly, Rams

There's probably always going to be a place in the NFL for backs like Kelly. The Detroit native consistently played bigger and runs tougher than his frame would suggest throughout most of what was a lost season for the Volunteers. There are a number of instances in which he showed the ability to absorb contact and the strength and balance to power through defenders he had no business driving through. Completing his physical profile, Kelly can throw a very effective stiff-arm as well. He needs to improve his technique as a pass blocker, but he seems very comfortable as a receiver. Kelly is a very good bet to beat out Malcolm Brown to be Todd Gurley's backup, and that obviously means something in the Rams' explosive offense. He is worth a late pick in redraft formats for handcuff purposes, and Gurley owners should consider him as in the third-round area.
6.33 – WR Equanimeous St. Brown, Packers

Green Bay has invested three picks into the receiver position this weekend, and St. Brown could easily end up becoming the best of them. St. Brown looks a lot like Plaxico Burress physically because he goes 6-5 and 214 pounds, but I gave him a comp of more well-rounded Martatvis Bryant. He won't lift the lid of a defense in the same way Bryant does (or used to do), but he is an effective downfield receiver and worked out of the slot a lot at Notre Dame. St. Brown also doesn't flinch at the idea of running over the middle despite his angular frame and is capable of getting down low enough to snag a throw near his feet. If he can adds some functional muscle and develop a bit more of a "my ball" mentality, he could easily end up being Davante Adams' sidekick in the near future. He is worth considering in the final rounds of redraft leagues and has a case to go as early as the late second round in rookie drafts.
6.37 – TE Jordan Thomas, Texans

The sixth round is usually a good time for a team to take a shot on a player who has a ton of physical gifts but struggled to keep him mind right. Thomas has prototypical size (6-6, 265) for his positon with elite speed (4.74), but his route-running is poor and his overall football skills are lacking. Thomas put himself on the draft radar with a good showing during East-West Shrine Game practices and coaches are going to need to spend a ton of time with him, but he's got the starter's kit to becoming a very good NFL tight end if he decides he wants it. He's obviously not on the redraft radar, but dynasty owners with deep benches could justify a late pick in rookie drafts.

---
Doug Orth has written for FF Today since 2006 and been featured in USA Today's Fantasy Football Preview magazine since 2010. He hosted USA Today's hour-long, pre-kickoff fantasy football internet chat every Sunday in 2012-13 and appears as a guest analyst on a number of national sports radio shows, including Sirius XM's "Fantasy Drive". Doug is also a member of the Fantasy Sports Writers Association.