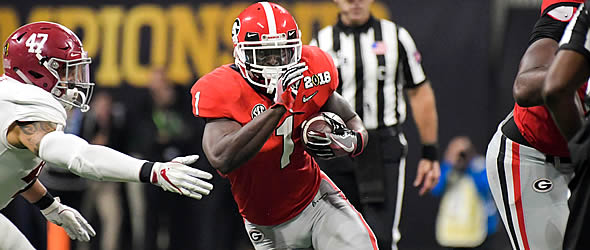 Sony Michel has the goods to be a top-15 NFL back if he finds the right landing spot.




Vitals



College: Georgia
Height/Weight: 5'11"/220
Hands: 9 1/8"



Important NFL Combine Numbers



40-Yard Dash: 4.54
Vertical Jump: N/A
Broad Jump: N/A
20-Yard Shuttle: 4.21
3-Cone: N/A



Bio/Background

(College Stats)

Older brother (Marken) is a receiver for the Calgary Stampeders of the CFL.


Suffered ACL injury in high school in 2011, twice injured his shoulder blade in his first year on campus in 2014 and fractured his left forearm in the summer of 2016 (ATV accident).


Needed only 591 career carries to become Georgia's third all-time leading rusher (3,638), behind Herschel Walker (994, 5,259) and backfield mate Nick Chubb (758, 4,769).


Named 2018 Rose Bowl Offensive MVP after rushing for 181 yards and three touchdowns on only 11 carries against Oklahoma. He added four catches for 41 yards and a fourth TD.


Combined with Chubb to break the FBS record for most career rushing yards as a duo (8,259), breaking the old mark held by SMU's Pony Express backfield (Eric Dickerson and Craig James).
High-end NFL Player Comp(s): Kareem Hunt
Low-end NFL Player Comp(s): Alex Collins
Best Scheme Fit: A heavy outside zone-running scheme - given his explosiveness and vision - that mixes in a steady dose of dives and inside traps.

Note: All times listed in parentheses in strengths/weaknesses section reflect the start time on video - via Draft Breakdown - that displays that skill/trait.
Strengths
Concerns
Will occasionally get ahead of himself when he sees a cutback opportunity in the open field. (1:06, 2:47)


Seems to chop his feet much better at the second level than the first (0:01, 0:12, 3:00, 3:34) and will occasionally get tripped up by an arm tackle. (0:01, 1:53, 2:01, 3:07)


Can run a bit too high at times and will sometimes lower his head without lowering his shoulder; needs to improve running behind his pads. (0:32, 1:52, 2:39, 3:09)


Was never the manfor a full season in college; will his next team allow him to prove his durability or pigeonhole him as a complementary runner?


Sophisticated route-running ability is an unknown.


Allows the ball get into his body on occasion when he should catch it with his hands; wasn't asked to do much more than catch screen or swing passes in college.


Bottom Line

Often in successful two-headed backfields in which there is a thunder-and-lightning component, the assumption is one player is a bowling ball-like "Mr. Inside" and the other is a scatback "Mr. Outside" type. Such was not the case at Georgia. In other words, Michel's 7.9 YPC in 2017 or his career 6.1 YPC was not a product of him getting all the "easy" runs while Chubb always ran between the tackles. Michel consistently delivers the blow on inside runs AND has the ability to beat defenders to the perimeter almost anytime he wants. Perhaps his most impressive traits are his vision (his "feel" for the crease is uncanny) and running instincts (i.e. the ability to know exactly when to cut, when to accelerate, what is happening at the next level, etc.)
While using the stats of one game isn't a good way to determine the pro readiness of a player, the exercise can helpful using the proper context. Alabama has allowed 13 100-yard rushers since coach Nick Saban arrived in 2007, two of which came in 2017. One of those instances last season occurred when the running back finished with 30 carries (Auburn), while the other came in a 66-3 win for the Crimson Tide (Ole Miss). Michel ran for 98 yards against the Crimson Tide on only 14 carries … in the national title game. While a good performance alone against Alabama doesn't guarantee pro success, the fact Michel thrived against a defense that will likely feature several Day 1 and Day 2 draft picks - not to mention a Saban-coached defense - on the biggest stage bodes well for his pro future.
Scheme fit is going to be very important for Michel. On one hand, if he finds his way into a zone-based running scheme, he could easily be a feature back who regularly makes the Pro Bowl. On the other hand, if he gets stuck on a team that has a weak link or two up front and/or is consistently being asked to avoid penetration in the backfield, then he's probably going to struggle to be anything more than a complementary back. That's not meant as a knock on him - only a few NFL running backs can overcome consistent penetration - but he is simply at his best when he gets to use his athleticism in the open field. Michel is a rare back to say the least - an inside runner who doubles as a breakaway threat - so the right offensive coordinator should have a field day calling runs for him. If he proves to be a sophisticated route-runner as well, look out. He isn't likely to break tackles at near the rate Hunt does despite a similar running style, but he is more of a big-play threat. All in all, Michel has the goods to be a top-15 NFL back if he finds the right landing spot, cuts down on the fumbles and proves to be durable.
---
Doug Orth has written for FF Today since 2006 and been featured in USA Today's Fantasy Football Preview magazine since 2010. He hosted USA Today's hour-long, pre-kickoff fantasy football internet chat every Sunday in 2012-13 and appears as a guest analyst on a number of national sports radio shows, including Sirius XM's "Fantasy Drive". Doug is also a member of the Fantasy Sports Writers Association.