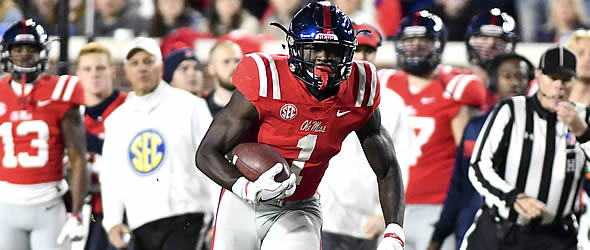 A.J. Brown is a big man with strong hands and an ability to make something happen after the catch.




Vitals



College: Ole Miss
Height/Weight: 6'0"/226
Hands: 9 3/4"



Important NFL Combine Numbers



40-Yard Dash: 4.49
Vertical Jump: 36.5"
Broad Jump: 120"
20-Yard Shuttle: N/A
3-Cone: N/A



College Production

(Stats)


High-end NFL Player Comp(s): Anquan Boldin
Low-end NFL Player Comp(s): Quincy Enunwa

Best Scheme Fit: Primary slot receiver; size/strength should allow him to serve as the X (split end) once pro position coach refines his ability to defeat press coverage.

Strengths
Big physical receiver who spent the bulk of his college career in the slot, unafraid of working over the middle or in tight quarters.


Has a great knack for escaping sticky situations when surrounded by multiple defenders and transitions quickly from receiver to running back after the catch. (1:50, 1:53, 2:07, 3:23, 3:45, 4:27)


Strong hands show up time after time; easily plucks the ball outside his frame. (0:02, 0:41, 1:14, 5:50)


Crafty route-runner who creates separation quickly by adjusting tempo and/or setting up his routes nicely (7:26, 9:00), and can sell the double-move. (5:10, 8:22)


Concerns
Answered questions about his ability to win against outside corners following D.K. Metcalf's season-ending neck injury but may not have the kind of explosion to consistently do so at the pro level.


Lackluster production in the games featuring the most pro-level competition (Alabama, LSU); only caught more than four passes once and did not exceed 10 yards per reception in any of those four contests in 2017 and 2018.


Quicker than fast, but big frame doesn't allow for him to stop/start or accelerate quickly.


Plays with an edge and is a feisty competitor, but there were several instances in 2018 in which he was close to getting flagged for taunting.
Bottom Line

It doesn't take long before three things become very clear about Brown: he is a big man with strong hands and an ability to make something happen after the catch. Per Pro Football Focus, he forced 17 broken tackles and only dropped five passes on 90 catchable targets in 2018. He also had 24 receptions of 20-plus yards (fifth in FBS). Outside of the last few games of the 2018 season in which Metcalf was sidelined, Brown spent the overwhelming majority of his college career in the slot. Let's just say unlike other slot receivers, this particular one doesn't seem the least bit scared working inside the hashes and routinely gets separation on drags and slants.
Brown's career YPC of 15.8 (16.7 in 2017 and 15.5 in 2018) might suggest he is a player capable of stretching the field at the next level. He did himself a favor by running in the 4.4s at the NFL Combine, but he is not exactly a burner. However, that's a common misnomer most fans have about playing receiver. If speed was all it ever took to get deep, Trindon Holliday, Jacoby Ford and Darrius Heyward-Bey would be among the best ever to play the game. There is nuance that goes along with it and Brown has that, thanks in part to his ability to vary his stride length, adjust the tempo of his route and the respect he demands as a short and intermediate receiver with impressive run-after-catch ability.
The biggest question I have at this point for Brown is whether or not his NFL team wants to try him on the outside or prefers to let him serve as a chain-mover initially. There's not much doubt in my mind he will have a productive career at the next level but, like much of the rest of this draft class of receivers, I'm not sure I see a player capable of being his team's lead receiver. I think he will instantly spark whatever offense he is on, if only because teammates tend to love it when a receiver doesn't short-arm balls and is willing to get physical after the catch. Those are two more boxes that Brown checks. I also think he has the safest floor of any receiver I have evaluated to this point. As such, Brown is a player I would expect to come off the board late in the first round or early in the second round.



Predict the top ten picks of the NFL Draft for a chance to win FFToday prizes. Enter our NFL Draft Contest.


---
Doug Orth has written for FF Today since 2006 and been featured in USA Today's Fantasy Football Preview magazine since 2010. He hosted USA Today's hour-long, pre-kickoff fantasy football internet chat every Sunday in 2012-13 and appears as a guest analyst on a number of national sports radio shows, including Sirius XM's "Fantasy Drive". Doug is also a member of the Fantasy Sports Writers Association.