Saquon Barkley's unfortunate high-ankle sprain last week got me to thinking about one of the more important qualities of successful fantasy football owners when it comes to getting through the tough times at the running back position: digging a bit deeper to find value where seemingly none exists. To begin this exercise, I came up with a quick list of three different types of backfields.

One-back backfields with a high degree of clarity (16): Arizona, Atlanta, Baltimore, Carolina, Cincinnati Cleveland, Dallas, Indianapolis, Jacksonville, LA Rams, Minnesota, New Orleans, NY Jets, Oakland, Pittsburgh, Tennessee

Potential one-back backfields that should/may be approaching clarity soon (4): Chicago, Detroit, Miami, Tampa Bay

Backfields becoming less clear after three weeks or about to become less clear (12): Buffalo, Denver, Green Bay, Houston, Kansas City, LA Chargers, New England, NY Giants, Philadelphia, San Francisco, Seattle, Washington

As with just about everything in fantasy football, the above list is highly subjective. In this case, I spent about five minutes categorizing the teams in order to set the table for this week's topic. The idea being I didn't want to spend too much time talking about the 50 percent or so of teams who seem to be moving toward a primary/featured back or are already doing so and focus on finding value in the 12 or so other teams.

I have chosen to rank the backfield in terms of the amount of potential fantasy upside I believe they possess. Some of the summaries below may provide context, while others may seem like rambling because, quite frankly, it's hard to understand why some coaches believe their method is working.

Let's get to work: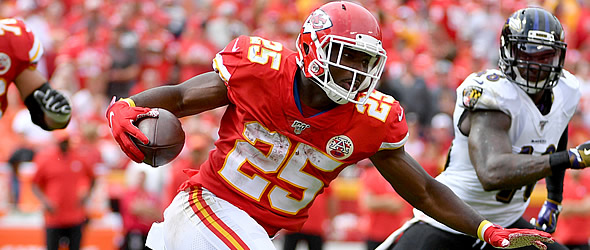 Kansas City
The players to consider: LeSean McCoy, Damien Williams, Darrel Williams, Darwin Thompson
Thoughts: There is little debate this is McCoy's backfield to lead for as long as he can stay healthy, but there within lies the problem. He's handled 36 touches (29 runs, seven catches) and already reportedly injured his ankle twice. He was hurt most of last year in Buffalo even though he managed to play 14 games. He's also not Frank Gore, so expecting him to hold up for the long-term this season at 31 years of age - even sharing touches - makes him risky to trust much longer.
Damien Williams is still technically the starter. His passing-game role in this offense feels secure, so he's unlikely to go away - even if his knee injury has his fantasy owners going crazy at the moment. But he probably brings the least amount of upside as a runner, so he's probably going to be sharing touches regardless of whether McCoy stays healthy or not.
I was impressed by what I saw from Darrel Williams in Week 3. He did not strike me as anything more than "just a guy" last season, but he ran with some good power versus the Ravens. His 41-yard stroll down the right sideline midway through the fourth quarter showed me a gear I didn't know he had. Perhaps more telling, CBS play-by-play announcer Ian Eagle said HC Andy Reid told him during the week he "trusts Darrel Williams." (For all the analytics that help owners understand the game better and predict certain outcomes, we never really know for sure who a coach trusts the most at that particular moment. It can change from week-to-week or even day-to-day. Maybe he went off-script to pick up a block on a game-winning touchdown pass. Maybe there was a moment or two in practice earlier that particular week he stood out.) Darrel Williams is probably the most likely to find his way to back of the depth chart when all is said and done, but not if he keeps putting good film on tape like he did in Week 3.
A few words about Thompson. I still think he is the back to stash in Kansas City. Do with that opinion what you will. I realize most readers don't have the luxury of sitting on a lottery ticket for more than a few weeks that sits fourth on his own team's depth chart at the moment. I also think that the three men in front of him already have had the time to earn the one thing that probably matters most with coaches: trust. Good luck guessing when that day will come, but I saw enough even in his limited time in Week 3 to remind me why I believe Thompson is the best back in Kansas City.
Rest-of-season prediction: McCoy leads the backfield before missing multiple weeks in late October/early November. Thompson steps into the "McCoy role" shortly thereafter while Damien Williams complements him. McCoy returns to lead a three-headed backfield assuming his injury isn't overly serious, making this a highly productive backfield but one that doesn't allow for any of them to be more than a fantasy RB2.
LA Chargers
The players to consider: Melvin Gordon, Austin Ekeler, Justin Jackson
Thoughts: There's probably not much here to discuss until Gordon actually reports (apparently this is happening sooner than later) since his holdout is/was the only reason why the Chargers are included here. Fantasy owners have known from the moment they drafted Ekeler he was going to be on borrowed time in regards to being the lead back. With that said, it's unlikely to be as simple as Gordon reports and returns to his old role in two weeks. Ekeler has obviously performed well enough in Gordon's absence to remain the lead back until the Chargers are 100 percent confident in Gordon's fitness and readiness in terms of any offensive adjustments that have been made since he has been away from the team. Ekeler also has no business seeing fewer than 8-10 touches once the torch is passed.

Rest-of-season prediction: Gordon steps back into 15 touches per game around Week 7. At that point, Ekeler falls back into his rich man's Danny Woodhead role. Gordon will sit on the low-end RB1 borderline, while Ekeler remains a strong flex option.
New England
The players to consider: Sony Michel, James White, Rex Burkhead, Damien Harris
Thoughts: By now, most readers have likely heard the Pro Football Focus stat that Michel has forced one missed tackle on 45 rushing attempts. (Just for the sake of comparison, Alvin Kamara has forced 14 on 42 carries and Mark Ingram had 13 on 43 rushing attempts.) He also lost a fumble in Week 2 and did not catch his first and only target of the season in Week 3. At this point, it's fair to wonder if Michel's knee is bothering him again. Making matters worse this week was FB James Develin being placed on IR. Without him, the Patriots' heavy use of two-back formations will take a significant hit. That's not to say Michel needs a fullback to succeed, but losing Develin isn't going to make him better. If Michel can't contribute (or isn't trusted) in the passing game, then his presence in one-back sets becomes an obvious clue for the defense as to what is coming.
Talent has not been an issue for Burkhead throughout his career, but durability has. While we've seen flashes of brilliance throughout his pro career, he's been limited to 10 games or fewer in five of his seven seasons. Fantasy owners can ride the wave for as long as they want - and it certainly will help his chances of staying on the field if he is capped at around 10 touches per game - but history suggests the 29-year-old will succumb to injury at some point (his single-season career-high in touches is 94).
White was always a likely regression candidate based on the fact his 12 touchdowns last season were two fewer than he had the previous three years combined. With that said, his start to the 2019 season is a bit slower than most could have imagined; 15 touches through the first three games of the season probably wasn't what his fantasy owners had in mind (he missed last week due to the birth of his child). Regardless, I'm buying where I can. New England's first three opponents are a combined 0-9, and the Patriots haven't remotely come close to trailing in a game yet, meaning there hasn't been a ton of demand for his services as the two-minute back and one of Tom Brady's most trusted check-down options. While Burkhead offers similar skills in a bigger body in theory, we've already discussed why he's probably not the best long-term play. If Michel can't pick it up, Burkhead may be needed even more on early downs.
Harris is much like Darwin Thompson above, although I am more optimistic about the latter's long-term future in the NFL. With that said, I think he's still very much in the process of building trust with the coaching staff. In Harris' case, he missed a lot of time this summer due to injury. Assuming Michel continues to struggle, Harris is going to get his opportunity sooner or later - since Michel's durability issues were likely a key reason why Harris was drafted this spring in the first place.
Rest-of-season prediction: I believe White and Harris - in that order - end up being the backs to own out of this backfield at the end of this season. The Patriots have a ridiculously easy first-half schedule, so it may take a while to play out that way. Michel is clearly not right - be it due to confidence or injury - and Burkhead has not proven he can stay healthy. It's doubtful he'll do so in his age-29 season.
Seattle
The players to consider: Chris Carson, Rashaad Penny
Thoughts: Fantasy owners should strive for consistency but not necessarily expect it; that responsibility falls on play-callers to give the backs we count on the most enough of the right opportunities to be consistent. It is then up to the players to reward their play-caller's faith enough in order to be consistent for his fantasy owners.
I mention this because Carson might be at a crossroads; he has done virtually nothing but reward the faith of his coaching staff for over a year but has fumbled three times in as many games this season. Feeding into recency bias and draft capital, many believe it is time to sound the alarm on Carson and start buying on Penny. (Penny may have actually seen his fantasy value increase in the eyes of many owners last week despite missing the game. It's an interesting phenomenon considering Penny has yet to handle more than 12 touches in a game in his pro career and been unable to overtake Carson on multiple occasions.) It might surprise readers to know Carson's three-week production in 2019 is almost the same as it was at the same point last year. Does Penny offer huge upside? You bet he does. (Check out my preseason articles.) But let's imagine for a second that Carson takes advantage of a potential blow-up spot in Week 4 - assuming Penny misses another week - and goes off for 120 total yards and two touchdowns against the Cardinals. Does that mean Carson isn't "cooked" anymore - as I've heard others say - or did he just take advantage of a soft matchup? Or did he reassert his place atop the depth chart until his next fumble? Frankly, it's hard to keep up with all the narratives that people seem to buy into these days. All I know is my eyes tell me that Carson is the better back in this backfield more often than not.
Rest-of-season prediction: Carson takes advantage of his soft matchup in Week 4 and buys himself a bit of time. He ultimately misses time later in the year due to injury and Penny performs well, but not so well he overtakes Carson. In games in which Seattle should face positive game script, expect the workload split from Week 2 to be a blueprint. In negative game scripts, it could be a bit more C.J. Prosise than most expected.
San Francisco
The players to consider: Matt Breida, Tevin Coleman, Raheem Mostert
Thoughts: The good news: the 49ers are averaging nearly 40 rushing attempts. The bad news: HC Kyle Shanahan has split up the workload in such a way that none of the three backs - at least since Coleman has been sidelined - that none of them can be considered a dependable fantasy RB2. How much that changes when Coleman returns is another story, but there is hope for him at the very least. Why is that? Shanahan mentioned over the summer that Coleman would likely be the favorite for goal-line duties. Unlike current TD vulture Jeff Wilson, Coleman is likely going to be able to do a little more with his 10-12 touches per week since he is technically a big-play back.
It's hard to imagine Breida hasn't done enough in the first three weeks to remain the lead back in this backfield. However, Mostert has also made a compelling case to stay highly involved as well. Keep in mind this offense is also not the 2018 Ravens. San Francisco is not going to continue running the ball 39 times per game and executing 72-plus offensive plays. In other words, not all three backs are going to get their 10-12 touches as has seemingly been the case so far.
But let's circle back to Coleman for a second. If he essentially takes over Wilson's current role and gets an average of 12 touches, then there is a recipe for decent upside. While getting two short-yardage touchdowns per week like Wilson has done the last two games is unsustainable, this offense is probably good enough to get him a goal-line chance or two in 10 of the last 13 games. Can he convert seven or eight of those? If he can, he becomes a Breida clone in fantasy but with touchdown (and low-end RB2) upside.
Rest-of-season prediction: The results have been good enough so far that Shanahan might not feel the need to abandon the three-man committee. Breida maintains the lead role in theory but Coleman steals his thunder at the goal line. While everyone gets a small slice of the pie in the passing game, Mostert operates as the top option in negative game scripts.
Green Bay
The players to consider: Aaron Jones, Jamaal Williams
Thoughts: Much like fantasy owners tend to complain about Kenyan Drake's lack of consistent usage despite multiple coaching staffs running through Miami, this is the second regime that seems to think Jones and Williams are better in tandem. Again, much like Drake's situations, it's pretty clear which player is the most talented. Is there a lack of trust in Jones' dependability? Availability? Durability? (You may also be noticing right about this moment how often "trust" is appearing in this piece.) We can't quantify trust before the fact, which makes predicting what is going to happen even more difficult.
Another thing to keep in mind is coaches don't look at the season in the same way fantasy owners do, especially when it comes to running backs. More and more coaches seem to view the first four weeks of the season as the preseason and the last eight games of the season as "crunch time." In other words, this suggests surviving the first half of the season before injuries and/or production dictate one player plays over the other. If the fantasy owner of Jones in your league is sweating the possibility that Jones isn't going to get 15 touches on a regular basis moving forward - and especially down the stretch - or scared off by last week's lack of yardage, don't hesitate to start a conversation. None of this is meant to discount or dismiss Williams, but the best games throughout his brief career have always come when he's had voluminous workloads. On the other hand, Jones has repeatedly shown he doesn't need a lot of touches to come through for his fantasy owners. It's only a working theory on my end, but I'm willing to believe at least some of the new staff's motivation in splitting touches now is trying to save Jones for the second half of the season.
Rest-of-season prediction: As I just alluded to, Jones asserts himself as the clear lead back in "important" games in the first half before getting a more steady and consistent workload over the second half of the season. Of course, this assumes Jones can play more than 12 games for the first time in his career. If he can't, we might see Williams deliver for his fantasy owners in the playoffs for the third time in as many seasons.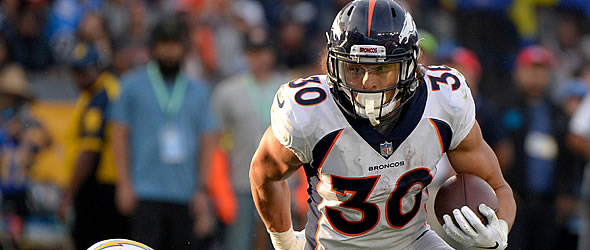 Denver
The players to consider: Phillip Lindsay, Royce Freeman
Thoughts: A lot of people talk about split-committee backfields, but the Broncos very much seem committed to theirs. This backfield hasn't quite been a 50/50 timeshare, but it's been much closer to that than probably anyone anticipated. After nearly leading all running backs in the percentage of times he faced eight men in the box last season (36.15 percent), Freeman ranks third in terms of seeing the fewest stacked boxes through three games in 2019 (2.78). It should not be considered overly surprising he is averaging 4.8 YPC so far this season as opposed to 4.0 as a rookie - and not against a trio of soft run defenses. Freeman has also been allowed to contribute in the passing game this season, as his 10 catches so far are four shy of what he had in 14 games last year.
Lindsay has seen slightly more work (55 touches to Freeman's 46), but most of that difference came as a result of last week's 25-touch effort. The former undrafted free agent has yet to break a run of longer than nine yards, unsurprisingly contributing to his disappointing 3.6 YPC. Lindsay isn't seeing more defenders in the box either, as this year's 8.89 percent is lower than last year's 14.06. Browsing over the play-by-play account of their games so far, I don't detect a consistent pattern in their usage either (one player gets one series, the other gets the next, etc.). Freeman actually has one more first-down carry than Lindsay (24-23), while the latter owns an 18-10 advantage on second-down carries. (Neither one has more than three third-down rushing attempts.) Coaches can say Lindsay is running determined - and there is plenty of proof of that - but the fact is Freeman has found a way to average more than four yards per carry in every game while Lindsay has yet to do it once.
Rest-of-season prediction: This has all the makings of remaining a split backfield for the rest of the season, but based simply on the fact the Freeman and Lindsay account for 81 of the team's 85 carries suggests there is some value here to be had. The near-complete absence of Devontae Booker suggests we have a potential feature back in this backfield if the other gets hurt. The Broncos are running enough where that back would easily be in the RB2 conversation if/when it happens. If both stay healthy, it's hard to imagine Lindsay will be anything less than the lead back in this offense (in terms of touches), but it probably won't be by a significant margin.
Philadelphia
The players to consider: Miles Sanders, Jordan Howard, Darren Sproles
Thoughts: So you think you have a read on this backfield? In the order listed above, here are the game-by-game snap counts for all three players: 36-17-23; 35-18-28; 26-25-27. No matter how big of a Sanders' supporter you are, it is less than ideal that Sproles has only 12 fewer snaps AND Howard fell one play shy of matching the rookie last week. Sanders' two fumbles in that game certainly didn't help his cause in that regard. So what gives?
Sanders has actually led the backfield (or tied for the lead) in touches all three games. He was much more productive in Week 3 than he had been over the first two games. If Week 3 was any indication, Howard appears to be the favorite for goal-line work - as many close to the team believed this summer. Sproles has been an afterthought in terms in each of the last two weeks in terms of touches (two apiece) after recording 12 in the opener. Does that mean Sproles is getting phased out, especially considering he should have been more involved in games in which they were trailing late and lost?
The reality of the situation is the injuries to Alshon Jeffery and DeSean Jackson probably resulted in HC Doug Pederson going into survival mode for the last two weeks. As much as teams talk about "next man up," there's an expectation that a team won't lose both of its starting receivers in the first two games of the season, much less early in the second game.
Rest-of-season prediction: It's difficult to predict how Pederson is going to handle Sanders' two fumbles, but I have to believe he isn't going to get punished much unless it happens again. Unfortunately for fantasy owners, Pederson has struggled to stick with a lead back at any point during his tenure, and I don't think that changes this year either. Sanders is talented enough to overcome a lack of touches occasionally and provide flex value, but I'm not optimistic about him becoming an RB2 in 2019. Howard's value will almost certainly be predicated on his ability to score a touchdown, while one would think the Eagles won't try to overwork 36-year-old Sproles at any point. If injury strikes any one of them, it's likely Pederson will simply ask Corey Clement to fill that player's role in the offense.
Buffalo
The players to consider: Frank Gore, Devin Singletary, T.J. Yeldon
Thoughts: There's not much to discuss here as long as Singletary remains sidelined with a hamstring injury. It's an ominous sign he's already dealing with such an issue 15 touches into his pro career, but there's no question he brings electricity to a backfield that needs it. In Buffalo's perfect world, I believe the Bills want Gore averaging 12 carries and Singletary taking just about everything else that OC Brian Daboll wants his running backs to handle. Yeldon saw a total of seven snaps in the first two games, indicating he won't have much of a role when Singletary returns.
Rest-of-season prediction: Singletary becomes the clear touch leader in the backfield. But as was the case in Indianapolis with Marlon Mack and Miami with Kenyan Drake, Gore steals enough work to keep the rookie in flex territory most weeks.
Houston
The players to consider: Carlos Hyde, Duke Johnson
Thoughts: This is crazy enough to be true. The Texans traded a conditional fourth-round pick that can become a third-rounder to snag Johnson before Lamar Miller got hurt. They later traded an offensive lineman they were going to cut for Hyde, who was reportedly headed out in Kansas City. Touch count through three games: Hyde 41, Johnson 23. Hyde may be running as well now as he did in San Francisco, but that doesn't make this right. Even if we disallow the subjective "eye test," Houston's offense is now all about what needs to be done in order to allow Deshaun Watson to do his job as well as possible. Giving him another threat as a receiver out of the backfield - even if Watson doesn't utilize his backs as receivers as often as he should - helps him do his job better and likely prevents another potential pass-rusher from coming after Watson. As a back averaging over five yards per carry and more than nine yards per catch, the push should be to get him more touches. It's truly sad that in his fifth year in the league, he still hasn't been given a chance to lead a backfield.
Speaking as someone who does not own Johnson in any league, he has seemingly fallen into the same trap as Kenyan Drake. Every coach wants someone like him, but no one seems to know what to do with him once he's on the team. Perhaps all he is going to be in Houston is a negative game-script back. Houston also made an interesting choice to bring in C.J. Anderson for a workout earlier this week, and there is supposedly mutual interest. Anderson is obviously not interested in backing up Hyde nor does he offer the skills Johnson does, so are the Texans wanting Anderson and Hyde to split the early-down role or looking for an upgrade on the latter (which would be admitting giving Hyde this much work was the wrong thing to do in the first place).
Rest-of-season prediction: As much as owners want Johnson to be a thing, I'm not sure it happens anytime soon. And honestly, I don't know what it will take for it to happen. Multiple teams have decided Hyde offers little in the passing game, so this is shaping up to be a situation in which one back will be flex-worthy in positive game scripts and the other will like by flex-worth in negative game scripts. It doesn't need to be that way, but that's the way this is headed.
NY Giants
The players to consider: Wayne Gallman, Elijhaa Penny, likely free-agent addition such as C.J. Anderson, Fozzy Whittaker or Cameron Artis-Payne
Thoughts: Of course, this became an issue the moment Saquon Barkley went down. Veteran owners remember Gallman had a nice little run near the end of the 2017 season, but it goes without saying fantasy owners - much less the Giants - are not going to find someone who can give them anything close to what Barkley did for however long he is sidelined. A player like Anderson would likely be added with the idea of splitting carries, while someone like Whittaker or Artis-Payne would be used only in case of an emergency.
On a related subject, my mind has been blown by some of the FAAB bids I've already seen for Gallman, some of which have been made by non-Barkley owners. If the going rate for a replacement-level back who may only have his job for a little over a month on a below-average offense is 75-95 percent of my budget, I'm going to pass. I think most owners should do the same. There will be another waiver-wire back in the near future more worthy of that kind of coin.
Rest-of-season prediction: Assuming Anderson isn't the back signed, Gallman should be a serviceable flex, especially now since Daniel Jones provides a bit of a run threat. If Anderson chooses New York, then I think he becomes the better fantasy option of the two.
Washington
The players to consider: Adrian Peterson, Chris Thompson
Thoughts: I'm not a big fan of terms like "dumpster fire," but this is just a bad team at the moment. Washington plays the Giants and Dolphins in two of the next three weeks, giving Peterson a shot at being relevant. The Redskins are averaging 48 yards rushing, and Peterson's 37 yards on the ground in Week 3 was the best by any of the team's backs in a game this season. In virtually just about every other game, Thompson will probably lead the team in snaps - until he succumbs to yet another injury.
Rest-of-season prediction: Even if OT Trent Williams reports at some point this season, I'm not sure how this situation gets much better. Maybe a healthy Derrius Guice gives this offense what Peterson did last year, but we are a long ways away from that. Thompson may be worth using as an RB2 in games in which Washington is a clear underdog. As for Peterson, he may be worth using as a low-end flex maybe only two times before the Week 10 bye.
---
Doug Orth has written for FF Today since 2006 and been featured in USA Today's Fantasy Football Preview magazine since 2010. He hosted USA Today's hour-long, pre-kickoff fantasy football internet chat every Sunday in 2012-13 and appears as a guest analyst on a number of national sports radio shows, including Sirius XM's "Fantasy Drive". Doug is also a member of the Fantasy Sports Writers Association.