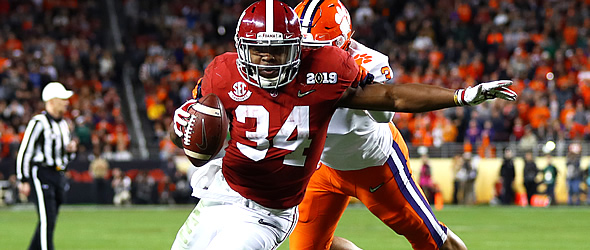 Damien Harris is a back that can wear out defenses at the end of games if given the chance.




Vitals



College: Alabama
Height/Weight: 5'10"/216
Hands: 9 3/4"



Important NFL Combine Numbers



40-Yard Dash: 4.57
Vertical Jump: 37"
Broad Jump: 121"
20-Yard Shuttle: N/A
3-Cone: N/A



College Production

(Stats)


High-end NFL Player Comp(s): Mark Ingram
Low-end NFL Player Comp(s): Carlos Hyde

Best Scheme Fit: Man-blocking and/or inside zone running scheme. While he showed some ability to hit the edge and has the vision/decisiveness necessary to run outside zone in college, he likely doesn't have enough speed to be overly effective at it in the NFL. He has more than enough power to run in between the tackles, however.

Strengths
Good vision allows him to be a decisive runner capable of cutting back at a moment's notice. (0:35, 0:59, 1:51, 1:57, 2:24, 2:43)


Physical inside runner who will press the hole, keeps his balance long enough to defeat most arm tackles and strong enough in the lower body to push the pile/drag tacklers. (0:55, 1:00, 1:39, 1:51, 3:31)


Although average from an NFL standpoint, he displays a bit more elusiveness and explosion than he is given credit for. (0:59, 1:47, 1:51, 1:58, 3:44)


Effective option in passing game on check-downs and swing passes; doesn't fight the ball and turns up the field quickly. (0:21, 0:22, 1:47, 1:58, 2:04)


Well-managed college workload (528 career offensive touches over four years with no more than 172 in any season).


Concerns
Has a low-end second gear - appeared faster in 2017 - but needs a runway to get rolling; struggles to reaccelerate if he needs to stop and restart. (2:24, 3:13)


Elusive enough to make the first man miss, but tightness in hips and a bit of a lack of bend in his lower half doesn't allow him to set up the next defender. (1:07, 2:09)


Not an overly creative runner and unlikely to make something out of nothing if he is contacted in the backfield. (1:28, 2:59, 3:41)


Was not utilized down the field as a receiver was in college and probably not quick enough (or sophisticated enough with his route-running, at least not yet) to be used as a mismatch weapon out of the backfield in the passing game.


Loses his feet a bit more often than someone with his straight-ahead style should. (0:00, 3:12, 3:41)


Bottom Line

Harris' running style is timeless in that it would play 20 years ago, it will play now and probably will play 20 years from now. He's going to get his offense every yard that is blocked - if not a few more - and he won't often do something to get his team off-schedule. Like backfield partner Josh Jacobs, Harris' 22 catches in 2018 don't really tell the story on how dependable he was as a receiver out of the backfield, although quarterbacks Tua Tagovailoa and Jalen Hurts never seemed to give him much of a chance to beat his defender - or stick with him very long on the progression - on the rare occasion Alabama sent him on a route down the field. With that said, he didn't exactly create much separation on the few such instances I saw on film.

Some fans will probably want to replace Harris within a couple of years because he isn't flashy enough, yet he will be hard to bump out of the lineup because he just does his job - likely making him a bit of a coach's pet. Given his likely draft position and inside running ability, it is extremely likely Harris will earn his new team's role as the short-yardage/goal-line hammer. He also should be considered the favorite to land early-down and four-minute duties. It is amazing how many times Harris has one defender on him after two yards, two defenders on him after four yards and three shortly after that, making what seems like a third of his runs look like rugby scrums. He's a back that can and probably wear out defenses at the end of games if given the chance.

The bigger question is what he will provide his new employer beyond that. There are several parts of his game that are considered average by NFL standards nowadays, namely his ability to create a big play in the running game and potential contribution in the passing game beyond serving as an outlet. Power will always have a place in football, but it would have been nice to see the breakaway speed he displayed as a junior (here and here) more often as a senior. If he can show that side of himself more often, he could carve himself out a nice career like Ingram has. If not, he might have to settle for being the power half of a committee backfield. The former version is worth a look in the second round, while the latter version probably should come off the board in the third. Harris should have staying power in the league either way, but the first version would obviously allow him to push for 200-plus touches on a more regular basis.

Predict the top ten picks of the NFL Draft for a chance to win FFToday prizes. Enter our NFL Draft Contest.
---
Doug Orth has written for FF Today since 2006 and been featured in USA Today's Fantasy Football Preview magazine since 2010. He hosted USA Today's hour-long, pre-kickoff fantasy football internet chat every Sunday in 2012-13 and appears as a guest analyst on a number of national sports radio shows, including Sirius XM's "Fantasy Drive". Doug is also a member of the Fantasy Sports Writers Association.