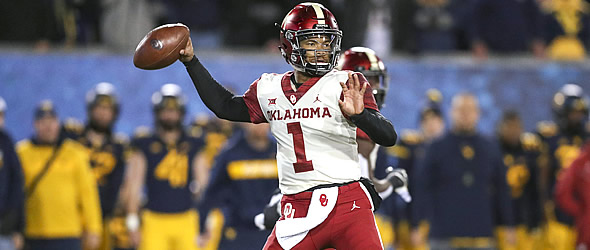 Kyler Murray: Durability will be an issue in the NFL for the reigning Heisman Trophy winner.




Vitals



College: Oklahoma
Height/Weight: 5'10"/207
Hands: 9 1/2"



Important NFL Combine Numbers



40-Yard Dash: N/A
Vertical Jump: N/A
Broad Jump: N/A
20-Yard Shuttle: N/A
3-Cone: N/A



College Production

(Stats)


High-end NFL Player Comp(s): Russell Wilson
Low-end NFL Player Comp(s): Tyrod Taylor

Best Scheme Fit: Shotgun-based offense that utilizes spread and run-pass option (RPO) concepts.

Strengths

Concerns
Shows the capability to work in but wasn't given much of a chance to function in a timing-based offense and/or cycle through reads/progression quickly.


Doesn't have a ton of experience stepping into his throws, which can lead to inaccuracy issues. (7:59, 8:12, 8:54, 11:23)


Inconsistent pocket presence; doesn't always do a great job of accounting for the blitz or living for another down when play fizzles. (8:28, 9:52, 11:33)


Displays the ability to hit his target but lacks precision, leaving his receivers in position where it is hard for them to generate yards after the catch.


Height not as much of an issue as weight. (Only three quarterbacks since 2000 have played at or below 205 lbs.; Murray played most of 2018 around 195 before beefing up to 207 for the NFL Combine.)
Bottom Line

People need to understand that Murray was not only a first-year starter in 2018, but he attempted a total of 142 passes before the start of last season. As such, it's hard to compare Murray to someone like Russell Wilson because the latter was understandably more pro-ready coming out of the draft than the former. However, Murray is considerably further ahead of Michael Vick and Lamar Jackson as a passer while very much on their level as a runner. Still, as much as evaluators can and/or want to knock him for a lack of experience, it's hard not to be impressed - even in an up-tempo spread offense in a conference mostly devoid of quality defense like the Big 12 - that he completed 69 percent of his passes and sported a 6:1 TD-to-INT ratio in his only year as a starter.
For the sake of comparison, Wilson played at 210 pounds at Wisconsin, slimmed down for the combine and now generally plays around 215. Murray has never played at his current weight and probably won't anytime soon. Think about that for a second. Most observers express concern when a running back prospect enters the league in the 200-205 range. Murray will probably see the same kind of running workload as a complementary back AND take his fair share of punishment when he throws. It seems only a matter of when - not if - durability will be an issue for the reigning Heisman Trophy winner, as he will be asked to carry more of the offense for his next team than he did at Oklahoma and do it behind an offensive line than won't be anywhere near as dominant as the Sooners' front five was in 2018.
Can Murray "learn" to be a more explosive Wilson? Or will he settle in as a better passing version of Vick and/or Jackson? It's not hard to see either scenario playing out, although it has to speak to his work ethic that Murray is good enough at two sports to be drafted in the first round in both of them. Durability will be his biggest concern, at least early in his career. For perspective, Jeff Garcia was the most recent quarterback to play below 200 pounds and Joe Montana was the most recent superstar signal-caller to consistently play at that weight. It's hard to justify using the No. 1 overall pick on a player with one year of tape who isn't already a top-level passer and is theoretically a durability risk, but front offices in today's NFL have never been overly rational when it comes to quarterbacks. He has that kind of upside, but the amount of success he will have figures to come down to how he answers two questions: 1) can he find the perfect balance of muscle to protect himself while not losing explosiveness and 2) will he be able to play through pain and exhibit the same amount of toughness Wilson has in his career?
---
Doug Orth has written for FF Today since 2006 and been featured in USA Today's Fantasy Football Preview magazine since 2010. He hosted USA Today's hour-long, pre-kickoff fantasy football internet chat every Sunday in 2012-13 and appears as a guest analyst on a number of national sports radio shows, including Sirius XM's "Fantasy Drive". Doug is also a member of the Fantasy Sports Writers Association.