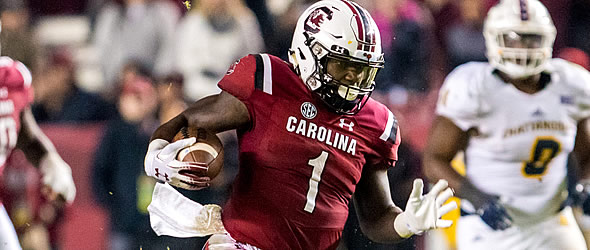 Deebo Samuel becomes the instant favorite to assume slot duties in San Francisco.
2.04 – WR Deebo Samuel, SF
Although he wasn't my highest-ranked receiver, Samuel may be my favorite in this draft class. He offers surprising speed (4.48) for a receiver who plays so much like a running back with the ball in his hands. Pro Football Focus charted Samuel with 21 broken tackles on his 62 catches, further proving he is a handful for defenders. In his last meaningful college game, he was arguably the best player on the field against eventual national champion Clemson, finishing with 10 catches for 210 yards and three touchdowns. In San Francisco, Samuel becomes the instant favorite to assume slot duties while presumed No. 1 receiver spends more time on the outside. Samuel is talented enough to eventually overtake Dante Pettis as Jimmy Garoppolo's favorite wideout, but even if that doesn't happen, he projects as a long-term tag-team partner for last year's second-round pick. Owners probably need to value him as a WR5 for redraft purposes, although a strong training camp/preseason might bump him up a bit from that.

2.10 – QB Drew Lock, DEN
There was some speculation Denver might spend a first-round pick on Lock - especially after they traded back to No. 20 - so the Broncos have to be happy to land the player they will groom to be Joe Flacco's heir apparent. It's not a bad landing spot for that reason because even though he is a three-plus year starter at Missouri, he's still a bit of a developmental project. That, along with his inconsistency, are the main reasons Lock ends up being the fourth quarterback off the board after entering the season as the favorite to be the first. It is also interesting because although his comps are Matthew Stafford and Jay Cutler, he is perhaps the strongest-armed quarterback in this draft, which makes him a good choice to back up Flacco. Lock's aforementioned inconsistency happens in part because he knows he has a strong arm and trusts it too much, so hopefully a two-year apprenticeship serves him. He has no redraft value barring an injury to Flacco and doesn't figure to be anything than a back-end selection in rookie drafts.
2.18 – TE Irv Smith, MIN
The Vikings have been trying to find a complement to Kyle Rudolph for some time and may have just found his replacement instead. Smith is a bit undersized at 6-3 and 243 pounds and didn't show particularly well at combine (32.5" vertical, 110" broad) or measure out well (74 7/8" wingspan, 31 1/2" arms), but he is a well-rounded player who probably would've been the top-rated tight end in many drafts. Smith is a good route-runner and does damage after the catch, which has never been one of Rudolph's strong points. Assuming Rudolph is nearing the end in Minnesota, Smith will start sooner than later for the Vikings, although is not a particularly good bet for rookie-year production. His dynasty outlook is rosier, however, and he'll probably be worth a pick in the third round in rookie drafts.
2.19 – WR A.J. Brown, TEN
My No.2 ranked receiver in this draft class, Brown is a big man with strong hands and an ability to make something happen after the catch. Per Pro Football Focus, he forced 17 broken tackles and only dropped five passes on 90 catchable targets in 2018. He also had 24 receptions of 20-plus yards (fifth in FBS). The interesting of Brown getting drafted by Tennessee is that he spent the majority of his career at Ole Miss in the slot, but he'll be asked to begin his pro career outside after the Titans handed a big free-agent deal to Adam Humphries in the offseason. He proved toward the end of the season he could thrive on the outside, but the landing spot for fantasy purposes isn't all that great - at least not immediately. Corey Davis will continue to be the clear No. 1 receiver and Delanie Walker figures to be the top option in the passing game if he's healthy. He's a possibility to be worth a late-round flier in redraft, but it's hard to like him as anything more than a second-round pick in rookie drafts.
2.21 – RB Miles Sanders, PHI
That comes as no surprise Philadelphia went running back on Day 2 of the draft. Although the Eagles traded for Jordan Howard, he is a free agent after the season and may not be versatile enough to be considered the long-term answer at the position. Sanders followed in the rather large footsteps of Saquon Barkley and accounted for himself quite nicely in his one season as the starter at Penn State. Per Pro Football Focus, Sanders ranked eighth (out of 55 qualified backs) in yards after contact per touch (3.68) and 20th in forced missed tackles per touch (0.202). He even managed to total 322 yards after getting contacted at or behind the line of scrimmage, ranking seventh among the 96 FBS backs with 60 or more such carries. Ball security was an issue for him, however, so perhaps Philadelphia will make sure to work with him on that while sitting behind Howard in 2019. He probably needs to be considered a handcuff for Howard this spring and summer. In rookie drafts, he figures to be a second-round consideration.
2.24 – WR Mecole Hardman, KC
The Chiefs likely held off on announcing what figures to be the eventual release of Tyreek Hill until they had his replacement in place, and Hardman will get the first chance to be that guy. Hardman has only played receiver for two years after arriving at Georgia as a defensive back, so Kansas City will be hoping they can teach him to be a pro receiver as quickly as they did Hill. Built in the Tyler Lockett/John Brown/Marquise Goodwin mold, Hardman projects to be the obvious field-stretching threat that Kansas City will almost certainly lose when Hill is gone. For what it's worth, he will bring value as a return man. Due to the offense in Kansas City, he'll be worth rostering in redraft leagues if he emerges as a starter during his rookie year, but it's going to take a long time for him to approach Hill's lofty production - if he ever does. Because of his landing spot, he may sneak into the first round of rookie drafts, although that feels like it would be a bit of a reach.
2.25 – WR J.J. Arcega-Whiteside, PHI
The analytics community loves Arcega-Whiteside, and there's no question it has to do with his touchdown production and ability to win in contested-catch situations (he led the draft class with 19, per Pro Football Focus). Arcega-Whiteside was the lowest-rated of the 11 I studied in large part because I'm not sure his style (he literally boxes out a defender as if a deep ball/red zone throw is a rebound) will actually play at the NFL level. If it doesn't, I have my doubts as to whether or not he's fast or twitchy enough to create any kind of separation consistently in the NFL. With that said, Philadelphia obviously believes he has a chance to either complement and possibly replace Alshon Jeffery or DeSean Jackson. It's hard to beat his landing spot, however, and that alone will make him worth considering should either of the two veterans get hurt. The fact he ended up in Philadelphia will probably push him into the first round of rookie drafts, although that also feels like it would be a reach.
2.27 – WR Paris Campbell, IND
Campbell finished with 90 catches last season and may have been the most feared receiver in the Big Ten last season. He did that despite receiving 90 of his 111 targets within 10 yards of the line of scrimmage. Campbell ran such a limited route tree at Ohio State that it is impossible to know what he really is, but his measureables are those of a receiver Indianapolis hopes can stretch the field for T.Y. Hilton. While he's developing as a receiver, he could very well serve as the same Swiss Army knife role he occupied from time to time in college. It would make sense if the Colts break them in this way since Campbell excels in space and can create offense without having to run a route. He'll be another rookie that will be on the redraft radar, even though he'll be no better than fourth in line for targets right away. His landing spot figures to push him in the first round of rookie drafts.
2.30 – WR Andy Isabella, ARI
The FBS leader in receiving yards last season, Isabella was my fourth-ranked receiver among the 11 I studied before the draft. Although he's not physically imposing at 5-9 and 188 pounds and likely limited to slot duties in the NFL, it's not hard to see what Arizona is thinking here. The Cardinals will almost certainly be operating their own form of the "Air Raid" offense under new HC Kliff Kingsbury and will need two players capable of playing the slot on more than half of the snaps. A player that I described as "Wes Welker with a hint of Tyreek Hill," Isabella is among the fastest players in the draft (4.31) and will almost certainly be used on jet sweeps and the like to create favorable matchups. I believe he can make a significant fantasy impact in his rookie year and will be worth a pick late in redraft leagues. Isabella is very much worth a late first-round pick in rookie drafts.
2.32 – WR D.K. Metcalf, SEA
A very interesting pick for a number of reasons. Ranked by many as the top receiver on the board after he blew up the combine, it's almost as if evaluators started remembering that Metcalf struggled to stay healthy at Ole Miss and didn't produce all that much. At this point of his career, Metcalf is a 227-pound deep threat. What makes this pick interesting is that it may be an indirect admission that Seattle will be moving on from Doug Baldwin - he of the three offseason surgeries - sooner than later since Tyler Lockett got a huge extension last year and can play the slot. Initially, Metcalf might push David Moore for playing time when he is ready. Redraft owners should not expect much of a rookie-year impact from him in Seattle's run-heavy offense, and it will be entirely on Metcalf's shoulders as to whether or not he develops his route-running to the point where he is anything more than a deep threat. His measurables figure to make him a first-round pick in rookie drafts, although it may take 2-3 years before owners get any return on investment from him.

---
Doug Orth has written for FF Today since 2006 and been featured in USA Today's Fantasy Football Preview magazine since 2010. He hosted USA Today's hour-long, pre-kickoff fantasy football internet chat every Sunday in 2012-13 and appears as a guest analyst on a number of national sports radio shows, including Sirius XM's "Fantasy Drive". Doug is also a member of the Fantasy Sports Writers Association.