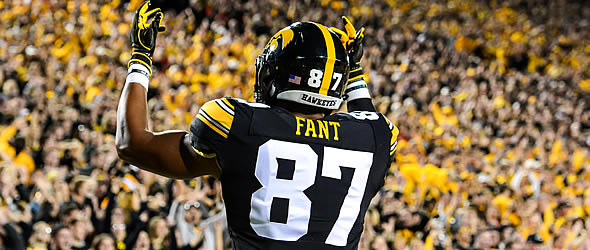 It's hard to imagine Fant won't be a key part of his team's offensive attack sooner than later.

Predict the top ten picks of the NFL Draft for a chance to win FFToday prizes. Enter our NFL Draft Contest.



Vitals



College: Iowa
Height/Weight: 6' 4"/249
Hands: 9 3/4"



Important NFL Combine Numbers



40-Yard Dash: 4.5
Vertical Jump: 39.5"
Broad Jump: 127"
20-Yard Shuttle: 4.22
3-Cone: 6.81



College Production

(Stats)


High-end NFL Player Comp(s): Eric Ebron
Low-end NFL Player Comp(s): Jared Cook

Best Scheme Fit: Whatever offense allows him to serve as an F tight end and moves all over the formation in order to get the best matchup possible.

Strengths

Concerns
Focus drops were an issue (1:37, 3:11, 4:20); although he improved in this area in 2018, he was charged with 13 drops on 91 catchable targets over his career, per Pro Football Focus.


Physicality; gets pushed off track during routes.


Allows himself to go down on the first tackle attempt too often (only broke two tackles last season).


Why wasn't he used more often? Amassed 78 catches - 19 of which went for touchdowns - in 30 games despite being the most obvious mismatch in just about every game.
Bottom Line

It was once said the only person who could stop Michael Jordan was Dean Smith (his coach at North Carolina for all the millennials out there). While it would be ridiculous to suggest Fant will be to football what Jordan was to basketball, the point is that a coaching philosophy can stymie a player's production as much as anything a defense can throw at him. It also doesn't help matters the majority of college offensive coordinators are so fascinated with spread concepts and tempo that they don't bother taking advantage of the player who often gives the offense the best matchup more often than not: tight ends. Once could make the case that last year's uber-athlete at tight end (Mike Gesicki) was underutilized at Penn State and he still finished with 129 career catches, including 57 in his final season. Fant never caught more than 40 passes despite scoring a touchdown every 4.1 receptions.
The good thing about Fant's public perception is that virtually no one appears to be overly concerned about his college production. While George Kittle and 2018 teammate T.J. Hockenson may be better all-around players, Fant is arguably the best athlete and the most unique weapon of the bunch. Imagine for a second trying to find a second or third level of a defense capable of running a sub-4.5 (speed) and serve as a deterrent for a 6-4 receiver (size). Now imagine that same defender also having a 40-inch vertical (explosion), an 80-inch wingspan (width, horizontally and vertically) and 6.81 three-cone time (explosion) - the last of which ranked 11th among all players at the 2019 NFL Combine. I'm not sure that kind of defender exists and, if he does, he may be the only one. Perhaps the best part of Fant is that he is not merely a superb athlete, as he ran a varied route tree at Iowa and was well-schooled in some of the tricks of the trade when it comes to accentuating his vast talent.
Blocking is the one area Fant seems to get the most criticism. It's not completely unwarranted, but it has been overblown to a large degree. Yes, he doesn't show the same tenacity that Hockenson does, but there aren't many college tight ends that do. Drops are a bigger concern, but his issues in this area are more surprising than alarming. Fant's upside is massive, and all it is going to take is a creative NFL play-caller to move him from H-back to the slot to the outside to in-line and a few matchups against 5-9 corners or box safeties before coordinators start trying to scheme up defenses designed to stop him. I would imagine he will struggle out of the gate as most rookies do at his position, but it's hard to imagine he won't be a key part of his team's offensive attack sooner than later. He's a better overall prospect than Ebron was in 2014 and more polished, so it would be highly disappointing if he wasn't one of the 10 most-feared pass-catchers at his position by the end of the 2020 season. There's enough bust potential here for teams to hold off drafting him until the end of the first round, but there's also limitless upside (and multiple Pro Bowls in his future) if he is willing to put the time into his game.
---
Doug Orth has written for FF Today since 2006 and been featured in USA Today's Fantasy Football Preview magazine since 2010. He hosted USA Today's hour-long, pre-kickoff fantasy football internet chat every Sunday in 2012-13 and appears as a guest analyst on a number of national sports radio shows, including Sirius XM's "Fantasy Drive". Doug is also a member of the Fantasy Sports Writers Association.