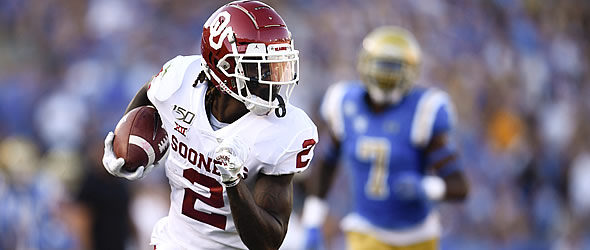 CeeDee Lamb's run-after-catch ability is going to allow him to be a factor as a rookie.

Predict the top ten picks of the NFL Draft for a chance to win FFToday prizes. Enter our NFL Draft Contest.



Vitals



College: Oklahoma
Height/Weight: 6' 2"/198
Hands: 9 1/4"



Important NFL Combine Numbers



40-Yard Dash: 4.50
Vertical Jump: 34.5"
Broad Jump: 10' 4"
20-Yard Shuttle: DNP
3-Cone: DNP



College Production

(Stats)


High-end NFL Player Comp(s): Tyler Boyd
Low-end NFL Player Comp(s): Brandon Lloyd

Best Scheme Fit: Universal.

Strengths

Concerns
Average deep speed and doesn't do a lot route-wise to create much separation on deep balls. (0:03, 0:18, 2:14, 9:26)


Doesn't do much to disguise his intentions and/or gives away the route too early near the goal line. (5:56, 8:40)


College offense (and the lack of solid Big 12 defenses willing to challenge said offense) led to one free release after another.


Seemed as though an inordinate amount of his 2019 production came on long-developing deep crossing/over routes against zone defenses or scramble-drill plays.
Bottom Line

Lamb bears a striking resemblance to Robby Anderson in terms of his build, but that's about where the similarities end between the two. The Texas native obviously dedicated himself to the weight room and reaped the rewards for it in 2019, becoming one of the most dynamic receivers after the catch in the country. (He averaged 11 yards after the catch per reception in 2019 and forced 26 missed tackles - fifth and second among draft-eligible receivers, respectively, per Pro Football Focus). For the folks that were able to watch Lloyd in his prime, few receivers exhibited a better combination of body control and ball tracking than he did. Lamb may not be in Lloyd's class in that regard yet, but it is most definitely a strength of the former's game.
The hype train appears to be out in full force in regards to Lamb, as he has generated multiple comparisons to DeAndre Hopkins and been labeled as one of the most advanced wide receiver prospects in recent memory. Maybe he proves those sentiments right down the road, but that is setting the bar far too high initially for a player who is not a burner and doesn't create a lot of early separation. He's strong enough to defeat physical cornerbacks, but he faced so little press coverage in college that it would be premature to say he's going to be good at that right away in the pros. In short, it's hard to suggest Lamb is a transcendent player if he doesn't have elite speed or experience against press coverage.
With that said, the lack of those two traits (or at least the absence of proof in the case of the latter) doesn't mean a prospect can't be a lead receiver in the NFL. Creating separation, playing the ball well in the air and generating yards after the catch are typically much more important, and those are all areas in which Lamb easily holds his own or excels. Those qualities should ensure he'll find success in the pros regardless of where he lands, as he can make an inaccurate quarterback look good and an accurate quarterback look great. In that way, the comparison to Hopkins is mostly accurate. However, Lamb is nowhere near his physical as Hopkins and will need to add some more strength in his upper body if he hopes to get there. Ultimately, Lamb's run-after-catch ability is going to allow him to be a factor as a rookie, but it's fair to wonder if he can consistently produce as a team's primary receiving option - especially against the best corners in the league - by relying so heavily on ball tracking and body control. With that said, as long as his new team sets the bar at Boyd and not Hopkins in regards to his long-term prospects, Lamb should prove more than worthy of a top 15 pick.

---
Doug Orth has written for FF Today since 2006 and been featured in USA Today's Fantasy Football Preview magazine since 2010. He hosted USA Today's hour-long, pre-kickoff fantasy football internet chat every Sunday in 2012-13 and appears as a guest analyst on a number of national sports radio shows, including Sirius XM's "Fantasy Drive". Doug is also a member of the Fantasy Sports Writers Association.