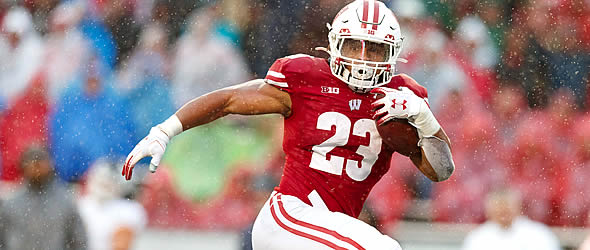 Jonathan Taylor's durability in college was impressive as he didn't miss a game in three years.




Vitals



College: Wisconsin
Height/Weight: 5' 10"/226
Hands: 9 1/2"



Important NFL Combine Numbers



40-Yard Dash: 4.39
Vertical Jump: 36"
Broad Jump: 10' 3"
20-Yard Shuttle: 4.24
3-Cone: 7.01



College Production

(Stats)


High-end NFL Player Comp(s): Frank Gore
Low-end NFL Player Comp(s): Mark Ingram

Best Scheme Fit: Man (power) blocking scheme that focuses more on allowing Taylor to run in between the tackles, although his vision and anticipation would play well in a zone scheme as well.

Strengths
Remarkable durability and production; did not miss a game in three years in college and the first player ever to rush for more than 6,000 yards in any three-year span.


Strong base allows him to have exceptional contact balance (0:46, 1:18, 3:45, 4:20, 6:03) and frequently shed/break arm tackles. (0:50, 1:06, 1:45, 3:11, 5:12, 5:22, 5:23, 6:05)


Incredibly patient runner who always seems to be under control in traffic (0:00, 1:09, 2:15, 2:54, 4:54, 8:42); very good at pressing the hole and setting up second-level blocks. (0:46, 2:03, 3:07, 4:54)


Forced at least 60 missed tackles in each of his three college seasons and averaged over 1,300 yards after contact per year, per Pro Football Focus.


Repeatedly executes a well-timed one-gap jump cut that leaves defenders grabbing for air in space. (0:07, 0:46, 0:50, 2:51, 3:08, 4:08)


Powerful inside runner who consistently drags tacklers and moves the pile. (1:00, 1:23, 1:39, 3:26, 3:55, 3:58, 4:20, 6:23, 7:31)


Anticipates second-level defenders very well and displays excellent vision; eyes and feet often work as one. (0:07, 0:41, 3:07, 5:07, 5:12)


Concerns
Career workload (968 college touches - including 926 carries - is a scary number for a player who has yet to play a down of NFL football).


Will not always carry the ball high and tight (18 fumbles - 15 lost - in 41 career games). (2:08, 3:39, 6:08)


Tends to stay with the play even when the wall is caving in as opposed to looking for cutback opportunities - a tendency that may end up rewarding overaggressive pursuit from backside defenders in the NFL. (0:16, 1:37, 4:49)


Lacks the zero to 60 burst of most elite runners; he loses his effectiveness if he is forced to stop his feet or change direction too quickly.


Wasn't asked to identify the blitzer or block very often, and didn't typically make it a priority to eliminate his man in those situations. (2:42, 3:12)


Lack of experience/usage in the passing game shows up from time to time, as he lacks crispness/suddenness in his routes. (2:36, 2:46, 2:57, 5:05)


Bottom Line

While it may seem impossible that a running back can rush for 6,000-plus yards in three college seasons and be underrated, Taylor seems to be doing exactly that. Much like "Air Raid" quarterbacks back in the day (and still to some degree yet today), University of Wisconsin running backs have been so productive for so long that evaluators are a bit leery they are products of their college system. Taylor owns several NCAA records, including most career 200-yard rushing games (12), most rushing yards by a freshman (1,977), most rushing yards through a sophomore season (4,171) and most rushing yards through a junior season (6,171). Maybe just as impressively, Taylor owns the second-, fifth- and sixth-best individual rushing seasons in school history. Perhaps Taylor has earned the benefit of the doubt when it comes to being "a product of the system," no?
With that said, Taylor's college production doesn't ensure he'll be a big hit in the NFL. (Take one look to see how few of the all-time NFL greats are among the leaders in college rushing attempts and rushing yardage.) His 4.39-second run in the 40 at the NFL Combine was probably the biggest eye-opener for many who have yet to see him play regularly. Make no mistake about it, speed is part of what allowed him to be so productive, but it's not his biggest asset. (Perhaps none of his 2019 runs define him better than this one. It's not a 50-yard touchdown, but rather an 18-yard non-scoring run in which he shows patience, steps through a couple of arm tackles, makes a slight jump cut to dodge another tackle in space and then carries a couple of defenders for about 10 yards.) It's almost ridiculous how often those four "abilities" show up on his tape, and it's a good thing for him because all four of those qualities tend to be effective in or carry over to the pro game as well.
Taylor's heavy usage in college isn't overly concerning by itself, but it is more of an issue when considering his propensity for fumbling. Many a college back has turned himself into a plus contributor in the passing game despite not getting a lot of work in that area in college, but it is rather obvious some of the more important areas (running crisp routes, changing up how to block a blitzer, etc.) weren't made a top priority in practice. NFL teams probably need to wrap their mind around Taylor being an early-down workhorse that initially needs to come off the field in critical passing-down situations. The New Jersey native can catch the ball, but dedication to his craft - not to mention his new position coach - will play a large role as to whether his career moves more along the Gore and Ingram trajectory in terms of his contributions in the passing game than Jordan Howard. Thankfully, work ethic does not appear to be in question, so it seems more likely than not he will be a featured back in the NFL late in his rookie season or 2021. How quickly it happens will depend on how quickly he can correct/curb his weaknesses in the passing game and with ball security.

---
Doug Orth has written for FF Today since 2006 and been featured in USA Today's Fantasy Football Preview magazine since 2010. He hosted USA Today's hour-long, pre-kickoff fantasy football internet chat every Sunday in 2012-13 and appears as a guest analyst on a number of national sports radio shows, including Sirius XM's "Fantasy Drive". Doug is also a member of the Fantasy Sports Writers Association.