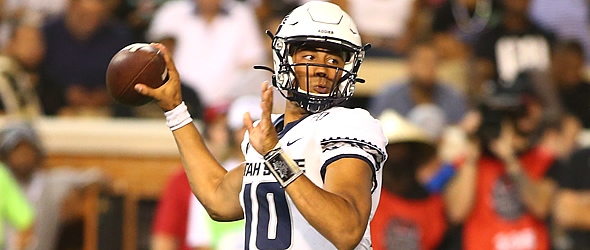 Love's skill set may scream first-round pick but his 2019 tape suggests he needs a redshirt season.




Vitals



College: Utah State
Height/Weight: 6' 4"/ 224
Hands: 10.5"



Important NFL Combine Numbers



40-Yard Dash: 4.74
Vertical Jump: 35.5"
Broad Jump: 9' 10"
20-Yard Shuttle: 4.52
3-Cone: 7.21



College Production

(Stats)


High-end NFL Player Comp(s): Jameis Winston
Low-end NFL Player Comp(s): Jacoby Brissett

Best Scheme Fit: True spread offense - not unlike the ones new Dolphins OC Chan Gailey has overseen in his previous stops - with some RPO (run-pass option) elements and scripted deep throws sprinkled in.

Strengths

Concerns
Repeated instances of locking onto his primary receiver and/or not accounting for the underneath defender against zone. (0:00, 2:31, 4:09, 6:04, 9:54, 11:35, 13:37)


Needs to improve on identifying a potential blitzer pre-snap and learn to speed up his clock against the blitz post-snap. (4:03, 15:25, 16:56)


Inconsistent ball placement on short and intermediate throws. (1:42, 4:00, 4:51, 5:00, 11:05, 11:42)


Guilty of floating passes that become easy interceptions; has to be more selective when he puts air under shorter passes. (2:25, 8:41, 9:52)


Despite solid timed speed, he doesn't boast a ton of explosiveness as a runner or scrambler.


Showed some growth over his final two college outings but had more interceptions (15) than touchdowns (14) through the first 11 games of the season.
Bottom Line

The draft community has seemingly decided Love's 2019 somewhat disappointing season (3,402 passing yards, 20 touchdowns, FBS-high 17 interceptions) was the product of losing the bulk of his supporting cast and a coaching change after his breakout 2018 campaign (3,567-32-6). There's no question those changes affected his bottom line, but even the staunchest of his supporters would have trouble defending some of the throws he made in his final year of college. In five games against major-conference programs or conference rivals who consistently play at that level (Wake Forest, San Diego State, LSU, BYU and Boise State), Love threw for five touchdowns versus 10 interceptions. In four of those games, he passed for one score or less. There were also three times in 2019 he threw for three interceptions in a game - all of which came against the aforementioned schools - and two more times he was picked off twice. His supporters will likely suggest this proves the initial point that Love was trying to do too much in games where the Aggies were overmatched and overcompensating as a result.
The problem with this stance is that the film doesn't support it. I do not recall ever watching a quarterback prospect get picked off so often by the underneath defender (usually was a linebacker this past year) in zone coverage. There are plenty of areas NFL coaching can help a young quarterback improve, but the inability to account for the one player that is typically in the quarterback's line of sight is not one of them. With that said, he made at least as many good tight-window throws against zone coverage - albeit most of them came around the numbers or downfield where linebackers are obviously less of a factor - so it's not as if zone defense is his kryptonite. Unfortunately, Love doesn't do enough as a runner to make it easier for his next team to start him early and live with could be severe growing pains as a passer.
On the plus side, Love is a gifted deep thrower and seems to have a solid understanding of when he can go back-shoulder on a defender. His supporters can also easily point to a large number of tight-window and/or "bucket throws" he made in 2019 and make a strong case for him enjoying success at the NFL level because he has the necessary tools. It's not as if he doesn't have considerable upside, but let's be real about his production to this point: he struggled to post a 2:1 TD-to-INT ratio during his college career at a non-power conference school and didn't fare particularly well when he got a chance to play the big boys. His skill set may scream first-round pick and rookie starter, but his 2019 tape suggests he needs a redshirt season. In short, I don't like his chances of making much of an impact unless he is teamed up with a "quarterback whisperer."

---
Doug Orth has written for FF Today since 2006 and been featured in USA Today's Fantasy Football Preview magazine since 2010. He hosted USA Today's hour-long, pre-kickoff fantasy football internet chat every Sunday in 2012-13 and appears as a guest analyst on a number of national sports radio shows, including Sirius XM's "Fantasy Drive". Doug is also a member of the Fantasy Sports Writers Association.