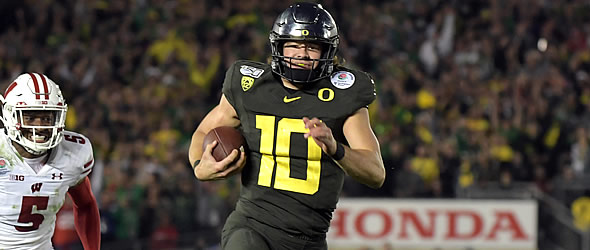 Herbert's best scheme fit will be a run-oriented attack with a heavy dose of play-action/rollouts.




Vitals



College: Oregon
Height/Weight: 6' 6"/236
Hands: 10"



Important NFL Combine Numbers



40-Yard Dash: 4.68
Vertical Jump: 35.5"
Broad Jump: 10' 3"
20-Yard Shuttle: 4.46
3-Cone: 7.06



College Production

(Stats)


High-end NFL Player Comp(s): Carson Wentz
Low-end NFL Player Comp(s): Paxton Lynch

Best Scheme Fit: A run-oriented attack with a heavy dose of play-action/rollouts (in the Mike Shanahan/Gary Kubiak mold) with scripted deep throws seems like the best fit.

Strengths
Boasts the arm talent and the confidence necessary to make tight-window throws. (4:06, 4:36, 4:42, 6:34, 6:47)


More than enough arm strength to make solid throws consistently on the move (1:48, 2:32, 3:19, 3:26, 8:47) or off-platform. (0:38, 1:21, 1:40, 2:40)


Moves/holds defenders with his eyes (0:00, 2:22, 3:26, 4:13, 10:44); repeatedly shows the ability to work through his progressions. (0:55, 2:22, 3:25, 3:36)


Trusts his protection, makes a subtle move to reset his feet and does not bail at the first sign of pressure (0:00, 0:52. 2:38, 4:41, 14:06); shows the willingness to stand in against the rush and deliver a downfield strike. (3:26, 4:14, 4:33)


Executes the play-action fake well and often takes advantage with a deep shot. (0:15, 1:04, 2:02, 3:01, 5:16)


Very capable of making a play with his feet as a runner and punishing defenses for undisciplined rushes as a scrambler. (0:38, 0:48, 3:38, 5:18, 8:18)


Did not miss a start in his final two seasons and was the most recent winner of the Campbell Trophy (a.k.a. the Academic Heisman).


Prototypical size and stature with a frame capable of adding a bit more muscle without sacrificing much (if any) of his athleticism.

Concerns
Deep ball accuracy is a bit hit-or-miss (Good: 0:47, 1:44, 1:48, 6:47, 11:06; Questionable (2:50, 4:57, 5:18); often a product of not putting enough air under the ball.


Will aim his short throws on an infrequent basis, leading to missed connections on what should be gimmes in the flat or near line of scrimmage. (0:29, 1:03, 1:13, 14:45)


Seems to be dogged by leadership questions, although such criticism is often subjective based on many factors (including how often/when scouts attend practice/games).


Footwork out of shotgun mostly on point, but he did not take a single snap from under center during his college career.
Bottom Line

The narrative on Herbert since it became clear he was destined to be a first-round pick has been that he's a prospect with a lot of physical tools but too much of an introvert to be the commanding presence NFL teams expect from the quarterback position (presumably because he's not a rah-rah, in-your-face guy). Leadership is a tricky thing for scouts to quantify though, as there is still a very strong belief among the old guard of scouts and evaluators that one must be loud and visible to be "in charge." What seems clear in viewing his 2019 film (and some of his 2018 games) is that he certainly had the respect of his teammates. His "questionable" leadership ability almost rallied Oregon in a loss against Arizona State late in the season in a game the Ducks had no business being competitive in and powered his team to wins over defensive juggernauts in Utah and Wisconsin to wrap up his college career.
Setting aside the leadership "issue" for the moment, Herbert's biggest knocks may be some inconsistency with his accuracy and Oregon's reluctance to use him more often as a runner - although coach Mario Cristobal is on record as saying the Ducks weren't overly confident about the readiness of their backup quarterback. There's also plenty of evidence Herbert can make tight-window throw after tight-window throw, but there's not a lot of film that clearly shows making anticipation throws (outside of back-shoulder passes). I tend to believe that is more of a function of Oregon's scheme than the Ducks' coaching staff trying to hide a weakness. Nevertheless, it is a question that needs to be answered.
Thankfully, Oregon used more traditional NFL concepts in its offense than a lot of college teams, so projecting Herbert to the next level is a less arduous task than it is with many other quarterback prospects. While he is more comfortable in the pocket than anywhere else, he loses very little accuracy on the move. He understands how to manipulate linebackers and safeties. He makes the throw to the opposite hash - the throw that scouts often use as a test of arm strength - look routine. Herbert agonizingly and inexplicably threw into traffic on several occasions where he should have known better, but it's hardly a fatal flaw and something that he can get coached up on at the next level. Assuming teams get past the question about his leadership ability - and they most likely will sooner than later - Herbert has the goods to enjoy Wentz-like success (hopefully, without the injuries) in the NFL.

---
Doug Orth has written for FF Today since 2006 and been featured in USA Today's Fantasy Football Preview magazine since 2010. He hosted USA Today's hour-long, pre-kickoff fantasy football internet chat every Sunday in 2012-13 and appears as a guest analyst on a number of national sports radio shows, including Sirius XM's "Fantasy Drive". Doug is also a member of the Fantasy Sports Writers Association.