I admittedly don't discuss quarterbacks very often in August, but this rookie class is probably going to make us talk about them.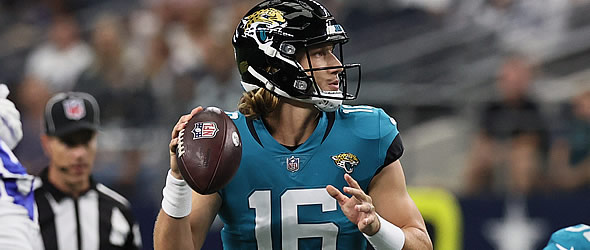 - Trevor Lawrence should be considered the safe play of the group, albeit one with a ton of upside. He should be considered a decent bet for at least 3,800 yards passing and at least 300 yards rushing (remember the 17th game changes things a bit here). That is a statistical combination that has happened only 35 times in league history (five times last year). The question for him is how often Jacksonville visits the end zone and if the line can protect him well enough so he can hold up all season. There are enough concerns with the Jaguars to dial back the enthusiasm to a high-end QB2 level.
- Trey Lance has all the makings of a league-winner. The only thing he truly lacks is the guarantee of a starting job right away. Yes, he will look like a rookie who played just over a year at the FCS level at times. However, he will also eventually be at the controls of an offense that has one of the best receiver-tight end trios in the league and incredible rushing upside. He will also have a coach in Kyle Shanahan whose scheme can typically create easy throws. If the last few years has taught us anything, it is that "cheat code" quarterbacks are worth their weight in gold. Putting a "cheat code" quarterback in an offense run by Shanahan just seems like, well, cheating.
- Justin Fields has the same kind of upside Lance does from a fantasy perspective and a trio of receivers and tight ends that are on par with what the North Dakota State product has. He also does not know when he will be named the starter, but where he falls short of Lance in fantasy is that HC Matt Nagy is not in Shanahan's class, nor is Chicago's offensive line on the same level as San Francisco's. Fields has the athleticism to make things happen and will overcome the Bears' shortcomings on occasion, but asking him to do so without paying for it physically over the course of the season may be too much.
- Like Lawrence, Zach Wilson can feel reasonably good about his chances of starting Week 1. The Jets upgraded their offensive line in a big way this offseason and even gave the second overall pick some legitimate weapons. The reason he falls where he does on the Big Board is simple: while Wilson can run, New York did not draft him to complement the running game in the same way the three aforementioned rookies will. The Jets wanted a quarterback, first and foremost. In today's fantasy game, a quarterback doing most of his damage from the pocket typically needs to throw for at least 4,000 yards and 30 TDs to have a chance at crashing the top 10 party. He may be able to do the former, but the latter will be a tall task even if Corey Davis and Elijah Moore stay healthy and ball out.