A large part of my success in 20-plus years in this industry - and specifically in the 16 years I have utilized Preseason Matchup Analysis - can be attributed to preparing for the playoffs before the season begins. Do I put a lot of weight into matchups in July and August? No, but I do account for them. That is an important distinction. If it does nothing else, it helps to break ties. There is no question in my mind that I have avoided a lot more "bust players" over the years than the average analyst because of it.

While I do not expect the majority of readers to go to the same lengths that I do, the savviest fantasy managers tend to use the time leading up to Thanksgiving as an opportunity to prepare for the postseason. It behooves each of us to consider the matchups we want to target in late December and early January now. (I guarantee your league-mates in most competitive leagues have already started doing this or are about to do so.) Lining up key handcuffs and great matchups now allows us to save on FAAB for more important expenditures, such as when a manager is forced to drop a key player during the Week 14 bye-week crunch or find a replacement for Cooper Kupp now.

The focus of this week will be targeting receivers, tight ends, kickers and defense/special teams units with the best fantasy playoff matchups. I understand the majority of the players below are already on rosters, but many of them can be had a slight discount for one reason or another via trade.
Wide Receivers
Devin Duvernay/Demarcus Robinson/James Proche/DeSean Jackson (@CLE, ATL, PIT) - The Ravens' receiving corps is a "tread lightly" situation, likely for the rest of the season. Since Lamar Jackson's red-hot start to the regular season in Weeks 1-3, there have only been three instances in which a Baltimore wideout has reached double-digit fantasy points in PPR formats. Worse yet, there is only one instance in which a Raven receiver topped five targets since Week 5.
With that said, it is hard to ignore what the schedule offers during the fantasy playoffs. The Browns are a middling matchup at best for a low-volume team like Baltimore, but the Falcons and Steelers rank first and second, respectively, in most points allowed to the position. Every team that has squared off against Atlanta has seen at least one of its receivers score 12 fantasy points. In eight of the Falcons' 10 games, two receivers have achieved that feat.
Week 10 versus the Saints marked the first time the Steelers managed to hold every one of a team's wideouts under 14.2 points. Before that point, five sets of teammates scored at least 12.8 fantasy points against Pittsburgh. With only Cameron Sutton playing relatively well in the Steelers' cornerbacks, there is little reason to expect Pittsburgh's Week 10 success to become a trend.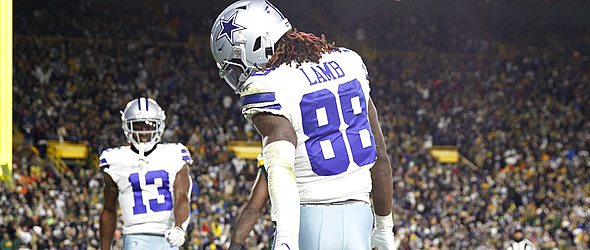 CeeDee Lamb/Michael Gallup/Noah Brown/Odell Beckham Jr.? (@JAC, PHI, @TEN) - Dallas receivers rank a disappointing 20th in fantasy points scored per game (30.2), which is just ahead of the Jets (30.1) and Broncos (29.9). A fair amount of that is a product of Cooper Rush making more starts this season than Dak Prescott. For proof of this, check out Prescott's last two games versus Rush's five starts. (Why only Prescott's last two games instead of all four? Because he was hurt in Week 1 and eased back into things in Week 7 following a five-week absence.) In Prescott's last two games, Dallas receivers are averaging about 38.8 points per game. During Rush's run, that number was 30.4.
There was about a four-week stretch earlier this season in which the Jaguars fooled fantasy managers into believing they were ready to become a very good defense in 2022 - especially versus the pass. Since that time, Jacksonville has surrendered surprising receiver performances to the Colts, Giants, Broncos, Raiders and Chiefs. Do not expect that to change when the Cowboys (maybe with OBJ by that time) meet up with the Jags.
There is no getting around how difficult of a matchup the Eagles will be in Week 16, but the Titans rank third in most points allowed to receivers and don't have an avenue to improve much in that regard the rest of the way, which is partly a product of the team's great run defense. Sixteen receivers have reached double figures against Tennessee, five of which have scored at least 19.9 fantasy points. There is a very good chance Lamb almost singlehandedly helps decide fantasy championship games in Week 17. Perhaps the same will be said about Beckham if he is a quick study (IF he joins the Cowboys).
Brandin Cooks/Nico Collins (KC, @TEN, JAC) - It is like an annual rite of passage. Every summer when I go through my Preseason Matchup Analysis process and again around this time of the year when I amplify my efforts to secure the best matchup possible for the fantasy playoffs, I am disheartened by the number of times I see great matchups wasted on either bad teams or bad quarterbacks. Let me be clear, I have no faith in OC Pep Hamilton to end his fixation with the running game (and desire for balance in the passing game) for long enough to feature Cooks or Collins. If we need to see proof as to how much of a downgrade Hamilton has been from the previous play-caller (Tim Kelly) for the offense, consider that Houston is worse in most of the major offensive statistical categories in 2022 despite improving the offensive line and adding a stud running back.
The Mills-to-Cooks connection that was so wonderful for most of 2021 is virtually nonexistent this year. Cooks is legitimately neck-and-neck with Chris Moore in targets since the team's Week 6 bye (18-15 in favor of Cooks as both receivers have played three games over that span). Despite inking Cooks to an offseason extension that averages about $18 million per year, it appears Houston is ready to see if Collins is ready to be the alpha in this offense.
As it stands right now, the Chiefs (fifth), Titans (third) and Jaguars (10th) all rank inside the top 10 most favorable matchups for receivers. Kansas City is likely the only one of the three teams powerful enough offensively to force the Texans into negative game script for a half. Unfortunately, we have seen the Texans' movie play out with the Titans and Jaguars already. Even in the softest matchups for Houston, Cooks and Collins have offered virtually no upside.
Diontae Johnson/George Pickens/Steven Sims (@CAR, LV, @BAL) - Pittsburgh has essentially been Houston North, albeit with slightly more occasional upside. In case you think that might be an exaggeration, Steelers' receivers have caught 26 more passes than the Texans' (113-87) but for fewer yards (1,158-1,145) and fewer touchdowns (5-2). Many of the same quarterback and offensive coordinator complaints made with Houston above apply here as well. It is a multi-layered problem when talents such as Johnson and Pickens continually fail to hit their ceiling. The offense is in such bad shape right now that Pittsburgh's offense has become more focused on getting more touches to the running backs lately. Remember, these are the same running backs stuck behind one of the worst offensive lines in the league.
The Steelers do not have the same sweetheart schedule during the fantasy playoffs as the Texans, but the Panthers (eighth) and Raiders (12th) are still favorable matchups. Despite facing Atlanta twice in the last three games, Carolina has surrendered four double-digit performances to receivers. The Panthers have not yielded huge upside games to wideouts all season (only two receivers have topped 20 points and neither one went for more than 23.7), however.
The Raiders also have not given up huge individual fantasy efforts to wideouts (two over 20, neither one higher than 21.6), but it is at least mildly interesting both 20-point performances have come over the last two weeks. Despite where Baltimore sits for the year against receivers (sixth-most points allowed to the position), Mike Evans (18.3) is the receiver to top 13.5 fantasy points against the Ravens since their secondary got healthy after Week 3.
Tight Ends
Trey McBride (@DEN, TB, @ATL) - Arizona's fantasy playoff schedule was one of several reasons why losing Zach Ertz for the season in Week 10 really stung. The unfortunate thing about the 2022 Cardinals is that the pass-catching quartet of DeAndre Hopkins, Marquise Brown, Rondale Moore and Ertz will not play a single snap together. With that said, we should see the wide receiver trio they expected to have on the field together for the first time in Week 11 or Week 12. Ertz's role was already diminishing as a result of Hopkins' return, so pessimism is probably warranted as it relates to McBride because Brown's eventual return only figures to reduce the number of targets Arizona tight ends will see even further.
Nevertheless, the Cardinals have made the tight end position a priority for the last two seasons. Maxx Williams flashed on occasion as recently as last season despite not being a great talent. His injury ultimately led to the trade for Ertz. Despite keeping Ertz around this offseason, Arizona added a player in McBride that was widely considered the best tight end prospect in the 2022 draft. That suggests the position is important in this offense, even if it doesn't always seem like it.
In three full games before his Week 10 injury, Ertz saw target totals of four, five and eight. That represents McBride's most optimistic ceiling in all likelihood. During the fantasy playoffs, the rookie may top out at five targets in his three matchups. Nevertheless, Arizona faces three of the top 14 best matchups for tight ends over that time. Given the state of the tight end position right now, we almost have to bet on matchups with many of the fringe types and pray the talent cashes in once or twice. McBride has the talent and the matchup, so managers need to hope he earns enough trust over the next month to warrant five targets per game in late December and early January.
Travis Kelce (@HOU, SEA, DEN) - There is no need to extol the virtues of Kelce here. Fantasy managers start him in the most unforgiving matchups for tight ends and usually come out unscathed. His mention in this space is merely a nod to the fact he has two average or slightly above-average matchups in Weeks 15 and 17 and one of the sweetest spots he could ask for in Week 16 against the Seahawks.
Tyler Conklin (@DET, JAC, @SEA) - Conklin has shown a fair amount of upside in 2022. The problem is that it has taken more than half of the season to understand when he might be useful. When he has hit, he has offered TE1 upside. When fantasy managers have been wrong about starting him, they have been burned badly. For now, it appears the best time to use him is when we believe the Jets will lose. In three Jets' defeats, Conklin has averaged 17.9 fantasy points (with a low of 11.4). In New York's six wins, Conklin has scored a total of 28.8 points. Just like most fantasy trends, they are never set in stone. With that said, this trend appears to have some teeth to it.
Since I do believe in the aforementioned "trend," I will tell you to focus more on potential wins and losses for the Jets during the fantasy playoffs. New York should beat Jacksonville at home in Week 16, but road tilts against the Lions and Seahawks could be losses. As luck would have it, Detroit and Seattle rank third and second, respectively, in fantasy points allowed to tight ends. The Lions have not exactly faced an elite tight end this season, so Conklin's matchup in Week 15 is good - especially against the team that just gave up 23.4 points to Cole Kmet. Some of the Seahawks' lack of success against tight ends is a product of Taysom Hill going off against them in Week 4, but Ertz (twice) and Gerald Everett have each gouged them for 10-plus points since their defensive resurgence following Week 4.
Kickers
Projecting matchups for fantasy kickers is not entirely useless. It is often more of a matter of finding bend-but-don't-break defenses that allow offenses to get inside the 20 or 30 but typically find a way to get to the offense to stall at that point. One of the quickest ways to do this is to see what defenses have allowed the most field-goal opportunities. For example, six teams are allowing more than 2.1 field-goal attempts against them in 2022. Of those six, five are the best matchups for fantasy kickers. The Cowboys are the lone exception, ranking as the 12th-friendliest matchup for kickers.
Defense/Special Teams
There are five D/STs with matchups I like for the fantasy postseason. Here they are:
Browns (BAL, NO, @WAS)

Chargers (TEN, @IND, LAR)

Giants (@WAS, @MIN, IND)

Jets (DET, JAC, @SEA)

Eagles (@CHI, @DAL, NO)
I do not like all five. The Jets and Eagles are likely owned in most competitive leagues and should remain that way. They could easily be the difference between a win or a loss in the fantasy playoffs. The Giants might be owned now, if only because fantasy managers likely scooped them up for their Week 10 matchup with the Texans. They are not a must-own, but they are a respectable unit.
The Browns have been respectable in the sack department (20, nine of which came in two games) but forced just eight turnovers. The Chargers have more upside than Cleveland, but I would be hesitant to trust them at any point - at least until Joey Bosa returns. Even then, the run defense has been so bad that turnovers and sacks may be hard to come by. With that said, the Chargers have done a good job of consistently forcing one turnover per game this season and should be able to accomplish that and maybe more against the Colts and Rams during the final two weeks of the fantasy season.
---
Doug Orth has written for FF Today since 2006 and been featured in USA Today's Fantasy Football Preview magazine since 2010. He hosted USA Today's hour-long, pre-kickoff fantasy football internet chat every Sunday in 2012-13 and appears as a guest analyst on a number of national sports radio shows, including Sirius XM's "Fantasy Drive". Doug is also a member of the Fantasy Sports Writers Association.