If you are just now making moves in preparation for the fantasy playoffs, you are likely at least a month too late to the party. Fortunately, for such procrastinators, the NFL changes on an almost weekly - and sometimes daily - basis.

It is rare to find a single player on the waiver wire who can be the difference between an early exit and a fantasy championship run, but it is not impossible. Although there are exceptions, fantasy playoff teams tend to have one or two weaknesses at most, so filling one of those with a surprise stud can be the thing that pushes that team over the top.

This week's focus will be trying to identify that one surprise stud in Week 15, Week 16 and Week 17 at each of the traditional fantasy positions (QB, RB, WR, and TE). The main criterion is that each "surprise stud" is likely available on the wire right now. To be clear, the hope is that most of the players below can return flex value or be matchup-based starters for one week at best. It is already very difficult to predict what players can be league-winning types even when we have all the information we need in front of us, so I'm not about to say I can do it before a player gets his big break.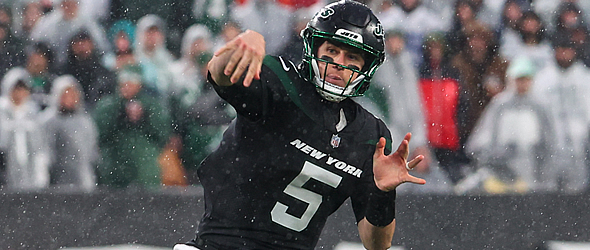 Quarterbacks
Week 15: Mike White, NYJ (vs. DET)
The 2022 season will likely go down as the year that the majority of fantasy managers realized how important it is to have a dual-threat quarterback running the show for their team. Of the 10 quarterbacks who have played at least 10 games and are averaging at least 20 fantasy points (six fantasy points per passing touchdown, one fantasy per 25 yards passing), nine of them have rushed for at least 135 yards. Eight of them have rushed for 224. The odds are that most fantasy managers playing beyond this week have a quarterback who is a strong running threat.
The Jets are operating on a week-to-week basis at quarterback right now, so White is not a sure thing to be starting next week - especially if he melts down against the Bills this weekend. With that said, there is little question New York's coaches trust him to make good decisions with the ball and his teammates believe he is what they need to be successful right now. We likely saw White at his best in Week 12 against a hollowed-out Bears defense. We also likely saw why he is not a long-term answer in Week 13 versus the Vikings.
None of that should matter against the Lions, who rank as the softest matchup for quarterbacks in the league. Week 13 (against Trevor Lawrence) marked the first time in six games that Detroit held a signal-caller below 16.6 fantasy points. The Lions may no longer be a punching bag for opposing passing games. However, their offense is performing at a high enough level consistently that opponents find themselves in a position to keep up. The real reason to believe in White is his supporting cast: Garrett Wilson is turning into a star before our very eyes. Corey Davis is a solid option and Elijah Moore is an electric playmaker. Zonovan Knight and Michael Carter are adept at making plays out of the backfield and Tyler Conklin can move the sticks. The Jets have the ammunition to go toe-to-toe with the Lions in a shootout.
Backup option in Week 15: Mac Jones, NE (@ LV)
Week 16: Mike White, NYJ (vs. JAC)
Surprise! White is looking like a potential fantasy playoff savior, no? The likelihood is White is going to disappoint in one of these two matchups. However, we cannot ignore how similar the production that the Lions and Jaguars have allowed to quarterbacks is through 12 games - save for Detroit facing high-end running quarterbacks more often. The Jaguars rank eighth in most fantasy points allowed to quarterbacks despite facing questionable passers in roughly half of their games (Matt Ryan x2, Carson Wentz, Davis Mills, Russell Wilson, etc.). Four consecutive quarterbacks have scored at least 18.4 fantasy points against Jacksonville, which is not exactly striking fear into offenses with its pass rush (nine sacks in the last seven contests). Put another way, Jacksonville has given up a top-10 quarterback performance in six of the last seven weeks. Three opponents over that span have thrown for at least 331 yards and all but one has topped 250.
Backup option in Week 16: Kenny Pickett, PIT (vs. LV)
Week 17: Mac Jones, NE (vs. MIA)
One thing that has been lost in the Dolphins' sudden rise to prominence is how much of a break they have received from the schedule. Over the last two months (since Week 4), they have faced Zach Wilson, Kirk Cousins, Kenny Pickett, Jared Goff, Justin Fields, Jacoby Brissett, Kyle Allen and Brock Purdy (and Jimmy Garoppolo). Fields is the only one from that bunch who is playing at a somewhat high level and he rang up 40.7 fantasy points on Miami. Despite that run of mostly mediocre opposing quarterbacks, the Dolphins rank fifth in most fantasy points allowed to the position.
I am not going to pretend as if Jones is significantly better than that group. After all, he is the only quarterback who logged most of his team's snaps in the week it faced Miami that failed to reach double figures against the Dolphins. The problem with trusting Jones this year is that he has been wildly inconsistent, which is likely the product of Matt Patricia running the offense. Jones has established he will probably come up small against average or better defenses, but he has shown some ceiling on occasion (Week 3 against a beat-up Baltimore secondary and Week 12 against Minnesota's beat-up secondary).
Backup option in Week 17: Marcus Mariota/Desmond Ridder, ATL (vs. ARI)
Running Backs
Week 15: Mike Boone, DEN (vs. ARI)
Doing this exercise at running back is significantly more difficult than any other position because there is a strong possibility at least 60 of them are rostered in most leagues. Several of the 32 backfields across the league feature one runner. In short, there is a distinct possibility close to half of the managers in 12-team fantasy leagues have at least one third-string back on their roster. The point here is that we have to predict game script a bit more at this position for this exercise and then hope to get a bit lucky.
While it would not be overly surprising if Arizona struggled to pull away from Denver, there is a good possibility the Broncos will be in negative game script at some point. Latavius Murray seems to have a firm grasp on the lead-back role, but it would not be surprising if Denver pulled him in the second half of this contest. Boone is a much more natural receiver and may need to take on a bigger role if Courtland Sutton's Week 13 hamstring injury lingers. Touchdown upside is not a term that can be attached to many Broncos nowadays, but there is some fantasy scoring upside with Boone because he should be the team's primary receiving back by Week 15. If that ends up being the case in this contest, Boone should be busy.
Backup option in Week 15: Melvin Gordon, KC (@ HOU)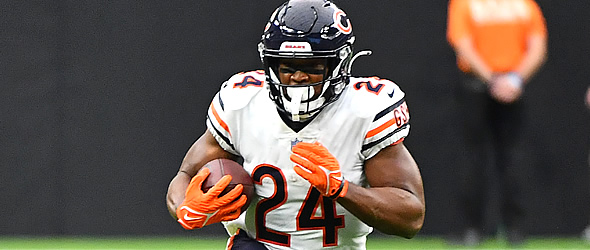 Week 16: Khalil Herbert, CHI (vs. BUF)
The first part of this "prediction" hinges on HC Matt Eberflus' suggestion that Herbert (groin) will be ready to come off IR by Week 16. The second part depends on whether your league has at least one IR spot. At any rate, fantasy managers already know what Herbert is capable of when he has the ball in his hands (6.0 yards per carry), regardless of whether he is getting a heavy workload or not. He is essentially a bit of a poor man's Tony Pollard, only with less involvement in the passing game.
This prediction has much more to do with Herbert's ability to break a long one in any game than it does with the Bills' defense, although Buffalo has shown some vulnerability against the run recently. The Bears are also down to Cole Kmet as far as options in the passing game on what was already a run-heavy offense, so Chicago could be forced to rely more heavily on David Montgomery and Herbert as receivers in a game in which it will likely be trailing throughout.
Backup option in Week 16: Chuba Hubbard, CAR (vs. DET)
Week 17: Joshua Kelley, LAC (vs. LAR)
The speed at which the Rams have transformed from reigning Super Bowl champs to a dumpster fire has been one of the most unbelievable stories of the season. While most of their issues have been on the offensive side (namely how many injuries they have suffered on the line), their defense has taken some hits as well. By the time New Year's Day rolls around, it may not make sense to let Aaron Donald (high-ankle sprain) play, for example.
The selection of Kelley here has to do with one thing: the lack of resistance the Rams will likely put up against the Chargers. Even against the Chargers' poor defense, the Rams will likely struggle to score more than 14-17 points. The Chargers should be able to clear that bar by halftime and salt the rest of the game away, which should mean HC Brandon Staley's starters can get some rest and Kelley should have some opportunity in an extended four-minute drill.
Backup option in Week 17: Ty Johnson, NYJ (@ SEA)
Wide Receivers
Week 15: Alec Pierce, IND (@MIN)
While I do not expect Pierce to be available in a ton of leagues at the beginning of this week, I expect his name will start hitting the wire more often heading into a bye week. Six teams taking the week off creates chaos for a lot of fantasy teams and the odds are that many managers don't have the room to hold onto a WR5 or WR6 whose first productive fantasy effort since Week 6 came last week.
There is a significant trend developing as it relates to perimeter receivers facing the Vikings. Excluding the Cowboys' 40-3 romp of Minnesota in Week 11, three consecutive perimeter receiver duos have reached double figures against the Vikings. While giving up big games to Stefon Diggs and Gabriel Davis is understandable, Nelson Agholor-DeVante Parker and Garrett Wilson-Corey Davis have turned the trick as well. Most vertical receivers are highly volatile, but Pierce should see plenty of 5-9 Duke Shelley in coverage in Week 15. Shelley is the Vikings' replacement for Cameron Dantzler, who was No. 3 on The Delicious Dozen a couple of weeks ago. The former Chicago Bear held his own in coverage last week but was roughed up by Parker and Agholor the week before, so the opportunity for Pierce is ripe for the picking.
Backup option in Week 15: Quez Watkins, PHI (@ CHI)… especially if Dallas Goedert is not quite ready to return from IR yet.
Week 16: Isaiah Hodgins, NYG (@ MIN)
If it appears as though I am picking on the Vikings' secondary, you might be right. Darius Slayton is likely owned in most leagues, but another perimeter receiver for the Giants is quietly finding his way into Daniel Jones' favor. Hodgins is the very definition of a possession receiver at 6-4 and 210 pounds with 4.6 speed. He was scooped up by New York, most likely because GM Joe Schoen and HC Brian Daboll both worked with him during their time with the Bills, in early November after doing next to nothing during his time with Buffalo.
Wan'Dale Robinson's Week 11 ACL injury opened the door for players such as Hodgins and Richie James to contribute in a more meaningful way. While he was already seeing significant snaps in Week 10 - less than two weeks after he was claimed - Hodgins has seen progressively more targets every week since his arrival. Will he be the answer to your fantasy prayers and repeat last week's 15.4-point effort? It is certainly a possibility against a Minnesota secondary whose warts were just detailed a minute ago.
Backup option in Week 16: Chris Moore, HOU (@ TEN)
Week 17: Jauan Jennings, SF (@ LV)
Up to this point of the season, Jennings has mostly flown under the radar, especially after San Francisco added Christian McCaffrey to a talented supporting cast. Some funky things need to happen for Jennings to be a Week 17 fantasy darling, but Deebo Samuel's recent hamstring issues are one of those pieces that need to fall into place. This "recommendation" of Jennings relies at least somewhat on Samuel being rested (or not playing) against the Raiders if the 49ers can create some more separation from the Seahawks in the NFC West over the next three weeks.
While it is difficult to say that Jennings has been coming on recently, the fact he has attracted four or more targets in four of his last five games in what is a low-volume passing attack is promising. The transition from Jimmy Garoppolo to Brock Purdy may be seen as a negative as a whole for the offense - and especially the passing game - but I tend to believe there will not be much falloff. Jennings has spent 62.9 percent of his time in the slot in 2022, meaning the primary matchup for the 6-3 Tennessee product in Week 17 should be against the 5-8 Amik Robertson. While Samuel or Brandon Aiyuk could easily score from the slot in this one, expect HC Kyle Shanahan to attack Robertson with Jennings a few times as well.
Backup option in Week 17: Noah Brown, DAL (@ TEN)
Tight Ends
Week 15: Robert Tonyan, GB (@ LAR)
Tonyan has had a forgettable season, but all we really need to know here is that the Rams have been the best matchup for tight ends over the last five weeks. They have stunk up the joint in that regard since their Week 7 bye. Week 10 - the game in which Zach Ertz was lost for the season - is the only time Los Angeles managed to keep an opposing tight end from scoring a touchdown AND topping 10 fantasy points. While George Kittle and Travis Kelce are included in that group, Cade Otton (17.8 fantasy points), Juwan Johnson (13.7) and Noah Fant (14.2) have feasted as well.
Backup option in Week 15: Tommy Tremble, CAR (@PIT)
Week 16: Cade Otton, TB (@ ARI)
The Cardinals are usually the gift that keeps on giving to tight ends. Even after Gerald Everett's disappointing 4-18-0 performance last week, Arizona has allowed tight ends to post a season-long line (83-880-9) that rivals what Travis Kelce has done this season (77-968-12). The Cardinals have surrendered double-digit production to the tight end position in all but three games, which includes two-score performances to Juwan Johnson and George Kittle, and seven games of at least 50 yards receiving. There is a distinct possibility that Cameron Brate ruins this opportunity for Otton, but there is also a very real chance that Otton has done enough over the last two months to cement his role as Tom Brady's top option at tight end as well.
Backup option in Week 16: Robert Tonyan, GB (vs. MIA)
Week 17: Hunter Henry, SF (vs. MIA)
Henry deserves better this season than to be stuck in a Matt Patricia-led offense. With that said, the Patriots' remaining schedule may be just what the doctor ordered for a strong finish. Not only does he have the most enviable matchup on the slate in Week 14 (Arizona) and the sixth-best matchup in Week 16, but he also gets the third-best matchup of any tight end in Week 17. Before George Kittle (4.2 fantasy points) bottomed out last week, Miami surrendered at least 11 fantasy points to one tight end in six straight. Some of the better tight ends to face the Dolphins over that stretch have performed exceedingly well, such as Pat Freiermuth (15.5 points) and Cole Kmet (22). However, it is the likes of Irv Smith (10.7), Harrison Bryant (10.5) and Jordan Akins (15.1) that should get fantasy managers excited about Henry being a potential answer to their prayers in fantasy championship week.
Backup option in Week 17: Jordan Akins, HOU (vs. JAC)
Defense/Special Teams
Shockingly, the DST I am about to mention here was the inspiration for this week's story idea. I was admittedly asleep at the wheel on this one, although I have a good reason for it: I have the Eagles and 49ers DST on the majority of my rosters. I do not have them on all my rosters, so that is where this recommendation could prove helpful.
The Chiefs DST should be the waiver wire in most leagues - especially those full of managers who do not like carrying two DSTs - but they should not be after Tuesday or Wednesday night (whenever waivers run in your league). Kansas City has sneakily compiled at least three sacks in five of its last six contests and held its opponent to 17 or fewer points in three of its last five (Chargers and Bengals each scored 27 points). However, the Chiefs' recent success in the sack department or in keeping the opponent's point total at a respectable level is not why they are listed here.
Even if we exclude a Week 16 home tilt against the Seahawks, who have actually been the sixth-best opponent for DSTs this season, Kansas City's remaining schedule features two games against the hopeless Broncos' offense (Weeks 14 and 17) and one against the hapless Texans (Week 15) - the two lowest-scoring offenses in the league.

---
Doug Orth has written for FF Today since 2006 and been featured in USA Today's Fantasy Football Preview magazine since 2010. He hosted USA Today's hour-long, pre-kickoff fantasy football internet chat every Sunday in 2012-13 and appears as a guest analyst on a number of national sports radio shows, including Sirius XM's "Fantasy Drive". Doug is also a member of the Fantasy Sports Writers Association.