There is generally a lot of lip service paid to offensive lines in the fantasy community. For the most part, fantasy analysts and managers overwhelmingly tend to reach the following conclusions about teams as it relates to offensive lines:
1) They must have a good pass-blocking line if the quarterback doesn't take a lot of sacks and
2) They must have a good run-blocking line if multiple backs on the same team run "well" consistently.
As is typically the case in this industry, such analysis is far too simplistic and far from 100 percent true. So why does that logic seem to reign supreme? I tend to believe it is because there are no well-established stats (or easily) available to the public - other than those that players accumulate at other positions - to inform the general fan as to how those five linemen are performing play after play. A nuanced film watcher's educated guess might be right about 90 percent of the time, but only each team's offensive line coach can legitimately claim he knows what each of his linemen should be doing - and who they should be blocking - on every play.
Shockingly, those offensive line coaches are not going to share that information with Joe Q. Fan anytime soon.
Why does any of this matter? If "it all starts up front" as coaches have been saying for decades, then getting a sense of how proficient an offensive line is at clearing space for a running back or protecting a quarterback should mean quite a bit to the fantasy game.
I have factored in offensive line play into my final grade for players on the Big Board for several years but hesitated to add it to the preseason article series for fear of drawing a collective yawn for my writing efforts. Many people could care less about the hot dog is made. They care a lot more about how the hot dog tastes. Those fantasy managers need to understand that avoiding such subject matter only increases the chances of a potential bust landing on our fantasy team this summer.
Below you will find an AFC division-by-division breakdown of the projected five starting linemen for each team at their likely spots. A change from last year's article is that I am including backups. I am doing this to 1) illustrate the depth each team appears to have and 2) account for potential camp battles in which the "underdog" overtakes the "favorite." Pro Football Focus' run-blocking grade (RBG) is listed on the left side, followed by the player's projected position, the player's name and PFF's pass-blocking grade (PBG).
Green box - Player graded 80 or higher in that particular discipline per PFF (100 pt scale)
White box - Player graded between 70 or 79.9 in that particular discipline
Yellow box - Player graded between 60 or 69.9 in that particular discipline
Red box - Player graded 59.9 or lower in that particular discipline
Black box - Rookie
AFC East

Buffalo
RBG
Pos
Player
PBG
67.5
LT
Dion Dawkins
81.6
76.8
LG
Rodger Saffold
44.8
60.0
C
Mitch Morse
69.9
61.2
RG
Ryan Bates
74.5
74.9
RT
Spencer Brown
51.0
Reserves
59.6
C
Greg Mancz
62.7
51.3
G
Ike Boettger
72.2
89.1
T
David Quessenberry
61.6

Bills: Buffalo opted to make three changes to the unit that began last season, including both guard spots. Even entering his age-34 season, Saffold should be a considerable upgrade over Boettger at left guard. Bates will slide over to right guard to replace Daryl Williams after serving as a capable left guard at the end of last season. Considering the versatility he showed last season, Bates will likely be the first player to move to another spot if one of his fellow starters goes down. The other notable change is Brown entering this season as the full-time right tackle. He took over the spot early last year - pushing Brown inside - but Williams could be missed after holding up well as a pass-blocker during his two-year stay in Buffalo.



Miami
RBG
Pos
Player
PBG
64.1
LT
Terron Armstead
85.6
57.9
LG
Liam Eichenberg
46.9
76.0
C
Connor Williams
76.7
65.6
RG
Robert Hunt
68.3
54.8
RT
Austin Jackson
49.1
Reserves
61.7
C
Michael Deiter
57.2
66.0
G
Solomon Kindley
38.2
64.3
T
Robert Jones
55.4
Dolphins: Armstead's arrival could push Eichenberg into a utility role after the latter endured a rough rookie season. A more likely scenario involves Eichenberg moving inside as Miami tries to get its best (and/or most talented) five linemen on the field. Williams committed too many penalties with the Cowboys last year (15) but was otherwise a steady inside presence for Dallas. Even with the expected move from guard to center, he should be a noticeable upgrade over Deiter in the pivot. Hunt was about the only decent part of Miami's line last season and should hold down right guard. The Dolphins' new regime - not to mention Armstead's experience - may be just what the doctor ordered for 2020 first-round pick Jackson, who has been sub-par through two seasons.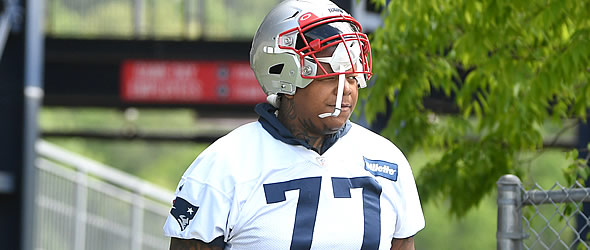 New England
RBG
Pos
Player
PBG
76.5
LT
Isaiah Wynn
70.7
89.8
LG
Michael Onwenu
69.8
78.6
C
David Andrews
71.6
RG
Cole Strange
70.4
RT
Trent Brown
81.2
Reserves
60.3
C/G
Daryl Williams
72.4
50.3
G
James Ferentz
43.8
G
Chasen Hines
T
Andrew Stueber
Patriots: The surprising first-round selection of Strange fills the only void that existed on last year's unit following the early offseason trade of Shaq Mason to Tampa Bay. After Strange, perhaps the only other question that remains is how many games Brown will be able to play (he logged seven snaps in Week 1 and did not play again until Week 10). Assuming Brown is healthy, New England could feature one of the league's best lines. Depth is a problem, but one that was lessened a bit with the addition of former Bill Daryl Williams. It is also a bit unsettling that a longtime defensive assistant Matt Patricia - who has not coached exclusively on the offensive side of the ball since 2005 - will be in charge of this unit.

N.Y. Jets
RBG
Pos
Player
PBG
59.9
LT
George Fant
75.1
75.0
LG
Laken Tomlinson
75.2
78.9
C
Connor McGovern
68.0
72.5
RG
Alijah Vera-Tucker
56.9
78.7
RT
Mekhi Becton
59.7
Reserves
79.3
C
Dan Feeney
55.1
67.2
G
Nate Herbig
63.9
T
Max Mitchell
Jets: New York is still a work in progress, but the interior part of its line should be a strong point and will undoubtedly benefit from all the skill-position talent that arrived in the draft two months ago. Vera-Tucker could easily become one of the best guards in the league in time, while Tomlinson should feel comfortable in the Jets' San Francisco zone-based run scheme after playing at a high level for the 49ers for the previous five seasons. Becton has massive potential if he can stay healthy for the first time as a pro. Fant at left tackle and the overall depth of the line remains an issue, however.
AFC North

Baltimore
RBG
Pos
Player
PBG
62.5
LT
Ronnie Stanley
27.7
42.0
LG
Tyre Phillips
63.1
C
Tyler Linderbaum
69.2
RG
Kevin Zeitler
79.7
74.9
RT
Morgan Moses
65.7
Reserves
63.6
G
Ben Powers
66.1
56.6
G
Ben Cleveland
54.8
55.7
T
Patrick Mekari
73.8
T
Daniel Faalele

Ravens: Having Stanley for a full season would help a lot (seven games played in 2020 and 2021 combined). Linderbaum was the draft's top center prospect and should not need a lot of time before he starts playing at a high level. Moses should be a considerable upgrade on the retired Alejandro Villanueva. While the guard position could be a bit of a concern (mostly age with the 32-year-old Zeitler), simply having the two tackles healthy and playing at a high level and Linderbaum living up to his hype should help make Phillips look better.



Cincinnati
RBG
Pos
Player
PBG
79.8
LT
Jonah Williams
68.8
62.4
LG
Jackson Carman
53.0
67.1
C
Ted Karras
76.9
71.2
RG
Alex Cappa
69.6
89.8
RT
La'el Collins
76.2
Reserves
47.7
G
Hakeem Adeniji
48.9
G
Cordell Volson
57.2
T
D'Ante Smith
41.7
Bengals: From left to right, Cincinnati lined up Williams-Quentin Spain-Trey Hopkins-Adeniji-Riley Reiff (or Isaiah Prince) last season. The case can be made the Bengals went from having one of the five worst lines in 2021 to one of the 10 best this year. With the exception of Williams remaining at left tackle, the Bengals arguably improved at every other spot this offseason. (This assumes Carman makes the typical Year 1 to Year 2 improvement.) Of particular note, the tag team of Cappa and Collins on the right side should open up big holes for Joe Mixon.

Cleveland
RBG
Pos
Player
PBG
61.7
LT
Jedrick Wills Jr.
67.9
92.5
LG
Joel Bitonio
85.9
67.2
C
Nick Harris
75.3
88.4
RG
Wyatt Teller
70.4
86.0
RT
Jack Conklin
63.8
Reserves
76.0
C
Ethan Pocic
43.8
70.3
T
Blake Hance
36.9
53.2
T
Chris Hubbard
42.9
Browns: The only change from last year's front five is replacing 31-year-old J.C. Tretter with 23-year-old Harris at center. Cleveland is taking a risk by trusting a player in the pivot with only 211 snaps to his name in two NFL seasons, but at least the Browns protected themselves with the experienced Pocic. Conklin will have a challenge to get back to his usual self after tearing his patellar tendon in Week 12 (which is why his name is listed in red). Otherwise, Cleveland should only need good health to be among the best o-lines in the league once again in 2022. Good health will be key because there is not much proven and/or quality depth after Pocic.

Pittsburgh
RBG
Pos
Player
PBG
53.8
LT
Dan Moore Jr.
58.9
60.8
LG
Kevin Dotson
78.4
75.2
C
Mason Cole
44.1
71.8
RG
James Daniels
68.3
65.9
RT
Chukwuma Okorafor
63.0
Reserves
54.7
C/G
Kendrick Green
50.7
68.3
C
J.C. Hassenauer
63.3
55.1
T
Joe Haeg
74.8
Steelers: There is reason for hope up front in Pittsburgh, as Dotson flashed at left guard before getting hurt in Week 10 and Daniels - who replaces Trai Turner - played at a respectable level during his four-year stay in Chicago. Whether Cole is an upgrade at center over what Green did as a rookie is debatable. Okorafor likely has topped out as a replacement-level right tackle. Moore is young and talented, but he did not do nearly enough to silence doubters on the left side as a rookie. Even worse, the Steelers likely do not have enough quality depth to withstand injuries to their starters.
AFC South

Houston
RBG
Pos
Player
PBG
45.0
LT
Laremy Tunsil
75.2
LG
Kenyon Green
70.5
C
Justin Britt
53.7
53.7
RG
A.J. Cann
32.6
42.5
RT
Tytus Howard
70.1
Reserves
64.0
C
Scott Quessenberry
60.7
60.4
G
Max Scharping
53.8
41.1
T
Charlie Heck
66.5
T
Austin Deculus
Texans: Houston did not have much of a line to begin with last year before a thumb injury to Tunsil eliminated the team's cornerstone at left tackle. The Texans at least have a fighting chance in 2022, as pairing Tunsil and Green together on the left side gives the team some hope of blocking well on one side of the ball. This season is probably Howard's prove-it campaign (at least as a run-blocker since he has graded out well in pass pro since entering the league in 2019). Heck is a solid backup, but the Texans are not particularly deep otherwise. Britt fared well in 2021 considering he did not play at all the previous year, but injuries have been a problem for him since 2018. Cann has been a below-average player for the most part since his first two seasons in the league (2015-16) with the Jags. That is unlikely to change now that he is in Houston.



Indianapolis
RBG
Pos
Player
PBG
74.8
LT
Matt Pryor
75.2
70.4
LG
Quenton Nelson
62.0
58.1
C
Ryan Kelly
57.2
78.3
RG
Danny Pinter
46.0
86.0
RT
Braden Smith
70.8
Reserves
56.6
G
Will Fries
44.0
64.0
T
Dennis Kelly
75.2
T
Bernhard Raimann
Colts: It is hard to find a better left guard-center duo than Nelson and Kelly. Pryor graded out well in a part-time utility role in 2021, but he only has 172 career snaps at left tackle to his name. There is a good chance the 6-7, 338-pounder is just keeping the seat warm for Raimann, but the rookie may not be ready to assume that role in 2022 given his relative inexperience at tackle (former college tight end who made the change to left tackle during the early part of the pandemic in 2020). The biggest question on the line is likely Pinter, who has been a good run-blocker in his two seasons but atrocious in pass pro. Just as problematic, he has logged only 329 NFL snaps. There is no one else on the roster that appears to be a worthy replacement if he fails.



Jacksonville
RBG
Pos
Player
PBG
52.5
LT
Cam Robinson
76.6
63.1
LG
Ben Bartch
52.8
C
Luke Fortner
73.7
RG
Brandon Scherff
72.4
61.7
RT
Walker Little
70.2
Reserves
61.8
C/G
Tyler Shatley
61.4
43.6
G
Will Richardson Jr.
83.1
42.8
RT
Jawaan Taylor
72.1
Jaguars: Adding Scherff inside was a big deal for Jacksonville because it gives the line a proven player it can run behind and trust against the top pass-rushing defensive tackles. Scherff's presence (assuming he lines up on the right side as he has his entire career) should allow Little (or Taylor) to reach his potential as well. The entire left side of the line is a question mark, however. Robinson has been a below-average run-blocker for most of his NFL career, while Bartch has been average at best as a run- and pass-blocker through two seasons and Fortner is a rookie. Jacksonville likely prefers last year's second-half starter at center (Shatley) in more of a utility role, so Fortner should have a relatively long leash in the pivot.



Tennessee
RBG
Pos
Player
PBG
64.9
LT
Taylor Lewan
71.0
60.7
LG
Aaron Brewer
48.7
81.5
C
Ben Jones
64.8
71.5
RG
Nate Davis
49.2
57.3
RT
Dillon Radunz
39.5
Reserves
59.7
C/G
Corey Levin
7.3
60.3
G
Jamarco Jones
54.6
T
Nicholas Petit-Frere
Titans: Ben Jones is the only returning starter who came close to playing 17 games last season. (Davis' 14 was the next-highest mark to Jones' 17.) Even if Tennessee's injury luck improves this season, this line could still struggle - especially if Derrick Henry is not at the top of his game. Fortunately, the Titans should be in good shape yet again with Lewan, who has been a rock-solid left tackle since arriving in Nashville in 2014. Radunz should be an improvement over Ty Sambrailo at right tackle, but the former should have been able to beat out the latter for a starting job last year. It would be unreasonable to expect Brewer to fill Rodger Saffold's sizable shoes, which may have been while the Titans secured Jamarco Jones in free agency. Davis has established himself as a good run-blocker, but he has struggled as a pass-blocker in three years as a pro.
AFC West

Denver
RBG
Pos
Player
PBG
68.9
LT
Garett Bolles
77.8
63.2
LG
Dalton Risner
73.6
62.5
C
Lloyd Cushenberry III
71.3
64.9
RG
Quinn Meinerz
66.7
60.3
RT
Billy Turner
68.3
Reserves
C
Luke Wattenberg
61.1
G
Graham Glasgow
70.1
92.3
T
Tom Compton
69.8
Broncos: The addition of Russell Wilson by itself should make everyone up front look better than they played last year, although the group performed well as a whole in 2021 with mediocre play at quarterback. It will also help matters that new HC Nathaniel Hackett will replace former OC Pat Shurmur as the play-caller. The only notable change in personnel is that ex-Packer Turner will replace Bobby Massie at right tackle. Other than that, the Broncos will hope Meinerz can stay healthy to play the entire year at right guard.



Kansas City
RBG
Pos
Player
PBG
67.0
LT
Orlando Brown Jr.
76.1
71.3
LG
Joe Thuney
88.8
92.5
C
Creed Humphrey
80.4
75.9
RG
Trey Smith
63.6
77.6
RT
Andrew Wylie
57.8
Reserves
43.8
C
Austin Reiter
51.7
62.0
G
Nick Allegretti
89.0
39.6
T
Geron Christian Sr.
78.8
T
Darian Kinnard
Chiefs: Especially considering where they were two years ago, the Chiefs are in great shape up front. Humphrey was arguably the league's best center as a rookie last year, while Thuney and Smith shored up the team's guard spots. Brown should only get better with another year at left tackle, leaving Wylie as the only potential weak link on the line. "Weak link" may be a bit of a misnomer, however, as only Humphrey graded out better as a run-blocker. Wylie's biggest issue during his NFL career has been his durability. In two of his four pro seasons, he has missed at least four games.



LA Chargers
RBG
Pos
Player
PBG
80.2
LT
Rashawn Slater
80.3
78.5
LG
Matt Feiler
62.2
84.6
C
Corey Linsley
84.9
RG
Zion Johnson
75.5
RT
Storm Norton
44.7
Reserves
61.9
C
Will Clapp
40.5
G
Jamaree Salyer
72.6
G
Brenden Jaimes
63.7
T
Trey Pipkins
78.4
Chargers: The Chargers' offensive line overhaul has been almost as dramatic as the Chiefs', as only Norton has been in LA for more than one season. As it turns out, he is easily the weakest link of the bunch. Slater and Linsley are among the best in the league at their respective positions, while Johnson should excel in the run game right away (and offers a great deal of versatility with college experience at all five spots). Feiler struggled late last year but is a steady option at left guard.

Las Vegas
RBG
Pos
Player
PBG
76.3
LT
Kolton Miller
84.4
52.4
LG
Jermaine Eluemunor
67.0
61.7
C
Andre James
67.2
53.4
RG
Denzelle Good
42.7
56.8
RT
Brandon Parker
54.0
Reserves
G
Dylan Parham
46.5
G
John Simpson
62.7
62.1
G/T
Alex Leatherwood
29.0
Raiders: Ironically, Las Vegas was thought to have one of the best offensive lines two years ago. Now, only Miller appears to be a long-term fixture. Good has been replacement-level at left guard since 2019. Perhaps part of the Raiders' issues up front last year involved Good lasting only 17 snaps. Eluemunor has turned himself into a good pass-blocker, but he has yet to log more than 419 snaps in any of his five pro seasons. The previous regime was very high on James in the pivot, and he held up relatively well in his first full season there. His continued development will be critical if this line hopes to come anywhere close to recapturing its former glory.

---
Doug Orth has written for FF Today since 2006 and has appeared as a guest analyst on several national sports radio shows and podcasts, including Sirius XM's Fantasy Drive, FantasyPros and RealTime Fantasy Sports. He is also a member of the Fantasy Sports Writers Association.