There is generally a lot of lip service paid to offensive lines in the fantasy community. For the most part, fantasy analysts and managers overwhelmingly tend to reach the following conclusions about teams as it relates to offensive lines:
1) They must have a good pass-blocking line if the quarterback doesn't take a lot of sacks and
2) They must have a good run-blocking line if multiple backs on the same team run "well" consistently.
As is typically the case in this industry, such analysis is far too simplistic and far from 100 percent true. So why does that logic seem to reign supreme? I tend to believe it is because there are no well-established stats (or easily) available to the public - other than those that players accumulate at other positions - to inform the general fan as to how those five linemen are performing play after play. A nuanced film watcher's educated guess might be right about 90 percent of the time, but only each team's offensive line coach can legitimately claim he knows what each of his linemen should be doing - and who they should be blocking - on every play.
Shockingly, those offensive line coaches are not going to share that information with Joe Q. Fan anytime soon.
Why does any of this matter? If "it all starts up front" as coaches have been saying for decades, then getting a sense of how proficient an offensive line is at clearing space for a running back or protecting a quarterback should mean quite a bit to the fantasy game.
I have factored in offensive line play into my final grade for players on the Big Board for several years but hesitated to add it to the preseason article series for fear of drawing a collective yawn for my writing efforts. Many people could care less about the hot dog is made. They care a lot more about how the hot dog tastes. Those fantasy managers need to understand that avoiding such subject matter only increases the chances of a potential bust landing on our fantasy teams this summer.
Below you will find an NFC division-by-division breakdown of the projected five starting linemen for each team at their likely spots. (Here is the link to the AFC breakdown.) A change from last year's article is that I am including backups. I am doing this to 1) illustrate the depth each team appears to have and 2) account for potential camp battles in which the "underdog" overtakes the "favorite." Pro Football Focus' run-blocking grade (RBG) is listed on the left side, followed by the player's projected position, the player's name and PFF's pass-blocking grade (PBG).
Green box - Player graded 80 or higher in that particular discipline per PFF (100 pt scale)
White box - Player graded between 70 or 79.9 in that particular discipline
Yellow box - Player graded between 60 or 69.9 in that particular discipline
Red box - Player graded 59.9 or lower in that particular discipline
Black box - Rookie or did not play in 2021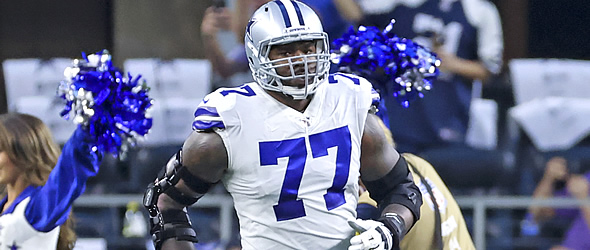 NFC East

Dallas
RBG
Pos
Player
PBG
90.5
LT
Tyron Smith
88.0
LG
Tyler Smith
69.4
C
Tyler Biadasz
67.7
92.8
RG
Zack Martin
88.7
67.3
RT
Terence Steele
60.9
Reserves
77.8
G
Matt Farniok
72.0
66.1
G
Connor McGovern
69.2
T
Matt Waletzko
Cowboys: Although age and injuries are starting to take their toll, Tyron Smith and Martin are still among the best in the game when they are right. Steele showed enough at both tackle spots last season to allow Dallas to part with La'el Collins, although the move was not exactly a choice (Cowboys needed cap room). Going from Collins to Steele is a downgrade for now, but the mere fact Collins has missed so much time over the last two years might make Steele an upgrade at right tackle if he can simply answer the bell each week. While Tyler Smith is the future at left tackle once Tyron Smith moves on, Dallas is counting on his ability to be a mauler at left guard right now. The Cowboys' line could return to prominence if the front office ends up being right about that.

N.Y. Giants
RBG
Pos
Player
PBG
68.5
LT
Andrew Thomas
82.1
63.0
LG
Shane Lemieux
81.5
57.0
C
Jon Feliciano
55.1
70.6
RG
Mark Glowinski
62.6
RT
Evan Neal
Reserves
54.7
G
Max Garcia
59.3
75.7
G
Ben Bredeson
22.7
65.4
T
Matt Peart
62.3
Giants: It feels like it has been a generation since New York had quality bookend tackles. Thomas held up very well in his first year on the left side and should be the long-term answer there. Neal should prove to be the real deal on the right side. Glowinski is another solid addition after he spent four quality years at right guard in Indy. Lemieux played all of 17 snaps in 2021 after a dreadful showing as a rookie one year earlier, so it might be a mistake to put much weight into his somewhat favorable grades above. Feliciano got some part-time work at center while he was with the Bills, but most of his work at the pro level has been at guard.



Philadelphia
RBG
Pos
Player
PBG
87.8
LT
Jordan Mailata
83.3
69.7
LG
Landon Dickerson
57.1
89.4
C
Jason Kelce
67.7
75.5
RG
Isaac Seumalo
82.9
76.8
RT
Lane Johnson
81.2
Reserves
C
Cam Jurgens
64.1
G
Jack Driscoll
73.9
65.4
T
Andre Dillard
71.7
Eagles: There is not much to dislike with Philly's line. Dillard has been a disappointment, but Mailata has emerged into what the team hoped the former first-rounder was going to be. Dickerson probably didn't quite measure up to what the team hoped it would get, but he did most of his best work late in the season and should be just fine at left guard. Kelce is getting a bit old (34) but is still playing at a high level. Jurgens is a highly athletic backup in the pivot and the future at the position, so the Eagles should be in decent shape even if Kelce gets hurt or somehow falls off in 2022. Seumalo and Johnson give Philly one of the best right sides in the league.



Washington
RBG
Pos
Player
PBG
63.5
LT
Charles Leno Jr.
87.3
62.7
LG
Andrew Norwell
73.5
86.1
C
Chase Roullier
69.3
67.6
RG
Trai Turner
72.7
81.3
RT
Samuel Cosmi
63.4
Reserves
64.7
C
Tyler Larsen
72.7
85.6
G
Wes Schweitzer
65.9
79.2
G
Saahdiq Charles
62.3
71.2
T
Cornelius Lucas
73.5
Commanders: Losing RG Brandon Scherff is far from ideal, but Washington had plenty of time to prepare for that eventuality when the two sides were unable to hammer out a long-term extension in consecutive years. The Commanders also moved on from Ereck Flowers at left guard. Norwell and Turner are unlikely to play at their level, but the drop-off - while noticeable - should not be dramatic. Leno has been a steady presence at left tackle for years (most of which came in Chicago). Roullier was limited to eight games last year, but he is typically a steady presence in the middle. Cosmi held up well as a rookie at right tackle and should only continue to get better. Washington does have the luxury of some quality depth.
NFC North

Chicago
RBG
Pos
Player
PBG
LT
Braxton Jones
66.3
LG
Cody Whitehair
61.3
52.8
C
Lucas Patrick
67.3
47.5
RG
Sam Mustipher
61.7
59.5
RT
Larry Borom
62.7
Reserves
C
Doug Kramer
G
Zachary Thomas
62.7
T
Teven Jenkins
54.6
Bears: There are building blocks up front in Chicago, but it could get rough this season if a surprise or two does not emerge in training camp. Patrick accounted for himself nicely in his first full year at center in Green Bay last season, but he also had a much better supporting cast. Whitehair has been a solid player over his six-year NFL career with the Bears, but Chicago's continued inability to find blue-chip linemen has hurt him and his grades in recent years. Jenkins was supposed to be the answer at right tackle at the very least, but he was running with the second team during mandatory minicamp. Expecting a pair of fifth-round picks in Jones and Borom to keep Justin Fields clean is asking for trouble. Mustipher has yet to show much in 1 1/2 years at center, so it is fair to wonder how he will hold up at guard.



Detroit
RBG
Pos
Player
PBG
66.8
LT
Taylor Decker
84.0
76.4
LG
Jonah Jackson
56.4
90.2
C
Frank Ragnow
73.9
65.4
RG
Halapoulivaati Vaitai
66.9
84.5
RT
Penei Sewell
69.4
Reserves
62.9
C
Evan Brown
72.4
53.2
G
Tommy Kraemer
66.0
56.6
T
Matt Nelson
45.8
Lions: Detroit's best two veteran offensive linemen (Decker and Ragnow) ended up playing a combined 13 games last season, casting a bit of doubt on what should otherwise be considered an up-and-coming front five. A healthy campaign for both this season - along with the continued development of Sewell - would give the Lions a great start in their effort to dominate up front. Guard play is the biggest question. Jackson likely still has some room to improve entering his third NFL season, but Vaitai is pretty much what he is at this point. Fortunately for Detroit, average guard play does not matter as much when the tackles and center are playing at a high level.



Green Bay
RBG
Pos
Player
PBG
75.4
LT
David Bakhtiari
72.7
58.6
LG
Jon Runyan
71.1
54.1
C
Josh Myers
65.5
51.9
RG
Royce Newman
60.2
76.4
RT
Elgton Jenkins
81.2
Reserves
C/T
Zach Tom
G/T
Sean Rhyan
58.6
T
Yosh Nijman
66.9
Packers: Green Bay has been getting stellar o-line play throughout the Matt LaFleur era, but some luck to keep that intact in 2022. Bakhtiari (knee) has yet to be cleared for camp after being limited to one game last year, while Jenkins (knee) is still recovering from last year's torn ACL. Those are the Packers' projected bookend tackles. Myers got off to a good start as a rookie last season before a knee injury shelved him for nearly three months. Runyan and Newman were the only Green Bay linemen to play every game in 2021, but they were also the lowest-graded trench warriors. Free agency robbed them of this year's potential depth as well, as Dennis Kelly, Billy Turner and Lucas Patrick signed elsewhere.

Minnesota
RBG
Pos
Player
PBG
77.3
LT
Christian Darrisaw
63.1
71.9
LG
Ezra Cleveland
55.5
67.0
C
Garrett Bradbury
43.7
RG
Ed Ingram
66.1
RT
Brian O'Neill
77.5
Reserves
51.4
T
Jesse Davis
51.1
T
Vederian Lowe
62.3
G
Oli Udoh
39.0
Vikings: Darrisaw got his rookie season off to a slow start due to core muscle surgery, but he played at a very respectable level once he made his first start in Week 6. O'Neill has been Minnesota's best lineman for a while and figures to remain a fixture at right tackle. The rest of the line could be a problem, especially if rookie Ingram is not a quick study at right guard. Bradbury has not come close to fulfilling his first-round promise in three pro seasons. Cleveland's second year in the NFL was only slightly better than his first. Minnesota will likely have to be happy with what Bradbury and Cleveland give the team, however, as the Vikings do not appear to have any backups ready to threaten them.
NFC South

Atlanta
RBG
Pos
Player
PBG
58.7
LT
Jake Matthews
77.2
66.9
LG
Jalen Mayfield
27.6
89.1
C
Matt Hennessy
50.5
87.6
RG
Chris Lindstrom
65.3
72.2
RT
Kaleb McGary
50.6
Reserves
92.3
C
Drew Dalman
40.9
G
Justin Shaffer
68.5
T
Elijah Wilkinson
54.6
58.6
T
Germain Ifedi
70.7

Falcons: Three-fifths of the Atlanta line is in relatively good shape. Matthews and Lindstrom have little to worry about at left tackle and right guard, respectively. Hennessy was a near-elite run-blocker in his first full season at center, but his pass-blocking was still sub-par. However, there is still room for growth as he enters his third season. The Falcons opted not to exercise McGary's fifth-year option last month - mostly because of his struggles in the passing game - while Mayfield was borderline awful in pass pro. Expect Ifedi and Shaffer to take over as starters early in the season if those trends continue.



Carolina
RBG
Pos
Player
PBG
LT
Ikem Ekwonu
56.2
LG
Brady Christensen
63.2
70.7
C
Bradley Bozeman
73.8
67.4
RG
Austin Corbett
63.8
70.7
RT
Taylor Moton
79.4
Reserves
56.8
C
Sam Tecklenburg
70.6
G
Cade Mays
55.4
G
Michael Jordan
49.0
59.8
T
Cam Erving
49.7

Panthers: With the addition of Ekwonu, Carolina should be in great shape on the edges - especially in the running game (where the rookie excelled in college). Bozeman comes over from Baltimore and should prove to be a sizeable upgrade over Matt Paradis, who was performing at a middling level before a knee injury knocked him out for the season in Week 9. The same can probably be said for Corbett, who should stop the open turnstile at right guard. Christensen, who was considered a potential answer at left tackle as a rookie last season, may be the weakest link on the line at left guard - and that may only be because he was asked to play every spot but center in 2021.



New Orleans
RBG
Pos
Player
PBG
60.1
LT
James Hurst
76.9
62.1
LG
Andrus Peat
20.1
66.4
C
Erik McCoy
69.2
52.9
RG
Cesar Ruiz
63.8
85.6
RT
Ryan Ramczyk
73.0
Reserves
43.7
G
Calvin Throckmorton
43.7
G
Forrest Lamp
T
Trevor Penning

Saints: New Orleans is probably better equipped to handle the loss of someone like Terron Armstead than most, but his departure will be felt. At least through mandatory minicamp, his immediate successor appears to be Hurst, who actually played more left tackle snaps last year than Armstead. Penning may overtake Hurst at some point so he can return to a utility role, but the position should remain a strength regardless of what happens. Ramczyk remains one of the best right tackles in the league. The Saints should be fine with McCoy and Ruiz at center and right guard, respectively, but Peat's play at left guard may be the biggest concern. He was abysmal in pass pro before undergoing pectoral muscle surgery in late October. He has not been overly impressive in four seasons and could get pushed by Throckmorton and/or Lamp if that does not change early this year.

Tampa Bay
RBG
Pos
Player
PBG
70.0
LT
Donovan Smith
84.7
44.5
LG
Aaron Stinnie
69.4
76.1
C
Ryan Jensen
61.7
85.3
RG
Shaq Mason
73.1
74.6
RT
Tristan Wirfs
84.2
Reserves
63.3
C
Robert Hainsey
78.2
G
Luke Goedeke
62.8
T
Josh Wells
63.8
Buccaneers: Tampa Bay recovered nicely from losing both of its veteran starting guards. Stinnie is not a one-for-one replacement for the retired Ali Marpet, but he has been with the team for two-plus years and showed some promise as a pass-blocker in 2021. Mason may be an upgrade to Alex Cappa at right guard, however. Smith and Wirfs are among the best pair of bookend tackles in the league. Jensen is not an All-Pro pivot by any means, but he has handled at least 1,116 snaps in his four seasons as a Buc. Tampa Bay is also one of the few teams in the league with some quality depth at each spot.
NFC West

Arizona
RBG
Pos
Player
PBG
70.9
LT
D.J. Humphries
65.5
57.4
LG
Justin Pugh
77.7
57.4
C
Rodney Hudson
66.8
58.4
RG
Will Hernandez
56.0
57.1
RT
Kelvin Beachum
70.1
Reserves
54.4
C/G
Sean Harlow
59.3
G
Lecitus Smith
52.8
G
Josh Jones
48.0
Cardinals: Humphries was the Arizona lineman that held up well both as a run- and pass-blocker. In fact, he was the only one to play more than three snaps who graded out higher than 57.5 as a run-blocker, per PFF. Hudson's play was slightly disappointing given his distinguished career up to that point, so he could bounce back. At 33 years of age, however, he may be in decline. Beachum is also 33 and has been virtually the same player (average in the running game, above-average in the passing game) for most of his career. The same can pretty much be said for Pugh. The biggest question mark could very well be Hernandez, who never became the dominant presence the Giants hoped for when they made him a second-round pick in 2018. He may thrive in a better offensive scheme and with a more mobile quarterback.

LA Rams
RBG
Pos
Player
PBG
70.3
LT
Joseph Noteboom
76.1
64.0
LG
David Edwards
70.1
87.4
C
Brian Allen
63.5
RG
Logan Bruss
79.4
RT
Rob Havenstein
76.1
Reserves
56.8
C
Coleman Shelton
56.2
44.7
G/T
Bobby Evans
66.6
83.0
T
Alaric Jackson
37.9
T
AJ Arcuri
Rams: Los Angeles will miss Andrew Whitworth no matter how well Noteboom plays, but the team should be in good hands with the latter at left tackle. There should be no worries at left guard, center or right tackle either, as Edwards, Allen and Havenstein, respectively, are all coming off solid efforts in 2021. Bruss is expected to replace Austin Corbett at right guard and should do well there given his background and the men around him. Unfortunately, the promotion of Noteboom robs this team of whatever depth it had. The Rams desperately need someone like seventh-round draft pick Arcuri to emerge as a quality backup during camp.

San Francisco
RBG
Pos
Player
PBG
97.9
LT
Trent Williams
86.0
57.1
LG
Aaron Banks
59.1
C
Jake Brendel
69.0
63.5
RG
Daniel Brunskill
51.0
63.8
RT
Mike McGlinchey
70.0
Reserves
55.4
C
Keaton Sutherland
80.1
51.8
T
Colton McKivitz
58.8
G/T
Spencer Burford
G/T
Nick Zakelj
49ers: Even at age 33, Williams is as good as it gets at left tackle. The rest of the line is less of a sure thing. Banks played all of five snaps as a rookie last season and now must fill Laken Tomlinson's shoes. Brendel has played a mere six snaps since 2018 and will likely be asked to replace the retired Alex Mack. Brunskill looked good as a rotational lineman in 2019 but has been league-average at best since. It would not be a surprise if fourth-round rookie Burford replaced Banks or Brendel at some point. The same could probably be said for sixth-round rookie Zakelj. McGlinchey, who is the clear second-best returning lineman on the team, was having his worst year in four seasons at right tackle before a torn quad ended his season in early November.

Seattle
RBG
Pos
Player
PBG
LT
Charles Cross
60.3
LG
Damien Lewis
47.9
59.6
C
Austin Blythe
64.3
RG
Gabe Jackson
55.7
62.1
RT
Jake Curhan
37.2
Reserves
53.6
C
Kyle Fuller
31.3
66.1
G
Phil Haynes
71.3
T
Abraham Lucas
66.4
T
Stone Forsythe
74.3
Seahawks: Seattle's line prospects for 2022 are not as gloomy as they may appear, but that optimism will only be realized if Cross and Lucas emerge quickly. Cross is expected to replace Duane Brown immediately, while Lucas will probably overtake Curhan early in the season. The latter is not a given, however, nor is the possibility that the two rookies adapt quickly to the pro game - and specifically the Seahawks' emphasis on running the ball - after playing in true spread college offenses. Blythe only has one good season to his credit in six pro years and barely played for Kansas City last year. Jackson's first season in Seattle was arguably the worst of his career, so he may be a candidate to bounce back. Lewis had a rough second year and could get pushed by Haynes, who was good in limited action in 2021.
---
Doug Orth has written for FF Today since 2006 and has appeared as a guest analyst on several national sports radio shows and podcasts, including Sirius XM's Fantasy Drive, FantasyPros and RealTime Fantasy Sports. He is also a member of the Fantasy Sports Writers Association.