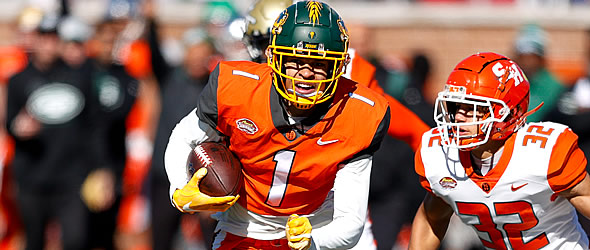 Vitals

College: North Dakota State
Height/Weight: 6'4"/208
Hands: 10 1/8"
Age: 23 (at the time of the 2022 season opener)



Important NFL Combine Numbers



40-Yard Dash: 4.36
Vertical Jump: 38.5"
Broad Jump: 11'4"
20-Yard Shuttle: 4.19 (pro day)
3-Cone: 6.96 (pro day)



College Production

(Stats)


High-end NFL Player Comp(s): Braylon Edwards
Low-end NFL Player Comp(s): Martavis Bryant

Best Scheme Fit: As a complementary receiver in a run-heavy offense that utilizes a lot of play-action deep shots.

Best Team Fit(s): Bears, Browns, Commanders, Colts, Cowboys, Eagles, Falcons, Giants, Lions, Packers, Saints

Non-bolded times - Good examples of attribute
Bolded times - Average/poor examples of attribute
Position-Specific Attributes and Grades
Attribute
Att Grade
Scale
Examples
Ball Tracking
9.0
10.0
0:43, 1:05, 1:20, 3:41, 5:32
Contested Catch/Body Control
9.0
10.0
0:13, 1:20, 3:55, 5:32, 6:26, 7:40
Hands
8.0
10.0
0:13, 0:45, 1:39, 5:32, 6:26 0:31, 2:19, 2:40
Release
7.5
10.0
0:43, 6:26 0:31, 3:59
Route-Running
8.0
10.0
0:08, 0:13, 0:21, 0:34, 1:26, 2:40 0:31, 1:35
Run After Catch
8.0
10.0
0:03, 0:46, 1:08, 1:29, 2:28 3:30
Physicality/Competitiveness
7.0
8.0
0:38, 1:39, 4:02, 6:26 2:06, 3:31
Separation
4.5
6.0
0:43, 1:05, 1:20, 2:40, 2:53, 2:58 0:29
Speed
4.0
4.0
0:31, 1:05, 1:13, 1:29, 4:17
Blocking
2.0
2.0
0:38, 3:24, 3:55
Film Grade
67.0
80.0
Pre-Draft Fantasy Prospect Grade* (out of 50): 40.5
* - How well does his skill set carry over to the fantasy game? For receivers, a player needs to be a realistic threat for 70 catches and 1,000 receiving yards at some point early in their career to be a candidate for a perfect grade. Positional scarcity at the pro level is also a part of the equation.
Positives
While he may be a little light (208 pounds) for a player with a 6-4 frame, Watson may offer the best size-speed combination of any receiver in this draft. He does not take his size and athletic ability for granted either, as he tracks the ball well down the field and consistently wins at the catch point in contested-catch situations. Perhaps the second-best part of his resume is effort and hustle. It quickly becomes obvious that he loves football, as he consistently torments and/or eliminates his man as a blocker. (This clip shows Watson sprinting from the opposite side of the field just to get into position to block for his running back more than 60 yards down the field.) He is every bit as physical when he has the ball in his hands, more than willing to mix it up after the catch and when he receives a handoff (usually on jet sweep action). Watson also shows a fair amount of nuance as a route-runner, displaying creativity and using tempo to create separation on short and intermediate routes. However, his bread-and-butter is getting behind the defense on play-action by using his large strides to eat up the cornerback's cushion and running by him. The former two-star recruit also has some kick return experience and even ran two of the 26 kicks he fielded over his career for touchdowns.
Negatives
As noted earlier, Watson will likely need to add some bulk if he hopes to defeat some of the NFL's more physical cornerbacks. FCS cornerbacks often did not bother getting physical with him at the line of scrimmage, but some of them had success knocking him off his route. It will not take long for NFL corners to try to do likewise. The Tampa native boasts some of the largest hands in this class (10 1/8"), yet he was charged with 12 drops over his final two seasons. Unsurprisingly for a big-framed receiver, Watson often needs extra steps at the top of his route and occasionally is a bit slow coming out of his breaks. While level of competition is less of an issue now than it used to be, it should be noted all 52 of his career games came against FCS competition. Watson also has some medical issues that need to be cleared by team doctors; he underwent multiple surgeries to repair torn cartilage in his knee (2019) and missed three games last season with a hamstring injury.
Bottom Line
Watson was a late bloomer in high school, which largely explains how he was considered a two-star athlete and why he did not receive much attention from FBS schools until his senior year of high school. By just about any measure, he is an exceptional athlete - even by NFL standards. While NDSU used him out of the backfield sparingly and occasionally on end-arounds, what he is not is Deebo Samuel 2.0, as some have suggested this spring. What he can be is a better version of Tyrell Williams or what Martavis Bryant should have become. Watson is going to stretch the field from Day 1 and has the ability as well as the size to consistently win in contested-catch situations; the fact that he is so willing and able to block is going to keep him on the field. It is not easy to find receivers who can do all three (block, stretch the field, win in contested-catch situations), so Watson is almost certain to be a favorite of the coaching staff. At worst, Watson should serve as a situational deep threat who sees a lot of playing time on early downs and near the goal line as a rookie. It is fair to wonder if he is going to need most of his first year to adjust to the physicality of NFL cornerbacks and if that is what keeps him in a situational role. A more likely outcome is that he uses the spring and summer to bulk up to around 215 pounds and emerges as his new team's primary deep threat by the end of next season. While his drop rate is a concern (13.3 percent career, 10.4 in 2021), teams are going to hit by taking insanely athletic players who love the game much more often than they miss.

---



Predict the top ten picks of the NFL Draft for a chance to win FFToday prizes. Enter our NFL Draft Contest now.
---
Doug Orth has written for FF Today since 2006 and been featured in USA TODAY's Fantasy Football Preview magazine since 2010. He is also a high-stakes player who often appears as a guest analyst on a number of national sports radio shows, such as Sirius XM's "Fantasy Drive." Doug is also a member of the Fantasy Sports Writers Association.