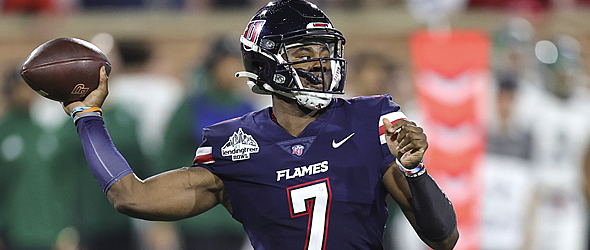 Vitals

College: Liberty
Height/Weight: 6'1"/219
Hands: 9 1/2"
Age: 23 (at the time of the 2022 season opener)



Important NFL Combine Numbers



40-Yard Dash: N/A
Vertical Jump: N/A
Broad Jump: N/A
20-Yard Shuttle: N/A
3-Cone: N/A



College Production

(Stats)


High-end NFL Player Comp(s): A more athletic David Garrard
Low-end NFL Player Comp(s): Kordell Stewart

Best Scheme Fit: RPO-heavy offense.

Best Team Fit(s): Commanders, Falcons, Panthers, Saints, Seahawks, Steelers

Non-bolded times - Good examples of attribute
Bolded times - Average/poor examples of attribute
Position-Specific Attributes and Grades
Attribute
Att Grade
Scale
Examples
Accuracy
7.0
10.0
0:58, 2:03, 3:19, 4:53, 4:54, 6:15, 7:27
2:06, 5:56, 6:07, 6:26, 9:59, 10:17
Anticipation/Tight Window
7.5
10.0
0:51, 1:58, 2:06, 5:46, 6:56, 8:06, 8:20
0:35, 1:16, 5:04, 7:12
Decision Making
6.0
10.0
0:51, 2:38, 6:15, 8:08
1:16, 2:42, 5:04, 5:52, 8:30, 10:46, 12:05
Durability
8.5
10.0
9:08, 11:22
2:42, 3:28, 4:51, 5:09
Improvisation/Throw On Run
9.0
10.0
2:20, 5:46, 8:04, 8:09, 8:20, 10:17
12:05
Poise/Awareness
6.5
10.0
0:49, 2:02, 2:20, 6:56, 8:21
1:16, 5:04, 6:07, 6:17, 9:27, 12:05
Vision/Read Progression
7.0
10.0
0:23, 2:02, 3:02, 4:12, 4:40
1:16, 8:30
Athleticism/Mobility
5.0
5.0
0:49, 2:17, 2:20, 2:25, 4:40, 5:19, 7:30
3:28
Arm Strength
5.0
5.0
0:58, 1:08, 4:54, 5:28, 6:05
6:07
Film Grade
61.5
80
Pre-Draft Fantasy Prospect Grade* (out of 50): 39.0
* - How well does his skill set carry over to the fantasy game? For quarterbacks, a player needs to be a realistic threat for 4,000 passing yards and 500 rushing yards to be a candidate for a perfect grade. Positional scarcity at the pro level is also a part of the equation.
Positives
Willis might as well be Frankenstein right before the bolt of lightning strikes: all the physical tools are there for the Atlanta native to be a monster … he just needs the doctor to make sure the lab is set up correctly. He boasts top-notch (if not elite) arm strength. He is an exceptional runner who regularly sheds tackles and often creates something out of nothing. (He broke 89 tackles as a runner last season, more than any other player in college football - including running backs.) Willis also showed a surprising amount of ability to work through his progressions when he felt comfortable in the pocket on his 2021 film. Pro Football Focus charted him with a "big-time throw rate" (loosely defined as a pass with excellent ball location and timing, generally thrown further down the field and/or into a tighter window) of 10.7 percent last season - tops in college football. By all accounts, he is also a very mature individual who possesses strong leadership traits and will not shrink in the spotlight. (Of particular note, he has acknowledged how he essentially needed the transfer from Auburn to make him realize how important football is to him.) He is built to last physically and showed plenty of toughness in 2021 as well, playing every game despite running the ball 197 times and taking 51 sacks.
Negatives
Liberty will likely always be overmatched when it takes on the big boys in college football, but the first of many concerns with Willis was how poorly he performed against the best teams on the Flames' schedule over his two seasons at the school. In arguably his three most challenging games at Liberty (Coastal Carolina, NC State and Ole Miss), Willis finished a combined 48-of-86 (55.8 percent) for 565 yards, two touchdowns and eight interceptions. (He did run for 252 yards and five scores, however.) It was in some of those contests that his decision-making really suffered, although some of the blame for that has to go on Liberty's overmatched offensive line and receivers. That doesn't excuse his performances in other games, such as throwing three picks each against Middle Tennessee and Louisiana Monroe or taking a total of 18 sacks against Army, Louisiana and North Texas. While his offensive line often did him no favors by repeatedly letting a defensive end go unblocked on a pass play, Willis also hurt himself by holding the ball too long and showing a concerning lack of awareness of pass-rush pressure. Willis knows he has a fastball but has not yet learned how to put touch on his short and intermediate throws more consistently. In those same areas of the field, he tends to wait for his receiver to come open before throwing (rarely works in the NFL) and puts his receivers in danger over the middle of the field too often. Willis needs to tighten up some of his fundamentals that should help him be more consistently accurate (footwork, dropping his elbow, etc.). He also would do well to embrace his check-down receiver more often as opposed to go big-play hunting.
Bottom Line
At his best, Willis will occasionally look like Deshaun Watson. At his worst, he plays a lot like Johnny Manziel. The question becomes how much of his playground-style ball was a function of him trying to carry his team versus being able to make good football decisions. Perhaps the easiest way to sum Willis up is that his highs are incredibly high and his lows are incredibly low. There is no question he needs AT LEAST one more year of development and maybe two - he did not start playing football until high school and threw a total of 14 passes over his first two seasons at Auburn before transferring - although there were noticeable areas of improvement in his game from 2020 to 2021. While he is certainly a blue-chip talent, he is far from a blue-chip prospect. A good quarterback coach and scheme that utilizes his running ability/strong arm could have a Pro Bowler on their hands sometime around 2025. Conversely, if Willis lands with a team that does not have at least one of those things working in its favor, he may not have to worry about his fifth-year option (in the likely event he goes in the first round) being exercised. Drafting Willis high later this month is not only a bet on a coaching staff to develop a raw passer quickly, but a significantly bigger risk than the one the 49ers made with Trey Lance last year. (Remember Lance sat for most of his rookie year despite being more developed as a passer and making his own line calls at North Dakota State).

---



Predict the top ten picks of the NFL Draft for a chance to win FFToday prizes. Enter our NFL Draft Contest now.
---
Doug Orth has written for FF Today since 2006 and been featured in USA TODAY's Fantasy Football Preview magazine since 2010. He is also a high-stakes player who often appears as a guest analyst on a number of national sports radio shows, such as Sirius XM's "Fantasy Drive." Doug is also a member of the Fantasy Sports Writers Association.