Quarterbacks
Trade for: Brock Purdy, 49ers
Purdy is finally facing the kind of adversity that most cornerbacks encounter early in their rookie year. It is what can happen when a team as talented as the 49ers loses three straight games. Yet, I have come away highly impressed with the number of high-level throws and decisions Purdy is making this season. While it may be true that he has already thrown more interceptions this year than he had last year, his interception rate has actually dipped a bit (2.2 in 2023, down slightly from 2.4 last year). He has also completed at least 70 percent of his attempts and topped 250 yards passing in four of the last five games. He is more aggressive than last year (9.1 yards per attempt compared to 8.1 in 2022). In short, he is being asked to do more and has delivered more - at least to this point.
Not only is this week a good time to pester the current Purdy manager in your league because San Francisco is on a bye, but it is also a great time due to the narrative floating around that teams may be starting to figure him out. Football is a small sample sport in which conclusions drawn from three down games can affect how a player is perceived. Purdy was affected by the weather in Week 6 at Cleveland and has not had Deebo Samuel available over the last two games. Samuel's presence was undoubtedly missed against the blitz-happy Vikings in Week 7.
One more very good reason to acquire Purdy is the remaining schedule. The 49ers face the Cardinals and Commanders in Weeks 15 and 17 - two defenses that rank inside the top seven friendliest matchups for quarterbacks. Before that, however, three of Purdy's next four games are against three of the best eight matchups for quarterbacks (Jaguars, Buccaneers and Eagles).
Potential deals: Although it was a dynasty trade, I was able to get Purdy in exchange for Jaylen Warren a couple of weeks ago. Unless he is the QB1 for his fantasy team, the odds you can acquire Purdy for a backup running back with perceived upside like Warren are relatively strong. A WR3/4 type such as Michael Thomas or Rashee Rice should be able to get a deal done as well.
Trade for: Kyler Murray, Cardinals
All we know about Murray's readiness is what HC Jonathan Gannon is telling us. He was a full participant in practice all of last week and appears to be trending in that direction again this week. My best guess is that the Cardinals will hold him out one more week to avoid the Browns' defense and bring him back against the Texans (when James Conner is also due to return).
No one should expect vintage Murray when he returns, but he should still be an effective scrambler. His floor should be what Joshua Dobbs was doing for Arizona before his trade to the Vikings (overall QB12 in total points, QB16 in points per game among currently healthy full-time starters). The good thing for fantasy managers is the Cardinals have a vested interest in him looking good over the remainder of the season because they could speed up the rebuild by at least a year if they determine he is their offensive centerpiece.
Dobbs proved to be a quick study in OC Drew Petzing's offense despite arriving in Arizona less than a week before the opener. Murray has had the luxury of multiple months to absorb the system and has more than enough talent around him (Marquise Brown, Michael Wilson, Trey McBride and eventually Conner) to hit the ground running. While it would be a stretch to say I am relying on him in a few leagues, I believe he has QB1 upside by the end of the season in what has been something of a rough year for the position.
Potential deals: A recent deal in one of my leagues saw Murray traded for Jerry Jeudy. Murray's name value probably will not allow him to come as cheaply as I think Purdy will in most leagues, but a WR3/4 in the Jeudy mold sounds about right.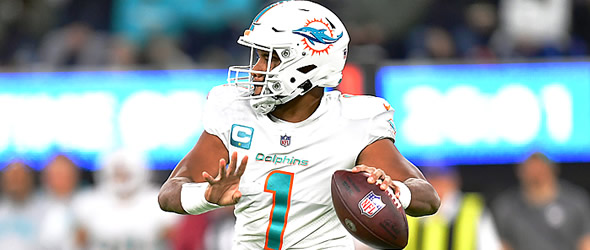 Trade away: Tua Tagovailoa, Dolphins
Let me be clear about something right away: fantasy managers typically do not profit by trading away parts of the best offense in the league. This recommendation has little to do with any worry about Tagovailoa's injury history or Miami's ability to keep rolling on offense and everything to do with what is ahead.
There is a chance Miami-Kansas City ends up being a shootout in Germany this weekend. There is also a distinct possibility it will not be. Week 8 (against Denver) marked the first time all season that the Chiefs surrendered three touchdowns to a quarterback. Despite that, they have yet to give up 20 fantasy points to a quarterback.
After Miami's Week 10 bye, the Dolphins face three teams over a four-week stretch that Tagovailoa should be able to post QB1 numbers against: Raiders, Commanders and Titans. The problem is the fantasy playoffs may not be his finest hour, especially the last two weeks of the fantasy season. Dallas has surrendered a mere five touchdown passes to non-Purdy quarterbacks and is tied with the Chiefs as the third-stingiest defense for quarterbacks. The Dolphins play at home on fantasy championship week, but they will square off against the Ravens - the stingiest defense for quarterbacks.
Yes, things can change dramatically over two months in the NFL, but fantasy managers need to be aware of what lies ahead. Tagovailoa is highly unlikely to put up a dud so long as his playmakers are healthy, but his fantasy playoff matchups suggest he probably will not be the reason why managers win the league title.
Potential deals: Take it from a Tagovailoa manager: trading him is not as easy as one would think. In one league I have him and Joe Burrow, I have aggressively been trying to trade him for a RB2 to no avail. Tagovailoa for Jerome Ford was rejected. The best offer I have received to this point has been Najee Harris and Kyle Pitts. I may have no choice but to accept it considering the lack of able bodies I have after David Montgomery and Tyjae Spears AND with Darren Waller (hamstring) likely to miss a few weeks. I proposed a trade for James Conner and remain hopeful that the manager is still active. Given the almost complete lack of quality running backs available, fantasy managers may need to settle for an injury-discount running back like Conner or Kyren Williams if they hope to alleviate a quarterback logjam similar to the one I have in this league.
Running Backs
Trade for: Bijan Robinson, Falcons
It has been widely accepted that HC Arthur Smith is Public Enemy No. 1 when it comes to fantasy managers, seemingly doing whatever he can to keep playmakers such as Robinson, Kyle Pitts and Drake London from reaching their ceiling. I will not try to say the perception of Smith is wrong or that he will change his usage for Robinson over the final two months of the season. However, here are some things I am sure about:
1) Tyler Allgeier has not topped four yards per carry in any game since Week 1; Robinson has done so three times. Allgeier has broken three tackles since doing so six times in Week 1; Robinson has broken six of his seven tackles since Week 1.
2) The loss of stud DT Grady Jarrett (ACL) should end any discussion about the Falcons being a defensive team. That is not to say Atlanta cannot still be good on defense, but Jarrett's absence will force the Falcons to come out of their conservative shell on offense at least a little bit.
3) Robinson has not caught a pass in the last two games. Week 7 was understandable due to how little the rookie played (illness), but it is hard to fathom how a player like Robinson who was drafted for his all-purpose skill set (and is still on pace for 50-plus catches) has not been more active in that area.
4) There is a decent chance that Taylor Heinicke will remain the starting quarterback after Week 9, although that is far from a sure thing. Heinicke will almost certainly get rid of the ball quicker than Desmond Ridder and lean more heavily on his running backs than Ridder did as a result.
The beauty of it all is that even if none of the points I made lead Smith (or the offense) down a different path than they have chosen through eight weeks, the Falcons have perhaps the most favorable fantasy playoff schedule at running back (Panthers, Colts and Bears). We may not get the 350-touch explosion from Robinson that many of us were expecting in 2023, but it seems reasonable to believe he will be a top 5-10 back during the most important time of the season for fantasy enthusiasts.
Potential deals: Based on name value alone, Robinson probably will not be easy to acquire. However, there are probably not a lot of fantasy teams that are sitting on a 6-2 (or better) record on the strength of his contributions. Fantasy managers may be able to acquire him straight up for Tony Pollard or maybe even Joe Mixon.

Trade for: David Montgomery, Lions
The line between great and average fantasy teams seems to be getting slimmer by the year. This is a lesson I have learned so far in 2023, as my countless Montgomery teams thrived through five weeks and have fallen on hard times since. There was a time not so long ago when the majority of fantasy managers could go at least .500 despite the loss of a back like Montgomery for a couple of games by plugging in his handcuff or adding the latest hot name off the waiver wire.
The problem with the former is that the supposed handcuff in Detroit (Jahmyr Gibbs) was going off the draft board well before Montgomery this summer, so that was never a real option for most folks. While some managers may have been able to draft a player like Raheem Mostert after Montgomery, the majority of us have been stuck with part-timers such as Tyjae Spears or Jaleel McLaughlin (and that may be on the high end of who Montgomery's managers have used to replace him). The main issue for fantasy managers who were counting on big things from Montgomery is that we have not had him available to us almost as often as he has been available to us. Of Detroit's eight games, Monty has started and finished four. Now, the Lions are on a bye in Week 9.
Further complicating matters for desperate Montgomery managers is that Gibbs is coming off consecutive great fantasy performances, which will undoubtedly create even more panic that we have already seen the best of Montgomery's fantasy efforts. That last part may be true, but it is extremely unlikely that a back that perfectly fits the profile of what HC Dan Campbell wants his offense (and team, for that matter) to look like will turn into a 15-carry, early-down banger after the bye just because Gibbs performed well for a couple of games. The last two games did not show Campbell (or OC Ben Johnson) anything he/they did not already know about Gibbs.
Detroit wants Montgomery and Gibbs to have defined roles, so I fully expect a return to how things were in September and early October. There will be enough meat on the bone for both backs to feast so long as the offense limits turnovers and the defense plays as well as it has for most of the year. Thankfully, the Lions could win out with a schedule that was blessed by the fantasy gods. While anything can happen from week to week, a Week 17 matchup in Dallas against the Cowboys stands out as the only game that Detroit might not be able to stick with its offensive plan from start to finish. Until then, Montgomery's managers can only pray that the durability that made him so attractive to the Lions in free agency holds in matchups against the Chargers, Bears (twice), Packers, Saints, Broncos and Vikings.
Potential deals: As a manager of Montgomery in nearly half of my leagues, I have held firm and will continue to do so. Not every manager has the luxury of waiting one more week and seeing if his role changes after the bye, however. A straight-up trade for Jonathan Taylor is possible, albeit unlikely. If I was a manager of Josh Jacobs (I am not), I would kick the tires on Montgomery as well.
Trade away: James Cook, Bills
There is nothing wrong with how Cook is performing in his first chance as Buffalo's top back. The problem is the role most fantasy managers expected him to play is not the role he is playing - certainly not recently anyway. After establishing a 120-99 edge on passing down snaps and a 101-76 advantage in routes run over all other Bills' running backs through five weeks, Cook has played fewer snaps on passing downs (42-40) than Latavius Murray and has barely run more routes (35-30) than him over the last three games.
If that was not troubling enough, Leonard Fournette joined the practice squad this week and is expected to join the active roster later in the week. At the very least, Fournette brings Murray's physicality to the table. However, we know he has a particular skill that should scare Cook's managers: he was good enough in the passing game to earn Tom Brady's trust. The passing game was supposed to be the one part of Cook's game we could count on the most entering the season. After beginning 2023 with at least four targets in three of his first five outings (and at least three in four contests), Cook has been thrown to only four times since.
We knew entering the season Cook was unlikely to see much work near the goal line. Following the loss of Damien Harris to a neck injury in Week 6, it was no surprise that Murray saw his involvement increase. What was not supposed to happen was Murray operating as the preferred option in long down-and-distance and two-minute snaps. It is hard to imagine a scenario in which Fournette's arrival changes the math in Cook's favor.
Potential deals: The majority of Cook's supporters have already started to panic about Fournette showing up in Buffalo, but there is still time to take advantage of the unknown. In other words, we have not seen what Buffalo intends to do with Fournette - we can only assume at this point - and we know the Bills have little reason to alter Cook's current role drastically when he is averaging 4.8 yards per carry and 10.7 yards per catch. Managers with Cook should do their best to sell league-mates on the fact he has typically handled an average of 15 touches over the first half of the season - even when Harris was healthy. It is worth reaching out and seeing if the De'Von Achane manager in your league is struggling to stay in the playoff chase, although it seems unlikely that deal could get done. A more likely straight-up deal might be for James Conner or Rhamondre Stevenson.

---
Doug Orth has written for FF Today since 2006 and been featured in USA Today's Fantasy Football Preview magazine since 2010. He hosted USA Today's hour-long, pre-kickoff fantasy football internet chat every Sunday in 2012-13 and appears as a guest analyst on a number of national sports radio shows, including Sirius XM's "Fantasy Drive". Doug is also a member of the Fantasy Sports Writers Association.