Fantasy football has a rich history of players going from virtual unknowns (to the casual viewing public anyway) to difference-makers just as their real teams are attempting to make one final push to the postseason. It is these "virtual unknowns" that can sometimes be the difference in winning a fantasy title.

There are very few "league winners" in fantasy football each year. There are far fewer league winners who went from waiver wire fodder to every-week starter during the second half of the season. As such, it makes sense to focus our energy on identifying the potential best supporting actors. If for no other reason, the box-office draws are already known quantities. It is often a fantasy team's fifth- or sixth-best player stepping up at the right time that is the difference in winning a championship or going home early.

With that in mind, this week's column will be devoted to players who are either still on waivers in many leagues or were likely recently acquired. While I understand that players like Kyler Murray may have been recently added, he is also a known quantity whose return has been expected for several weeks. I would rather focus on players who are not yet household names. In short, I am not trying so much to identify the next "league winner" as I want to shine a light on players some might consider as fringe options right now but that possess significant upside.

Note: Players will be listed in order of the potential rest-of-season impact I expect him to have in fantasy.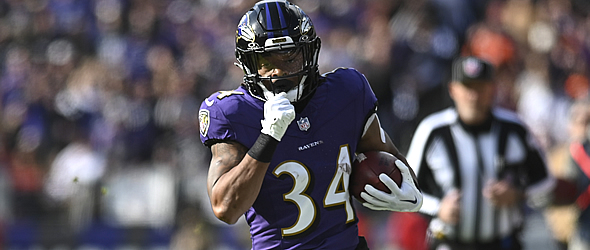 One of my favorite "moves" early each season is stashing players on IR in leagues that allow you to do so. My favorite targets in the late rounds this year were Murray and Jeff Wilson. In leagues where I did not reach my IR limit by stashing those two players, I often turned to Mitchell. For that reason, Mitchell has been on my radar since the start of the season. (In all honesty, he has been on my radar since his explosive preseason run against the Commanders.)
Frequent readers of this column likely remember me briefly singing Mitchell's praises over a month ago. I will admit I could have done a better job of reminding everyone to add him week after week, but his quick rise to prominence is one of the least surprising occurrences of the season. I have him on 13 of my 26 fantasy teams and that number would have been much higher had I not been forced to cut him for a bye-week replacement in several other leagues. I am psyched that he is on each of my high-stakes dynasty teams as well.
Enough about my exposure to Mitchell, who is one of only maybe two players I will discuss this week who I believe could be a league-winner type of player. Mitchell's superlatives through two-plus games are remarkable:
1) he is averaging 12.3 yards per carry AFTER contact;

2) he has forced a broken or missed tackle on nine of his 12 career carries;

3) four of his 15 touches have resulted in plays of at least 30 yards (and nine of his touches have resulted in gains of at least eight yards)

4) he has played a mere 29 offensive snaps, yet he ranks as the overall RB59.
While we may never see another player in our lifetime burn as bright as De'Von Achane did in his first three full weeks of action, Mitchell is on a similar plane in terms of what he brings to the table. Both players are similar athletically (Achane tested slightly faster in the 40 but was significantly less explosive in his jumps at the NFL Combine) and are built similarly. Mitchell already has nearly as many yards after contact (152-147) despite handling less than a third of Achane's carries (38-12). Achane had the benefit of entering the season healthy, while Mitchell missed more than a month of practices until he was designated for return from IR in early October. Both play in offenses that love to run the ball and Mitchell has the added benefit of playing with Lamar Jackson, who strikes so much fear into defenses as a runner that defenders cannot immediately swarm Mitchell.
If HC John Harbaugh's true to his word and Mitchell begins to see something approaching the same kind of workload Achane had in his last two games (11.5 touches) - even if we leave out his 22-touch explosion in Week 3 against Denver - I am confident Mitchell can be a fantasy RB1 a few more times this season.
Much as the fantasy gods delivered Mitchell for those of us who missed out on Achane, they also gave managers a second chance to acquire a likely QB1 on the cheap in Dobbs if they missed out on Murray. I am not sure Dobbs has Murray's kind of upside - or can even maintain what he has done through two games with Minnesota - but it is not hard to see how he could. I would also argue things are about to get better for him with Justin Jefferson due back soon from his hamstring injury.
Dobbs may be having one of the quietest overall QB7 seasons in recent memory, although there have been reasons for that. He barely had any time to adjust to his trade from Cleveland to Arizona this summer and the result was easily his worst fantasy performance of the season in the season opener. There was also a three-game stretch in which Dobbs barely completed 50 percent of his passes, which was followed by his final start with the Cardinals in which they were mostly not competitive in a loss to the Ravens. A day after that game, he was benched. He was traded to the Vikings hours later.
That is a brief recap. Here is where things stand now despite the chaos. Dobbs ranks second to Lamar Jackson in rushing yards by a quarterback with 368. Dobbs is one of four quarterbacks with at least five rushing touchdowns. From a fantasy-point-per-game perspective, Dobbs has been slightly better than Anthony Richardson and on par with Jackson.
With Jefferson expected back this week or next and set to rejoin T.J. Hockenson and Jordan Addison, there is little reason to suspect the league will "figure out" Dobbs anytime soon. The remaining schedule is also not overly challenging with upcoming games against the Broncos, Bears, Raiders, Bengals, Lions and Packers. I will stop short of saying Dobbs will be the reason managers will win fantasy leagues, but I can easily see him being a big piece of a fantasy championship puzzle - especially for teams who have been trying to get by with Deshaun Watson and/or Geno Smith for most of the season.
Brown has been in the NFL since 2017, but he has been limited to special teams most of that time for several reasons, including being stuck behind the likes of CeeDee Lamb, Dez Bryant, Amari Cooper, Michael Gallup, Cedric Wilson and Cole Beasley throughout his five seasons in Dallas. After Tank Dell quickly emerged as a legitimate playmaker in Houston, it appeared Brown was destined for at least one more year of sitting and waiting. However, a strange thing happened along the way to another wasted year. Robert Woods suffered a foot injury in Week 6, opening up slot opportunities for Brown. Nico Collins then suffered a calf injury in Week 9, which paved the way for Brown to be no worse than C.J. Stroud's No. 2 receiver.
The true test of Brown's recent rise to prominence will come as soon as Collins returns to the lineup, but OC Bobby Slowik will have to answer some questions if he does not remain a prominent part of the passing game. Over the last three weeks, only Lamb (500) has more receiving yards than Brown (382). The same is true for yards after the catch over that same stretch, with Lamb ranking first with 163 and Brown right behind him with 143. Brown is amazingly among the league leaders - for the season - in 20-plus yard receptions with 12 (on only 21 catches). With an average depth of target of 10.9 yards, it is safe to say he is maximizing his opportunities.
Can Houston tell Brown he needs to play behind - or share time with - Woods now after producing at this level for multiple games? Brown may not overtake Collins or Dell in the game plan, but I am confident that Slowik has not called many plays in which Brown was the primary option over the last three games. There are numerous benefits to having a big slot - Brown is 6-2 and 215 pounds - especially when one of the primary perimeter receivers is Dell, who is 5-8 and 165 pounds.
Does any of this mean that Woods will not steal some snaps from Brown when everyone is healthy? Of course not. With that said, Brown is proving he can win consistently as an outside receiver as well - he played only 10 snaps from the slot in Week 10 - and has done enough to cement himself as a top-three receiver in what has become a very good passing attack.
Shaheed has already emerged as a viable starter in deeper leagues. What makes him different from most fringe players is that he has consistently proven he has a massive ceiling to go along with a serviceable floor. His floor was elevated considerably as a result of the news that Michael Thomas is dealing with a "fairly significant" knee injury, which should push Shaheed into a full-time role alongside Chris Olave. Or does it?
Based on Week 10 snaps, rookie A.T. Perry appeared to benefit the most from a playing time perspective, which is why Shaheed is lower on this list. Even worse, the Saints are on their bye this week, which means fantasy managers could waste a roster spot speculating on the wrong player. Furthermore, the team has yet to expand on Thomas' "fairly significant" injury. There has been some speculation about a possible MCL sprain, which means he could return to action as soon as Week 12 or Week 13.
For the time being, we should assume Thomas will miss at least one game, which should allow Shaheed (or Perry) to shine against the Falcons in Week 12. The problem with trusting anyone outside of Olave and Alvin Kamara is that the Saints' passing game has run very hot-and-cold this season. Derek Carr has recorded four 300-yard passing efforts and four games with less than 200 yards passing. Some of that can be attributed to offensive line issues and Carr playing through injuries, but the overriding theme has been that New Orleans has largely failed its dynamic pass-catching talent.
As such, feel free to add Shaheed and Perry where it makes sense to do so. The problem with doing so is that managers will be hoping for consistency from two players in an offense that has not allowed Olave or Thomas to reach their ceilings. With Olave healthy and Thomas hurt, this could also be just the excuse OC Pete Carmichael needs to force-feed Olave.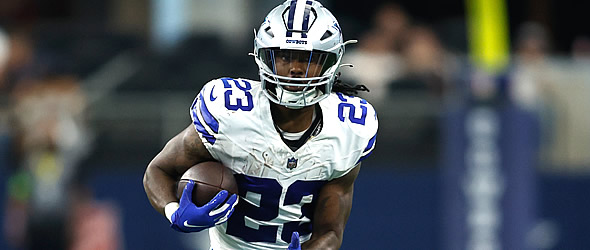 Much like Mitchell above, I stashed Dowdle in nearly half of my leagues before making the fateful decision to cut him last week for help elsewhere on my roster in a couple of spots. While he remains on my roster in 11 leagues, it's just not the same.
The only reason I am sharing a personal account here is that it has been obvious to me for some time that Tony Pollard: 1) is dealing with an injury, 2) never fully recovered from last year's fibula fracture or 3) was quickly worn by his heavy workload in September. Maybe Pollard's best role was as the change-of-pace back after all. Whatever the case, Dowdle should have been seeing more of an even split of the backfield work long before Week 10. Once again, Dowdle looked fresh and powerful while Pollard looked pedestrian. There is almost no chance that Dallas will entertain the thought of Dowdle handling the 2022 Ezekiel Elliott role and returning Pollard to his former role. If I believed there was even a small chance of that happening, Dowdle might have been the first player discussed.
With that said, that is not the reason Dowdle makes the list this week. After all, Elliott was hard to start at times with a heavy early-down workload last season and was highly dependent on touchdowns to keep his fantasy value afloat. The main reason I am discussing Dowdle is if Pollard is forced to miss time. Pollard (135) and Dowdle (47) are responsible for 182 of the 206 carries by Cowboys running backs this season. Deuce Vaughn (21) has done next to nothing when he has been active and Hunter Luepke (three) is a fullback. While there is a distinct possibility Dallas would promote Malik Davis from the practice squad and ask him to serve as Dowdle's backup, it seems clear by now that Dowdle would handle the bulk of the work. That may not be enough for him to serve as a fantasy RB1, but it seems reasonable to assume he would be a top-20 back if he had the backfield to himself.
Even if Dowdle doesn't get the chance to have the backfield to himself for one game this season, the good news is that he should be flex-worthy over the next two weeks - assuming the Cowboys take care of business against the Panthers in Week 11 and Commanders in Week 12.
One look at Otton's advanced analytics reveals he is being used similarly to Dallas Goedert. There is less than a four percent difference between them in each of the following categories: route percentage, targets per route run, team target share, catchable targets, team air-yard percentage and targets on third or fourth down. Otton holds a slight advantage over Goedert in average depth of target and holds a 3-1 edge in end zone targets. The second-year tight end trails only T.J. Hockenson among all tight ends in snaps on passing plays.
All of this is to say that Otton could be a bit of a sleeping giant. Not only is Tampa Bay passing the ball more often than anyone could have rightfully expected with Baker Mayfield as its quarterback, but the Bucs' schedule appears to be very friendly to the tight end position after they play the 49ers this week. The Colts (Week 12), Falcons (Week 14), Jaguars (Week 16) and Saints (Week 17) all rank inside the top half of the most forgiving defenses against tight ends. The main thing keeping Otton from hitting his ceiling - besides Mayfield's limitations - is that he needs to be targeted on more than 14 percent of his routes. He is a prime example of a player who needs the matchup to be in his favor if he has any chance to hit his ceiling. There is a decent chance he could do that at least twice down the stretch, but it is anyone's guess as to when those spiked weeks will happen.
Perhaps my biggest takeaway from this week's games was how involved Guyton was in his first significant action since he was activated from the PUP list before Week 9. Guyton played 57 snaps in the Chargers' Week 10 loss to Detroit - after logging 33 in his season debut - and appeared to be Justin Herbert's first read on the few plays Keenan Allen was sidelined with a shoulder injury. There does not seem to be much concern about Allen missing time, but it would only increase the likelihood of Guyton becoming a key player down the stretch if Allen was forced to sit for a game or two.
The reason Guyton makes the list is that he brings something to the offense that has been missing since Mike Williams tore his ACL in Week 3: the ability to stretch the field. Guyton may not possess the same kind of catch radius as his 6-5 teammate, but his sub-4.4 speed is something that defenses will need to account for moving forward.
Guyton flirted with fantasy relevancy in 2021 with 4-90-1 and 3-87-1 efforts late in the 2021 season, so there is precedent for him being a consistent producer for however long it takes Joshua Palmer to recover from his knee sprain. (Palmer is eligible to return in Week 13, although there is no guarantee he will be ready by then.) First-round draft pick Quentin Johnston has predictably seen his role grow since Williams and Palmer got hurt, but that has yet to translate into a game in which he has earned more than six targets. (He has four or fewer in eight of nine outings.)
Based on what I observed during the Lions' game and the fact that Guyton was able to match Johnston's season high in targets in his first full game action in over a year, it seems reasonable to assume the 26-year-old North Texas product will see significant action for at least the next two weeks. He could even end up being a valuable fantasy asset longer than that if Palmer needs more time to recover, which sounds like a distinct possibility based on how HC Brandon Staley talked about the injury a couple of weeks ago. Guyton could also easily emerge as a weekly fantasy starter if Week 10 was a sign of things to come for Allen, who could begin to wear down at some point. It seems unlikely he will maintain his current pace of 183 targets, 137 catches and 1,691 receiving yards in his age-31 season.
---
Doug Orth has written for FF Today since 2006 and been featured in USA Today's Fantasy Football Preview magazine since 2010. He hosted USA Today's hour-long, pre-kickoff fantasy football internet chat every Sunday in 2012-13 and appears as a guest analyst on a number of national sports radio shows, including Sirius XM's "Fantasy Drive". Doug is also a member of the Fantasy Sports Writers Association.