The path to a fantasy championship is rarely ever a straight line. Roughly two or three times every season, a wave of injuries rips through the league (and by extension, fantasy football). The problem this past weekend was not how many multi-week injuries some of our weekly starters suffered, but the importance of those players. Managers have little choice but to reassess and reload as best they can.

With that in mind, I will address the most notable of the injured players and what we can expect from their replacements. I will even suggest multiple alternatives that are likely available off waivers or can be acquired via trade at a reasonable cost.
QB Anthony Richardson (shoulder) - expected to miss 1-2 months
The first statement in my first regular-season column of the year was that Richardson would not last the season if he continued down the same path that he was walking a month ago. Since that column, he missed one game with a concussion and is now set to miss a large chunk of the season. To his credit, he toned down how reckless he was in his NFL debut before injuring his shoulder last week, but the fact of the matter is that quarterbacks who leave the pocket and attempt to throw on the run as much as Richardson does will open themselves up to injuries like the one he suffered in Week 5.
What do I do with Richardson now? Assuming you are in a league with at least one IR spot, hold. Even in leagues without IR spots, I would be hard-pressed to drop him unless it is a small league (eight or 10 teams) with small benches.
How do I replace him? While most fantasy managers understand that Gardner Minshew is a serviceable option, he will not replace the insane fantasy upside Richardson possesses. Amazingly, Minshew has attempted one less pass than Richardson this season (84-83). Where they have differed the most is running the ball (Richardson's 25 carries for 136 yards and four touchdowns dwarfs Minshew's 4-4-0 line for the season.
Assuming the likes of C.J. Stroud and even Sam Howell are no longer available off waivers, it is highly probable that Joshua Dobbs and Matthew Stafford are. Dobbs is coming off his worst game of the season in Week 5, but the difference between him and Richardson for fantasy purposes has not been all that stark (18.2 vs. 16.7). It does little good to compare and contrast the two from an efficiency perspective since the rookie has completed only two games and left early in two others, but the encouraging thing is that two of Dobbs' three best games this season have come against two of the best defenses in the league.
Perhaps a safer alternative is Stafford, who unsurprisingly recorded his first two-touchdown game of the season in the same week Cooper Kupp returned from IR. While the Eagles have been a top-10 defense for fantasy quarterbacks to attack, part of the reason for their "struggles" has been facing a league-high 201 pass attempts. Another key contributing factor has been Philly's injuries in the secondary. The point to be made here is that Stafford just faced what should be one of the best defenses in the league last week and looked as good as he has all season. While he lacks Dobbs' rushing upside, it seems only a matter of time before Stafford has a three-TD game with Kupp and Puka Nacua making quick work of defenders.
It is also worth your time to consider Kyler Murray (knee), although I highly doubt he is available in many competitive leagues with IR spots. He could return before Richardson and would possess just as much upside.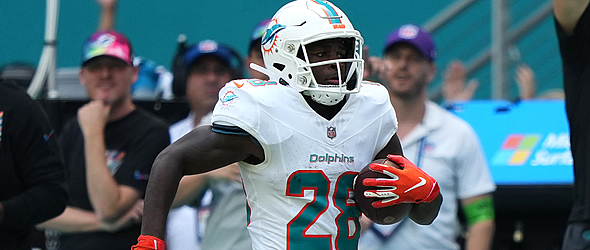 RB Devon Achane (knee) - will miss at least four weeks
Reports of the severity of his injury have varied, but initial reported estimates make it sound as though Achane could be sidelined through the team's Week 10 bye. The impact he made in fantasy in only three weeks is nothing short of amazing. It also warrants a considerable tip of the cap to HC Mike McDaniel, who may be ushering in a new age of offensive football - one full of emphasizing speed and misdirection.
What do I do with Achane now? It depends on where your team stands right now and how much of a risk-taker you are. When timelines for our injured stars are either unknown or otherwise not yet common knowledge, there is a potential selling opportunity in which we can get 80 cents on the dollar for a player who might not be useful again until around Thanksgiving. More likely, managers should hold onto Achane and try to survive. Miami had a clear vision for him and was executing it very well. As a result, it would not be shocking if he picks up where he left off when he is ready to return.
How do I replace him? You don't. The rookie was the highest scorer in fantasy football over the last three weeks (34 fantasy points per game). You read that right. No quarterback matched his 100-plus point output in that time. The semi-good news here is that his rise and fall happened so quickly that most managers likely did not have a chance to alter their roster. As such, he was more of a convenient plug-and-play who cost his managers a late-round draft pick than a foundational piece.
While there is no replacing the level of production he leaves behind, Jeff Wilson (finger, core) is a proven commodity who averaged 4.9 YPC between Miami and San Francisco last season. It is well past the time to be adding him over waivers. (He should have been stashed on IR before the start of the season.) With Achane's knee injury and Raheem Mostert's durability issues, there is a world where Wilson returns RB1 value for a few weeks. Even if Mostert stays healthy (which seems unlikely as a 31-year-old back with his injury history), there should be a window for Wilson to be a low-end weekly starter and a flex play after that.
Looking outside of Miami, there is a slight bit of upside in adding Keaontay Ingram and/or Emari Demercado. James Conner (knee) is expected to miss roughly the same amount of time that Achane is. The difference with the Arizona running backs is that they could split time and don't possess a ton of fantasy potential even if one of them is featured.
It might also be worth your time to trade for Tyjae Spears, who may be my favorite to be the "next Jerome Ford." I also have an insane amount of Keaton Mitchell (Ravens) stashed on IR across my many leagues. While Mitchell cannot be expected to reach Achane's lofty standards, he probably stands as good of a chance as any widely available fantasy free agent to do what Jaleel McLaughlin has done over the last two weeks in Denver. It may also be worth your time to check on the price of Aaron Jones in your league, as there is a good chance his manager is struggling - especially with the Packers going into their bye week.
RB James Conner (knee) - will miss at least four weeks
Conner's fantasy usefulness has waned in recent weeks, although that was mostly a product of Arizona being forced to go away from him due to negative game scripts. Kudos to OC Drew Petzing, whose offense as a whole has largely surpassed any reasonable expectations. Among several other surprises (such as Dobbs' emergence), Petzing's offense was proving to be a wonderful fit for Conner. Keaontay Ingram and/or Emari Demercado are expected to handle the majority of running back snaps while the ex-Steeler heals up.
What do I do with Conner now? Assuming you are in a league with at least one IR spot, hold. Regardless of your league's size and/or the lack of an IR spot, the odds are not particularly high that you will find a McLaughlin type over the next few weeks.
How do I replace him? The same names mentioned for Achane above are relevant here as well. Another low-cost alternative could be D'Onta Foreman, who could go from healthy scratch to the clear starter in Chicago this week IF Roschon Johnson needs another week to clear concussion protocol. A case could also be made to try to buy low on Jerome Ford, who still has many doubters due to the Browns' recent addition of Kareem Hunt. Another back who fits that description is Alexander Mattison, who may or may not have Cam Akers breathing down his back.
RB Khalil Herbert (ankle) - no timetable for return yet
Just as it appeared he was starting to distance himself from hyped rookie Roschon Johnson, Herbert is reportedly dealing with a high-ankle sprain that will likely sideline him for close to a month (assuming Austin Ekeler's injury serves as a good barometer). Herbert may not have been setting the world on fire from a fantasy perspective, but he took advantage of a soft matchup against the Broncos in Week 4 (22.2 PPR fantasy points) and was well on his way to doing the same in Week 5 (10 carries for 76 yards) before the injury.
What do I do with Herbert now? The fact that Herbert has yet to be placed on IR almost a week after suffering the injury is a good sign, as it suggests the team is hopeful he will miss fewer than four games. It should not be overlooked that his ankle has an additional three days to heal with Chicago playing on Thursday last week. (Admittedly, three extra days does not matter much now, but it could make a difference in him returning in Week 9 versus Week 10, for example.) The advice here is to sell at a reasonable price if possible. Maybe Ekeler (and Herbert, for that matter) can buck the trend of running backs struggling to return to form after suffering a high-ankle sprain, but those injuries are notorious for healing slowly and reducing a player's effectiveness for the rest of the season.
How do I replace him? The most obvious move is to turn to Johnson if you were able to handcuff Herbert or add Foreman. Otherwise, consider the options I mentioned above for Achane and Conner.
WR Justin Jefferson (hamstring) - will miss at least four weeks
Jefferson was off to another scintillating start this season, setting a 24-point floor through four weeks with at least six catches and 85 yards through four games. One of the reasons he was such an attractive No. 1 overall choice in fantasy drafts this summer was his durability: Jefferson did not miss any of the 50 regular-season games Minnesota has played since he arrived in 2020.
What do I do with Jefferson now? In the highly unlikely event that managers are offering the likes of Stefon Diggs, Tyreek Hill, Ja'Marr Chase or A.J. Brown, Jefferson is OK to sell. Otherwise, he should be held and treated as a "luxury stash" - not unlike Alvin Kamara at the beginning of the season. In the one league I have Jefferson, I am holding in part because I also drafted Keenan Allen, Calvin Ridley and Zay Flowers to go along with David Montgomery and Alvin Kamara. Not everyone has that luxury, so selling is an understandable option if Jefferson was carrying your team. Just don't sell for anything less than a player you know can start every week.
How do I replace him? Good luck. Managers that took a receiver-heavy approach in their drafts might be able to weather the storm if Jefferson only misses four weeks, but that assumes they are not hurting at running back because they passed on the position early. Jordan Addison will almost certainly be hard to acquire at this point, but K.J. Osborn should be able to provide managers with at least one or two weeks of WR2 or WR3 production during Jefferson's absence. Perhaps the best "in-house" move fantasy managers can make, however, is adding Brandon Powell. The pint-sized journeyman attracted six targets on only 17 routes in Week 5, earning five of those targets on Kirk Cousins' final 14 throws.
As for non-Viking alternatives, a player who might be available at a reasonable price is Flowers. As the overall WR37 in points per game despite not having scored a touchdown, he should begin to experience some positive touchdown regression soon. (Flowers and Chris Godwin are the only players with at least seven red zone targets who have failed to score a touchdown.) Baltimore is set to face four consecutive opponents that rank among the top 12 in most fantasy points allowed to receivers. Diontae Johnson's fantasy managers are likely tired of waiting for his return as well and probably do not have high expectations for him anyway given how bad Pittsburgh's offense has been for long stretches this season. The Browns' next seven opponents rank inside the top half of most fantasy points allowed to receivers, which should make Elijah Moore (and maybe even Amari Cooper) reasonably price targets. (Avoid them this week as P.J. Walker will likely draw the start at quarterback against the 49ers.)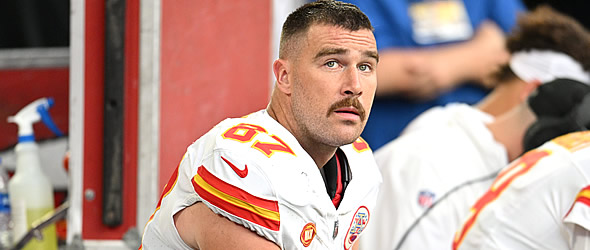 TE Travis Kelce (ankle) - status uncertain for Week 6
One of the NFL's true ironmen, is it possible the 34-year-old Kelce is finally starting to feel his age? Or is he still recovering from his early September knee bruise? There is little question he is merely a short-area target now, as his current 8.2 YPC is four yards less than his previous career low. Kelce is still picking up chunks of yardage after the catch on occasion, but even that number (4.0) would be a career low. Then again, does it really matter if he is just a craftier route-runner than any other tight end? Maybe not. Kelce's fantasy managers probably don't need to sweat his current injury, but they should recognize that he has suffered two lower-body injuries this season - matching the number he had endured since his NFL career took off in earnest in 2014.
What do I do with Kelce now? Part of the risk with drafting Kelce this year was the likelihood that age would catch up with him, assuming he continued to avoid injuries as well as he has throughout his career. Kelce is hardly slipping from a fantasy perspective, entering Week 6 as the TE1 in points per game (16.8). With that said, he is not moving as well as he did even last season - and that was before this ankle injury. The beauty of having Kelce on your fantasy team is that his durability and consistency are so ingrained in most managers' minds that his value probably has not dipped much - if at all - since draft season. While I would not be in a hurry to get rid of Kelce, I fear the window of maximizing his value is starting to close.
How do I replace him? Each year we hope the tight end position is about to take a turn for the better, but it feels as if the outlook now is about as gloomy as it has ever been. Thankfully, Kelce's reputation is so pristine that managers can rightfully ask for whatever tight end they want in return plus another player and be justified in doing so - assuming they can handle the idea of taking a bit less certainty at tight end in exchange for an upgrade somewhere else. If I had Kelce on any of my teams, I would gladly cash out and try to acquire Sam LaPorta or Mark Andrews plus another piece. Beyond that, I would strongly consider trading him for an elite receiver and take my chances that Logan Thomas or Cole Kmet can maintain their recent level of play. My point is that I do not think Kelce will carry fantasy teams in 2023 as he did for stretches in 2022.
---
Doug Orth has written for FF Today since 2006 and been featured in USA Today's Fantasy Football Preview magazine since 2010. He hosted USA Today's hour-long, pre-kickoff fantasy football internet chat every Sunday in 2012-13 and appears as a guest analyst on a number of national sports radio shows, including Sirius XM's "Fantasy Drive". Doug is also a member of the Fantasy Sports Writers Association.