#3: NY Jets over Chicago
(6-5: BAL, cin, PHL, DAL, kc, tb, LV, ind, NE, SF, nyg)
Zach Wilson has officially been told to take a seat. With that, Mike White will be under center this Sunday when the Jets host the Bears who may be without their signal called Justin Fields due to a shoulder injury.

Despite the QB change, it has been the defense that is the carrying this team which is something that hasnít been around for 25-30 years (Gang Green). What they have been missing is someone under center who can manage the game and avoid turnovers. After last weekís debacle against the Patriots that saw Wilson complete 41% of his passes and the team score three points, someone had to take a seat.

This week, the young QB should see how to manage a game. Let it slow down and come to you. Donít try to force it, regardless of the conditions, and most of all, rely on your other players to help make plays. The Jets defense will show up and unfortunately for the Bears, injuries are starting to hurt a team that is rebuilding and lacks the depth for the next man up. The Jets are fighting to stay close in their division and need this victory, making them a dangerous opponent.

Take the Jets if all your other blowout choices have been used.

#2: Washington over Atlanta
(7-4: NO, BUF, kc, det, PHL, sf, DAL, MN, MIA, chi, CIN)

Ron Rivera has his Commanders focused on football while the front office is dealing with their issues. And that is a good thing. While they may be last in the NFC East at 6-5, the team has won five of their last six, of which two were against the leading NFC teams (Eagles and Vikings).

Meanwhile, the Falcons are a game back of Tampa Bay with hopes of winning the NFC South. If Cordarrelle Patterson has anything to say about it, he will try and add to his nine career return touchdowns while being a threat on offense out of the backfield. Marcus Mariota carries a 90.7 QB rating this season but the Falcons are glaringly ranked 31st overall in passing yards per game and going up against a Commanders defense that is built to stop the run. Look for the Commanders defense to be the difference this week.

The surprisingly steady play of Taylor Heinicke has turned this offense around and along with Brian Robinson Jr. fully recovered from his gunshot wounds. As a result, this offense now can effectively use the play-action pass. If only Heinicke could stop overthrowing his wide-open receivers. In spite of those overthrows, Washington has a chance to close the gap this week while the Cowboys and Giants beat on each other.
Falcons-O / Commanders-D Comparison
ATL Off
Rk
Stat
Rk
WAS Def
313.8
26
TOT YDS
6
308.0
154.5
31
PASS YDS
12
204.9
159.4
3
RUSH YDS
6
103.1
23.5
12
PTS SCORED
12
20.3
15
26
T OVERS / T AWAYS
17
11
Falcons-D / Commanders-O Comparison
ATL Def
Rk
Stat
Rk
WAS Off
389.4
30
TOT YDS
23
325.9
266.3
29
PASS YDS
21
209.8
123.1
21
RUSH YDS
16
116.1
24.9
28
PTS SCORED
23
19.5
15
6
T OVERS / T AWAYS
15
13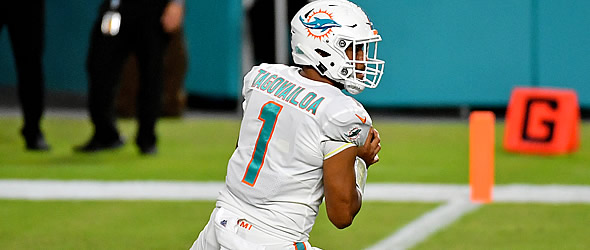 #1: Miami over Houston
(7-3: den, lac, GB, BUF, LAR, tb, PHL, KC, NYG, BAL)

The Dolphins return from their bye still atop the AFC East and with that, have the pleasure of playing a Houston Texans team that is trying to find its identity late in the season. Brandin Cooks played last week but clearly has been overtaken by Nico Collins as the preferred wideout. And Dameon Pierce has been a gem of a running back in an offense that lacks clear leadership at the quarterback position. Davis Mills will head to the bench in favor of Kyle Allen.

Solid production and a bright future are what the Dolphins had a few years ago when they drafted Tua Tagovailoa. Now, they have Jalen Waddle, Tyreek Hill and Jeff Wilson that are firing on all cylinders. Ranked 3rd overall and 6th in points scored, the Dolphins are perfectly matched up against a Texans defense that is 31st in the league.

You have probably used, Kansas City, Buffalo, Dallas, and San Francisco, leaving the Dolphins as the most appealing option on the board.