#3 (Third Choice): Kansas City over Las Vegas (3-1: BAL, cin, PHI, DAL)
Despite the departure of Tyreek Hill to Miami, the Chiefs sit at the top of the division and Patrick Mahomes continues to sling the ball. His 1,106 yards and 11 touchdowns rank him 6th in the league and he's thrown passes to eleven different players, six for touchdowns.
Vegas however is 1-3, at the bottom of the division and in desperate need of a divisional win. Derek Carr has put his team in position to win like last year, but instead of pulling off those close games, this 2022 team is coming up short. Their one victory (against Denver last week) keeps them breathing but a loss this week would put them three games behind in the division.
The Chiefs are playing at home on Prime-Time TV Monday night, looking to make a statement. This game is not for the faint of heart, but more for the determined that believe the Raiders will be out of playoff contention within the first 9 weeks. Yes, Las Vegas has a better than average team with some good players but it just won't be enough this week.
#2 Philadelphia at Arizona: (2-2: NO, BUF, kc, det)
The Eagles find themselves as the lone unbeaten team in the NFL after four weeks. To keep the streak alive may require a shootout, which Jalen Hurts seems to be just fine with. It's also possible that J.J. Watt will not be on the field. Why? Watt needed his heart shocked back into its normal rhythm – a situation that could happen again if left untreated. Yes, Watt has said that he is fine, he played last week and was a factor, but it is not recommended that he continue. Most importantly, everyone wants him healthy.
On the football side, the biggest issue for the Eagles is their 26th ranked defense which Arizona's 15th ranked offense should be able to exploit. They still won't have DeAndre Hopkins (suspension) but could have A.J. Green (Knee) active as well as Rondale Moore to take pressure off Marquise Brown and keep up with the Eagles. Keeping up will be the issue.
Expect the Eagles to continuing their scoring ways as long as they stay healthy. They are healthy, so look for the East Coast birds to fly home winners.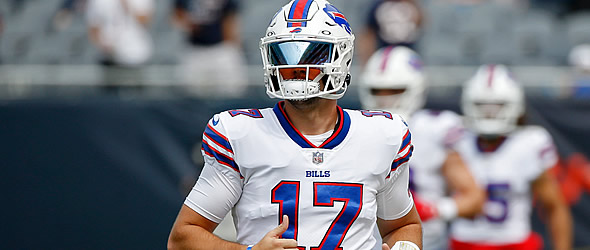 #1: Buffalo over Pittsburgh: (1-2: den, lac, GB)
These two teams are definitely at difference stages in their franchise. Josh Allen and Company are 3-1 with their bounce back win against the Ravens while the Steelers are now 1-3 after losing to Zach Wilson and the J-E-T-S Jets Jets Jets.

Kenny Pickett will get his first official start under center, on the road, in a game that the Steelers have little chance of winning. This isn't because the rookie doesn't have some skills. But it is the 27th ranked defense that sorely misses T.J. Watt (torn pec) – the reigning defensive player of the year. When your defense has a hard time getting pressure, and your offense is young and asked to do more than they can, it is definitely a formula for the big "L". The fact that the Steelers are playing a Super Bowl contender doesn't help. Put this one in the win column for the Bills at home.