Upset: NY Giants over Jacksonville

The NY Football Giants don't light the world on fire through the air. In fact, they are 30th overall in passing offense. But Saquon Barkley is second overall in the NFL in rushing, 6th overall in scoring, and singlehandedly is making Brian Daboll look like the best rookie coach of 2022. This could be his best season of his career, but it is the G-Men defense that is surprising people. While giving up the 2nd most rushing yards, they have only given up two rushing TD's overall, and are 7th in points allowed.

Meanwhile Jacksonville's defense has been beaten through the air, and in spite of their 3rd ranked rushing defense, may find in impossible to stop the Giants top threat. It has been remarked that he is more confident with his cuts and bursts since his injury and the Giants will force Jacksonville to stop their number one weapon.

Trevor Lawrence is showing signs of improvement under first year (and veteran) coach Doug Pederson, improving his passing rating from 70.1 in 2021 to 85.1 this year, but it is the inconsistent play from his skill positions (specifically his wide receivers) that are hurting this offense. They were fortunate to get James Robinson back from injury, but the lack of consistent offensive line play has truly hurt this team. Second year player Travis Etienne seems to be getting used to the NFL in his first healthy season and will be needed to keep this game close.

Look for the G-Men defense to feast on the inconsistency of the Jags offense with a potential defensive score while Daniel Jones manages the game script and hands the ball off. It won't be pretty and won't be a blowout, but it will be enough to find themselves 6-1 overall right in the thick of the NFC East race behind the unbeaten Eagles.

#3: Las Vegas over Houston
(3-3: BAL, cin, PHL, DAL, kc, tb)
The battle for the bottom. The loser of this game is on the fast track for a top three pick in the 2023 draft and it is interesting that the Raiders are in this position.

Why? Because it was expected that Josh McDaniels would open up the offense, put together Derek Carr and Davante Adams, and utilize the workhorse back in Josh Jacobs to run the clock out once they got in front.
But the Raiders have forgotten you also have to play some defense. Their rushing defense is 5th in the NFL, but they've given up the 5th most total points.

This week the Texans come to visit and help the Raiders get a little healthy. Houston is 31st in yards allowed, specifically 30th in rushing yards allowed and Josh Jacobs may actually have the best day of his career (which he has done in two of the last three weeks).
Take the Raiders, but don't give the points. Neither of these teams are very good, but at least the home team will get a chance to cheer for one day.

#2: Dallas over Detroit
(3-3: NO, BUF, kc, det, PHL, sf)

Fantasy owners have been waiting since week 1 for Dak Prescott to return and spark the Cowboys offense. This week, he will!

Why is he so important? Did you see the game in Philly Sunday night? 181 yards by Cooper Rush, 1 TD and 3 INTs. The Eagles glaringly neutralized Dallas' passing game and made Ezekiel Elliott and Tony Pollard beat them on the ground. This week, the Lions will be hard pressed to duplicate that formula with Dak back under center.

Amon-Ra St. Brown should be healthy after the bye week, but the question is, will Jared Goff have time to get him the ball? In his last game, New England stifled Goff and shut the Lions out. But overall, this team is second in total offense and 3rd in total points.

This matchup will be about what the defenses give up. And in the case of the Lions, their rushing defense is dead last. With Dak coming off injury, why risk hurting your franchise when you can give a steady dose of handoffs and win? It shouldn't be a shootout, but if it ends up one, the boys should pull it off now that Dak is back.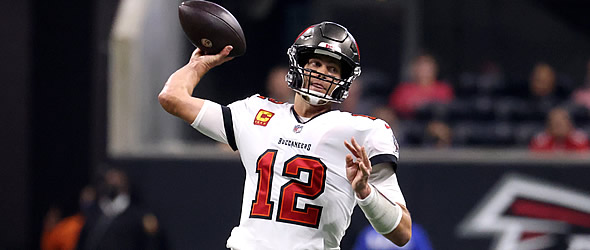 #1: Tampa Bay over Carolina
(3-2: den, lac, GB, BUF, LAR)
The G.O.A.T. is in turmoil. People want to talk about his personal life and how it is affecting his game and relationships with teammates. Forget that. He is a consummate professional, will work through the nonsense and come out on top regardless.

That said, he needs to find consistency from his receiving corps that hasn't been healthy, and now is expected to be without Cameron Brate (neck). Do you think Gronk has had a few conversations with Tom about coming back for the later part of the season?

The Panthers are trying to salvage a season they originally hoped would be respectable. However, they'll be lucky to win four games. Baker Mayfield is injured, the coach has been fired, Robbie Anderson has been traded, the offense is 27th in points scored and dead last in total yardage. D.J. Moore is hoping to get paroled from this offense (via trade) and the defense is only hoping that they get more than four downs to rest each series.

If ever there was a week that Brady and company could use an easy victory, it is this week. Assuming that you didn't use the Bucs last week (and lose), take the Bucs at Home with confidence.