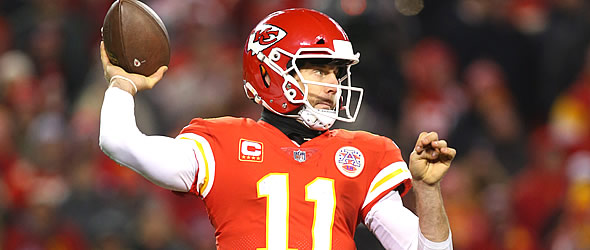 Coming off a career year, Alex Smith's fantasy production is likely to take a significant hit in 2018.
Though not official until the start of the new NFL year (March 14), the Kansas City Chiefs have agreed to trade their 2017 starting quarterback, Alex Smith, to the Washington Redskins for a third-round pick and cornerback Kendall Fuller.
For the two teams involved, it seems like a win-win situation.
The Chiefs bring in a start-worthy cornerback in Fuller (Pro Football Focus' No. 5 slot cover corner) for a 34-year-old quarterback with a lot of mileage (despite a Ďcareer-yearí in 2017). The trade allows the Chiefs to get a good look at their future, by starting 2017 first-round draft choice (10th overall), Patrick Mahomes.
For Washington, the trade for, and signing of, the 12-year veteran Smith to a large four-year, $94-million extension through 2022 is still likely a considerable monetary savings over what it might cost to retain the services of their 2017 starter, Kirk Cousins (who made $23.9 million in 2017 under a second consecutive franchise tag). It would cost them $34 million in 2018 if they had to franchise tag him a third consecutive year. And the bidding for free-agent Cousins will be ridiculously overpriced.
But what are the fantasy implications?
Alex Smith in Washington
Smith leaves Andy Reidís offense for Washington where the receiving corps struggled last season. Smith averaged 3,522 yards on 487 attempts with 20 touchdowns and seven interceptions in five seasons with Kansas City. He produced a number of career high totals this season; completions (341), yards (4,042), touchdowns (26), yards per attempt (8.0), TD-to-INT ratio (5.2-to-1), QB Rating 104.7 and fantasy points (347.6). He averaged 23.2 FPts/G, fourth among quarterbacks. Another positive, his new head coach, Jay Gruden, has averaged 563 passing attempts over the past three seasons with Cousins under center, a 15% increase over Smithís average in Kansas City.
On the other hand, even a healthy Jordan Reed isnít Travis Kelce and the Redskins donít have anyone as dynamic as Tyreek Hill. The Washington wide receiver corps saw extensive turnover from 2016 when they were led by 1,000-yard receivers; Pierre Garcon and DeSean Jackson. In 2017, Jamison Crowder (66-789-3), Ryan Grant (45-573-4), Josh Doctson (35-502-6) and Terrelle Pryor (20-240-1) simply didnít produce up to expectations.
In addition, Kansas Cityís offensive line ranked 17th in pass protection, according to PFF, whereas Washington was just 24th.
Therefore, unless Washington adds weapons or his receivers significantly improve, Smithís fantasy production is likely to take a significantly hit in 2018.
Patrick Mahomes in Kansas City
Meanwhile, back in Missouri, the ďMahomes EraĒ begins.
In his only career NFL start, the Texas Tech product produced 284 yards on 22-of-35 passing, in an offense that didnít include Kelce, Hill or Kareem Hunt. He also threw well in preseason (34-of-54 for 390 yards, four touchdowns and zero interceptions). After passing for 11,252 yards and 93 touchdowns for the Red Raiders, big things are expected from Mahomes. Given the running threat of Hunt and the pass-catching abilities of Hill and Kelce, even if the Chiefs donít add another receiving weapon they should still be pretty strong. KC scored 415 points last season, with four touchdowns coming from defense and special teams so the offense managed a respectable 391 points (24.4 ppg). Despite the growing pains of a first-time starter, Mahomesí stronger arm and gunslinger attitude should more than make up for his lack of experience to fantasy owners.
Expect slightly more touchdown passes and yards from Mahomes than Smith produced in 2017, but also significantly more interceptions.
Huntís fantasy value should increase, not just to protect his young quarterback, but because we all saw that when Kansas City reduced his workload in the middle of the season, the offense floundered. He averaged 25.5 touches in nine wins (I didnít include Week 17 when he had one carry) and 15.6 touches in six losses. If we can see it, so can the Chiefs.
Kelce and Hill should be "slump proof" despite the quarterback change. They are simply too good.

---
Steve Schwarz served as the fantasy sports editor of The Sports Network and is the 2014 FSWA Football Writer of the Year.