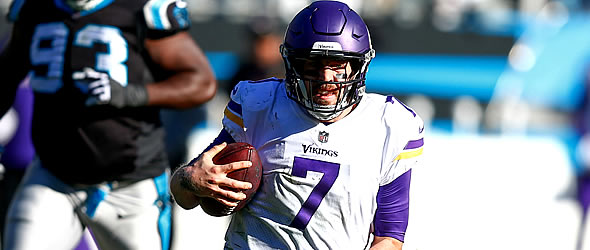 Keenum and the Broncos have a favorable schedule but it's difficult to see him cracking QB1 status.
Keenum in Minnesota

Case Keenum made his one season in Minnesota a good one, bringing the Vikings to the brink of a title, losing in the NFC Championship game to eventual Super Bowl Champion Philadelphia. (See how I managed to get that reference to "my Eagles" in a piece that has no relevance to my team?)

But as a fantasy quarterback, he ranked just 20th in fantasy points per game (19.2). At that value he was a backup fantasy option in 2017, to be played only in favorable matchups or bye weeks, not as a plug-and-play option. And that was with a pair of highly-rated, top-15 wide receivers (Adam Thielen and Stefon Diggs both averaged 9.6 FPts/G) and a top-10 fantasy tight end in Kyle Rudolph (6.3 FPts/G). He also had a solid running game, first behind exciting rookie Dalvin Cook, then with Latavius Murray and Jerick McKinnon.

Last season was easily his best, throwing for 3,547 yards and 22 touchdowns against just seven interceptions. He set personal highs in yards-per-game (236.5), yards-per-attempt (7.4) and QB Rating (98.3).

So the question for fantasy owners is, "Can he improve on these numbers in 2018 to become a viable every week option?"

Keenum in Denver

An analysis of the Denver offense in 2017 leaves us wondering how Keenum will take that step forward. They ranked 27th in points scored and that included four touchdowns by the defense. The Broncos were 20th in passing yards and 12th in rushing yards leading one to believe they moved the ball better than their sorry scoring indicates, they just couldn't put the ball in the end zone often enough.

One of the primary reasons was the offensive line. The Broncos yielded 52 sacks, third most in the NFL (for reference, Minnesota allowed 27). Denver yielded 207 pressures to 154 for Minnesota (according to Pro Football Focus). Denver did, however, produce 4.2 yards-per-rushing attempt vs. 3.9 for Minnesota. That was with three new lineman. Guard Ron Leary played well, but Menelik Watson ended up being replaced early on and rookie Garett Bolles was decent in run-blocking, but struggled protecting his quarterback.

On the other hand, the Broncos still have a couple of very capable receivers – Demaryius Thomas and Emmanuel Sanders. Fantasy owners have seen a drop in production from Thomas, who averaged 1,446 yards and 10.2 TDs from 2012-2015, but just 1,016 and five touchdowns the past two season. Sanders caught just 47 balls for 555 and a pair of touchdowns last season, though he missed four games and played injured in a number of other starts. Tight end production was lacking, led by A.J. Derby (3.3 FPts/G) which ranked 38th.

The question for fantasy owners is, "Was the decrease in production of the wideouts caused by receivers on the downside of their career … or bad quarterback play by the trio of Trevor Siemian, Paxton Lynch and Brock Osweiler?
Expectations in 2018

For Keenum to become a viable fantasy option in 2018, he'll have to improve on last season. Not wins, where he went a stellar 11-3, but in fantasy production.

On the plus side, he'll face a 2018 "last-place schedule" that will feature eight teams who ranked 21st-or-lower in QB fantasy points allowed.
Favorable Schedule for Keenum
Team
QB Fantasy Pts Allowed
Kansas City x 2
25
LA Chargers x 2
21
Oakland x 2
5
Cincinnati
11
Pittsburgh
8
Cleveland
27
Baltimore
4
Arizona
24
LA Rams
9
Seattle
6
San Francisco
28
Indianapolis
19
NY Jets
30
On the minus side, Denver's wideouts, though older, are as good as Minnesota, but the Vikings have the better tight end and offensive line play.

The Broncos will need to significantly improve their offensive line and find a pass-receiving tight end, all the while trying to find a long-term franchise quarterback, because Keenum seems more like a bridge to someone else. Seems like a very difficult road.

I'm selling on the idea of Keenum as a viable everyday fantasy quarterback in 2018 at this time. Should John Elway make significant improvements to the offense before September, then I will reevaluate, but until then, Keenum is no more than a matchup option in games against inferior pass defenses.



---
Steve Schwarz served as the fantasy sports editor of The Sports Network and is the 2014 FSWA Football Writer of the Year.