If you thought 2018 would be the return of the running game, think again. Through the first four weeks there have already been a dozen 400-yard passing games and the league is on pace to throw for 130,905 yards. Last season saw just 114,870 passing yards and since 2010 the most passing yards in a season was in 2015 - 124,843 yards. I guess the new rules changes that have made it almost impossible to sack a quarterback without incurring a roughing penalty have "worked." These numbers are telling fantasy owners to do whatever is necessary to insure you have a solid quarterback and wide receivers if you want to succeed.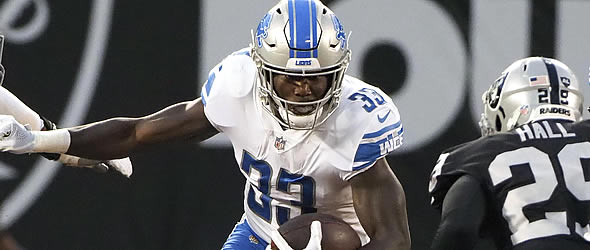 The Lions are still insisting on giving LeGarrette Blount carries capping the upside of Kerryon Johnson.

Truths

"For here we are not afraid to follow truth wherever it may lead." - Thomas Jefferson

1) There is no chance of Kerryon Johnson being a workhorse running back.
Unfortunately true, if we are to believe his head coach. "I think Kerryon (Johnson) played a significant amount of the game. He played 20 snaps of 55, that's a good amount", said Matt Patricia after Sunday's game. About 36% of the snaps is a good amount? Apparently, Patricia believes in the Bill Belichick School of running back workload distribution. Johnson may have ended the Lions' long streak without a 100-yard rusher, but it seems like he won't get many chances to repeat the feat. This is horrible news for fantasy owners who were likely hoping he would grow into a bigger role as the season progressed.
2) I was an idiot to cut Calvin Ridley after Week 1.
Yes, I was. I was smart enough to draft him, but didn't like his two-target, no-catch game against the Eagles in which he played 64% of the snaps. Sometimes we judge too quickly and don't give our guys the opportunity to grow into the job. Learn from my mistake. Ridley leads all fantasy wideouts averaging 15.9 FPts/G. As long as teams keep thinking Julio Jones is the bigger threat, Ridley should continue to produce. He's like JuJu Smith-Schuster was last season, only with double-digit touchdowns.
3) Don't be scared to play your QBs and WRs against the defending champion Eagles.
It's a new year and the Eagles' pass defense isn't what it was last season. In 2017 the Eagles allowed 227.3 passing yards per game despite having a lot of big leads and opposing teams throwing more than running (601 passing attempts vs. 337 rushing attempts). This season they are allowing 271.5 ypg. They have been particularly bad on the road allowing 321 net passing yards to the Tampa Bay and 315 yards to the Titans. Don't be surprised if Eli Manning and the Giants go off in Week 6 at the Meadowlands.
4) Patrick Mahomes is really good.
Monday night was his toughest test yet and we learned a lot about the second-year quarterback. He fought off a tough start, dealt with a strong Broncos pass rush led by Von Miller and Bradley Chubb and overcame adversity and a 10-point deficit. He's averaging a league-leading 31.8 FPts/G and that's while playing three of the four games on the road. Still, be careful about Week 5 when he will face a Jacksonville defense that is the stingiest in QB fantasy points allowed (13.9 FPts/G). If on Draft Day you picked Mahomes as a backup and have another quality starter on your roster, Week 5 might be time to make a change.
5) The bloom is off the rose for James Conner.
Correct. Remember all that "Who needs Le'Veon Bell?" talk after the first game of the season? A graph of Conner's fantasy points looks like an Olympic downhill course (31.2, 12.5, 9.5 and 6.4 last Sunday night). Jeremy Fowler reported that Bell wants to come back in Week 7 (returning for a bye week) and play the final 10 games. If the struggling Steelers (1-2-1) are still in the championship hunt, they may have to swallow their pride and welcome him back if they want a shot at the brass ring in 2018. Personally, I hope Pittsburgh is out of the race because Bell would look very nice in Eagles' green.
Lies

"The great enemy of the truth is very often not the lie - deliberate, contrived, and dishonest - but the myth - persistent, persuasive, and unrealistic." - John F. Kennedy

1) Mark Ingram's return from suspension will significantly damage Alvin Kamara's fantasy value.
False. Kamara has been the best running back in the league (24.3 FPts/G), but he's already touched the ball 103 times this season (25.75 touches per game) after a total of 202 touches in 16 games last season (12.6 per game). He's on a pace for 412 touches. That's too many and Ingram's return will take a lot of the tough inside work away, so this may help his yards-per-touch which has dropped from 8.82 last season to 6.11 in 2018.
2) Of all the first-round fantasy wide receivers, Antonio Brown is the biggest "bust."
False. While "AB" isn't living up to expectations, it's Beckham Jr. who has been the most disappointing. There were four wideouts with a preseason ADP of 12 or higher (Brown, DeAndre Hopkins, Beckham and Julio Jones and it's OBJ who is averaging the fewest of the quartet (8.5 FPts/G). It was particularly disappointing last week against New Orleans, who had allowed everyone to rack up big numbers against them (league worst 40.4 FPts/G to wideouts). Beckham got that big fat contract this offseason, is it time to worry that he's now become too complacent?
3) You should trade Patriots' tight end Rob Gronkowski.
False. I've never once uttered the phrase "buy high, sell low." While "Gronk" hasn't produced since Week 1 and is also dealing with a slight ankle issue, he should be ready to break out of his slump. The return of Julian Edelman added with the deep threat from just-arrived Josh Gordon should take some attention away from the big tight end and allow him working space over the middle. He's got a soft schedule over the next few weeks with Kansas City and Indianapolis on the docket. Even if you are thinking of moving the Pats' All-Pro tight end, give him a couple of weeks for his value to rise.
4) The Chicago Bears defense was "lost in the wilderness" until they traded for Kahlil Mack.
Not true. The Bears, while not the "Monsters of the Midway" (young guys google that), still ranked a solid ninth last season (7.0 FPts/G) just three and-a-half points behind 2017 leader Jacksonville. The addition of Mack, however, has turned them into league-leaders averaging 13.0 FPts/G. They are on pace for 72 sacks and 44 turnovers a huge increase in both categories from last season (42 sacks, 22 turnovers).
5) Andrew Luck's shoulder is healthy and he's ready for a big season.
I'm going to have to say no. I don't think he's healthy. Two weeks ago I saw the team bring in Jacoby Brissett to throw the final "Hail Mary" against Philadelphia and last weekend I saw Luck throw what could only charitably be called a "wounded duck" when he tried to go deep at the end of the game. That and averaging 46.5 passing attempts per game (that's a 744 attempts pace and the all-time record in 727 by Matthews Stafford in 2012), I don't expect his surgically repaired shoulder will hold up for 16 games. Trading high wouldn't be a bad idea.

---
Steve Schwarz served as the fantasy sports editor of The Sports Network and is the 2014 FSWA Football Writer of the Year.