This is the final weekend for byes, but it's still a tough one for fantasy owners with three of the top-10 scoring teams on the sidelines. If you have already clinched a spot in the playoffs, make sure you have the best lineup possible for the "second season" by making a trade or moves over the waiver wire.

Byes – Arizona, Kansas City, Los Angeles Chargers, Minnesota

Truths

"The truth is rarely pure and never simple." - Oscar Wilde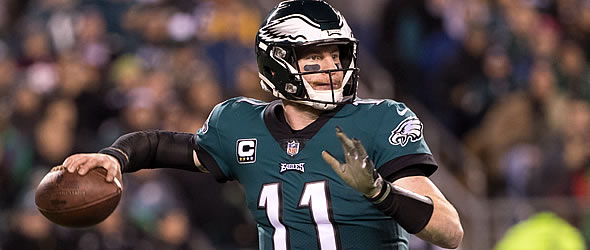 1) Eagles quarterback Carson Wentz is unplayable.
Fact. It was just two years ago that Wentz was playing at an "MVP level," but right now he's not even playing at a fantasy-worthy level. He hasn't cracked 18 fantasy points in four games and hasn't surpassed 25 points since opening day when he and DeSean Jackson hooked up on two long touchdown passes. Given Philadelphia's dearth of pass-catching options, this trend is likely to continue. With Jackson sidelined and Alshon Jeffery playing at a lot less than 100% defenses are not scared by the Eagles offense.
2) Jets' Sam Darnold is on a very productive streak.
Finally healthy and with some favorable matchups, Darnold has become a viable fantasy option. He's produced 24.0 and 30.4 fantasy points the past two games. He's also only 22-percent owned and his next three opponents are Oakland (ranked 28th in QB fantasy points allowed), Cincinnati (29th) and Miami (26th). That makes for a viable option for the aforementioned Mr. Wentz or for owners with Kyler Murray, Patrick Mahomes, Philip Rivers or Kirk Cousins on bye in Week 12.
3) More is not necessarily better for Kyle Allen.
In his first four games, Allen averaged 30.5 passing attempts and produced four wins, seven touchdown passes and zero interceptions. In his last four games he's averaged 40.5 passes and has earned just one win, three touchdown passes and nine interceptions. His fantasy production fell from 18.45 to 16.18 despite 10 more attempts per game. Allen, along with Cam Newton, probably isn't the long-term answer for the Carolina Panthers.
4) Baker Mayfield is improving over the past few games.
True, although it wasn't a very high bar. After throwing at least one interception in each of his first seven games, he's now gone three consecutive games without a pick and produced five touchdown passes and two wins. With three favorable matchups in the next four games (Miami Week 12, Cincinnati Week 14 and Arizona Week 15), Mayfield will be a viable starting option. He's a "buy-low" option as well.
5) Derek Carr has also become a low-end viable fantasy option.
Over his first five games under John Gruden he averaged 16.54 fantasy points and since Oakland's Week 6 bye he's averaged a solid 22.3 fantasy points and is third in passing yards (1,377 yards). He'll face the New York Jets (ranked 21st in QB fantasy points allowed) and Kansas City (23rd).
Lies
"In a time of deceit telling the truth is a revolutionary act." - George Orwell
1) "I'm feeling good, but you know, one year off could possibly be the case. Or maybe two years off, man."
This did not come from Doug Baldwin, who has been successfully replaced by Tyler Lockett and D.K. Metcalf. Or Marshawn Lynch, who has been ably replaced by Josh Jacobs or Andrew Luck. No, this came from our favorite fantasy tight end - Rob Gronkowski. We should finally put an end to any Gronkowski talk for 2019. He still has until November 30th to "officially" change his mind, but as he has now set up a business event at Super Bowl 54 we can take him off all rosters except dynasty leagues. Returning in 2020 might still be worth a roster spot. "It's always an option in the back of my head," he said Tuesday. "It's not like I'm not staying in shape and not doing anything. I'm never stressed over it. I wouldn't say never coming back."
2) Saquon Barkley has become "just another running back."
While Barkley ranks just 11th overall (16.7 FPts/G), various factors have led to his drastic decline in 2019 (He averaged 24.0 points in his 2018 rookie season). He's been dealing with a rookie quarterback for most of the season, the receiving corps has been beset with injuries, the Giants OL has been disappointing and his own injury that kept him sidelined for three and a half games. The biggest drop in his production is in touchdowns. He scored 15 times last season, but has reached the end zone just three times in his seven games. He has seen fewer opportunities to score with just 18 red zone rushing attempts (scoring once) versus 50 last season (scored seven times).
3) Michael Thomas is on a record-breaking pace.
For fantasy owners, Thomas is averaging a fantastic 23.7 FPts/G, but it's not actually record-breaking. In 2015, Antonio Brown averaged 23.9 FPts/G (136-1834-10), Marvin Harrison in 2002 produced 23.9 (143-1722-11) and in 2007 Hall of Fame wide receiver Randy Moss averaged a stunning 24.1 points (98-1493-23).
4) Melvin Gordon will be phased out when he returns from his holdout.
It turns out the Chargers has gone back to their star running back despite their early season dispute. Gordon has seen 23, 23 and 17 touches the last three games and produced 19.4 FPts/G which is good enough for fifth-best over that span.
5) The absence of Stephen Gostkowski has hurt the Patriots.
False. While the team may be more comfortable that the veteran Gostkowski will make a game-winning kick, his replacements have kept up his fantasy production. This season Nick Folk has averaged 8.5 FPts/G and Mike Nugent 7.5 points as compared to Gostkowski's 8.0 average. As almost always is the case, kickers are a non-factor in fantasy. Even the "great" Justin Tucker has only averaged between 8.0 and 9.3 fantasy points over his eight-year career.